(Photo by David Sandford/NBAE via Getty Images)
Road Gets Tougher For Surging Celtics

We knew they would do well. But I can't say I imagined the Boston Celtics would begin like this. When you get off to a 20-2 start, that is just getting it done.
They won their ninth straight on Sunday, beating the Toronto Raptors, who had won four in a row. Boston won 90-77 despite missing Ray Allen (ankle) for the second straight game.
Can the Celtics keep it up?
That remains to be seen.
Their schedule hasn't been the toughest. It tightens up on them now, with their first West Coast trip coming at the end of the month. So far, Boston has played only four games against the West (all wins). By comparison, the West has nine teams over .500, the East only five.
That schedule tightening starts with a Wednesday home game. The Celtics will face the team that looks like it's going to make it the hardest on them in the East, the team that's been there and done that, the Detroit Pistons.
It's been a while since these teams have been at the top in the East. Growing up in Michigan as a fan of both Magic Johnson and the Pistons' Bad Boys -- I still remember the "U Can't Touch This" T-shirts -- I'd root against Boston and the guy who ended up being my favorite coach when I played in the NBA, Larry Bird.
"Now there's a steal by Bird! Underneath to DJ! He lays it up and in!"
That was 20 years ago. But who can forget that play?
Boston's hopes are up for more glory days ahead with Kevin Garnett, Paul Pierce and Allen, who are leading the way, as expected.
In the end, the key to the team and how it's going to be judged will be based on how the role players play. When you talk about the next five after their big three, they all are equally important to Boston's team effort.
Eddie House's shooting (3-of-4 on 3-pointers Sunday, now over 43 percent for the season) and his role as backup point guard is just as important as what Rajon Rondo (14 points, now shooting 53 percent from the field) gives them as their starting point man.
James Posey's ability to play defense from the 2, 3 and 4 can't be overlooked. Kendrick Perkins' size is an asset. And Tony Allen will need to play the 2 and 3.
Give coach Doc Rivers credit for helping get his team off to this start. They were the preseason magazine cover boys and were put in for plenty of television appearances this year. They didn't sneak up on us.
The most important thing for Boston is keep that championship focus that the other elite teams like San Antonio and Phoenix have.
I see Boston having a really good chance to get home-court advantage through the playoffs, even if they come back somewhat to Detroit and Orlando in the East race after this fast start.
Hopefully for the Celtics, they can build up the kind of lead that will allow them toward the end of the year to start resting guys like KG, who you don't want to see going over 40 minutes most nights.
That's what I mean by a championship focus.
ESPN analyst Jalen Rose is a regular contributor to the Daily Dime. For more about Jalen, visit his Web site: JalenRose.com.
Dimes Past: December 1-2 | 3 | 4 | 5 | 6 | 7 | 8-9 | 10 | 11 | 12 | 13 | 14 | 15-16
Playoffs? Don't Tell It To "Fire Isiah" Chanters

By Ian Whittell
|
Special to ESPN.com
NEW YORK -- One win -- against a dispirited, disinterested, disjointed opponent -- was all it took for Isiah Thomas to be talking playoffs this weekend.
Yes, playoffs.
No matter that Saturday night's 94-86 victory over the New Jersey Nets ended a five-game losing skid and left the Knicks at 7-16, better only than the Miami Heat in the entire Eastern Conference.
That win was enough for Thomas, who has been accused by more than one observer this season of being so divorced from reality that he functions in an alternative universe, to see the postseason in his team's future.
"There's a lot of time left in the season," said the beleaguered coach. "We've only played 25 percent of the season.
"I've been around a long time. Teams catch fire, you run off four or five games in a row and, before you know it, you're back in the thick of things. Fortunately for us, right now, a lot of teams are trying to find themselves in the East. We're one of them.
"The teams that find their way and come out of this will be the teams we're talking about in April. I hope we're one of them. We definitely have the talent. It's about all of us getting on the right page and trying to do the right things every time."
Of all Thomas' strange pronouncements in this car wreck of a season, that may rank the strangest yet.
It cannot have failed to escape his attention that, in the closing seconds of an unexpectedly comfortable win over the Nets, that pockets of Knicks fans still chanted what has become a European soccer-like theme tune for them this season: "Fi-re I-si-ah!"
"We know eventually we are going to be a good team but our record doesn't show that right now," Knicks guard Jamal Crawford said of the crowd response. "We feel we have the pieces to make it work.
"So this is just building character for where we're going. I know [the fans] have been patient so it's hard to say 'Hang in there.' We've got to win them over by getting results, that's how you do it, be the way you play."
Ian Whittell covers the NBA for the London Times

By ESPN Research
Orlando, which travels to Dallas for a game Monday, has lost nine straight trips to Dallas. The Mavs' success against the Magic is in large part due to Dirk Nowitzki.
Nowitzki has scored at least 20 points in each of his last 9 games against the Magic.
Dirk Nowitzki vs Magic Last 5 Seasons

Games
9
PPG
27.4
RPG
8.9
FG pct
51.8

By ESPN Research
The first of four regular-season meetings between the Spurs and Suns is set for Monday. Amare Stoudemire has a history of success against the Spurs, just not as pronounced since coming back from microfracture surgery last season.
Amare Stoudemire vs Spurs

Category
2004-05
2006-07
Games
8
8
PPG
37.6
23.4
FG pct
60.8
50.0
RPG
8.8
11.3
BPG
1.6
1.4

Sunday's Best

Channing Frye, Blazers forward:
His best game as a Blazer (20 points, 10-for-13 shooting, nine rebounds) helped Portland get to .500 with a 116-105 win in Denver. That's seven straight W's for the Blazers.
---

Sunday's Worst

Baron Davis, Warriors guard:
After his heroics Friday against the Lakers, Davis went 1-for-8 and the Warriors began their road trip with a thud in Detroit.
---
Quote of the Night

"We pulled the plug early on this one. We've got a game [Monday], and sometimes you have to think beyond just one game. We played the bench and we got a loss, but we were going to get that anyway."
--
Warriors coach Don Nelson
on putting in his bench early in an eventual 109-87 loss to the Pistons.
• See how all 83 players fared
-- Andrew Ayres

By Andrew Ayres
ESPN.com
What's behind Raptors forward Kris Humphries' recent success?
He had 12 points, nine rebounds and two blocks in 20 minutes of action in Sunday's loss to Boston. He's averaged 13.2 and eight rebounds in his last five games.
The Toronto Star's Dave Feschuk writes that Humphries recently "was complaining about how yet another scrum with the media was keeping him from a more attractive destination: the fast-food joint where he intended to procure a delicacy known as The Baconator before a flight to Indianapolis for a game with the Pacers." Humphries said he didn't care for the team-endorsed pork chops.
Who could resist six strips of bacon? The 860 calories? The 51 grams of fat? Paired with Caron Butler's old Mountain Dew habit, it's another case of nutrition on the edge.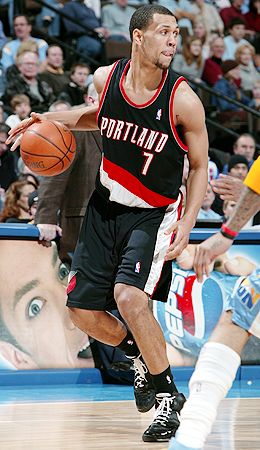 Garrett Ellwood/NBAE/Getty Images
Portland point guard Brandon Roy (26 points, 11 assists) has helped direct the Blazers to a seven-game win streak heading into Monday's home game with the Hornets.