Photos by Garrett W. Ellwood and Harry How/Getty Images
The Greatest Gifts Of All

Dwyane Wade, LeBron James, Kobe Bryant and Steve Nash. Four great players. What they all have in common are the clearly indispensable qualities they bring to their respective teams. Each makes his team much better.
In anticipation of the Christmas Day doubleheader in which all four are playing -- Miami-Cleveland (2:30 p.m. ET, ABC) and Los Angeles-Phoenix (5 p.m. ET, ABC) -- let's consider the most valuable gifts they give to their teams. Many times, these gifts are not their most obvious qualities.

Steve Nash, Phoenix Suns:
There is no question that right now, he is the greatest assist man in the game. Everybody who plays with him gets better. For example, the consummate playmaker has made
Amare Stoudemire
an All-Star. Stoudemire is a great finisher in his own right, but Nash makes him a superstar.
The gift he brings that goes unnoticed is his toughness. Looking back to last season, when he played through that gashed and bloodied nose, he was an impressive small guy in a big man's game. He not only makes everybody better, he makes everybody tougher, too. He sets the example.
It wasn't always easy for him. He was booed in his Dallas years when he wasn't playing well. That was a very difficult stretch for him and it hurt, but he never gave up. He kept working on his game, kept that confidence in himself and worked himself into an MVP player.

Dwyane Wade, Miami Heat:
Everyone can see he is a tremendous athlete, a scorer who has taken over the offensive leadership of the Heat. Harkening back two years ago, when they were in the Finals, he was virtually unstoppable and established his reputation as a fierce competitor.
The greatest gift he brings to his team is his fearlessness. He's constantly on the attack, no matter whom he's playing against. However great the pressure, he remains a man for all situations, ready to jump into attack mode. He has virtually no regard for his body, playing with reckless abandon. That's what makes him special. I think that if you watch him throw his body around, crashing into people, taking the huge shot in big situations, you can't help but be more fearless yourself.

Kobe Bryant, Los Angeles Lakers:
Kobe is perhaps the best all-around player in the game today. Whether on the offensive or defensive end, he can completely take over a game. Any time Bryant is in the game, the Lakers have a chance to win.
His greatest gift is his competitiveness. He is the most competitive player since Michael Jordan. Clearly, he's on the top rung of the talent ladder, but what separates him night in and night out is his will to win and his belief that he can do it. He gets his team the victory, many times by force of will. That will and competitiveness make everybody around him better.
Of course, if things aren't going well, he sometimes vents. I think the Lakers understand this, although it can be difficult to live with.
I think the same impulses that drive him to be great also cause him to become upset when his team isn't as successful as it could be. That's a common trait among a lot of great players. We've seen it with Jason Kidd and the New Jersey Nets; he just wants to win.

LeBron James, Cleveland Cavaliers:
James is the heir-apparent to become the game's greatest player. One measure of his greatness is how his team recently was unable to win a game when he was out for five games with a hand injury. He's surrounded by role players, whom he took to the Finals last season.
He is averaging 30 points, seven rebounds and eight assists this season, and dominates the game on such a high level that typically, he has three or four guys hounding him. He makes it so much easier for everybody else because he garners so much attention. The team averages almost 20 points per game fewer when he doesn't play.
His gift is his ability to make the game easier for everybody else. He raises their overall game; they can become a running team and can play up-tempo. Plus, he gets everybody involved.
All these guys bring so much to the game and make it so enjoyable to watch.
I want to say thank you to each and every one of these guys for making the game so good. To me, and to all fans of the game, that's their greatest gift this Christmas Day.
Former NBA All-Star and ex-Nuggets general manager Kiki Vandeweghe is a regular contributor to ESPN.com.
The Kids Come Out To Play On Christmas

By Henry Abbott
|
TrueHoop
When the schedule-makers set up a Christmas game between Portland and Seattle (8 p.m. ET, ESPN), I'm pretty sure they were expecting both teams to be mediocre at best. But they still were gift wrapping something for basketball fans: a confrontation between the 2007 draft's top overall pick, Greg Oden, and second overall pick -- and the player some think Portland should have taken -- Kevin Durant.
Since then, however, fortune has mangled the plot line. Oden, of course, will be in street clothes on the bench, recovering from the microfracture surgery that seemingly doomed Portland's season. Yet, the Blazers have proven to be the surprise of the season, recently moving solidly into playoff contention, thanks to a long winning streak. Durant, meanwhile, will be healthy and lofting jumpers for the Sonics, but with a rebuilding roster, the team has struggled to kindle much excitement amid a losing season and word that team ownership would rather be based in some other city.

Durant has shown glimpses of his potential. He still is the front-runner for the rookie of the year award. At times, it is clear his length, shooting ability and assassin's mentality soon will translate into All-Star appearances. There is greatness in his future. But most nights, he has not been particularly efficient as a shooter, nor has he been demonstrating the "other" things (like, for instance, rebounding) that distinguished him as one of the best college freshmen of all time. The real gift under this Christmas tree, however, is not a rookie at all. The way he has been playing lately, expect Portland's
Brandon Roy
to be the best player on the floor. Last year's rookie of the year has been playing like an All-Star, but he has not been playing much on national television. This Christmas, we won't get to see the first pick versus the second pick. But last year's ROY against this year's likely ROY is still a great present.
Roundtable: Who's Better -- Kobe Or LeBron?

By ESPN experts
When people talk about "the best player in the game," two names come up more than any others these days: Kobe Bryant and LeBron James.
Well, our experts weighed in on a series of questions pitting the two greats against each other. Here is just a sample of their answers:
What is the key difference between them?
J.A. Adande:
The key difference between them was best expressed by LeBron himself in an interview with ESPN The Magazine: He doesn't have that instinct to go out and (metaphorically) kill everyone the way Kobe does. If Kobe smelled blood, he'd want to dig deeper into the wound; LeBron would want to get the person a bandage. That makes LeBron more of a humanitarian. But on the basketball court, it's better to be cold-hearted.
Chris Broussard:
They're totally different players. Kobe is more of an individual performer (like Michael Jordan was), and LeBron is more of a team performer (like Magic Johnson was). Kobe's game is far prettier and much more graceful, and he's a better defender. LeBron's got more power and better court vision. Kobe's got more of a killer instinct, but LeBron's growing in that department.
• Read the rest of the experts' answers
The hardwood is a pretty busy place on Christmas, with the NBA pushing out great matchups featuring many sparkling performances by some of the greatest players in history. Here is just a small sample of some the most memorable games played on Dec. 25.
2004 -- Heat at Lakers

The much-anticipated return of Shaquille O'Neal to Los Angeles after being traded to Miami lived up to the hype. Kobe Bryant dropped 42 points but missed the game-winning shot, sending Shaq and the Heat to a 104-102 overtime victory.
1986 -- Bulls at Knicks

The man New Yorkers used to call St. Patrick played the role of Scrooge and ruined the Bulls' Christmas. Patrick Ewing hit a 10-foot rebound shot at the buzzer to send the Bulls home with a heartbreaking 86-85 loss.
1961 -- Warriors at Knicks

Despite Wilt Chamberlain's 59 points and 36 rebounds in 50 minutes, the New York Knickerbockers defeated the Philadelphia Warriors 136-135 in double overtime.
-- ESPN Research
Tim Legler and J.A. Adande break down the Christmas Day doubleheader featuring the Heat-Cavs and Suns-Lakers (starts 2:30 p.m. ET, ABC).
On April 1, 2006, LeBron James and Dwyane Wade battled in a classic matchup in which they exchanged shot after shot. Each posted more than 40 points and a near triple-double.

They might not be on the same court this year, but Shaquille O'Neal and Kobe Bryant will continue to battle on Christmas Day. The two currently rank first and second for active players in points, rebounds and assists.
Only the points category, in which Shaq leads Kobe by 19, has the possibility of switching hands.
Active Christmas Leaders

Player
Points
Shaquille O'Neal
223
Kobe Bryant
204
Tracy McGrady
130
Dwyane Wade
80
Active Christmas Leaders

Player
Rebounds
Shaquille O'Neal
126
Kobe Bryant
55
Robert Horry
42
Ben Wallace
41
Active Christmas Leaders

Player
Assists
Kobe Bryant
48
Shaquille O'Neal
29
Dwyane Wade
26
Chauncey Billups
21
-- ESPN Research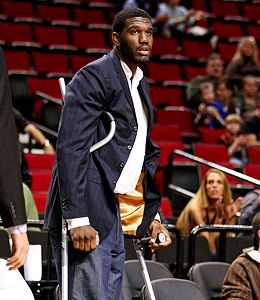 Jonathan Ferrey/Getty Image
Greg Oden didn't expect to spend his first Christmas in the NBA standing on crutches and watching from the sideline.

By Peter Newmann
ESPN Research
When the Portland Trail Blazers and Seattle SuperSonics take the court on Christmas night, the game will feature the biggest mismatch of opponents to ever play on Christmas. Portland sports the highest winning percentage of any team on Christmas Day with a minimum of five games played.

Meanwhile, Seattle has not won a game on Christmas day in 10 chances. Four of those losses came at the hands of the Trail Blazers.
The last time Portland played on Christmas was in 2000; Seattle's last appearence on Christmas dates back to 1994. These two teams' most recent Christmas matchup was in 1982, a 95-88 victory for the Trail Blazers.
Highest Win Pct. (min. 5 games)

Team
W-L
Win Pct.
Portland Trail Blazers
12-1
.923
Phoenix Suns
11-4
.733
Washington Wizards
14-6
.700
Utah Jazz
4-2
.667
Lowest Win Pct. (min. 5 games)

Team
W-L
Win Pct.
Seattle SuperSonics
0-10
0.000
Los Angeles Clippers
2-6
0.250
Detroit Pistons
10-22
0.313
Houston Rockets
2-4
0.333