(Photo by Noah Graham/NBAE via Getty Images)
Garnett Sets The Tone For Boston's Winning Ways

LOS ANGELES -- The Lakers count as Somebody, right? If so, then the Team That Never Beats Anybody just beat Somebody.
The Boston Celtics held the Lakers, the league's fourth-highest scoring team at 107 points per game, to 91 points on 35 percent shooting in a 110-91 win.
The Celtics did it without point guard Rajon Rondo, who sat out with a strained right hamstring. They did it with Ray Allen playing less than 10 minutes in the first half because of foul trouble. They did it even though they had an emotional come-from-behind victory in Utah the night before. They did it even though Allen and Paul Pierce couldn't stop laughing when they first saw the Lakers step onto the court in their throwback short shorts.
This was a legitimate victory in every way, and we can stop asking whether the Celtics are a legitimate team because of their favorable schedule. Any team that plays defense this well, that can make getting a layup as tough as getting a bill passed in Congress, that can hold Kobe Bryant to a pedestrian 22 points on 6-for-25 shooting and can make Andrew Bynum look more like a project than an emerging star is legit. Especially when that game comes at the end of a 4-0 trip through the Western Conference.
The Lakers pulled on their old unis, the Laker Girls wore 80s-style spandex and sparkly outfits and assistant coach Kurt Rambis (who shaved his mustache and had laser eye surgery since his old power forward days) even grew back his facial hair and wore his thick-framed glasses for the occasion. But it was the Celtics, wearing jerseys styled from the 1960s, who looked more like their old dynastic selves.
It's not yet time to give this group the Dennis Green-authorized crown, or clear the parade route through downtown Boston. The Celtics will concede that. Coach Doc Rivers says the only two teams that can be considered authentic contenders are San Antonio and Detroit.
"We've won a lot of games [26 of 29, to be precise], but that's all we've done," Rivers said. "We have to keep proving ourselves."
And so the same must be said for Kevin Garnett. He is the impact player in the NBA right now, but still has no jewelry, not even a trip to the Finals. Go to any part of the Celtics locker room, be it stall by stall or in the coach's office, and you'll hear Garnett get the credit for the Celtics' success.
But if he's so great, how come his teams never did anything in Minnesota except the year Sam Cassell and Latrell Sprewell joined him and played like All-Stars? Maybe Garnett is like one of those coaches who is better managing great players than building up deficient ones. Some coaches can gain the respect of great players, but can't reach the lesser ones. Others can get average players to exceed expectations, but would get overrun by superstar egos.
Garnett can bring out the best in other talented players, and they in turn allow him to play at his best. The Celtics don't ask Garnett to carry the scoring load, which allows him to focus on two of his preferred tasks: setting up his teammates and playing defense.
While the first option on offense is to get him the ball in the post, his first thought isn't to shoot. Pierce and Allen both get more shots and points per game. But Garnett establishes an unselfish attitude on offense, and is without question the centerpiece of their top-ranked defense.
Defense requires more energy and emotion, and that's where Garnett kicks in. Remember the questions about Allen's defense when the Celtics acquired him? Has it been a problem?
"I'm not an overly emotional player, but you do get emotional out there just being alongside him," Allen said. "Great players, there are certain things that become contagious. If you watch them you pick up certain things that can become contagious."
Pierce used to play defense only in small spurts. Sunday night, in addition to dropping in 33 points, he was running around, sticking hands in faces, contributing to the Lakers' shooting woes.
"Every day you go to practice, every day you go to the game, you want to make sure you're giving your 110 [percent]," Pierce said. "Because you know he's reached levels and won all of the awards."
Said Garnett: "We all respect each other here. It all falls into line. No one comes out and disrespects each other.
"When we step across the line, it's all about who's out there with that green uniform. And it's working."
No question about it.
J.A. Adande joined ESPN.com as an NBA columnist in August 2007 after 10 years with the Los Angeles Times. Click here to e-mail J.A.
Dimes Past: December 15-16 | 17 | 18 | 19 | 20 | 21-22 | 23 | 24 | 25 | 26 | 27 | 28

By Chris Sheridan
|
ESPN.com
NEW YORK -- Eddy Curry lost his job and kept his cool, even though he was seething beneath the surface.
After losing his spot in the New York Knicks' starting lineup Sunday and coming off the bench in a 100-83 loss to the Chicago Bulls, Curry calmly but firmly voiced his displeasure with the latest shakeup made by coach Isiah Thomas.
"It definitely bugs me. I think I'm a starter in this league, just not with this team," Curry said, describing his reaction to the move as "kind of numb."
"It's hard to say what he's thinking, but he's just trying to get a win," said Curry, who had surmised that he was losing his starting spot after playing with the reserves at practice the previous two days. Curry said Thomas had not explained the demotion to him.
"He doesn't owe me an explanation. I'm here to play basketball, and nothing is guaranteed for anyone on this team," Curry said. "I try to prepare myself for anything, but I haven't for a long time been in this kind of situation since my rookie year in Chicago. But I understand what's going on, he's trying to win, and if we can get some wins with me on the bench, so be it."
Curry was coming off a game in Orlando in which he played just 4:41 as the starter, committing two fouls and a turnover and scoring just one basket. He was woefully ineffective the game before that, an eight-point, one-rebound stint in a loss to the Lakers, and his game has generally been in a state of regression throughout the first 29 games of this season.
So now, Curry, the same player that was being touted by Thomas a year ago as a candidate to man the middle for Team USA, is the backup behind Zach Randolph at center -- although Thomas did play the two of them alongside each other for a long stretch of the second quarter. Curry replaced Randolph late in the third period with the Knicks trailing 65-55, and the Bulls subsequently built their lead to 16 by the end of the quarter. Chicago would go on to lead by as many as 20 points in the fourth quarter, and the inevitable chant of "Fire Isiah" was struck up in the final minute by a home crowd that watched the Knicks drop to 8-21 -- just percentage points ahead of Miami for the worst record in the East.
Curry, who finished with 12 points and eight rebounds in 22 minutes of action, noted how the Bulls were playing with a newfound level of confidence and freedom "as though the chains had been taken off" since the club fired coach Scott Skiles less than a week earlier, which led to the inevitable question of whether the Knicks might be better off making a similar move.
"Losing our coach? You can't help but think about it, but we're trying to win games. But I think it's definitely in the back of some people's minds," Curry said.
Whether a change in coaches has moved to the front of owner Jim Dolan's mind is anyone's guess. Dolan, who did not attend Sunday's loss, has not made any public statements regarding the Knicks since giving Thomas a multi-year contract extension last March.
Tough as it may be for Dolan to accept that he made such a monumental mistake just 10 months ago, logic would have to dictate that the owner's patience with the underachieving Knicks has got to be wearing thin. Logic, however, is not always a part of the equation at Madison Square Garden, which is one of the reasons why the Knicks have yet another mini-crisis on their hands, this time from the unhappy Curry, who was being hailed as a franchise player at this time last year.
Stay tuned to find out the conclusion of two other ongoing mini-dramas that were lingering in the background Sunday.
Stephon Marbury was finally back with the team after an extended bereavement leave following the death of his father, although Thomas did not allow him to suit up due to his lack of conditioning -- a questionable call on the day Marbury's de facto backup at point guard, Jamal Crawford, also watched the game from the sidelines in a suit, his right hand wrapped in a compression bandage to treat the swelling that has developed beneath his ring finger. The Knicks said X-rays on Crawford's bruised hand were negative, and Crawford said he hopes to play against Sacramento on Wednesday. Nate Robinson and Quentin Richardson started at the guard spots Sunday and had poor starts defensively, leaving both Kirk Hinrich and Chris Duhon wide open for a pair of 3-pointers apiece that put Chicago in control to stay in the first quarter.
The 17-point loss marked the 14th time this season the Knicks, who lost their fourth straight and for the 10th time in 12 games, have been beaten by a double-digit margin.

Sunday's Best

Paul Pierce, Celtics forward:
The Truth clearly loves the beauty of playing in his hometown. Goes for 33 points, eight boards and four steals in Boston's 110-91 rout in Los Angeles.
---

Sunday's Worst

Chucky Atkins,
Nuggets guard:
Chucky's back, but since returning Dec. 20 from a groin injury, the results have been generally horrifying. Missed all five shots in 19 minutes of action in Denver's 105-95 loss to Golden State.
---
Quote of the Night

"I wasn't happy, but he wanted to bring some more scoring off of the bench ... I told him if that's what he thinks will work, then I was for it."
--
Bulls guard Ben Gordon,
on returning to the sixth man role at the request of interim coach Jim Boylan. Gordon had 25 points in a win over New York.
• See how all 121 players fared
-- Andrew Ayres
Brandon Roy had 22 points to lead the Blazers to their second-longest winning streak, 13 games, in team history. Portland won 16 straight in the 1990-91 season.
• Watch highlights of every NBA game

By Chad Ford
ESPN.com
On the rising draft stock of Texas A&M freshman center DeAndre Jordan:
I've gotten a number of questions about Jordan. How can a guy averaging 10 points and seven rebounds a game be ranked as the No. 5 prospect in the draft? A few things come to mind:
The freshman big man is putting up those numbers in 20 minutes per game; he's shooting a mind-boggling 80 percent from the field; and athletic big men often take a little longer to develop.
Jordan would be the No. 1 pick in the draft if he were producing anywhere near the numbers of the guys ranked ahead of him. If he comes out, he'll go high even though he's a work in progress. With Andrew Bynum now busting out in L.A., the chances that an NBA team gambles on him early in the draft only increases. To me he's the one guy who, if he continues to improve, could pass the four guys currently ranked ahead of him come June.
• See Chad Ford's full story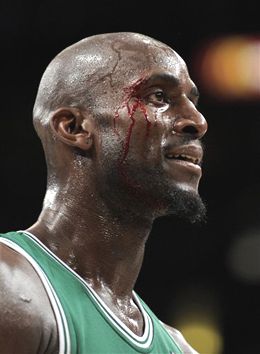 AP Photo/Mark J. Terrill
Celtics forward Kevin Garnett walks off the court after being cut during a play during the first half. Boston's on a record pace.

By Andrew Ayres
ESPN.com
The Portland Trail Blazers kept on blazing, notching their 13th straight win on Sunday.
Portland's now challenging for Northwest Division supremacy, moving into a tie for first with Denver Nuggets at 18-12. See who else has made winning a consistent habit of late ...
Winning Hands

Team
Streak
Likely End
Blazers
13
Monday (at Jazz)
Pistons
8
Jan. 10 (at Spurs)
Celtics
6
Jan. 5 (at Pistons)
Hornets
5
Jan. 4 (at Warriors)

By Andrew Ayres
ESPN.com
Kyle Korver is slated to make his debut with the Utah Jazz on Monday against the Blazers, with the prospect of him helping Utah spread the floor with his proven 3-point shot.
The former Sixers shooter, the centerpiece of Saturday's deal for persona non grata Gordan Giricek, is off to a slow start this season, making 35.2 percent from beyond the arc. That's not much better than Utah's overall 34.6 percent shooting from 3, which ranks 21st in the NBA.
Korver, however, had been battling a strained groin for much of the season. He sank a career-best 43 percent from 3 last year, and 40.9 percent for his career.