Nathaniel S. Butler/NBAE via Getty Images
LeBron Looks Like The MVP Leader

Teams will be hitting the midpoint of the 82-game season this week. Let's see who's shaping up as the leading MVP candidate.
1. LeBron James, Cavaliers forward -- Everyone in the East knows it's going to be hard to top a Cavaliers team with an always-improving LeBron in a seven-game series. He's developing his killer instinct, which is not good for the rest of the NBA. The recent win over the Spurs was a good psychological boost.
James is averaging a league-leading 29.7 points per game, along with 7.8 rebounds and 7.5 assists. That's big-time production, approaching Oscar Robertson territory. His team is getting healthy, too, and coach Mike Brown's two-year extension has given the team stability.
2. Kevin Garnett, Celtics forward -- Takes a team that had been playing non-existent defense and helps put it at the top of the league in terms of limiting opponents' field goal percentage (41.5), while also helping it earn the top point differential (plus-11.5). A lot can be attributed to Garnett's ability to play multiple positions and help where he's most needed. His arrival in the East has dramatically shifted the power. Whether or not the Celtics get more help at point guard, he's getting it done, now averaging 19.7 points and 9.7 rebounds per game.
3. Kobe Bryant, Lakers guard -- Surprise, surprise. Kobe Bean has never won an MVP, and this year won't be any different, even though he generally is recognized as the game's best player at both ends of the floor. He has found a way to nurture and develop his teammates while still scoring 27.7 points per game, second in the NBA. His production figures to pick up with the loss of Andrew Bynum for at least seven more weeks.
Although he is third here, in terms of a trade, which guy would you choose over Bryant? Nobody, in my opinion. That's the truth when it comes to a guy who can score 35 or 40 points and have it not be headline news. Don't forget that no matter what happens in the months and years ahead, Bryant's no-trade deal means he would trade the Lakers, not the other way around.
4. Dwight Howard, Magic center -- Still only 22, a refreshingly traditional big man who averages a league-leading 15.2 rebounds per game. As tremendous a young man as he is a player. Without Howard, the Magic would be a perennial lottery team. As it now stands, he has established himself alongside Tim Duncan and Amare Stoudemire as the game's most powerful and effective big men.
Being the leader of a young team will bring growing pains, but ultimately, we will see Howard put the Magic in position to compete for an East championship every year.
5. Jason Kidd, Nets guard -- Yes, the Nets have been up and down this season, including Sunday's 116-92 loss in Phoenix for a fifth straight defeat, but his ability to produce triple-doubles has us talking about him in terms of Magic Johnson and Oscar Robertson on a nightly basis.
He's averaging 11.4 points, 10.7 assists and 8.6 rebounds per game, the kind of numbers most any point guard would take. Right now, he's the face of the franchise. There has been talk of trading him and beginning to rebuild, but I don't see the Nets going down that path and being non-competitive when they move to Brooklyn.
Others considered: Blazers guard Brandon Roy showed he had a hot hand before the season began, pulling the No. 1 pick in the lottery draw. The Blazers have a built-in excuse to say, "Wait until next year," but he has been a great young leader. Hornets guard Chris Paul (21.5 points per game, 10.5 assists per game) has stepped up his game; now, it's not a matter of if New Orleans can win a playoff series, it's a question of whether it can find its way through the second round. Spurs forward Tim Duncan's greatness is something we just take for granted. Duncan, Manu Ginobili and Tony Parker make up the best "Big Three" in the NBA.
ESPN analyst Jalen Rose is a regular contributor to the Daily Dime. For more about Jalen, visit his Web site: JalenRose.com.
Dimes Past: January 1 | 3 | 4 | 7 | 8 | 9 | 10 | 11 | 12-13 | 14 | 15 | 16 | 17 | 18 | 19-20
On MLK Day, Remembering Notable Pioneers In The NBA

By ESPN Research

The 1950-51 season marked the first appearance of black players in the NBA. In recognition of Monday's Martin Luther King Jr. holiday, here are some notable pioneers who broke that color barrier.
FIRST BLACK PLAYER DRAFTED
: Duquesne's Chuck Cooper (at right) was selected by the Boston Celtics in the second round in 1950. Earl Lloyd was drafted by the Washington Capitols in the ninth round, and Harold Hunter was drafted by the Capitols in the 10th round. According to George Sullivan, a New York Times reporter, one owner said to Celtics owner Walter Brown, "Walter, don't you know he's a colored boy?" To which Brown responded, "I don't give a damn if he's striped, plaid or polka dot! Boston takes Chuck Cooper of Duquesne!"
FIRST BLACK PLAYER TO SIGN A CONTRACT:
Hunter signed with the Capitols on April 25, 1950; he was cut in training camp. Nat Clifton signed with the New York Knicks on May 24, 1950.
FIRST BLACK PLAYER TO PLAY IN A GAME
: Lloyd took the court with the Capitols, who opened their season Oct. 31, 1950, one day before Chuck Cooper played with the Celtics and four days before Nat Clifton played with the Knicks. Cooper's debut with the Celtics also marked the debuts of Bob Cousy and coach Red Auerbach with the team. In nine months, five players crossed the NBA's color barrier, and four played in the 1950-51 season. Nat Clifton: New York Knicks Chuck Cooper: Boston Celtics Hank DeZonie: Tri-Cities Blackhawks Harold Hunter*: Washington Capitols Earl Lloyd: Washington Capitols *-cut in training camp
OTHER FIRSTS FOR BLACKS IN NBA HISTORY:
FIRST ALL-STAR:
Donald Barksdale in 1952-53 with the Baltimore Bullets
FIRST PLAYERS TO WIN AN NBA TITLE:
Jim Tucker and Earl Lloyd with the 1954-55 Syracuse Nationals
FIRST MVP:
Bill Russell in 1957-58 with the Boston Celtics
FIRST HEAD COACH:
Bill Russell in 1966-67 with the Boston Celtics (he was a player-coach)
FIRST GENERAL MANAGER:
Wayne Embry in 1972-73 with the Milwaukee Bucks
FIRST MAJORITY OWNER:
Bob Johnson was granted a franchise (which became the Charlotte Bobcats) on Jan. 10, 2003

The New York Knicks' payroll issues are bleak. The team has committed to a whopping $95.2 million in payroll this season. Add in the roughly $27 million they'll owe the league in luxury-tax penalties and it gets even uglier.
Things don't get much better next season -- they only drop one contract, Fred Jones', from the books. As it stands now, the Knicks' payroll goes down to $89.8 million in 2008-09.
The watershed year is the summer of 2009. Stephon Marbury, Malik Rose and Mardy Collins all come off the books and the Knicks' payroll plummets to $62 million. That's not enough to sign free agents, but for the first time in a long time the Knicks will have breathing room from the luxury tax.
Of course, had they not pulled the trigger on the Zach Randolph deal this past summer, they could've been $10-$15 million under the cap in 2009.
If the Knicks are patient for one more year after that, Quentin Richardson and Jerome James can come off the books, too. However, by then they'll have to decide how much to pay David Lee and Nate Robinson.
So, in the summer of 2010 -- the same summer that LeBron James, Dwyane Wade and Chris Bosh become unrestricted free agents -- the Knicks could conceivably have cap room, especially if they move Eddy Curry or Randolph for cap space down the road.
Patience is a virtue here. If Isiah Thomas had bit the bullet and whittled away the Knicks' salary cap when he got to New York, he would have had serious cap room this past summer.
Instead, the Knicks are in worse shape than when he arrived. The next guy can't make the same mistake.
Cap room doesn't win championships, but it gives teams the flexibility to make things happen. Right now the Knicks have zero flexibility, essentially neutralizing anything intelligent that a GM can do.
If the Knicks can find a way to get rid of some combination of Curry or Randolph plus either Jared Jeffries or Jamal Crawford for a contract that expires after the 2009-10 season, they could be major players on the free-agent market in 2010.

Weekend's Best

Jason Richardson, Bobcats guard:
Richardson scored a season-high 38 points and pulled down a season-high 14 rebounds in Saturday's win over Memphis. The Cats are 5-3 over their past eight games, including two OT losses.
---

Weekend's Worst

Ricky Davis, Heat guard:
Davis was 1-of-7 in 21 minutes in Satuday's 88-84 home loss to the surging Knicks, helping to send Miami to its 13th straight loss on D-Wade's 26th birthday.
---
Quote of the Night

"I just go out there and do what I've got to do. I'm always going to be kind of emotional, but staying level-headed is very important."
-- Kings forward Ron Artest
, after returning to Detroit and Indiana over the weekend, bringing home wins both times.
• See Sunday's daily leaders
-- Andrew Ayres
Watch Out For Those Knicks

By Mark Simon
ESPN Research

Looking ahead to Monday's Celtics-Knicks matchup, who would have thought the Knicks would be the hotter team? Boston rolled to a 104-59 win in the teams' first meeting this season.
Celtics/Knicks Past Five Games

Category
BOS
NYK
W-L
3-2
4-1
PPG
92.6
98.2
FG Pct
46.8
45.9
Opp PPG
85.8
91.6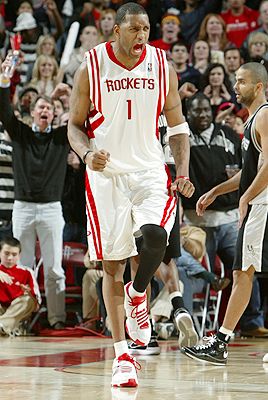 Bill Baptist/NBAE via Getty Images
Tracy McGrady, back after missing 11 games with a sore left knee, winces in pain during a break from his 27 minutes on the floor in Houston's 83-81 win over San Antonio. McGrady had nine points on 4-of-12 shooting.

Grizzlies point guard Damon Stoudamire is close to reaching a buyout agreement that would allow the 34-year-old to sign as a free agent with either the Boston Celtics or the Phoenix Suns, a source told ESPN.com's Chris Sheridan on Saturday.
Stoudamire's field goal percentage is not very high. However, he is pretty sharp with the 3, having made 36 of 94 shots (38.3 percent) so far this season.
The Celtics, Suns, Miami Heat, Toronto Raptors and Denver Nuggets all have discussed trade possibilities with the Grizzlies to acquire Stoudamire, the 1996 NBA Rookie of the Year and a 12-year veteran. Stoudamire was the Grizzlies' starting point guard over the first two months of the season before rookie Mike Conley was promoted. Stoudamire has not played since Dec. 30.
Worst Career FG Pct Active players, minimum 750 starts

Players
FG Pct.
Jason Kidd
40.1
Damon Stoudamire
40.7
Allen Iverson
42.4