David Dow/NBAE via Getty Images
Hit Or Miss: Kidd Deal Could Be Last-Second Deadline Shot

EAST RUTHERFORD, N.J. -- "Strike two," Jason Kidd said from the interview podium, shooting down attempt No. 2 to get him to answer a question about his future.
A small grin crept across Kidd's face as he congratulated himself for his humorous ingenuity before he scanned the room as though he owned it and practically dared another reporter to allow him to end the interview session with a "Yer Out."
A New Jersey Nets official had begun Kidd's postgame news conference by declaring that Kidd would only field questions regarding the game, a 87-80 victory over the Milwaukee Bucks that snapped New Jersey's nine-game losing streak.
And when Kidd's inquisition ended peacefully (he had made his point with "strike two"), he stood up and walked away a winner for the first time since Jan. 9 when New Jersey beat Seattle -- back when Kidd's desire to break free of the Nets was merely simmering instead of being on full tilt, a rolling boil, as it is now.
A sense of relief permeated the Meadowlands after the game, an unmistakable collective exhale as strong as the air of impending finality that wafted through the corridors of the building in the two hours leading up to tip-off.
Nets coach Lawrence Frank had seemed unusually candid beforehand, speaking with the tone of someone in on the secret, as he spoke of Kidd's professionalism in giving his all to the Nets until there's a resolution to his trade request.
"He's a Net until he or anyone else is wearing another uniform. So until he's wearing that uniform, we all have to put in a lot of hard work," Frank said, adding that Kidd's status was not going to be "awkward" in the locker room because the core of the team has been through similar situations before.
Frank went on to compare the current crisis -- amped up Monday when Kidd told ESPN's Ric Bucher he indeed wants out of New Jersey -- to the situation last season when Kidd was nearly traded to the Lakers, as well as the situation five years ago when the Nets had just been sold to Bruce Ratner and had lost Kerry Kittles and Kenyon Martin through free agency after the team had made consecutive trips to the NBA Finals.
"We were in USA Today after media day, and the story was all about Alonzo [Mourning] and Jason didn't want to be here," Frank said. "We've been through waters similar to this."
This time, however, the aura surrounding the Nets is different. The roster remains fundamentally flawed from the duplication Richard Jefferson and Vince Carter bring to the roster, and the nine-game losing streak has left New Jersey with a goal for this season that really boils down to striving to secure the seventh or eighth playoff seed in the East, which brings with it a daunting postseason matchup against the clearly superior Celtics or Pistons.
Kidd wants to be with a legitimate contender, preferably immediately, especially given the Nets' reluctance to extend his contract past its current expiration date in June 2009.
But what's good for Kidd is not necessarily what's good for the Nets.
If, at the end of the day, the best the Nets could do was to get Mike Bibby for him, would they do it? (The guess here is that the Maloofs of Sacramento would go for that.)
Kidd would prefer a trade to one of four teams -- the Lakers, Mavericks, Nuggets or Cavaliers -- with legitimate championship aspirations, but he's also well aware that none of those teams has the goods or are willing to give up the goods to make a straight-up swap possible.
Kidd, too, knows Nets president Rod Thorn well enough to understand that Thorn is 95 percent likely to take things right down to the 11th hour at the trade deadline to make the right deal, which means Kidd is facing three more weeks of limbo in New Jersey before there's either a resolution or not. Hence the "no questions about my future" rule, which we should expect to remain in effect right up until 3 p.m. on Feb. 21.
A source with intimate knowledge of the Kidd-Nets dynamic insisted all trade talks were still in the "exploratory" stage.
Another source, this one close to Nets owner Bruce Ratner, described him as increasingly frustrated and disappointed with the state of the franchise -- the team's move to Brooklyn has now been put off until 2010-11 while Ratner continues to wait for the first shovel to go into the ground at the team's future home.
Once upon a time, the Nets expected to make that move to Brooklyn with Kidd as the centerpiece of the roster, though aging.
Now, they seem resigned to a future without him -- even though that future might not begin until Feb. 21, or even later (think draft night) if Thorn can't find a deal that brings in something approaching 90 cents on the dollar.
Still, from the sound of the Nets' voices Tuesday night, you couldn't help but walk away with the sense that the franchise is three weeks away from doing something of significance with Kidd.
As Marcus Williams put it: "I don't focus on him leaving, because he's still here, and I've enjoyed every moment playing with him, and I'll continue to do so as long as he's here. If he stays, it'll be great for us. If he leaves, we have to progress from there."
Chris Sheridan covers the NBA for ESPN Insider. To e-mail Chris, click here.
Dimes Past: January 14 | 15 | 16 | 17 | 18 | 19-20 | 21 | 22 | 23 | 24 | 25 | 26-27 | 28 | 29
Can Mighty Mouse Help Mighty Champs?

Gus (Pensacola, Fla.,): How much will Damon Stoudamire help the Spurs if he signs with San Antonio? He seems like a huge improvement over Jacque Vaughn.
John Hollinger: He'd be an upgrade, but he's not the player he was a few years ago. He can't defend like Vaughn, but honestly I don't think Vaughn has been as good in that area as he was a year ago. And that second unit could really use another guy who can score.
Joe, R.I.: Is it wise for the C's to pass on Mighty Mouse and hope and pray Sam I Am becomes available?
John Hollinger: No it's not, because there's a decent chance somebody trades for Sam Cassell before he's ever waived. Certainly the idea of him reuniting with George Karl in Denver has to be tempting, for instance.
Melody (La.): Hedo Turkoglu has to be an All-Star, even if it means Antawn Jamison gets left out! If any team besides Boston deserves two All-Stars, isn't Orlando the easy pick?
John Hollinger: If you look back at every lame All-Star pick from the past decade, it was when coaches went for the second-best player on a team with a winning record to "reward" them for their start. (Woo-hoo. I'm sure the coaching staff and the other 11 players were thrilled.) Then we look back a year later and go "wait, Mehmet Okur made the All-Star team?" Turkoglu had a nice year so far, but he hasn't been one of the 12 best in the East.
•See the full John Hollinger chat
Jefferson Leaving Good Impression

By David Thorpe | ESPN.com
CHICAGO -- Timberwolves center Al Jefferson, who had his usual 20 points and 12 rebounds here in a 96-85 loss to the Bulls, looks like a classic bucket-getter. His feel for putting the ball in the hoop is very special. And he has terrific hands and nimble feet for a guy with good size. He really has no offensive weaknesses. He's OK defensively, not great. But his upside on that end is considerable.
Before seeing him Tuesday, I'd have said shooting was the part of his game he needed to work on. But I was really impressed with his shooting mechanics; he gets great arc on his shot and looks good shooting it. I think he can be an even better athlete, chiseling his frame and improving his explosiveness.
Wolves guard Randy Foye, playing his first game of the year, struggled early on with his feel, but I liked what I saw in terms of quickness. He was better in the second half, and showed strength with the ball in traffic. He is not a natural point guard, but he is skilled and unselfish so he'll figure it out.

Tuesday's Best

Yao Ming, Rockets center:
Drops in 36 points and 19 rebounds in a 111-107 win over the Warriors. Yao, an 85 percent free-throw shooter, sank 14-of-15 from the stripe.
---

Tuesday's Worst

Dwyane Wade, Heat guard:
A season-low seven points wasn't the worst of it. Missed all but one of his nine shots in a 117-87 thrashing at the hands of Boston. Ain't nobody named Pookie getting in my five.
---
Quote of the Night

"It was like we won the championship."
-- Sonics rookie Kevin Durant
, after making the go-ahead jump shot in beating defending NBA champion San Antonio 88-85 to finally end their team-record losing streak at 14 games.
• See Tuesday's daily leaders
-- Andrew Ayres

ESPN Research

In 14 career NBA seasons, Chris Webber has put up some great numbers and although knee injuries have limited his effectiveness the past several years, his career averages rank up there with some of the all-time greats. Webber is one of six players in NBA history to average 20 points, 10 rebounds and 4 assists.
C-Webb And Another "Fab Five"

Player
PPG
RPG
APG
Games
Elgin Baylor
27.4
13.6
4.3
846
Larry Bird
24.3
10.0
6.4
897
Wilt Chamberlain
30.1
22.9
4.4
1,045
Billy Cunningham
20.8
10.2
4.0
654
Kevin Garnett
20.5
11.3
4.4
968
Chris Webber
20.9
9.8
4.3
822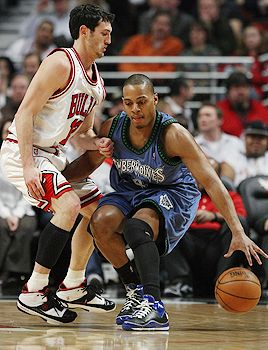 Jonathan Daniel/Getty Images
Timberwolves guard Randy Foye, who missed the first 43 games with a strained kneecap, made his season debut. Foye played 17 minutes, scoring 11 points as the Wolves lost to the Bulls 96-85.

Chad Ford talks about the NBA rookies with David Thorpe. How come Kevin Durant hasn't really lived up to the high expectations?
Durant Watch