Lisa Blumenfeld/Getty Images
Getting Ready For The Dealing Season
Editor's Note: Here's a sampling of writers' opinions on deals big and small that could be made as the Feb. 21 trading deadline approaches ...
Marc Spears, Boston Globe: Don't get the Boston Celtics wrong, they quietly had interest in Damon Stoudamire. But it seems like the reason they didn't make that move is because they were intrigued by the possibility of landing LA Clippers guard Sam Cassell.
Cassell has two championship rings from early in his career with Houston, is a former teammate of Celtics star Kevin Garnett, is a bigger guard than Stoudamire and could be a mentor to young Rajon Rondo. Adding Cassell's size and experience could help in guarding a crafty veteran guard like Detroit's Chauncey Billups in a possible Eastern Conference playoff matchup. All of which makes him very attractive to the Celtics.
The problem however is the Celtics don't have the attractive pieces to make a move via trade. The struggling Clippers would like to drop salary. So with that being said, the only way it seems Cassell will come to the Celtics is if he is bought out by the Clippers. Therein lies the problem.
Cassell didn't make big money early in his career, so it would be hard to walk away from a contract paying $6,150,000. Also keep in mind, as cheap as the Clippers are, they would try to squeeze as much money as possible out of Cassell especially now that he's their starting point guard looking at an opportunity to make a break for utopia. A source told the Boston Globe that the Clippers would be interested in a buyout if Cassell would give up major money.
So basically it comes to this: what's more important to Cassell, playing for a potential championship or getting paid?
The answer to that question will likely determine whether he will be reunited with Garnett.
---
John Hollinger, ESPN.com:
OK, so we've heard about Jason Kidd's interest in the Mavs, Cavs, Nuggets and Lakers. But let's turn this on its head -- which team could use Kidd the most?
The answer would be a team with wing players who like to run. A team with a glaring hole at the point and, perhaps, one in need of veteran leadership in the locker room. A team with enough scorers that Kidd wouldn't be asked to provide points, and a team close enough to doing something significant that Kidd could make a real difference.
So tell me, based on those criteria … how do the Atlanta Hawks not qualify?
They have the pieces to make an offer, too, if general manager Billy Knight -- who has a reputation as a reluctant deal-maker -- is so inclined. It would cost them Josh Childress, the expiring contracts of Tyronn Lue, Lorenzen Wright and Anthony Johnson, plus either Zaza Pachulia or Shelden Williams. Atlanta could get Malik Allen back in the deal too (really, Josh Smith, Joe Johnson and Marvin Williams easy buckets in transition that have been frustratingly rare so far this year. And the Hawks only need to rent him for a year and a half (or two and a half if a one-year extension is part of Kidd's ransom), so the risk isn't as big as it seems.
It might be fruitful for Kidd, too -- he gets to play the hero again, just like when he came to New Jersey. Of course, it takes two to tango, and the Nets may get better offers than Childress and expiring deals. But it's worth pursuing, isn't it Billy? … Billy? … Hello?
---
Brian Windhorst, Akron Beacon Journal:
Cavs GM
Danny Ferry
has proven to be two things: conservative and determined to win his deals, be they trades or player signings. While the fan base in Cleveland badly wants a major deal to get a point guard like Mike Bibby,
Jason Kidd
, or
Andre Miller
, because of the Cavs' lack of assets, a smaller deal is more likely. Picking up another shooter or a big man for depth with
Anderson Varejao
down with injury with the expiring contracts of
Ira Newble
and
Shannon Brown
is realistic. Two years ago a
Mike Wilks
-for-
Flip Murray
swap ended up being a positive injection for the team. The Cavs have been calling around the league for weeks just to see who might become available by Feb. 21.
---
J.A. Adande, ESPN.com:
If the Trail Blazers want to accelerate their arrival date, upgrade the point position and get a little more experience in Portland, why not make a play for another "1" who could be available:
Andre Miller
. It could cost a little less than the proposal being bandied about Wednesday.
How about Channing Frye, Steve Blake and Travis Outlaw to Philadelphia for Miller? The Blazers get a point guard with slightly better stats than Devin Harris, the player they would get from the Dallas Mavericks in the proposed three-team deal with New Jersey. The Sixers get three good young players to get their rebuilding process under way.
Dimes Past: January 16 | 17 | 18 | 19-20 | 21 | 22 | 23 | 24 | 25 | 26-27 | 28 | 29 | 30
Sophomores Shine On Ford's Big Draft Board

By Chad Ford | ESPN.com
Brook Lopez C, Stanford
At the end of last season, Lopez ranked as the eighth-best prospect in our top 100 for the 2007 draft, but he decided to return to school for his sophomore year. That quickly backfired when he was suspended indefinitely from the team for not attending classes earlier this season. He ended up missing the first nine games of the season and slipped down to No. 15 on our board. Scouts everywhere were asking the same question: How can a guy with such a bright future turn down the NBA for college and then quit going to class?
Now that he's back, Lopez has been on fire. He's averaging nearly 18 points per game and 8 rebounds in just 26 minutes per game. Offensively, Lopez has shown the ability to score both inside and outside. He has good athleticism for a big guy, long arms and a good motor.
Although scouts wish he was a more dominant rebounder and shot-blocker, the truth is that his brother, Robin, often takes care of that for him.
Right now Lopez is ranked No. 7 on our big board, but he has the potential to be a top 5 pick in the 2008 draft.
Brewer's Half The Way There

By David Thorpe | ESPN.com
Minnesota Timberwolves forward Corey Brewer has proved to be an excellent defensive player, rookie or not. His stellar defense against Boston's stars was impressive. But as solid as he is on defense, he is equally lost on offense. I think it stems from a lack of confidence in his jumper, which unsettles the rest of his game. Until he learns to shoot with a consistently extended follow-through, I doubt he will develop a shot he can be confident in.
•Yi Jianlian's production has dropped a fair amount in 2008, and from what I can see, it's because he's struggling to "make two plays." The effort is there, but the mental concentration needed to make the second play isn't. Case in point: His five offensive rebounds against Golden State on Sunday resulted in zero points. Twice he was blocked by Brendan Haywood after putting up a soft shot.
•See the full David Thorpe rookie report

Wednesday's Best

LeBron James, Cavs forward:
Sass the king at your peril. With a Blazer booster barking at 'Bron, James proceeded to dismantle Portland in an 84-83 win. Goes for 37 points, 14 rebounds and the winning, last-second, layup.
---

Wednesday's Worst

Chris Duhon, Bulls guard:
Accepts this award on behalf of the Bulls, who scored 67 in a loss to Minny. Spends 22 minutes on the Target Center floor, missing the target all four times.
---
Quote of the Night

"Nobody likes to get booed. It wasn't really motivation. It was kind of distracting, but at the same time you've just got deal with it. I expected it, so I just dealt with it."
-- Warriors guard Baron Davis
, the former Hornet who returned to New Orleans with 23 points in a 116-103 win that snapped the Hornets' nine-game winning streak.
• See Wednesday's daily leaders
-- Andrew Ayres
Paul's Powerful Performance

Peter Newmann
ESPN Research

Chris Paul is averaging 20.6 points per game and 10.7 assists per game this season. The last player to average 20 ppg and 10 apg was Tim Hardaway in the 1992-93 season. He is also third in the NBA in assist/turnover ratio this season. The Hornets have won nine of their last 10 games and have the best record in the Western Conference. With the NBA All-Star game in New Orleans next month, Paul should expect an invitation.
Most 20-Point, 10-Assist Seasons

Player
No.
Oscar Robertson
5
Isiah Thomas
4
Magic Johnson
3
Kevin Johnson
3
Nate Archibald
1
Tim Hardaway
1
Michael Adams
1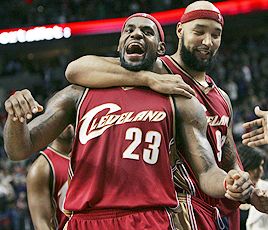 AP Photo/Rick Bowmer
LeBron James celebrates with teammate Drew Gooden after scoring the winning shot against the Portland Trail Blazers.
FANtastic Finish For LeBron
Michael Jackson
ESPN Research

If you are a fan and LeBron James comes to your building … don't heckle him. For the seconnd time this season, LeBron James torched an opponent in the fourth quarter because of a heckler in the front rows. James scored 17 of the Cavaliers 22 points in the come-from-behind win. Just a couple of weeks ago, James went for 24 pts at Toronto in the fourth for a three-point win.
James' Fourth Gear

Jan. 6
Jan. 30
Opponent
at Raptors
at Blazers
Points
24
17
FG-FGA
8-10
6-13
3-pt FG-FGA
4-5
3-4
Result
W, 93-90
W, 84-83