Sam Forencich/NBAE via Getty Images
West Grades: Marks Of Success

Time to pass out West grades slightly past the midway mark, heading for the All-Star break next week (teams listed in order of win-loss record) ...
Phoenix Suns (Grade: B+) -- The Suns will get their usual 56-60 wins but have been more inconsistent than in past years. They have lost games to bad teams, a disturbing sign since they have annihilated the bottom-feeders the past three seasons. Grant Hill's resurgence has been a great story, and Steve Nash and Amare Stoudemire have put up their usual gaudy numbers, but the Suns seem to be lacking something. Look for a major trade to stir things up.
Dallas Mavericks (Grade: B+) -- Hey, 67 wins last season sets the bar pretty high. The Mavs are still an elite team and remain on the short list of true title contenders, but they have to prove they earn an A grade by showing up in the postseason.
New Orleans Hornets (Grade: A+) -- The Hornets have been nearly flawless. Chris Paul is a top-three MVP candidate, David West is a well-deserved All-Star, Tyson Chandler has emerged as a dominant force in the paint, and coach Byron Scott has done a remarkable job of turning New Orleans into one of the best defensive teams in the NBA. More than anyone could expect.
Los Angeles Lakers (Grade: A+) -- Andrew Bynum is on the verge of stardom. Derek Fisher and Jordan Farmar have given the Lakers outstanding play at the point. Now, L.A. gets Pau Gasol without giving up anything indispensable. With Kobe Bryant, the game's most complete player, maturing into a great leader, the Lakers finally have enough talent to make a run at the Finals. Give GM Mitch Kupchak a lot of credit. The only potential problem -- will Lamar Odom be happy now that he is the third wheel offensively?
San Antonio Spurs (Grade: C) -- Most teams would be thrilled with being 29-16 and in a solid playoff position. The Spurs aren't most teams. Tim Duncan earns his marks based on titles and this version of the Spurs looks shaken as we head toward the All-Star break. Injuries have played a part but 3-11 versus teams above .500 says a lot. Having said that, the Spurs will play their best ball as April approaches.
Utah Jazz (Grade: C+) -- They are hot right now and appear to have righted the ship, but where was the tenacious defensive commitment, ridiculous team passing, and assault on the glass that got this team to the Western Conference championship last May? Deron Williams and Carlos Boozer have been very good, but they will need more for a deep playoff run.
Denver Nuggets (Grade: B) -- A lot of people dismiss the Nuggets as a team that can't be taken seriously in terms of winning a championship. But you can't deny the fact that Denver is a dangerous team because of its firepower. They will scare one of the elite teams in the postseason but they are still too undisciplined and lack a commitment defensively.
Golden State Warriors (Grade: B+) -- Nice turnaround after an 0-6 start without Stephen Jackson. The Warriors can light up anybody on a given night. The problem isn't talent -- it's the ability to win when the game slows down as it inevitably will in the postseason. Chris Webber can help if his knees are rejuvenated. The bottom line -- none of the elite teams wants to see the Warriors in the first round.
Houston Rockets (Grade: C-) -- Granted, the Rockets have a new coach and have dealt with the annual absence of Tracy McGrady due to injuries, but they earn a below-average grade nonetheless. The offensive freedom that was expected in the post-Jeff Van Gundy era hasn't turned into wins and they have taken a step back defensively.
Portland Trail Blazers (Grade: A-) -- One of the most refreshing teams the NBA has seen in a long time. They lose Greg Oden for the season, yet the Blazers have won consistently with five guys averaging double-figures all under the age of 25. It's difficult to win consistently with that kind of youth, but Brandon Roy has taken control of the leadership and emerged as a star in only his second season. They have size, athleticism, shooting and depth. Add Oden to the mix next year and you have a team that can contend for a title.
Sacramento Kings (Grade: INC) -- The Kings get an incomplete because they are this season's version of the 2006-07 Hornets. They have been decimated by injuries to their best players. With Kevin Martin, Ron Artest, Mike Bibby, and Brad Miller playing together, they can compete for a playoff berth. Notice I said "compete". Ultimately they will come up short after falling into such a hole.
Los Angeles Clippers (Grade: D+) -- The Clips have also been saddled with injuries, but they have lacked energy and passion all season. The lone bright spot has been a career year from Chris Kaman. Look for Sam Cassell to be moved before the deadline.
Memphis Grizzlies (Grade: C-) -- The Grizzlies cannot be defined by their won/loss record. Rudy Gay has been one of the true breakthrough players in the league. However, this team is a few years away from competing. The Pau Gasol trade looks like a steal for the Lakers on the surface, but this deal isn't about Kwame Brown. The first-round picks and Javaris Crittenton give the team more light at the end of the tunnel.
Seattle SuperSonics (Grade: D) -- I know that this roster is not much better than its record indicates, but a 14-game losing streak makes it tough to get into the 'C' grades. Kevin Durant can score, but his rebounding and defensive apathy have been disappointing. Hopefully, the bad habits and shot selection he has shown are more a result of the circumstances. P.J. Carlesimo has his work cut out for him.
Minnesota Timberwolves (Grade: C-) -- If this were written two weeks ago the Wolves would have received a resounding F, but they seem to be turning things around. The good news is that Al Jefferson has turned into a dominant player on the block. Playing without Randy Foye most of the year deserves a break on the grading.
ESPN analyst Tim Legler is a regular contributor to the Daily Dime.
Dimes Past:
January 25
|
26-27
|
28
|
29
|
30
|
31
|
February 1
|
2-3
|
4

Jason (Utah): So... would you rather have Caron Butler or Pau Gasol?
Marc Stein: Good one. Long term for the Lakers, I'd rather have Caron back. But in the short term, as an Andrew Bynum replacement, Pau is better. But Lakers fans still can't complain because giving away Caron was a huge gaffe and finding a way to rectify it this quickly is a huge coup.
Sactown Mikey: The Boys from Sactown are finally at full strength, go 4-0 for the week -- including a convincing thumping of New Orleans -- and you only bump 'em up one spot!!! I know the West is tough, but WHERE IS THE LOVE?!?
Marc Stein: You answered your own question. It's the West. And as weak as the bottom half of the league is these days, it's pretty crowded in the top 15. I tried to wedge Orlando and Houston into the top 10 and simply couldn't find a way.
Augie (Portland): Is Portland really active in the trade market? Or is GM Kevin Pritchard telling the truth when he says he doesn't want to make any changes.
Marc Stein: Both. He said publicly what he had to say, just like Avery Johnson has to say that "we're not involved" in Kidd talks. Believe what you wish, but Portland, Dallas and New Jersey talked extensively about a three-way Kidd trade last week. I'm 100 percent positive.
• See the full Marc Stein chat
Talking About The Gasol Deal

By Eric Karabell | ESPN Fantasy Games

During the past week Sacramento's Brad Miller has become somewhat a cult hero in fantasy hoops with a pair of 20-point, 20-rebound games. A 20/20 game isn't something we expect from Miller. He's a very good passer for a center, so I would have been less surprised with a triple-double, which he has three of in his career. But 20 boards? A season ago, he topped 10 boards only nine times. Never in his career had he registered a 20/20 game or more than 19 rebounds.
According to our handy dandy Player Rater, only some guy named Kobe Bryant was better in the past week than Miller. Would you trade Kobe for Miller? Not a chance, even if you didn't have any centers on your team. But when it comes to pure centers, Miller is the No. 6 option, making him the best center value of the season, in the non-Chris Kaman division. Also, in the very important Miller race for supremacy, Memphis' Mike Miller is No. 32 for the season, Brad is one spot behind, and Philly's Andre Miller is 68th. I know you're all following this very closely.
• See the full Eric Karabell blog

Monday's Best

Josh Smith, Hawks forward
-- Nearly a triple-double
and
a 5x5 (five or more points, rebounds, steals, assists and blocks). Whew. Finished with 19 points, nine assists, nine blocks, six rebounds and four steals in a 96-91 victory over the 76ers. The last player to have 9-plus blocks and assists in a game was David Robinson against Detroit on Feb. 17, 1994. He had 10 and 10.
---

Monday's Worst

Jason Williams, Heat guard:
Probably bummed his high school teammate Randy Moss didn't get a ring. So Williams goes 1-for-7 in a 114-82 beatdown at the hands of the Raptors.
---

Quote of the Night

"I don't think people expected me to come in and do the things that I normally do."
-- Raptors guard T.J. Ford,
on returning to the lineup after missing 24 games with a left arm stinger.
• See Monday's daily leaders
-- Andrew Ayres

By ESPN Research

The Celtics face the Cavaliers on Tuesday at 7 ET, pitting last season's Eastern Conference winner against the team many believe will come out of the East in June. On Nov. 27, the Cavaliers handed the Celtics their second loss of the season with a 109-104 overtime win as LeBron James scored 38 points. Boston got revenge on Dec. 2 with an 80-70 win but LeBron didn't play.
Best W-L Since December 25

Team
Record
Pct.
Jazz
16-4
.800
Hornets
15-5
.750
Rockets
15-5
.750
Cavaliers
14-4
.778
Celtics
14-5
.737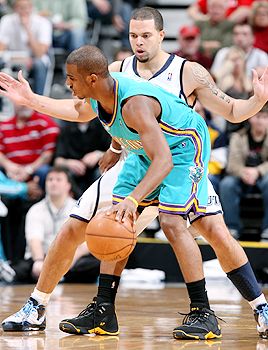 Melissa Majchrzak/NBAE via Getty Images
Chris Paul, in foul trouble early, was once again topped by Deron Williams, who finished 11-for-13 from the floor. Paul had six points.

By ESPN Research
When the San Antonio Spurs play at the Indiana Pacers on Tuesday (7 ET), they will be trying to pull even on their annual nine-game road trip forced by a rodeo taking over their home AT&T Center.
Annual Rodeo Road Trip

Year
Record
2007-08
1-2
2006-07
4-4
2005-06
6-2
2004-05
5-2
2003-04
6-1
2002-03
8-1