Photo by David Liam Kyle/Contributor/Getty Images
Planting East Seeds With Green Thumb

Here's a look at how the playoff matchups would shape up if the Eastern Conference postseason began today. With the regular season's conclusion less than five weeks away, I don't think you'll see much movement in these seeds by the time April 16 rolls around.
In one scenario, however, the Cleveland Cavaliers could overtake the Orlando Magic for the No. 3 spot. That could put the Detroit Pistons in a second-round matchup with Cleveland. Neither Boston nor Detroit wants anything to do with Cleveland in the East semifinals.
No. 1 Boston Celtics vs. No. 8 Atlanta Hawks -- For the Hawks' sake, let's hope Mike Bibby will be playing better come playoff time. He doesn't look healthy to me. The Hawks are disappointing to me; they could finish 10 games under .500 in a bad conference. The Celtics take care of business here with relative ease. (Celtics in 4)
No. 2 Detroit Pistons vs. No. 7 Philadelphia 76ers -- Fans in Philly have seen one of the better coaching jobs in the NBA this season done by Mo Cheeks, and the Sixers have played hard all season long. Andre Miller has been their most consistent player and the rookie Thaddeus Young has played well. Unfortunately they run into a Pistons team upset over how it went out versus the Cavs last season. (Pistons in 5)
No. 3 Orlando Magic vs. No. 6 Washington Wizards -- Another great job by Wizards coach Eddie Jordan. The Wizards have run their system even without Gilbert Arenas for much of the season and Caron Butler in and out of the lineup.
The Magic have taken a step forward with Stan Van Gundy's coaching and Dwight Howard's move into absolute stardom. The Magic are limited in some ways at power forward, having never replaced Tony Battie. The Wizards win a couple here based on previous playoff experience. (Magic in 6)
No. 4 Cleveland Cavaliers vs. No. 5 Toronto Raptors -- I like the Cavs' big trade, getting some shooting to surround LeBron James. Last season's team -- a club that had no business being in the NBA Finals -- was built just on defense and LeBron.
As for Toronto, Jose Calderon has been off the chart as the most improved player in the league, mostly because his opportunity to play has increased, allowing him to show what he can do. Still, too much of a jump-shooting team. (Cavaliers in 6)
EAST SEMIFINALS
Boston vs. Cleveland -- A scary series for the Celtics. I don't see a real good defensive matchup Boston can put on James. I'd assume Paul Pierce would have the honors over the Allens, Ray and Tony.
It helps that Pierce is having his best defensive season and best overall. Boston has been a great defensive team, but it would have its work cut out for it with Cleveland's shooting ability, which greatly improved with the deadline trade. LeBron is a better jump-shooter now, with a better understanding how to finish games. He has figured out how to be The Man. Still picking Boston, though. (Celtics in 6)
Detroit vs. Orlando -- This Orlando team is still not ready for title contention. Detroit's frontcourt is too much for the Magic -- Antonio McDyess, Rasheed Wallace, Jason Maxiell, Amir Johnson and now Theo Ratliff. The Pistons have too many big guys they can throw at Howard, who's bedeviled by poor free-throw shooting (59.8 percent).
The Magic's other problem here is no adequate matchup for Chauncey Billups -- Carlos Arroyo and Jameer Nelson are smaller point guards. Hedo Turkoglu should have been an All-Star, but the Pistons still have Tayshaun Prince and Richard Hamilton. This series is a matchup made in heaven for Detroit. (Pistons in 5)
FINALS
Detroit vs. Boston -- Think this is a seven-gamer all the way, one that could end up coming down to final possessions in multiple games. Very evenly matched teams, with the experience factor going to Detroit . But I love the way Boston has defended. The team played well during the absence of Kevin Garnett. While the team's marquee big man was sidelined, Leon Powe, Kendrick Perkins and Glen "Big Baby" Davis got more opportunities to play.
Finally, I love the pickup of Sam Cassell by Boston, with the immeasurable experience and confidence he brings. You like seeing him out there on the floor at the end of a game. P.J. Brown could be a factor, as well. Expect a play here or a play there that's going to decide the series. (Celtics in 7)
ESPN analyst Jon Barry is a regular contributor to the Daily Dime
Dimes Past: March 1-2 | 2 | 3 | 4 | 5 | 6 | 7 | 08-09 | 9 | 10 | 11
Rockets Something Special In The Air

Brian (Brooklyn): Is it possible that the Rockets are better without Yao Ming? Tracy McGrady and Luis Scola work the pick-and-roll really well, something they did a lot less of with Yao in there.
John Hollinger: I think you're focusing on the wrong end of the floor. Houston's D has gone from great to suffocating, because Mount Mutombo has taken over some minutes and Chuck Hayes (another great defender) is also playing more. One other thing, though -- a lot of Yao's minutes went to Carl Landry!, who has been awesome, but Landry! is out with a sore knee and we don't know when he'll be back.
Chad (Utah): So how do you rate the Utah starters for potential playoff success?
John Hollinger: They are one of the seven serious title contenders this season. You have to include Boston, Detroit, San Antonio, the Lakers and the Rockets in that conversation, too. The Hornets, Mavs, Suns, Magic and Warriors are in the waiting room trying to get in.

By Eric Karabell | ESPN Fantasy Games
I got to thinking, after the really big names, who are the indispensable players a fantasy team can least afford to lose? We're hoping they remain healthy, of course, especially the first guy with the history of, um, troubles, but here's the best way I can describe this: I lost Dwyane Wade in a league Monday and didn't throw a fit. If I lose one of these guys, all of whom I do have in at least one league, I might. We leave out the obvious names, like LeBron James, Steve Nash and Dwight Howard. Who would have thought these players would be so critical to fantasy this season?
The list: Marcus Camby, C, Nuggets; Hedo Turkoglu, SG/SF, Magic; and Rashard Lewis, PF, Magic.
By Peter D. Newmann | ESPN Research
The Boston Celtics won only 24 games last season and Monday became the first team to win 50 games this season. But they are not the only team that has already won more games this season than it did all of last season. They are one of five teams that have already won more games this season than all of last season.
Winning More Games in 2007-08 Than in 2006-07

Team
2007-08 Wins
Wins Increase
Games Left
Celtics
50
+26
20
Hornets
42
+3
20
Lakers
45
+3
18
Blazers
34
+2
17
Magic
41
+1
17

TUESDAY'S BEST
Nick Young, Wizards guard:
The rookie from USC unleashed a dunking spree to help the Wizards to a 105-97 win over the Bucks. Young scored 22 points in 19 minutes, making 9-of-15 field goal attempts.
---

TUESDAY'S WORST

Juan Carlos Navarro, Grizzlies guard:
They took away his pal, Pau, and he's left to contend with the Memphis mess. Navarro made 1-of-9 field goals in a 132-111 loss to the Suns.
---
QUOTE OF THE NIGHT

"This is a basketball team, not a soap opera."
-- Bulls coach Jim Boylan, seeking to ease the tumult surrounding his team.
• See Tuesday's daily leaders
• See the current playoff matchups
-- Andrew Ayres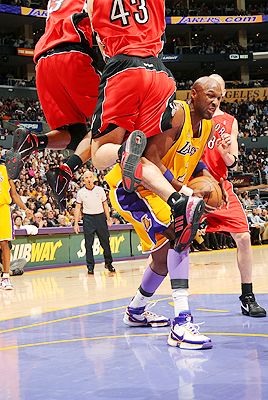 Andrew D. Bernstein/NBAE via Getty Images
Lakers forward Lamar Odom causes Raptors defenders Jamario Moon and Kris Humphries to leave their feet during the Lakers' 117-108 win that gave Los Angeles sole possession of first in the West.

Elias Sports Bureau
Nate Robinson, who scored 45 points against Portland on Saturday, scored only five points Monday night at Dallas. Robinson is the first player in 17 years who followed a game of at least 45 points with a game of five points or less. Houston's Vernon Maxwell scored five points on April 6, 1991, against Utah, the day after scoring 45 points at Denver.

J.A. Adande talks to Richard Justice about the Rockets' amazing streak. Just how has Houston won 19 straight?
Going For 20