Photo by Rocky Widner/NBAE via Getty Images
Wearing The Three-Way Tie

The Western Conference playoff chase now features three teams tied for the final two spots. The Dallas Mavericks, Denver Nuggets and Golden State Warriors sit at 45-28 with nine games to play. The chase tightened up Sunday night when the Warriors stopped the Mavs 114-104.
It's a great race. Let's look a little closer at the Warriors, what they have going for them and what's going to hold them back if they emerge from this knot to make the playoffs. Warriors GM Chris Mullin did a good job of getting this team together when he brought in Don Nelson before last season. And Nelson in turn has done a great thing in giving
Stephen Jackson
the responsibility of captain this season. I'm happy for Jackson. People showing newfound maturity, growth and responsibility are great to see, in the NBA and out. Jackson has shown that when he keeps his emotions in check, he can impact his team. He has risen to the responsibility of a leadership role. And when you talk about an offensive trio in the game right now, few can match the offensive versatility that Jackson (21.0 ppg),
Baron Davis
(22.2 ppg) and
Monta Ellis
(19.8) bring to the table. Ellis had 30 to lead the Warriors in the win over Dallas. But we still have to look at what the Warriors don't do well -- defend, rebound (its minus-4.1 rebound margin is surpassed only by the Heat's minus-4.9) and take high-percentage shots. In the regular season, leading the NBA in scoring is one thing, but the playoffs are a different story. The Warriors are missing a
Carlos Boozer
type, the guy who can take those high-percentage shots and do the rebounding work down low. Golden State doesn't have that established tandem at the 4 and 5. I like what my former teammate in Indiana,
Al Harrington
, is showing he can do by spreading the floor and shooting the 3. But it's a different type of success than what the Warriors would need to win playoff basketball. Teams succeed by finding that mismatch with inside-outside tandems, and looking at contenders in the West, most have significant forces in the paint, whether it's
Shaquille O'Neal
and
Amare Stoudemire
in Phoenix or a player like
Tyson Chandler
in New Orleans. The game Sunday was a rematch of last season's big upset, one that wasn't such a surprise to some of us who see the playoff matchups like a boxing match, and that playing styles make fights. Golden State always has that puncher's chance. That's what Dallas found out in last season's playoffs. Unfortunately for the Mavs in this season's playoff hunt, they are facing teams that are used to playing together. Dallas is still adjusting to playing without the reigning MVP,
Dirk Nowitzki
. Speaking of the MVP, one of the great things about working in the media now is the fun of waffling back and forth on the MVP race. Here's my update -- it's going to be either "Kobe Paul" or "Chris Bryant." They're interchangeable MVP names, depending on the latest result.
Chris Paul
had 20 points and 16 assists in a 118-111 win in Toronto.
Kobe Bryant
had 26 and 13 in a 126-120 overtime win against the Wizards, snapping a two-game losing streak. And of course, we must give props to
LeBron James
, because it doesn't happen every year that a player gets 30 points, seven rebounds and seven assists.
Kevin Garnett
has led his team MVP-style to the league's best record. He should get defensive player of the year. As for Golden State and Dallas, the one award they're looking to get is the honor of making the playoffs. It's going to take some work.
ESPN analyst Jalen Rose is a regular Daily Dime contributor. For more about Jalen, visit his Web site: JalenRose.com.
Dimes Past: March 20 | 21 | 22-23 | 23 | 24 | 25 | 26 | 27 | 28 | 29-30 | 30

By Chris Broussard | ESPN The Magazine
Imagine if the Lakers had bowed to Kobe Bryant and traded him to Chicago. Andrew Bynum would have developed into a great big man with Pau Gasol (no reason to think the Lakers would not still have made that trade) and Lamar Odom alongside him. And the Lakers' collection of guards (not to mention what they'd have gotten from Chicago) probably would have made them a contender in the future.
Meanwhile, Kobe would be playing in MJ's house without enjoying MJ's success. His Bulls would be an also-ran playoff team in the weak Eastern Conference. He'd have no hope of beating Boston or Detroit, and inside he'd be what many of the [recently dealt] superstars probably are -- regretful.
LeBron Falls Short Of 50/20

Elias Sports Bureau
LeBron James was held to 13 points in Cleveland's loss at Detroit on Saturday night, ending his streak of 49 consecutive games scoring at least 20 points. LeBron failed in his attempt to become only the seventh player in NBA history to score 20 or more points in 50 consecutive games within one season. Two active players have done that (Kobe Bryant and Allen Iverson) as did four retired players (Wilt Chamberlain, Oscar Robertson, Kareem Abdul-Jabbar and Michael Jordan).
LeBron started a new streak on Sunday, though, scoring 26 points against the 76ers.
Monday:
NBA Fastbreak with Matt Winer, Jamal Mashburn and Jalen Rose, 12:40 a.m., ESPN.
Tuesday: NBA Fastbreak with Matt Winer, Jamal Mashburn and Jalen Rose, 12:30 a.m., ESPN.
Wednesday: Pacers-Celtics, 7 p.m., ESPN; Warriors-Mavs, 9:30 p.m., ESPN; NBA Fastbreak with Matt Winer, Tim Legler and Greg Anthony, 1:30 a.m., ESPN.
Friday: Kia NBA Shootaround with Mark Jones, Stephen A. Smith and Jalen Rose, 7:30 p.m., ESPN; Spurs-Jazz, 8 p.m., ESPN; Mavs-Lakers, 10:30 p.m., ESPN.
Saturday: Magic-Cavs, 3 p.m., ESPN; NBA Fastbreak with Mark Morgan, Stephen A. Smith and Jalen Rose 12:30 a.m., ESPN.
Sunday: ABC NBA Countdown with Stu Scott, Michael Wilbon and Jon Barry, 12:30 p.m.; Warriors-Hornets, 1 p.m., ABC; Mavs-Suns, 3:30 p.m., ABC; NBA Fastbreak with Matt Winer, Swin Cash and Jamal Mashburn, 11:30 p.m., ESPN.
All times Eastern

SUNDAY'S BEST
Marvin Williams, Hawks forward:
Goes for 27 points and 11 rebounds in a 114-109 win over the Knicks, helping the Hawks increase their lead over New Jersey to 2½ games for the eighth and final spot in the Eastern Conference playoff race.
---

SUNDAY'S WORST

Heat offense:
What happens when the no-score Heat meet the league's top D in Boston? Sixty-two points happen. A record-low 17 field goals happen here -- one fewer than the 18 made by the Bulls against the Heat on April 10, 1999.
---
QUOTE OF THE NIGHT

"I'm not excited for us. We'd like to be third or fourth. We don't want to be part of this three-team, seventh seed or eighth seed or whatever.
-- Mavs coach
Avery Johnson
, on scuttling around the bottom of the West playoff chase.
• See Sunday's daily leaders
• See the current playoff matchups
-- Andrew Ayres

ESPN Research
Expect a high scoring affair when the Denver Nuggets and Phoenix Suns face off Monday at 10 ET. The Nuggets are averaging 120.5 points per game against the Suns this season.
Even more impressive, the Suns are averaging 125 PPG in their two contests vs. the Nuggets this season. Many won't admit it, but Steve Nash has his defensive flaws vs. top-notch PGs. Chris Paul has averaged 29.0 PPG vs. Nash this season and it might become worse for Nash when Allen Iverson comes to town. AI has scorched the two-time NBA MVP this season, averaging 31.5 PPG and 7.5 APG.
Nuggets vs Suns Head-to-Head Matchups

Category
Nuggets
Suns
Wins
1
1
PPG
120.5
125.0
FG pct
47.6
53.5
3-pt FG pct
48.3
57.7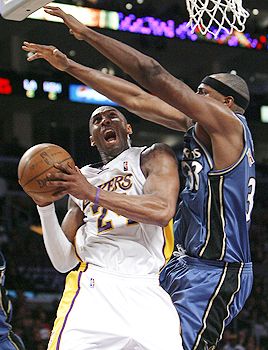 AP Photo/Gus Ruela
Lakers guard Kobe Bryant drives on the Wizards' Brendan Haywood. The Lakers won 126-120 in overtime, earning their 50th win of the season.