John Raoux/Associated Press
Hornets Gut Out Victory in Orlando

ORLANDO -- Sometimes the road to the top seed in the West isn't all sunshine and flowers. Even in Florida.
Sometimes it involves getting up after taking a knee in the back. Sometimes it involves scraping out one loose ball after another because your shots aren't falling. And sometimes it means nailing a game-winning shot even though you have been way off all night.
For the New Orleans Hornets, that night was Tuesday, when they managed a 98-97 win over the Orlando Magic that said much more about their effort than it did about their talent. MVP candidate Chris Paul won't be submitting video of the game to the voters -- although he finished with a respectable 19 points and 12 assists, he shot 6-of-19 with four turnovers and missed two crucial free throws with 6.8 seconds left. He also gave the Hornets a scare by going down in a heap in the second quarter, after he ran into Pat Garrity, fell backward and took the knee of a still-moving Keith Bogans in the right side of his back.
Peja Stojakovic wasn't much better, at least until the final minute. He was 1-of-9 from the field with the Hornets trailing by two, and even his five points at the time vastly overstated his contribution -- three came on technical foul shots. Yet he had the temerity to launch a 3 over Hedo Turkoglu with 54 seconds left to give the Hornets a lead they never would relinquish.
"He was [1-of-9] on the night, and boom," Hornets coach Byron Scott said. "I just had a feeling. I called the play for him, and I didn't know if he was going to get it off because Turkoglu was right there, but when he fell down, [Paul] got it to him and he knocked it down."
"You always have to give yourself a chance," Stojakovic said. "If you don't shoot, you are never going to find out."
What was so impressive about this effort was that the Hornets were on the fifth game of a six-game road trip. When Orlando was up by as much as 14 in the first half, it would have been easy to dial it back. It already had been a nice road trip -- they had won three of four -- and they could have taken it easy on their tired legs, spent the second half launching 3s and said, "We'll get 'em next time."
Instead, they battled their way to a 21-2 edge in offensive rebounds -- yes, 21 to 2 -- despite playing on tired legs against a team with a dominant rebounder, Dwight Howard. Seemingly every long rebound ended up in the hands of a Hornet, and many of the short ones, too.
"They just really outworked us on the glass," Magic coach Stan Van Gundy said. "I thought our defense was as good as it could be against that basketball team in the halfcourt, but we just gave them too many extra opportunities."
"We just didn't want to lose this game," Scott said. "Our guys just busted their butt all night long, and we could have very easily said, 'Let's tank this one and get ready for Miami.' But there's no quit in these guys."
No, it wasn't pretty. But maybe that's why Paul called it their best win of the year -- the Hornets were out of sync all night, missing shots they normally make, and still found a way to get it done.
Instead of being about the artistry of Paul, Stojakovic and David West, this game was about the gritty stuff. It was Morris Peterson losing the ball off the dribble -- then diving several feet to his left to corral it before a Magic player could get it. It was Paul beating Howard to a defensive board with 36 seconds left -- then Peterson earning a crucial offensive rebound with 12 seconds left by forcing an Orlando player to tip it out of bounds. It was reserves like Jannero Pargo and Hilton Armstrong running down loose balls and saving possessions after all the Hornets' bricks.
And it was Paul missing two free throws with 6.8 seconds left and his teammates telling him not to worry, because Orlando wouldn't score -- then Paul making the closeout on Keyon Dooling's last-second shot to preserve the win.
"My teammates knew how mad I was that I missed that," Paul said. "But we knew we were still winning, and if we came out and got a stop, that would be in the past."
"He normally knocks those down in those situations, but I really felt he was just as tired as I don't know what. He played the entire second half, and he was getting bumped around pretty good," Scott said. "[But] I thought Chris did a good job of challenging [Keyon Dooling's] shot at the end and gave us the win."
As a result, the Hornets are right where they were when this road trip started -- in first place in the Western Conference. This trip was supposed to test their mettle, but they have won four of five (with the only loss coming at Boston) and need only play Wednesday's scrimmage against the Miami/Fort Wayne Heat before returning to the Big Easy.
And so, to return to our yearlong theme: These guys aren't going away. At 51-22, with Miami, New York, Minnesota and the Clippers still on the schedule, it appears the Hornets will win 55 games at a bare minimum. They are almost certainly going to be one of the top three seeds in the West, especially since they own tie-breakers over the Spurs, Rockets and Suns.
That's also a perfect description of Tuesday's game. These guys didn't go away; instead, they stole a game they had absolutely, positively no business winning. Shockingly, they still are on top of the West -- and games like this make it seem increasingly plausible that they will hold this spot until the end.
John Hollinger writes for ESPN Insider. To e-mail him, click here.
Dimes Past: March 22-23 | 23 | 24 | 25 | 26 | 27 | 28 | 29-30 | 30 | 31 | April 1

Scott (Sac): With the Lakers losing games to Memphis, Golden State and Charlotte without [Pau] Gasol and [Andrew] Bynum, does Kobe [Bryant] still have a chance at the MVP?
John Hollinger: Honestly, I thought people got way ahead of themselves with the Kobe for MVP thing -- it was like they felt they owed it to him after the propesterous vote in '06. But he doesn't have the best numbers, and he doesn't have the best record, and he hasn't been the best teammate ... so why are we annointing him again?
Mike (Philly): [Gilbert] Arenas is talking about taking a pay cut to stay in Washington; is this just talk, or is he seriously going to take the cut? Does that then make next year's free-agency crop not nearly as good as people thought it would be?
John Hollinger: Arenas is opting out of a deal that would pay him $12 million next season. Obviously, the only reason to do that would be the expectation that he could make more. Draw your own conclusion.
TrueHoop: Defensive Numbers in Support of KG for MVP
Kevin Garnett's arrival turned one of the worst teams in the league into one of the best teams in recent history. You have to consider him on that basis alone.
But poor Garnett -- probably more so than the other candidates -- suffers from a very real flaw of conventional basketball statistics: They don't measure defense beyond steals, blocks and defensive rebounds. So when it's time to tally up his contributions with some numbers, his numbers look smaller than those of the other candidates, and a lot of what he does best is missed.
Or, it was missed, until Celtics owner Wyc Grousbeck leaked some internal Celtics numbers on the radio in Boston last week.

Tuesday's Best

Tony Parker, Spurs guard:
Goes for 26 points on 12-of-17 shooting in a rout of the Warriors, keeping the Spurs within percentage points of the top spot in the West.
---

Tuesday's Worst

Carlos Arroyo, Magic guard:
Misses all five field goals in 23 minutes of scoreless action against Chris Paul and the Hornets. Maybe if Puerto Rico's foremost national team player just imagined Paul was wearing a Team USA jersey.
---
QUOTE OF THE NIGHT

"You have to give yourself a chance. I always say that. If you don't shoot, you are never going to find out."
-- Swingman
Peja Stojakovic
, who drained a clutch 3-pointer in the final minute of the Hornets' one-point win over the Magic.
• See Tuesday's daily leaders
-- Andrew Ayres

The playoff races are heating up. Here's a look at the key games coming up on ESPN and ABC:
Wednesday: Pacers-Celtics, 7 p.m. ET, ESPN; Warriors-Mavs, 9:30 p.m. ET, ESPN
Friday: Spurs-Jazz, 8 p.m. ET, ESPN; Mavs-Lakers, 10:30 p.m. ET, ESPN
Saturday: Magic-Cavs, 3 p.m ET, ESPN
Sunday: Warriors-Hornets, 1 p.m ET, ABC; Mavs-Suns, 3:30 p.m. ET, ABC
• See the current playoff matchups

Chad Ford talks to David Thorpe about Tyler Hansbrough, Derrick Rose, Michael Beasley and more. Who should the Miami Heat take if they have the No. 1 pick?
Who Is Going No. 1?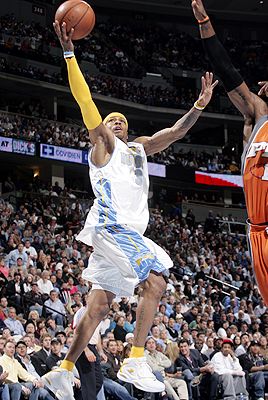 AP Photo/Jack Dempsey
Allen Iverson scored 31 to lead the Nuggets to a 126-120 win against the Suns that moved Denver into eighth place in the West.