Layne Murdoch/NBAE/Getty Images
Hornets' Winning Ways Continue

NEW ORLEANS -- For a second straight series, the New Orleans Hornets are matched up against a much more experienced Western Conference power.
For a second straight series, the pundits are forecasting their demise.
And for a second straight series, they overcame a shaky first half to roll to an easy Game 1 win.
Playoff Schedule
WEST SEMIFINALS

Hornets 1, Spurs 0
Game 2: Mon., 9:30 ET, at NOR
Lakers vs. Jazz
Game 1: Sun., 3:30 ET, at LAL
EAST FIRST ROUND
Boston 3, Atlanta 3
Game 7: Sun., 1 ET, at BOS
EAST SEMIFINALS
Detroit 1, Orlando 0
Game 2: Mon., 7 ET, at DET
Cleveland vs. Boston/Atlanta winner
Game 1: TBA
In the first round, Dallas was the victim, after the Hornets turned a 12-point halftime deficit into a 12-point victory. Saturday it was San Antonio's turn, as New Orleans trailed by 11 in the first half but slammed the door on the four-time champions afterward to cruise to a 101-82 win. Game 2 is Monday in New Orleans.
"We let the Hornets get away from us in the third quarter," Spurs coach Gregg Popovich said. "I thought in the second half they both outplayed us and outhustled us. They played hard on the board, on the floor, all the way around. They deserved to win the ballgame. That hustle and that decision making they had kicked our butts."
Once again, the Spurs had all kinds of trouble guarding David West. West averaged 23.0 points and shot 58.3 percent in four meetings against San Antonio in the regular season, and had 30 on this night on 13-for-23 shooting from the floor.
The Spurs opted to single-cover him with Kurt Thomas and Fabricio Oberto and might need to rethink this strategy for Game 2; Oberto in particular seemed utterly unable to handle West by himself. With his mix of midrange jumpers and short flips with either hand around the basket, however, West is a tough cover for anyone.
"He's been playing great pretty much all season long, but he's taking his game to a different level right now," Hornets coach Byron Scott said.
The Hornets won despite a fairly quiet night from Chris Paul, who finished with 17 points, 13 assists and four steals. However, he did put some relish on the proceedings at the end when he spun Bruce Bowen silly and nearly completed a three-point play on a drive with 1:47 left. That ended up being a white-flag moment for San Antonio, as Popovich emptied the bench.
Meanwhile, the New Orleans fans chanted "M-V-P" for Paul with particular vigor in his first game since news leaked out that Kobe Bryant will win the award.
"He runs an 'organized playground,'" Popovich said. "Byron is going to call plays for certain guys to get certain looks, and they do a great job with it, but a good portion of the time Chris takes control with the basketball, and he makes a decision.
"He might dribble it 10 times, he might go through three or four screens, but he has an uncanny ability and spatial awareness to know where all his teammates are and how get the ball to them, and at the same time be a hell of a scorer. His decision making is tremendous, and when he's got the individual skill that he has to go with it, it just makes him impossible."
The Spurs jumped out to a 49-45 halftime lead thanks to some torrid 3-point shooting -- they were 9-for-17 from downtown on the half. Five of them came from Bowen, who had a game-high 17 points at the break while holding Paul to just four.
However, the well went dry after halftime, when the Spurs shot only 3-of-14 from downtown. With Tim Duncan being shut down by the Hornets (more on that in Box 5), it left little for the Spurs to hang their hats on offensively. They scored a mere 33 points after the break, the latest in a series of second-half offensive meltdowns that have plagued them since the All-Star break.
"They are blitzing Tim in the low post," Spurs guard Manu Ginobili said. "He was really good kicking, we just couldn't hit them in the second half."
"They played harder than us and got a lot of loose balls," Bowen said. "There were a couple of plays that we didn't do things we're capable of doing."
The other item of business from tonight was the usual instance of chippy play that you might expect from a best-of-seven series between division rivals. Not surprisingly, Bowen was at the epicenter.
He was taken down by a flagrant foul by Bonzi Wells on a drive in the first half and stayed on the floor for a couple of minutes holding his head. Then in the second half he got into a minor incident with Paul when their paths crossed during a timeout.
"We'll just let the league handle it," Bowen said. "I just want to be sure that the officials can see what's really going on. I don't want to get into it with Chris. I've already missed a game for something I allegedly did."
In preparing his team for the defending champs, Scott decided to bust out his three championship rings and show them to the players.
However, one other piece of Scott's preparation may have been more helpful. He had Tyson Chandler practicing free throws for an hour after practice on Friday in anticipation of a "Hack-a-Chandler" strategy by the Spurs, after seeing Popovich use the Hack-a-Shaq frequently in the Phoenix series.
Popovich tried it tonight to gain the last shot at the end of the first half, but Chandler -- who shot 59.3 percent from the line during the regular season -- made them pay by converting both free throws.
It's one of many strategies Popovich will need to revisit after the Hornets thoroughly outplayed the Spurs in Game 1. Nobody's ready to count out the defending champs yet, but after this one-sided opener, it's become apparent they need to make some major adjustments come Monday.
"We definitely want to play for 48 minutes instead of 24," Popovich said. "That will be the main crux."
John Hollinger writes for ESPN Insider. To e-mail him, click here.
Playoff Dimes Past: April 20 | 21 | 22 | 23 | 24 | 25 | 26 | 27 | 28 | 29 | 30 | May 1 | 2 | 3
Pistons Stepping On Superman's Cape

By John Denton | Special to ESPN.com
AUBURN HILLS, Mich. -- Maybe Superman isn't quite so indestructible after all.
Dwight Howard, who donned the Superman shirt and flowing red cape at the All-Star Game dunk contest and leaped over the Toronto Raptors in a single bound in the first round of the playoffs, met his match Saturday night in the form of an old nemesis.
Howard's Kryptonite, in this case at least, proved to be a veteran, playoff-hardened Detroit Pistons team that kept sending bodies at him in waves. And when the night was complete and the Pistons owned a 91-72 thumping of the Orlando Magic, Howard was left clutching an injured thumb and wondering what had happened to his dreamy romp through the postseason.
Howard destroyed the Raptors in Round 1, crafting three 20-point, 20-rebound games in a series for the first time since the legendary Wilt Chamberlain did it in 1972. But as Howard quickly found out Saturday, the smallish, Charmin-soft Raptors aren't the Pistons.
Howard got heavy doses of Rasheed Wallace, Jason Maxiell and Antonio McDyess in Game 1, limiting him to an un-Superman-like 12 points and eight rebounds. And when that Pistons' trio of defenders tired, veteran center Theo Ratliff entered in relief and pounded on Howard with two more fouls.
"I was expecting them to send four, five guys at me, and I just have to play through it," said Howard, who needed X-rays on his left thumb after the game. (They were negative, and he dubbed the injury "just a bruise.")
When Howard's production fell off dramatically Saturday, so did the Magic's. Their 72 points were far and away their fewest of the season. And when Howard stopped producing inside, a Magic team that made the second-most 3-pointers in NBA history (801) made just 2 of 15 shots from beyond the arc in Game 1.
Howard and the Magic tried to match the Pistons' physical play and trash-talking ways, but all it did was blow up in their faces. Howard once shoved Maxiell out of bounds while fighting for a rebound, and the two were later whistled for a double foul after another scrum. Magic forward Hedo Turkoglu was called for a technical foul for yapping at Wallace, and Rashard Lewis was whistled after a hard foul on Ratliff.
"You can't rough up the game with us," Detroit's Richard Hamilton said. "We've been doing this for years, and that's the way we want to play. They tried to be physical, but we enjoyed it."
Wallace was more succinct: "You can't rattle us. We ain't no punks."
The strapping 6-foot-11, 268-pound Howard knows the physical play will continue as long as this series does. And he's well aware that for him to be able to flex his muscles against the Pistons, he and his teammates must keep their cool.
"Mentally, we have to keep our heads," he said. "Detroit is going to talk and push. We knew that coming in, but we got too frustrated."
John Denton is a regular contributor to ESPN.com. He covers the Orlando Magic for Florida Today.

By David Thorpe
Scouts Inc.
Like Chris Paul, Kobe Bryant took his MVP level up a notch, doing it all to sweep Denver. He averaged 33.5 points, 6.3 assists and more than five rebounds in the first round, and recorded at least one steal and one block in all four games.
His 14 points in the final six minutes of Game 4, the only truly competitive game in the closing minutes, might have even overshadowed his 49-point effort in Game 2. Either way, he's the one player most likely to change a game and a series by himself. His will to win carries over to all aspects of the game and inspires his teammates, who consider him to be the best "closer" in the game. The MVP winner roasted Utah this season, scoring 29.8 points on 56 percent shooting.
To read the full Scouts Inc. breakdown, click here.

SATURDAY'S BEST
David West, Hornets forward
: Containing CP3 is much harder when West plays like this. He went for 30 points and nine rebounds in the 101-82 win over the Spurs.
---

SATURDAY'S WORST
Tim Duncan, Spurs forward
: Maybe TD should've launched his patented 3-pointer. Instead, he missed 8 of 9 shots and hauled in a paltry five boards in San Antonio's 101-82 loss to New Orleans.
---
QUOTE OF THE NIGHT

"You can't rattle us. We ain't no punks.''
-- Pistons forward Rasheed Wallace, on beating Orlando in Game 1.
• See Saturday's daily leaders
-- Andrew Ayres

By John Hollinger
ESPN.com
NEW ORLEANS -- Call it a "wake"-up call. In the battle of Wake Forest University's two most prominent alumni, Game 1 was a solid effort from the Hornets' Chris Paul … and a disastrous one for the Spurs' Tim Duncan.
Duncan shot 1-for-9 from the field in a dismal five-point, three-rebound effort, as New Orleans beat San Antonio 101-82 in Game 1. The five points tied his playoff career low, but the other time he did it came in a win over Portland in the 1999 conference finals.
This was a much more somber occasion.
"Things just didn't go my way," Duncan said. "We'll make adjustments … and see what happens next game."
"They did a good job," Spurs coach Gregg Popovich said. "Obviously Timmy didn't have his greatest night, but you've got to give New Orleans credit for that."
Right from the start, the Hornets kept Duncan from getting involved. He had a long, active defender on him in Tyson Chandler, and got double-team help whenever he caught the ball near the hoop. While San Antonio burned that approach early with 3-pointers in the first half, the Hornets stuck to it … and the 3s stopped finding their mark after the break.
Hornets coach Byron Scott also adjusted his rotation to have wide body Melvin Ely back up Chandler instead of usual backup center Hilton Armstrong. Ely, a former Spur who practiced against Duncan last season, had a quiet night numbers-wise but held his own at the defensive end.
"We just did a pretty good job of coming down and double-teaming him," Scott said. "We didn't really want to give him many good looks or open looks. I thought Tyson did a real good job of fighting him. I thought Mel came in and did a really good job. I thought our double-teams were real effective in the first half, but we still gave them too many open shots."
But with San Antonio bringing both length and double-teams at Duncan, it will be incumbent on the other Spurs to force the Hornets to change their strategy.
"It's going to be hard for him to score too many points in this series," Spurs guard Manu Ginobili said. "I thought he did a good job in the first half kicking the ball that allowed us to make those nine 3-pointers. So it's not that he didn't play well. He was being blitzed the whole game, then when he got the opportunities he couldn't make them."
With all that said, Duncan did get some chances and uncharacteristically flubbed them. He missed several short hook shots that he normally puts down, and things seemed to spiral downhill in the fourth quarter. At 8:38, a good pick-and-roll opportunity with Tony Parker was lost when he fumbled a pass that went out of bounds, and at the 6:16 mark he missed two free throws that could have got him going.
"Seeing him going 1-for-9 is not something you see very often, so we know we're going to have a better TD next game," Ginobili said.
Hornets take one against the champs.

By John Hollinger
ESPN.com
Some of you may have noticed my pick for the Lakers-Jazz series and been taken aback. Though I've been on the Utah bandwagon for much of the year, I have to switch allegiances and pick L.A. in this one.
The reason? More data. The first round gave us an additional look at each team -- in my case, twice in person for both sides -- and L.A.'s sweep of Denver certainly was more impressive than the Jazz's rocky six-game outing against Houston.
More importantly, we now have a bigger sample in the Pau Gasol file, and it's an impressive one. L.A. is now 26-4 when he plays more than three minutes, with an awesome 11.7 victory margin. Taking a team on a roll like that and giving them home-court advantage to boot, it's tough to pick against them.
To read the full blog, click here.

With the Hawks playing the Celtics in Game 7 on Sunday, here are arguably the greatest Game 7s in the history of the NBA. Maybe Hawks coach Mike Woodson will be a part of history …
Great Game 7s

Series
Result
Highlight
1970 NBA Finals
Knicks beat Lakers 113-99
Willis Reed beats the pain, Walt Frazier's 36 points and 19 assists sink Lakers
1965 East finals
Celtics beat 76ers 110-109
"Havlicek stole the ball! It's all over!"
1957 NBA Finals
Celtics beat Hawks 125-123 in 2OT
First C's title: Bill Russell (32 rebounds), Tom Heinsohn (37 points) lead the way
1988 East finals
Celtics beat Hawks 118-116
Larry Bird vs. Dominique Wilkins in classic duel
1962 NBA Finals
Celtics beat Lakers 110-107 in OT
Bill Russell (40 rebounds) and Bob Cousy bounce L.A.
-- Peter Newmann, ESPN Research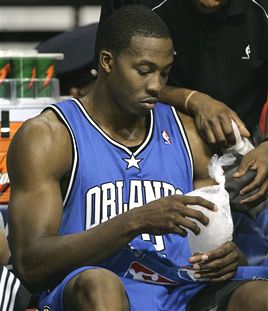 (AP Photo/Paul Sancya)
Magic center Dwight Howard ices his left hand after hurting his left thumb late in the third quarter. "It's fine," Howard said after getting an X-ray on his shooting hand. "It's just a bruise. I'll be all right."