David Liam Kyle/Getty Images
The NBA is in good hands, headed by 2003 draft rivals LeBron James and Carmelo Anthony.

Jed Jacobsohn/Getty Images
Allen Iverson fired in 23 points and nine assists to help the Pistons squeak past the Warriors by five.
Looking Back At the 2003 NBA Draft

Even with the Cavaliers' 110-99 win over the Nuggets on Thursday night, LeBron James still trails Carmelo Anthony, 8-3, in their head-to-head matchup. That is about the only advantage Anthony has over James since the duo became two of the marquee faces of one of the most celebrated drafts ever in 2003.
Since then, James has led an average Cleveland squad to the NBA Finals -- and has firmly entrenched himself as either the best or second-best player in the world (depending on whether you pick him or Kobe Bryant).
Although Anthony hasn't been able to keep pace with all the individual accolades thrown at James, the Nuggets star has emerged as one of the top 20 players in the league.
The 2003 draft was a lot more than James and Anthony, however. It featured an unusually large number of stars, starters and contributors. Given that we now have had five years to evaluate them, we can see more clearly which players should have gone in the lottery -- which, you might remember, some people labeled "The LeBron Lottery."
So here is how I would rank James, Anthony and the other top players from the Class of 2003:
1. LeBron James, Cavaliers
Where the 2003 class ranks in the pecking order of draft greatness will depend on how spectacular James' career ends up being. Yes, the 1984 draft featured all-time greats Hakeem Olajuwon, Charles Barkley and John Stockton, but what made that the best draft of all time was the greatest player of all time, Michael Jordan.
A similar statement can be said about the legendary class of 1996 that included Allen Iverson, Steve Nash, Zydrunas Ilgauskas, Ray Allen, Shareef Abdur-Rahim, Jermaine O'Neal, Peja Stojakovic, Marcus Camby, Antoine Walker and Stephon Marbury (remember when he use to actually play ball instead of wear suits during games?). While those players have had (or are still having) good careers, the person that puts that class into the "greatest ever" debate is Kobe Bryant.
A truly distinguished draft requires a once-in-a-lifetime type player, and for the Class of 2003 that person is James. (Selected No. 1)
2. Dwyane Wade, Heat
He was overshadowed by James and Carmelo Anthony early in his career, but it is clear now that only one of those two belongs in front of him on the list of career achievement. He has enjoyed the most team success -- being named the 2006 Finals MVP after the Heat took care of the Mavericks in six games. Injuries are the only thing that can slow him down -- he played in just 51 games in each of the past two seasons. (Selected No. 5)
3. Carmelo Anthony, Nuggets
The high-scoring forward is no longer being viewed on the same level as James (besides Bryant, who is?), but he is still one of the elite players in the league. He needs to improve as a passer and on defense, but his shooting and rebounding more than compensate for any shortcomings the All-Star and Olympic gold-medal winner has. (Selected No. 3)
4. Chris Bosh, Raptors
The face of the franchise, he has been consistently good since arriving on the scene, posting at least 22.3 points and 8.7 rebounds the past three seasons. He has been the top power forward in the East this season, and the three-time All-Star was a key member of the 2008 U.S. Olympic team that won gold. (Selected No. 4)
5. David West, Hornets
Known for his rugged play, he has turned into one of the top power forwards in the West without much notoriety. Last season, he was rewarded with an All-Star berth, and he has put together three straight seasons of at least 17 points and seven rebounds. (Selected No. 18)
6. Josh Howard, Mavericks
The fact that he has been in the headlines for a lot of the wrong reasons lately and that the Mavericks stink has made people forget that he is a very good small forward. The former All-Star rebounds, plays defense and is the No. 2 option behind Dirk Nowitzki for Dallas. (Selected No. 29)
7. Chris Kaman, Clippers
Without much fanfare, he has become one of the game's top centers. He had career averages of 10.3 points and 8.3 rebounds entering this season, and last year he took advantage of Elton Brand's absence, posting career highs in points (15.7), rebounds (12.7), assists (1.9) and blocks (2.8). (Selected No. 6)
8. Kirk Hinrich, Bulls
Hinrich joined James, Anthony, Wade and Bosh on the All-Rookie first team and has been an above-average playmaker with the Bulls ever since. Chicago drafted Derrick Rose to replace him as the starting point guard this season. Making a bad situation worse, he had thumb surgery this week and is expected to miss three months. (Selected No. 7)
9. Leandro Barbosa, Suns
One of the fastest players in the league, the 2006-07 Sixth Man of the Year winner is perennially one of the game's top reserves. He is a deadly 3-point shooter and owns a career average of 12.6 points per game. (Selected No. 28)
10. Mo Williams, Cavaliers
He has developed into a shoot-first point guard with a deadly midrange game. His career took off his past two seasons in Milwaukee. He was traded to Cleveland this offseason and is being counted on to provide some offensive relief for James. (Selected No. 47)
11. T.J. Ford, Pacers
Injuries are the only reason he isn't ranked higher on this list. A spinal-cord injury cost him the end of his rookie campaign and his entire sophomore season. He had two solid seasons in 2005-06 and 2006-07 before being sidelined for 31 games last season in Toronto. Healthy and playing in Indiana this year -- his third team as a pro -- he has been arguably the top point guard in the East. (Selected No. 8)
12. Boris Diaw, Suns
After two humdrum seasons in Atlanta, he found a home in Phoenix, averaging career bests in points (13.3), rebounds (6.9) and assists (6.2) en route to being named the league's Most Improved Player in 2005-06. Although he hasn't been able to duplicate that success in the two seasons since, he is still a valuable reserve for the Suns. (Selected No. 21)
13. Jason Kapono, Raptors
He is one of the top 3-point shooters in NBA history and a two-time winner of the 3-point shootout at All-Star Weekend. More importantly, he won a ring as a member of the 2006 Heat. (Selected No. 31)
14. Kendrick Perkins, Celtics
He was the starting center on last year's championship team and has blossomed into one of the linchpins on the best defensive unit in the league. (Selected No. 27)
Maurice Brooks is an NBA editor for ESPN.com.
Dimes Past: Oct. 29 | 30 | 31 | Nov. 1-2 | 3 | 4 | 5 | 6 | 7 | 8-9 | 10 | 11 | 12 | 13
Coming Together For A Really Good Cause

By Henry Abbott | TrueHoop
After hearing from a plucky young 10-year-old cancer survivor, all kinds of people in the room got emotional. There were big macho men with wet eyes. In the room were dozens of big-name NBA executives, coaches and players. Cancer survivor, and father of a cancer survivor, George Karl was moved to speak. Coach Dwane Casey, GM Jim Staack ... several piped up.
To read the entire TrueHoop blog, click here
Time Flies When You Are Having Fun

Cleveland's LeBron James played in his 400th career NBA game Thursday night. James, 23 years and 319 days old, is the third-youngest player in NBA history to reach the 400-game level. Only Kobe Bryant (23 years, 211 days old) and Tracy McGrady (23, 283) were younger.
-- Elias Sports Bureau
By Maurice Brooks
ESPN.com

THURSDAY'S BEST
Ben Gordon, Bulls
: The shooting guard may be a little tired today after scoring a game-high 35 points on 12-for-21 shooting in 42 action-packed minutes.
---
THURSDAY'S WORST
Golden State Warriors bench
: Although they didn't get a lot of playing time, when a team scores 102 points, you would expect the reserves contributed more than just 25 of them.
---
QUOTE OF THE NIGHT

"It's only the first quarter of an NBA game, so I knew we'd come from behind somehow."
-- Chicago guard Derrick Rose on his team erasing a double-digit lead in a victory over Dallas
Not Even Close To Being Close
The Los Angeles Lakers, who are the lone undefeated team in the league, have the third-largest point differential through the first seven games to start a season in NBA history.
Time To Rest the Starters For the Next Game

Year (Team)
Differential
1971-72 (Bucks)
22.6
1966-67 (76ers)
19.0
2008-09 (Lakers)
18.0
2002-03 (Mavericks)
17.3
2007-08 (Celtics)
17.1
Lakers guard Kobe Bryant, who is averaging 24.1 points per game this season, needs just four points to pass former Celtics great Larry Bird for 23rd on the NBA scoring list.
Comparing Kobe and Larry Legend

Statistics
Bryant
Bird
Points
21,788
21,791
PPG
25.0
24.3
RPG
5.3
10.0
APG
4.6
6.3
-- ESPN Research

Colin says Greg Oden will never be an offensive star in the NBA, and Jalen Rose shares his thoughts on Oden's re-debut.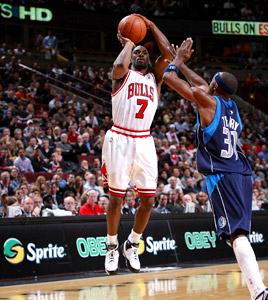 Gary Dineen/Getty Images
After trailing by as many as 19 in the first quarter, Ben Gordon and the Bulls dominated the middle two periods on the way to a seven-point comeback win against the Mavericks.