Joe Murphy/NBAE/Getty Images
Completely healthy this season, Dwyane Wade is letting his play remind people how explosive he is.

Ron Turenne/NBAE/Getty Images
David West led all scorers with 29 points and added nine rebounds as the Hornets got by the Raptors.
Will Miami's Average Record Hurt Wade In MVP Race?

Watch Heat guard Dwyane Wade as he soars through the air to reject a shot, or jumps into a passing lane to make a steal, and it will become evident that he loves to gamble.
The high-risk, high-reward style of play is fitting for Wade since he announced to the world that he was ready to reclaim his spot among the game's elite by dominating an exhibition against Canada this summer in -- of all places -- Las Vegas.
Wade went on to become the leading scorer for a Team USA squad that featured the Cavaliers' LeBron James, Lakers' Kobe Bryant and Hornets' Chris Paul, and brought home the gold medal from Beijing.
Now, a quarter of the way into the NBA regular season, Wade is doing his best to finish ahead of that trio in something else: the voting for the league's Most Valuable Player.
Each week, while writing the NBA Awards Watch, I put dozens of names on paper and play the time-consuming game of "Should he or shouldn't he?" -- as in, should Player A be in front of Player B in the race to the MVP.
Wade was the big mover in my not-yet-available-in-retail-stores game last week, when I jumped him from fifth to second in the rankings, placing him in front of Paul, the Magic's Dwight Howard and Bryant.
The only player I decided Wade shouldn't be in front of is James.
Wade is doing more than his part to make Miami fans forget about last year's nightmare 15-67 season, despite having a first-year coach, Erik Spoelstra, who is learning on the fly; a sidekick, Shawn Marion, who looks like a shell of his former self; and a pair of rookies, Mario Chalmers and Michael Beasley, seeing significant minutes.
After their subpar performance against the suddenly hot Grizzlies on Sunday, the Heat are 12-11.
Wade is putting up career highs in points (league-best 29.1 average), blocks (1.7) and steals (2.2), while also giving out 7.3 assists and pulling down 5.1 rebounds per contest.
Throw in the fact that he is the unquestioned leader in Miami, with the ball always in his hands and a penchant for taking over games in the fourth quarter, and you have a leading MVP candidate.
After missing 31 games the past two seasons following Miami's 2006 championship, Wade's most obvious improvement is on his jump shot and his effort on the defensive end.
Fans are taking notice, too. Wade is the leading vote getter among Eastern Conference guards for the All-Star Game.
With all of that said, I still feel that if the season keeps playing out at its current pace, Wade will have a difficult time passing James in the MVP rankings -- and that has nothing to do with Wade's league-high 3.8 turnovers per game.
The biggest obstacle in his MVP run is going to be Miami's final record. The Heat won't win 50 games or even sniff a top-three seed in the East. (And if Wade misses a chunk of games due to injury, they might not make the playoffs at all.)
Meanwhile, James, who according to some around the NBA has turned into one of the league's top defensive players, is battling Wade for "most complete player in the game" honors. Even though he is playing fewer minutes because Cleveland is blowing out so many of its opponents, he is still putting up 27.1 points, 6.8 rebounds and 6.4 helpers per game.
And oh yeah, his Cavaliers, who are off to a 20-4 (.833) start and have a six-game lead on the Pistons in the Central Division, need to go only 40-18 (.690) down the stretch to reach the vaunted 60-win plateau.
Just last season, James had gaudy numbers of 30 points, 7.9 rebounds and 7.2 assists per game and somehow ended up placing fourth in the MVP voting. Cleveland's record of 45-37 was weak, especially when compared to standards like the Lakers' 58-24 mark, and was a major reason James didn't get the votes.
Although 45 wins would be a good season for Miami -- and a 30-game improvement for the Heat from last season -- would that be enough to encourage voters to give the award to a player on a team that is a lower seed in the playoffs?
No.
Maurice Brooks is an NBA editor for ESPN.com.
Dimes past: Nov. 29-30 | Dec. 1 | 2 | 3 | 4 | 5 | 6-7 | 8 | 9 | 10 | 11 | 12 | 13-14
Don't Measure McHale By Wins and Losses Just Yet
By J.A. Adande | ESPN.com

LOS ANGELES -- If the Peter Principle dictates that people rise to their level of incompetence, there should be a Carroll Corollary that explains how people can fall to a new level of effectiveness, the way Pete Carroll is far more successful as a college coach than he was in the NFL.
We could have a classic Carroll Corollary in the making with Kevin McHale and the Minnesota Timberwolves. We'll spare the nasty adjectives to describe his 13 years as vice president of basketball operations and just give you the tell-all numbers: only two playoff series victories, both in the same season, followed by a steady plummet toward what Shaquille O'Neal would call "expansionism." (Their 22-60 record last season matched that of the team's expansion season in 1989-90.)
But coaching seems to suit him. Sticking with the numbers again, he's a winner. A lifetime record of 19-16. When he took over at the end of the 2004-05 season, after Latrell Sprewell had packed it in and Sam Cassell had all but shut it down, McHale guided the Timberwolves to a 19-12 finish.
Since he replaced Randy Wittman on Dec. 8, McHale has lost his first four games, but it's evident by watching the games and looking at the scores that the Timberwolves are playing better. The season was sliding away from them under Wittman, reaching its nadir in a 107-84 home loss to the Clippers. (I love how getting blown out by the Clippers set off the doomsday alarm [watch]; shouldn't that tell the Clippers something about Mike Dunleavy?)
All of the final four losses under Wittman were by double digits, and an average of 18.3 points. The four losses under McHale have been by an average of 9.5 points, against teams that made the Western Conference playoffs last season: Utah, Denver, San Antonio and the L.A. Lakers.
Sunday's loss at Staples Center actually reflected well on McHale; it was evidence of a team competing despite a serious talent discrepancy. Somehow Minnesota was within two points after the first quarter despite shooting 39 percent and committing seven turnovers. The Timberwolves stayed in it for more than three quarters and forced the Lakers to keep their stars in throughout the fourth, a minor accomplishment in its own right, before falling 98-86.
They did it through hustle, outrebounding the Lakers 53-46, including 16-9 at the offensive end.
McHale is getting the first step on his coaching request list: effort. Then comes execution, then comes results.
Of course, execution is hard to come by when the team has had only two practice days since he took over, and the rest of the time, as McHale said, "You've got an hour walk-through, and you've got a game that night and you have four hours of stuff you want to do."
What he's done is simplify the offense and give the players tips he learned during his Hall of Fame playing career with the Boston Celtics, such as his advice for the athletically outmatched Kevin Love: "Go where they ain't." That is, head outside for jumpers or use the rim as a shield to create space inside.
There are big-picture concepts he's trying to impart, as well.
"It's not about being greater," McHale said. "It's about making the players around you greater."
He got that one from Red Auerbach. How many coaches around are separated by only one degree from Red? Things like that set McHale apart. So was the sight of him walking through the locker room and chatting with players during the pregame media access period, something I've never seen before.
"He's a fun coach, great coach," Mike Miller said. "We've just got to find a way to win games."
It would be easier if McHale the GM had assembled a better roster. But there's something fitting about this chef being forced to eat his own meal. I'd like to see him keep doing it, if for no other reason than he believes the game should be played at a faster pace.
"I don't know what happened to our league," McHale said. "Our league became a league of walk it up and jack it up and make it 83-82."
I asked him if he wanted to coach for the long haul. He said the difference between this time and last is that his kids are out of the house now, which makes it easier to be on the road. But the challenge is greater now.
"Last time I coached, it was more of a veteran group, it was probably easier," he said. "It was going in and instilling discipline. With this group it's confidence. Discipline's a lot easier than confidence."
And maybe being a coach is easier than being a general manager. At least McHale is making it look that way.
J.A. Adande joined ESPN.com as an NBA columnist in August 2007 after 10 years with the Los Angeles Times. Click here to e-mail J.A.
By Maurice Brooks
ESPN.com

SUNDAY'S BEST
James Posey, Hornets
: He was in a groove early, knocking down five first-half 3-pointers (he finished with six) on the way to a season-best 20 points and 10 rebounds.
---

SUNDAY'S WORST
Randy Foye, Wolves
: He couldn't find the range from deep, missing all five of his 3-pointers and 10 of 12 shots from the field overall on the way to a five-point effort.
---
QUOTE OF THE NIGHT
"I'm still trying to find my mojo. I'm trying to get my [swagger] back."
-- Heat rookie Michael Beasley, who led Miami with 20 points after sitting out the game before with the flu
By Henry Abbott
ESPN.com

You notice how player after player just loves throwing it down hard over Yao Ming?
TrueHoop reader Stuart, a Rockets fan, is sticking up for Yao, who endured a recent spate of dunk assaults by the Warriors' Anthony Randolph:
"I just wanted to point out that at least three times a game, when someone dunks on Yao, or otherwise scores on him, they act like they just won the championship."
• Read the full TrueHoop blog entry
Did You Forget About Carmelo?
By John Hollinger
ESPN.com

Will (Portland): In your prediction for the Western All-Stars, it seems you didn't mention Carmelo Anthony. Was this an oversight, or don't you think he is sufficiently meritorious?
John Hollinger: Keep in mind that I made those selections before the third quarter of the Minnesota game Wednesday. So no, Melo wasn't even close to meritorious.
That elbow problem appears to be affecting his shooting in non-third quarters of non-Minnesota games, as he's at 42.1 percent on the season after shooting 49.2 percent in 2007-08, and his PER is down to 17.69, a far cry from the 22 range he was at the past three seasons.
I respect that he's giving more effort on D and really stepped it up on the glass, but if he wants a ticket to Phoenix in February, he's gotta start knocking down shots.
• Read all five Hollinger Insider Gems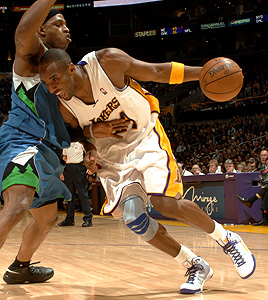 Noah Graham/Getty Images
Kobe Bryant got free for 26 points and five dimes, and the Lakers outscored the Wolves in each quarter on the way to a 12-point victory. Minnesota has dropped nine straight.
Elias Sports Bureau

The Spurs defeated the Thunder 109-104, but they had to withstand high-scoring games by Oklahoma City's super-sophs, Jeff Green (33 points) and Kevin Durant (28). It was the first time in 26 seasons a pair of first- or second-year NBA players scored as many as 28 points in the same game against the Spurs. The last to do so were Isiah Thomas (46) and Kelly Tripucka (34) of the Pistons in an overtime loss at San Antonio on Feb. 8, 1983.