Nathaniel S. Butler/Getty Images
Carmelo Anthony was one of six Denver players to score in double digits against New York on Sunday.

Noah Graham/Getty Images
Jason Kidd had eight boards and six assists for Dallas, which won without Dirk Nowitzki (suspension).
Anthony Looks Well-Rested In Return To MSG

NEW YORK -- It was late in the third quarter, with the Nuggets and Knicks separated by just a single point, when Kenyon Martin rose from his seat on the end of Denver's bench and announced to no one in particular -- although he said it loud enough for the 500 people sitting nearest to him to hear -- "We're letting these sorry [expletive] stick around!"
Now, Martin is more prone to using that particular vulgar modifier than most folks, as was further evidenced afterward when he queried the team's trainer about stopping the team bus for some (expletive) Ray's Pizza before the flight to Atlanta.
When the trainer explained to Martin that the bus could not stop until reaching the airport because it is technically considered a Transportation Security Administration sterile zone, the reply from K-Mart included a word y'all probably can guess by now.
But even without their staple of dough, sauce and cheese (and yes, Martin was aware of the fact that the real Ray's is located at Sixth Avenue and 11th Street in Manhattan), the Nuggets had an enjoyable flight to the second stop of their four-game road trip after riding Carmelo Anthony's hot fourth-quarter hand to a 117-110 victory Sunday over the New York Knicks.
"That was the best thing that ever happened to me," Anthony said of the three previous games he missed while he was healing from a right-elbow contusion. "I needed that rest."
Hmmm, gold medal in Beijing? Or three games of rest?
Perhaps Anthony is throwing around the term "best thing" as loosely as Martin drops expletives.
Either way, Anthony shot 5-for-5 and scored 11 points in the final stanza, beginning his barrage with a 3-pointer that produced a 99-99 tie, then hitting a 15-footer to put Denver ahead for good, 107-106, with 4½ minutes left.
He finished 13-for-19 from the field for 32 points as the Nuggets won for the third time in four games and raised their victory total to 20.
"I don't think he's ever had a bad game in this building," Nuggets coach George Karl said, adding some considerable leeway to exactly what defines a bad game. Madison Square Garden, after all, was where Anthony threw a sucker punch at Mardy Collins that resulted in a 15-game suspension two years ago.
"Well, he's had a bad situation," Karl replied when we pointed out his loose interpretation. "He's never had a bad basketball game. In the time I've been here, he's had incredible, powerful offensive nights. It seems like he likes shooting here and playing here a lot."
The 32 points represented Anthony's highest-scoring game since Dec. 12, when he scored 33 of his 45 points in the third quarter of a victory over Minnesota that moved the Nuggets eight games above .500. Denver won its next two games but then dropped four of five.
Two of Anthony's fourth-quarter buckets came while he was being defended by Jared Jeffries; two others came when Wilson Chandler had the defensive assignment, and a key bucket by Nene -- giving Denver a 116-109 lead with 1:01 left -- came off a nifty feed from Melo.
"They were letting him play one-on-one, and we just kind of rode a hot guy," Karl said. "It seemed he had more rhythm with his jumper."
The Knicks, meanwhile, continued their annual rapid December descent into irrelevance despite another change to the starting lineup by Mike D'Antoni, the second in as many games. D'Antoni replaced New York's leading scorer, Al Harrington (averaging 22.9 points per game since being acquired from Golden State), with Jeffries. D'Antoni also moved Tim Thomas into the starting five, moved Nate Robinson to the bench and kept Quentin Richardson there, too.
The Knicks are coming off a Friday debacle in which they allowed the Timberwolves to score 28 points more than their season average and snap a 13-game losing streak, and D'Antoni said the team's rotations will remain in flux until it starts winning again. D'Antoni left out the obvious part about how that may not happen until this decade is over and the Knicks' 14-year wait for salary-cap space finally ends.
"I don't intend to keep going on with my head in the sand, and I've still got to try to find better combinations," D'Antoni said. "Nothing is set in stone until we start winning."
Nothing, that is, except Martin's proclivity for tossing around naughty words. And given how bad the Knicks figure to remain for the next season and a half, Martin probably will utter his favorite modifier another 10,000 times or so before the Knicks start winning with any kind of consistency.
For now, the only consistency in New York will be the quality of the pizza that Martin so earnestly and vulgarly had a hankering for.
Chris Sheridan covers the NBA for ESPN Insider. To e-mail Chris, click here.
Dimes past:
Dec. 12
|
13-14
|
15
|
16
|
17
|
18
|
19
|
20-21
|
22
|
23
|
24
|
27-28
All-Star Ballot Challenge: Pick 10 Knicks
Chris Sheridan | ESPN.com

NEW YORK -- Unless you count Eddy Curry and Stephon Marbury, neither of whom has played a single, solitary second this season, there are no New York Knicks on the All-Star ballot.
Unless you get creative.
At halftime of Sunday's Nuggets-Knicks tilt, that's what we decided to do, but the process was so frustrating and the standards so low that guilt forced us to decide to technically invalidate the ballot by filling in the 10th spot with a third Western Conference forward instead of a second Western Conference guard.
We'll see whether the NBA's computer catches it. But when the final tally comes out, if Channing Frye has received one write-in vote, you'll know where it came from.
To pick 10 Knicks, one must apply a loose definition of what a Knick is. So anybody who has been or should have been a Knick was eligible, and here's how the ballot looked after we scraped off all the hanging chads.
Eastern Conference:
Guards: Marbury and Jamal Crawford.
Forwards: Zach Randolph and Antonio McDyess.
Center: Eddy Curry.
Western Conference:
Guard: Steve Nash. (No one else on the ballot except Rafer Alston had even the slightest New York connection, so we gave the nod to Nash because he lives here in the summer and because he could play here in 2010 if the stars align correctly and LeBron and Chris Bosh goad Nash into joining them, allowing him to end his career in his adopted hometown.)
Forwards: LaMarcus Aldridge (whom Chicago selected with the No. 2 overall pick in the 2006 NBA draft that Isiah Thomas sent to the Bulls in the Curry trade) and Ron Artest (whom the Knicks passed on at No. 15 in the 1999 draft, opting instead for the immortal Frederic Weis).
Center: Marcus Camby (who went to Denver in the trade that killed Scott Layden's executive career, a package of Camby, Nene and Mark Jackson for McDyess on the night of the 2002 draft).
There is room on the official NBA All-Star ballot for only one write-in from each conference, and we toyed with the idea of writing M. Collins-Clippers in the box. But having seen enough of Mardy Collins in person during his two-plus seasons here to be convinced he has no business even being in the NBA, we went ahead and wrote in Frye, the rarest of commodities -- a player who actually performed better when he was with the Knicks (he was part of the package that went to Portland in Thomas' Zach Randolph acquisition) than he has for his current team, Portland.
Alexander the Dunker Wants Your Vote
ESPN.com

Magic center Dwight Howard will try to defend his title at the 2009 dunk contest during NBA All-Star Weekend in Phoenix in February against a field that includes Grizzlies forward Rudy Gay and 5-foot-9 Knicks guard Nate Robinson.
Fans can vote online here for the fourth competitor. Bucks forward Joe Alexander has made himself a candidate: Watch.
By Maurice Brooks
ESPN.com

SUNDAY'S BEST
Josh Howard, Mavericks
: No Dirk Nowitzki, no problem for Dallas, thanks to the all-around skills of Howard. He scored 29, grabbed nine rebounds and had career highs of seven assists and five 3-pointers.
---

SUNDAY'S WORST
Sacramento's starting five
:
John Salmons
,
Mikki Moore
,
Brad Miller
,
Beno Udrih
and
Francisco Garcia
combined for just 29 points in their 45-point home loss to the Celtics.
---
QUOTE OF THE NIGHT
"He's a difficult player to guard. But we've grown as a defensive team."
-- Cleveland's LeBron James after slowing down Dwyane Wade in the fourth quarter
Celtics Bounce Back In Style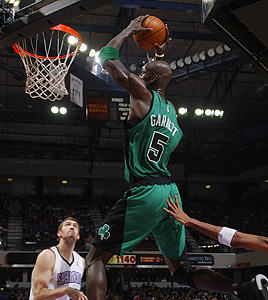 Rocky Widner/Getty Images
After back-to-back losses to the Lakers and Warriors, the Celtics clobbered the Kings, 108-63. It was the Celtics' largest margin of victory on the road since a 47-point victory against the San Francisco Warriors in 1969.
Elias Sports Bureau

A pair of NBA games stretched to double overtime on Saturday, with the Rockets beating the Jazz and the Spurs defeating the Grizzlies. For the first time, two NBA double-overtime games were played in Texas on the same day.
It's the second time in nine days that two games went to double overtime on the same day: On Dec. 19, the Clippers beat the Pacers and the Jazz topped the Pistons. This is the first season when there have been two days with more than one multiple-overtime game. San Antonio has won three double-overtime games this season, tying an NBA record. Six other teams have won three multiple-overtime games in a season, most recently the 2006-07 Knicks.
• With Dirk Nowitzki serving a one-game suspension, the Mavericks defeated the Clippers 98-76. It was Dallas' largest margin of victory in a road game without Nowitzki since he debuted with the team in 1999. (The Mavs are 9-6 on the road without Nowitzki during that time.)
Everything Goes In For L.A.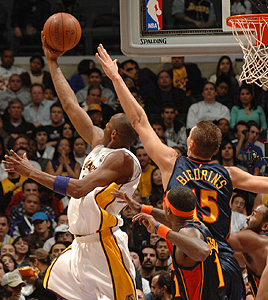 Evan Gole/Getty Images
Kobe Bryant led all scorers with 31 points for the Lakers, who scored a season-high 130 en route to rolling past the Warriors, 130-113.