Noah Graham/Getty Images
Marcus Camby and Baron Davis are hoping they can stop the Clippers' losing ways in 2009.

Bill Baptist/Getty Images
Ron Artest and Yao Ming combined for 37 points and 15 boards as the Rockets turned away the Bucks.
Did Brand's Leaving For Philly Hurt the Sixers and Clippers?

The last NBA game of 2008 concluded a few minutes after midnight ET as the Philadelphia 76ers defeated the Los Angeles Clippers, 100-92. Andre Iguodala torched the Clippers for 28 points, 14 of them in the decisive fourth quarter. Thaddeus Young added 20 points while converting 10 of his 14 field-goal attempts. The Clippers' Baron Davis continued his woeful shooting slump. The point guard made fewer than a third of his shots from the field for the seventh straight game. Davis has yet to top 50 percent shooting in a game this season.
When the 2008-09 schedule was released, Wednesday's game in Los Angeles was touted as the New Year's Eve grudge match. Last July, Elton Brand jilted the Clippers and their fans when he accepted a five-year, $82-million deal from Philadelphia after publicly stating he had every intention to remain in Los Angeles. Wednesday was to be his dramatic return to Staples Center. Would the player who led the Clippers to their most successful season in franchise history be booed as a turncoat? Would this game be a repeat of Nov. 21, when Brand drained the winning shot in the Sixers' 89-88 victory over the Clippers in Philadelphia? Unfortunately for Clippers fans eager to see their erstwhile star, Brand dislocated his right shoulder on Dec. 17 and isn't expected to be activated until mid-January.
In many respects, Brand's defection to Philadelphia was a deal that hurt both clubs. Coming off a promising 2007-08 campaign in which they qualified for the postseason for the first time since the 2004-05 season, the Sixers anticipated that Brand would elevate them to the upper echelon of the Eastern Conference. But the Elton Brand who has taken the floor for the Sixers looks less like the 2005-06 All-Star model and more like the one still recovering from a ruptured left Achilles tendon that kept him sidelined for most of last season. The Sixers have never figured out how to incorporate Brand into their lineup of athletes. Coach Maurice Cheeks took the fall. He was abruptly fired on Dec. 13 after a 9-14 start.
Brand was the face of the Clippers franchise for seven seasons, and seemed to embrace the role. The Clippers' plan during the offseason was to sign Brand to an extension and pair the power forward with point guard Baron Davis. The Clippers figured their inside-outside attack would make them a solid playoff contender. When Brand shocked the Clippers by inking a deal with Philadelphia, the organization scrambled to fill the vacuum with Marcus Camby. The new-look Clippers never gelled, and lost 16 of 19 games to start the season. They enjoyed a modicum of success after acquiring Zach Randolph in a deal with the Knicks, but in recent weeks the Clippers have fallen victim to a familiar pattern of mysterious injuries with uncertain timetables for return. At one point, they fielded a lineup of Jason Hart, Fred Jones, Mardy Collins, Brian Skinner and Paul Davis.
The ball might have dropped for the Sixers and the Clippers, but overall the NBA enjoyed a fairly successful 2008. The rivalry between the league's two most storied franchises, the Boston Celtics and the Los Angeles Lakers, was resuscitated. The New York Knicks, who play in the league's marquee market, have turned a corner and might just join the ranks of the relevant sometime soon. LeBron James, the game's most recognizable talent, is playing for a contender in Cleveland. The imbalance between the two conferences that plagued the NBA for the better part of the decade started to level off, with exciting young teams in Orlando and Atlanta that feature the likes of Dwight Howard, Joe Johnson and Josh Smith. The year 2008 saw the dawning of a new point guard era with the emergence of the Hornets' Chris Paul, Jazz's Deron Williams, Nets' Devin Harris and the Celtics' Rajon Rondo. Local television ratings flourish in many of the league's markets, and the world outside the United States continues to be mesmerized by basketball.
Like all corporate entities, the NBA will need to monitor the current economic crisis and the toll it takes on profitability. The league has a few struggling franchises and markets where attendance has sagged to cataclysmic levels. But if the level of play continues to improve and the league can showcase its depth of talent to the world in smart and creative ways, 2009 should be another banner year.
Kevin Arnovitz is an NBA editor for ESPN.com.
Dimes past: Dec. 13-14 | 15 | 16 | 17 | 18 | 19 | 20-21 | 22 | 23 | 24 | 27-28 | 29 | 30 | 31
TrueHoop: Stephon Marbury's Real Talk
By Kevin Arnovitz | ESPN.com

Stephon Marbury has resurfaced on The New York Post's Knicks Blog. It's a lengthy post, though much of Marbury's testimonial is wrapped in platitudes about experience, growth, adversity and work ethic. Marbury insists that he came into the season in the best shape of his life and even "discovered" a fitness regimen that, presumably, will surpass anything being peddled by other public personalities:
"I spent this past offseason with that mindset. I trained the entire summer, running in the mountains and finding that burn to be in tip-top shape so I could dominate this year. I embraced the pain. It taught me a lot about my body.
"I documented that experience in a workout DVD through AIM Sports Medicine. People who know me know I'm in the best shape of my life and I discovered a great formula that everyday people will be able to benefit from as far as things like stretching properly and recovery. Bottom line, I came to camp with the right attitude, in shape and ready to play. I didn't come to be a distraction.
"I didn't want to be a distraction for the team first and me second. I honestly came to help the team win. Real talk. I was willing to put in the work necessary to earn my starting spot and humble enough to accept coming off of the bench."
As for the machinations with the Knicks' higher-ups, Marbury restates his case:
"It was unfortunate that the coach wanted to go in a different direction and didn't want me to be part of the team. I just wish it had been handled correctly from jump. I could understand the fact they didn't want Chris Duhon looking over his shoulder but if you don't want me, just pay me and let me go. I just want to play basketball."
To read the entire TrueHoop blog, click here.
Nets' Lopez Sparkles In Defeat
Elias Sports Bureau

Brook Lopez led the Nets in points and rebounds in his team's loss in Detroit on Wednesday afternoon. It was the second time this season that Lopez led New Jersey in both categories. Only two other rookies have done that more than once this season, and both play for Memphis: Marc Gasol and O.J. Mayo.
The last Nets rookie to lead his team in points and rebounds in a game more than once in a season also went to Stanford and also had a twin brother in the league: Jason Collins in 2001-02.
• Marcus Camby averaged 15.4 rebounds per game in December after grabbing 17 on Wednesday. Only two other players over the last six seasons had that high a rebound average in a calendar month of at least 10 games: Tyson Chandler in February 2007 (16.1 in 13 games) and Dwight Howard in December 2007 (16.1 in 15 games).
• The Rockets, Clippers and 76ers all played on New Year's Eve, and for each it was the seventh consecutive year that they played on Dec. 31. Entering this season, no NBA team had ever played on New Year's Eve for seven consecutive seasons.
• The Rockets beat the Bucks despite using only eight players. Houston has won its last four games in which it used no more than eight players. The first three of those wins came last season.
By Maurice Brooks
ESPN.com

WEDNESDAY'S BEST
Andre Iguodala, Sixers
: He made sure Philadelphia's four-game losing streak came to a halt by doing a little bit of everything, finishing with 28 points, seven rebounds and seven assists in a win against the Clippers.
---

WEDNESDAY'S WORST
Marco Belinelli, Warriors
: He may be known for his shooting touch, but he couldn't find the range against the Thunder, going 1-for-8 from the field and finishing with just two points. He also had four turnovers.
---
QUOTE OF THE NIGHT
"He's been leading our team in scoring almost all this month. He and Jameer [Nelson] are the reasons why we've been winning a lot of games."
-- Magic center Dwight Howard on the recent play of forward Rashard Lewis.
By John Hollinger | ESPN.com

Let's talk a little about a concept called "regression to the mean," because it's an important one for those watching the Cavs and Celtics lately. Basically, regression to the mean says that just because you start the season 25-4, it doesn't mean you're going to keep performing so well -- in fact, the odds are strongly against it.
Gravity pulls teams back toward .500 and pulls players back toward the league averages, as there are inevitably going to be injuries, slumps and nights when the other team shoots 11-of-18 on 3-pointers (as Miami did against the Cavs on Tuesday). It shouldn't surprise us when it happens, and it doesn't mean that Boston or Cleveland is any worse than we thought last week.
• Read all five Hollinger Insider Gems.

Frank Dale offers his opinion on the latest news from the NBA and grades the Pacific and Southwest Divisions.
NBA Today
Thunder Close 2008 In Style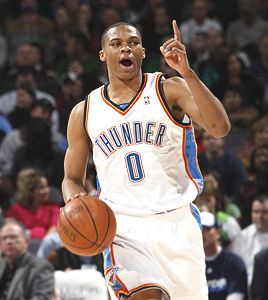 Layne Murdoch/NBAE/Getty
Russell Westbrook fired in 11 points and made five steals for the Thunder, who held on for a 107-100 victory over the Warriors. It was just the fourth win of the season for Oklahoma City, which had lost five straight.