(AP Photo/Julie Jacobson)
Celebrities Nikki Cox, Ethan Hawke and Jay Mohr couldn't fire up the home team against the rival Nets.

(AP Photo/Elise Amendola)
Paul Pierce (36 points, 11 rebounds) kept the C's in the East's No. 2 spot with an OT win over Miami.

(AP Photo/Darron Cummings)
Portland's Greg Oden returned to action with D on Roy Hibbert, four points and seven boards.

(AP Photo/Bill Haber)
Wolves guard Sebastian Telfair had Julian Wright in the way during a 94-93 loss to the Hornets.

(AP Photo/Gregory Smith)
Carmelo Anthony (35 points) kept his eyes on the prize in Denver's 111-109 win over Memphis.

(AP Photo/Darren Hauck)
Magic guard J.J. Redick was sent to the floor by the Bucks' Malik Allen in the Magic's easy win.

(Kent Smith/NBAE via Getty Images)
Raja Bell begs to differ with an official's call, but later approved of Charlotte's win over Sacramento.
Knicks Lifeless In "Train Wreck" Loss To Nets

NEW YORK -- A Knicks media relations official hastily (and probably wisely) cut off Mike D'Antoni's postgame news conference shortly after the words "train wreck" came out of the coach's mouth.
By then, the words "collapse," "bicker," "in a fog," and assorted other negatives had already been spoken, the coach of the New York Knicks unable to find quite the right mix of suitable, negative utterances to adequately explain a mystifying 26-point home loss to the New Jersey Nets on Wednesday night in a game with major postseason ramifications.
The Knicks came into this game on a relatively major high, having won three of their final four on a road trip that ended with a close loss to the Cavs on Sunday, but still had the Knicks believing they were capable of making a strong push for the Eastern Conference playoffs.
It had been nearly two weeks since they played a home game, and there was a palpable sense that this was going to be that rarest of occasions for Manhattan in mid-March -- a meaningful NBA game at a time of year when the local crowd is usually working on its latest version of the "Fi-re Some-one" chant. Instead, there were a total of seven, count 'em seven, supermodels listed on the photographers' tip sheet, and even longtime season-ticket holder Woody Allen was back in his usual seat just three feet away from the spot where Isiah Thomas used to stand watching over the team (back when he was team president, but not the coach).
So much buildup, but such a fast comedown.
Vince Carter decided for the third straight game that he was going to live up to his former superstar status, and he scored all 29 of his points during the first three quarters as New Jersey built a big lead that never dropped below 18 in the final stanza. Brook Lopez tore up the Knicks undersized bigs for 23 points, eight assists, five rebounds and three blocks, and Keyon Dooling made up for the absence of Devin Harris with 17 points and eight assists.
The victory allowed the Nets to shake off some of the negativity that had enveloped the team since their heartbreaking last-second loss to the Los Angeles Clippers on Saturday night and gave them the slightest bit of momentum (they'll need however much of it they can find) heading into a brutal four-game stretch against Miami, Cleveland (home and home) and the Lakers that should make or break their own postseason hopes.
The Knicks? Well, let the record show that the home team was booed fairly loudly for the first time with 8:22 remaining in the third quarter, and the catcalls were considerably worse after the final buzzer as a Knicks finishing five that included Cheikh Samb and Demetris Nichols slouched off the court. ('Twas a predictably rocky debut for Samb as he suited up for his fourth NBA club this season: He went 0-for-1 from the floor and 0-for-2 from the line, the free throws carrying a combination of high velocity and low trajectory the likes of which have rarely been seen in these parts).
"It's kind of hard to pinpoint, but I thought we were just horrible in every aspect of the game. There was an early collapse of energy or desire or whatever it was, and it just carried through the game," D'Antoni said before using his train wreck analogy, saying this meltdown resembled a locomotive crash because you never see a train wreck coming.
Still, D'Antoni pronounced again afterward that he believes 37 victories will be enough to make the playoffs, meaning he'll need to coax his team to nine victories in their final 15 games to reach that mark. This 115-89 loss left the Knicks in 12th place in the East, a half-game behind New Jersey (29-39 after snapping a four-game losing streak) but still only three victories behind the eighth-place Chicago Bulls.
And to get to D'Antoni's magic number, the Knicks may have to bounce back from this monstrosity to win every single one of their seven remaining home games (Sacramento, Orlando, Clippers, Hornets, Raptors, Pistons, Nets) while also winning twice away from home with a remaining road schedule that includes games at Orlando (twice), Charlotte, Utah, Denver, Toronto, Chicago and Miami.
If you assume three losses to the vastly superior Magic, that means the Knicks will need to go 9-3 in the other dozen games. And, Knicks fans, if you think that's a possibility, we recommend you put out of your mind what transpired at the old building on 33rd and Eighth Avenue on one of the few March nights in the past four years when something tangible and good actually seemed to be within reach.
But rather than grab it, the Knicks -- as their coach said -- were a train wreck.
And a month from now, if they look back on the night when hope was lost, they'll remember the night when Samb and Nichols -- the greenest of Knicks clad in their special green St. Patrick's Day uniforms -- were on the floor at the end of their biggest game of the season, one that quickly turned into an epic meltdown from which there would be no comeback -- just like, perhaps, the Knicks' season as a whole.
Chris Sheridan covers the NBA for ESPN Insider. To e-mail Sheridan, click here.
Dimes past:
March 2
|
3
|
4
|
5
|
6
|
7-8
|
9
|
10
|
11
|
12
|
13
|
14-15
|
16
|
17
|
18
The Secret To Having Success In the NBA

By J.A. Adande | ESPN.com
In the rush to get ahead of the game, NBA general managers might be overlooking that old freshman year standby: sociology.
The trend is toward numbers, a drive to come up with some secret formula that will lead to the ultimate combination of players. I'd advise them to pick up Malcolm Gladwell's book "Outliers" instead.
"Outliers" details how success is dictated by environment and timing as much as by anything else. According to Gladwell, the Beatles became the ultimate rock band because they started off with gigs that required them to perform for five hours, night after night; Bill Gates became a software whiz because he lived in a community that gave him computer access long before household PCs were as common as toasters; and a disproportionate number of the richest people in the history of the world were born in the 1830s, which set them up to cash in on the industrial revolution later in the 19th century.
It's fascinating to apply the concepts to the NBA, to search for the combinations and circumstances that lead to championships. It's not that Gladwell despises statistics. He was intrigued enough by the scholarly analysis in "The Wages of Wins" to write an article about the nouveau stats for The New Yorker, and he has touted ESPN.com's John Hollinger, as well. And the word outlier refers to "a statistical observation that is markedly different in value from the others of the sample."
To read the entire Adande column, click here.
Bulls' Rose Has A Perfect Shooting Half

By Elias Sports Bureau
Derrick Rose made all 10 of his second-half field goal attempts in the Bulls' 103-96 win at Oklahoma City. Rose is the first player to go 10-for-10 or better in the second half of a game since Dwight Howard (10-for-10) on March 14, 2007.
• Danny Granger had 35 points and 10 rebounds in the Pacers' home loss to the Blazers. Due to a foot injury, Granger hadn't played as many as 20 minutes since February 17. In the last 35 years, only one other player has had 30 points and 10 rebounds despite not having played 20 minutes in a game in over a month (excluding players making their season debut). Brad Miller had 32 points and 13 rebounds for the Charlotte Hornets in the last game of the 1998-99 season.
• Rashad McCants, making his first start for the Kings, scored 30 points in Sacramento's 104-88 loss at Charlotte. That's the most points any player has scored in his first Kings start since the team moved to Sacramento in 1985. The previous high was 27 points by Spud Webb in 1991.
By Maurice Brooks
ESPN.com

WEDNESDAY'S BEST
Paul Pierce, Celtics
: The big three was reduced to the big one, but Pierce made sure Boston didn't skip a beat despite playing without Kevin Garnett and Ray Allen by scoring 36 points in a win over the Heat that clinched the Atlantic Division for the Celtics.
---

WEDNESDAY'S WORST
Milwaukee Bucks
: Scrapping to stay in the Eastern Conference playoff race, they came out flat against the Magic, falling behind by 16 in the first quarter. The Bucks are now 2-3 on their current six-game homestand.
---
QUOTE OF THE NIGHT
"We tried different defenses, zones, pick-and-roll defenses, and it just seemed like they were scoring every time. We just couldn't stop them."
-- Sixers coach Tony DiLeo after his team gave up 126 points in a loss to the Suns
Yao Saves His Best For Last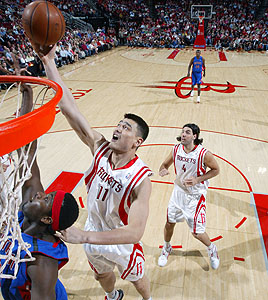 Bill Baptist/Getty Images
In a game that took two overtimes to decide, Yao Ming was the difference, scoring eight of his 31 in the extra sessions to lead the Rockets to a 106-101 win over the Pistons. He also had 15 boards and four blocks.
By John Hollinger
ESPN.com

One more quick note from Tuesday night's Orlando-Cleveland game -- Dwight Howard had 15 boards and six blocks, which is his 10th game with at least 15 boards and five blocks this year.
The rest of the league has four.
If that little nugget doesn't bolster Howard's chances of winning Defensive Player of the Year honors, this one might: Orlando is now virtually in a dead heat with Boston and Cleveland for the league lead in defensive efficiency, a feat which hardly seems possible for a team starting Hedo Turkoglu and Rashard Lewis in the frontcourt. But it may actually happen thanks to Howard's exploits defending the rim.
To see the four other Insider Gems, click here.
How Far Will the Magic Go?

Jason Smith talks to John Hollinger about Orlando's chances in the playoffs and has some advice for Carl Landry and Charlie Villanueva.
NBA Today