(Rocky Widner/Getty Images/NBAE/Getty Images )
Kevin Martin was one of seven Kings to score in double digits against the Suns on Sunday night.

(Brian Babineau/Getty Images)
Kevin Durant scored 21, but it wasn't enough to prevent the Thunder from losing to the Celtics.

(David Sherman/NBAE/Getty Images)
Rookie big men Kevin Love of Minnesota and Brook Lopez of New Jersey battled under the boards.

(Allen Einstein/Getty Images)
Andre Iguodala led all scorers with 27 points, but it was Allen Iverson's Pistons who earned the win.
Suns Lose One They Had To Have

SACRAMENTO, Calif. -- Turns out that the most damaging defeat of a demoralizing season in the desert wasn't even the most devastating score of the weekend for the Phoenix Suns.
Remember when the Suns came all the way back from 21 points down and then blew their own seven-point lead in the final two minutes-plus Saturday night in Utah?
What happened to them in the late game on Sunday's schedule was somehow worse.
Kings 126, Suns 118.
"There's not a whole lot, really, to say, guys," Phoenix coach Alvin Gentry conceded.
There simply wasn't much he could say after the Suns -- presented with the relative gift of a visit to Arco Arena after the crushing events of the night before in Salt Lake City -- lost their first game in eight tries to a sub-.500 team since Gentry replaced Terry Porter. Not when they surrendered 35 points in each of the first three quarters to get there.
The math in the standings might suggest that Phoenix can still sneak into the playoffs, but closer inspection of the numbers now confronting the West's No. 9 team couldn't be much more discouraging. The Suns' deficit behind No. 8 Dallas is suddenly 3 1/2 games with eight to play after this total no-show defensively. Which means that even a victory in Dallas next Sunday might not be able to save them.
Alibis aplenty were there for the aging Suns to spew, since this was their fourth game in five nights ... and not even 24 hours after the horrors of Utah. Yet the only resistance they showed here came in the form of multiple postgame admissions that letting Sacramento get seven players into double figures -- especially when Kevin Martin was reasonably quiet, needing 17 shots to get his 17 points -- is inexcusable no matter how physically or mentally weary they were.
"We were playing for a lot tonight," Suns guard Steve Nash said, having rung up 31 points and 14 assists that were ultimately futile when the visitors' last-ditch scramble in the fourth quarter never got them closer than 118-114.
"I'm sure we had an emotional hangover [from Utah]. We were tired. We were all of the above. But you've still got to find a way to make it happen. No disrespect to that young team over there, but we weren't playing the Lakers or the Celtics. If we want to be in the playoffs, this is a game we've got to win."
It was a game that, in the end, found the Suns thoroughly unable to keep the 16-56 hosts out of the paint. Gentry lamented afterward -- more than once -- how easily Sacramento rung up 54 points in the paint without a low-post presence to play through, shredding Phoenix instead with its dribble penetration. The Suns were having so much trouble following the game plan that an exasperated Gentry shouted to his players at one point: "Just guard who guards you, like in elementary school."
Sacramento got a stunning 60 points from its frontline of Jason Thompson (21), Spencer Hawes (20 and 10 boards) and Andres Nocioni (19). Shaquille O'Neal, meanwhile, offset his 24 points and nine boards with nine missed free throws, unable to live up to the O'NEALOVIC jersey he was handed before tip-off by Aleksandar Stojanovic of the RTS network in Serbia, who was in town for Vlade Divac's forthcoming jersey retirement Tuesday night.
The Suns' pregame mood was actually fairly upbeat given the manner of the Utah loss, with Shaq happily pulling on the jersey from Serbia's national team with his usual No. 32 and the new name. A visit to the Phoenix locker room by Divac himself, after years of testy battles with O'Neal, only lightened the mood further, with the former foils exchanging a hug before Shaq jokingly exclaimed for all to hear: "Why the [expletive] are they retiring your jersey?"
Then Divac settled into a front-row seat at midcourt, in a building that was never this empty or quiet when he played here, to watch the Suns fade further into a hole that is starting to look Shaq-sized.
As Nash explained, no matter how much life was sucked from the Suns when they came all the way back and then couldn't finish the Jazz off, they simply couldn't lose this one. No matter what.
We've all been referring to the seemingly friendly finish to the Suns' schedule -- roadies in Memphis and Minnesota, followed by home dates against Memphis and Golden State -- as four gimmes. Yet even those games don't look so friendly any more when the Suns can't survive a must-win meeting with the league's worst team.
"I'm programmed to handle anything," O'Neal said of the growing possibility that we will not be seeing Suns-Lakers -- and thus miss out on a Kobe, Shaq and Phil reunion -- in the first round.
"It's not going to make me get down on myself or drink rat poison. I've still got three, four years left and I've always been the type that when I don't get it and when I do fail, I always come better in some form or fashion.
"It happens ... The good thing about America is you can always come back."
The bad thing for the Suns is no one would dare guess how long that resurrection might take after what had the feeling of a last-rites weekend.
Marc Stein is the senior NBA writer for ESPN.com. To e-mail him, click here.
Dimes past: March 16 | 17 | 18 | 19 | 20 | 21-22 | 22 | 23 | 24 | 25 | 26 | 27 | 28-29
Hornets Get Much-Needed Victory

By Kevin Arnovitz | TrueHoop Network
NEW ORLEANS -- The management of expectations is a tricky balancing act in the NBA. Take the New Orleans Hornets.
Last season, the Hornets captured the second seed in the West and won their first postseason series since the franchise left Charlotte seven years ago. Success breeds anticipation, and prior to the 2008-09 season, New Orleans was the chic preseason pick in the West.
That early optimism seemed like eons ago Sunday night. The Hornets were only two games in front of Dallas for eighth place in the West standings as they took the floor against a healthy Spurs squad.
"I look at our team as a wounded animal with our backs against the wall," said New Orleans head coach Byron Scott prior to the Hornets' gutsy 90-86 win over the Spurs. "We have no choice, in my mind, but to come out fighting."
Coach and superstar were both feeling combative. "I think we showed a lot of fight," said Chris Paul, who finished with 26 points, nine assists and seven rebounds. "We showed what this team is capable of when we play hard for 48 minutes."
Paul was clearly referencing his team's lackluster loss Friday night against the Knicks at Madison Square Garden, the Hornets' second consecutive setback.
"When you have a game like that, you put it behind you as quickly as possible," backup guard Antonio Daniels said. "The thing that we didn't have, which is a sign of a good team, is that carryover from that game to this game."
Daniels hit on something that both Scott and his two All-Stars, Paul and David West, have tried to advance as an ethic for the Hornets: The really good teams find a way to make it work -- even when their best shooter (Peja Stojakovic) and biggest interior presence (Tyson Chandler) are on the shelf, and even when their reserves are shaky, as they've been all season for New Orleans.
With under a minute remaining in the game, the Hornets held onto a precarious 83-80 lead. They'd missed their last six shots from the field, having scored only 15 points in the period.
Paul brought the ball down against an energized Spurs defense. West gave his point guard a solid screen on the right side. When the Spurs trapped Paul out on the perimeter, he zipped a pinpoint pass to West. With a quick release, West's launched his patented face-up jumper before the Spurs could rotate.
"I think that was the shot that sealed it for us," Paul said. "That's what me and D-West do all the time. If I can't get into the lane, I try to create a shot for him, and he knocked it down."
Both Paul and West realize that if the Hornets are going to claw their way back up the standings, that two-man game will have to be the linchpin.
"I felt like at that time we'd had two or three opportunities to score and we didn't," West said. "So this time down either he was going to shoot it or I was going to shoot it. We wanted to get in the pick-and-roll to make sure one of us got the shot."
West saw a variety of defensive looks from the Spurs -- some early double teams, as well as some man-to-man coverage from the likes of Drew Gooden. He scored 23 points and racked up 16 rebounds, including an 11-for-11 night from the stripe.
Though Paul and West carried the load, they got some timely help from their supporting cast.
Hilton Armstrong, once Chandler's understudy and now the Hornets' starting center, had an impressive defensive game against Tim Duncan. Not only did Scott entrust his third-year big man with the tough assignment, but the Hornets' coach made a deliberate decision to have Armstrong's teammates stay at home on the Spurs' shooters. This left Armstrong alone against Duncan for most of the night.
"He's the best power forward to play the game," Armstrong said. "Being on him one-on-one, I feel real good about myself. I felt I did a good job."
The Hornets also got a lift from Antonio Daniels, who scored 10 points in 21 minutes -- much of that time alongside Paul. For a team that desperately needs to find some running mates in the backcourt for Paul, Daniels could be a strong candidate.
Though Scott called this one of the biggest wins of the year, Paul was careful not to overstate the victory.
"It's just a win," Paul said. "It doesn't mean we're any better or any worse than we were. It just means we're showing signs of progress."
Moderating those expectations is a difficult exercise for the Hornets. They know that, when healthy, they're as potent as any team in the league. Their ideal starting lineup of Paul, Rasual Butler, Stojakovic, West and Chandler, is a gaudy 19-5 this season. That .792 winning percentage would easily earn them another Southwest Division crown.
Unfortunately, the ideal rarely conforms to reality and counterfactuals don't produce championships. With the timetables for both Chandler and Stojakovic uncertain, the Hornets will have to make do with imperfection -- which may just make them a better team in the long run.
Iverson's First Day In His New Role

By Elias Sports Bureau
Allen Iverson returned to active duty with eight points in 21 minutes off the bench as the Pistons beat the Sixers. It was only the seventh time in Iverson's career that he played in a game that he didn't start (four times with the Sixers, once with the Nuggets and twice for the Pistons). Iverson has started 99.2 percent of his games in the NBA (877 of 884). Only four active players have started a higher percentage of their games than Iverson (minimum: 500 games): Tim Duncan (99.9 percent), Paul Pierce (99.6 percent), Ray Allen (99.6 percent) and Mike Bibby (99.5 percent).
By Maurice Brooks
ESPN.com

SUNDAY'S BEST
Chris Paul, Hornets
: With three important teammates out of the lineup, CP3 picked up the slack, tallying 26 points, nine assists, seven rebounds and two steals in addition to hitting three game-clinching free throws with 7.1 left in a win over the Spurs.
---

SUNDAY'S WORST
Dallas Mavericks
: They blew a 15-point second-quarter lead, failed to score 20 points in three different periods and were held to a season-low 74 points in a 28-point loss to the Cavaliers.
---
QUOTE OF THE NIGHT
"To have an organization recognize your accomplishments and honor you for your contribution, it's a humbling moment. There's not a lot of people who have an opportunity to experience that. And being the first, it's going to be tremendously humbling. It'll be very difficult for me to hold back my emotions, because as a player, you never want it to end."
-- Alonzo Mourning on getting his No. 33 Heat jersey retired by the franchise on Monday
Calderon In A Giving Mood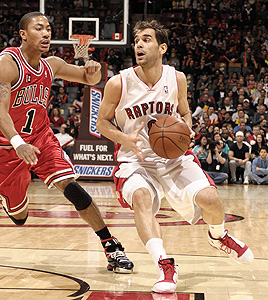 Ron Turenne/NBAE/Getty
Raptors point guard Jose Calderon had it going offensively, scoring 22 points and giving out a career-best 19 assists as Toronto outlasted Chicago 134-129 in overtime.
James Featured On '60 Minutes'
By John Krolik
TrueHoop Network

Sunday night's "60 Minutes" segment on LeBron James opened with Steve Kroft asking LeBron a simple question:
"What are people buying into with the LeBron James brand?" To its credit and detriment, the rest of the segment gave the impression of being made to answer that question.
If I had to try to pin a theme on the segment, it would be athlete-as-autonomous in all walks of life. From the details of his growing up fatherless, the way he gave an emphatic "no" when asked if he'd ever gotten into trouble as a kid, and the story of how he took control of his own brand at the age of 22, LeBron was presented in the segment as having a rare and palpable sense of purpose and vision about his life from a very young age.
As far as his demeanor in the interviews themselves, his maturity was absolutely astounding, as you'd expect from a 24-year old with his accomplishments. He answered many of the questions in riffs on familiar clichés -- everything he does is for the team, his most valuable tool on the court is his mind, et cetera.
But instead of retreating into the clichés, he seems to head off cynicism by putting true conviction into everything he said, a conviction which I can tell you is real from hearing him in person after games in the locker room. In an interview with Salon, David Foster Wallace spoke of the power of seemingly simplistic clichés. The brand of LeBron, as much as anything else, is about trying to put a true sense of personality -- a face -- to what we've come to expect of athletes.
There's still a sense that the LeBron we're allowed to see is manufactured, but when Gilbert Arenas is retiring from blogging and players are Twittering away our respect for them, segments like this one remind fans that we don't mind seeing a manufactured image every now and then if we sense it was made with good intentions.
To read more from Krolik, check out his TrueHoop Network blog, "Cavs: The Blog."
By Chris Broussard
ESPN The Magazine

He was an unsung rookie with a rehabbing knee. The last thing Danny Granger needed was to be called out by one of the league's baddest men. But sure enough, there was Ron Artest, challenging his Pacers teammate to man up.
To get a feel for how harrowing this is, you need to understand one-on-one Artest-style. It's part basketball, part football, with a bit of wrestling tossed in. He slaps at the ball with a ferocity that bruises wrists and forearms and throws shoulders like boxer's jabs, repeatedly bouncing them off your chin. All of it is a test of will, of course, to see if he can trust you once the real games begin.
In the summer of 2005, Artest tested Granger, again and again. But he didn't render a verdict until weeks later. Following an early-season game, Danny Granger Sr. approached his son's infamous teammate. Artest made polite conversation then began to walk off. Suddenly, he stopped and headed back. "Mr. Granger," he said, staring into the father's eyes, "in two years your son is going to be a star."
Artest was a couple of years premature in his prediction, but he wasn't wrong. Today, Granger is a rising star, a 25-year-old All-Star averaging 25 ppg. In the words of teammate Jeff Foster, it's "an astounding rise" for a player who was offered one D-I scholarship (from Bradley; he later transferred to New Mexico) and was passed over 16 times on draft night in favor of such current benchwarmers as Ike Diogu, Antoine Wright and Joey Graham. Yet even now not everyone is sold on Danny Granger. Indy's sub-.500 season has talking heads from Jeff Van Gundy to local legend Reggie Miller arguing that the 6-foot-8, 228-pound forward should have watched the All-Stars, not played among them.
To read the entire Broussard column, click here.