(David Liam Kyle/Getty Images )
LeBron James had 25 points and 12 rebounds to help Cleveland win its 13th game in a row.

(AP Photo/Eric Gays)
Kevin Durant (31 points) and OKC took their first road win over a team with a .500 or better mark.

(AP Photo/Tom Mihalek)
76ers forward Thaddeus Young grimaces as teammate Willie Green touches his injured knee.

(Streeter Lecka/Getty Images)
James Worthy laughs it up with Bobcats part owner Michael Jordan, whose Cats beat Worthy's Lakers.

(Streeter Lecka/Getty Images)
Bobcats coach Larry Brown is this close to getting into the No. 8 spot of the East playoffs.

(AP Photo/Rich Pedroncelli)
Former Kings center Vlade Divac waves to the fans during ceremonies to retire his jersey at halftime.

(AP Photo/Rich Pedroncelli)
Rasual Butler is hailed by Chris Paul and Julian Wright after his buzzer-beating 3 beat the Kings.
LeBron Shows Pistons Why He Is the MVP

Detroit was able to play Cleveland tough on Tuesday by making the game ugly, but in the end LeBron James did enough to get Cleveland the 79-73 win.
He had a stretch when he made play after play on both ends of the floor and just refused to let the Cavaliers lose. He had a couple of steals and a block on defense, and he had eight points plus an assist in the closing minutes of the fourth quarter. It was amazing watching him make every play.
You could tell that he made a conscience effort to turn up the intensity. He started forcing turnovers, which allowed Cleveland to get out in the open court and run. He willed them to victory, which showed why he should be the MVP.
James changed the game defensively, which prior to this year you never would have said about him. That's the thing -- he is the only player in the NBA who can guard all five positions. He is quick enough to guard point guards, strong enough to guard power forwards and centers, and obviously he guards 2s and 3s on a regular basis.
The reason the Cavs are so good defensively is because he makes up for a lot of their mistakes because he is able to cover so much ground with his athleticism. He covers so much ground it's like having another defender on the court. He has taken on the challenge of guarding the opponents' best player; defense is where he has made the most progress this season.
The Cavaliers have now won 13 in a row and already have 61 wins with eight games left to play. Unless you have been ignoring the league, it is hard to not notice that Cleveland is playing near-perfect ball right now. They have great chemistry. LeBron is the best player in the league. The role players all know what they are supposed to do. They have great size up front. They have shooters. They have another playmaker. There is nothing negative you can say about them. Nobody is playing better than them.
When they got Mo Williams, I knew it would help them offensively, but I didn't think they could take this kind of leap in one season. There was still room for improvement with LeBron. As great as he has been prior to this season, he is still young. Besides the fact that he is better defensively, he has become a much better long-range shooter. You used to dare him to shoot from the outside. Now he uses the 3-point line to put teams away. He makes 3s when they matter. He has become virtually unstoppable.
Tuesday night felt like a playoff game and mattered a lot to both teams. Even though the Pistons have struggled, they are the only team below the top four seeds that have any chance of making the first round interesting. In case Cleveland has to face Detroit in the playoffs, the Cavs didn't want the Pistons gaining confidence with a win.
The Pistons' offense is a mess. They don't know what they want to do. Allen Iverson is still a good enough scorer, but he needs to be the focal point. That is not how the Pistons play, though. When the trade went down, I said it would be tough for Iverson to play in a structured system because he is used to branching off and doing what he wants to do. That doesn't work in Detroit.
One of the big problems for the Pistons is that they can't finish anymore. They are a horrible closing team. Chauncey Billups was their guy for that and now they don't know what they want to do. They have a lot of young guys handling the ball and they get demoralized a lot easier than they used to. They used to dig in and fight back. Now they get kind of defeated. In a playoff series, a team like the Cavs would take the heart out of the Pistons.
Getting rid of Billups is 75 percent of what happened to the Pistons. After the deal, I thought they would win 45 to 47 games and still be relevant. More than just the X's and O's, Billups was their emotional leader, and nobody could have imagined the negative impact his departure would have on this team.
ESPN analyst Tim Legler is a regular contributor to the Daily Dime
Dimes past: March 17 | 18 | 19 | 20 | 21-22 | 22 | 23 | 24 | 25 | 26 | 27 | 28-29 | 30 | 31
Don't Count Out the Suns Just Yet

By Michael Schwartz | Valley of the Suns/TrueHoop Network
Editor's note: We asked Michael Schwartz of Valley of the Suns to spell out exactly how the Phoenix Suns, who stand four games behind the Dallas Mavericks for 8th place in the Western Conference, might make the unlikely leap out of the lottery and into the postseason. Here is their potential path to the playoffs:
The 2008-09 season will go down as a major disappointment for the Phoenix Suns, even if they make a miracle run at the eighth playoff spot to earn the right to be the Lakers' sacrificial lambs in the first round of the playoffs.
A franchise that has been arguably a couple breaks away from a title the last four years now needs a whole lot of luck just to crash the playoff party. Somewhere in New York jettisoned former head coach Mike D'Antoni must be wearing that smug grin of his.
But for an organization that has never seemed to get any luck -- from the coin flip in 1969 that cost them Lew Alcindor to David Stern's decision to suspend Amare Stoudemire and Boris Diaw when they left the bench during the 2007 playoffs -- could it be time for the Suns to finally catch a couple of breaks?
It will take a torrid stretch from Phoenix against a cream-puff schedule and more mediocrity in Big D. And here is how that happens:
WEDNESDAY
Heat at Mavericks: The NBA brings back the officials from Game 5 of the 2006 NBA Finals between these two teams, and Dwyane Wade gets to the free-throw line another 25 times to lead the Heat to a victory over a tired Mavs squad playing the back end of a back-to-back. (40-34, 3.5 games back)
Rockets at Suns: The Suns basically played no defense on Sunday while losing to the NBA-worst Kings to end a stretch of four games in five days. After two days off for its trio of mid-30s stars, Phoenix comes up with a few stops down the stretch to pull this one out in the final minute. (41-34, 3 games back)
FRIDAY
Mavericks at Grizzlies: The Mavs come away with an easy victory against the young Grizz, but more importantly Dirk Nowitzki tweaks his ankle landing awkwardly on a jumper, putting him at less than 100 percent for Sunday's showdown. (41-34, 3.5 games back)
Kings at Suns: Out for revenge from Sunday's crushing defeat, the Suns bring the defensive energy this time around and beat the league-worst Kings by 50, two more than they beat Sacramento by during a February blowout in US Airways Center. (42-34, 3 games back)
SUNDAY
Suns at Mavericks: During warm-ups, to spook Dirk and Co., Matt Barnes and Jason Richardson wear "We believe" T-shirts from the 2007 Warriors team that knocked out the top-seeded Mavs, and then Phoenix races past Dallas just like Golden State did two years ago. Steve Nash goes for 30 and 10 as Mark Cuban wonders why he thought Nash would be over the hill at the end of this contract. (43-34, 2 games back)
WEDNESDAY, APRIL 8
Suns at Hornets: Chris Paul shows Cuban why he did not want to be paying Nash big money at the end of his contract by scoring at will on the Suns veteran and then dropping dimes when Phoenix tries to help. New Orleans wins big, its seventh straight victory over the Suns. (43-35, 2.5 games back)
Jazz at Mavericks: The Jazz have not beaten a Western Conference playoff contender on the road ... until now. Finally healthy and clicking, Utah needs this victory to avoid the Lakers. (43-35, 2 games back)
FRIDAY, APRIL 10
Suns at Grizzlies: Before the Sacramento disaster, Alvin Gentry had not lost a game against a sub-.500 team in eight tries since being named interim head coach. Gentry's Suns will start out their finishing kick with a victory against their first of four losing opponents to end the season. (44-35, 1.5 games back)
Hornets at Mavericks: Paul comes down with the 24-hour flu, allowing the Mavericks to exact revenge for last year's first-round ouster and a pair of New Orleans victories earlier this season. (44-35, 2 games back)
SATURDAY, APRIL 11
Suns at Timberwolves: Minnesota surprised the Suns by stealing a game earlier this season in Phoenix. But that was with Al Jefferson. This time around, when Shaq bangs in the post, there's nobody to bang back on the other end. Phoenix wins easily. (45-35, 1.5 games back)
SUNDAY, APRIL 12
Mavericks at Hornets: Paul returns just in time to lead New Orleans to another victory over Dallas. More damaging, Paul takes fellow Wake Forest alum Josh Howard out to Bourbon Street after the game, and Howard reinjures his sore ankle trying to catch some beads. (45-35, 1 game back)
MONDAY, APRIL 13
Timberwolves at Mavericks: Before the Suns leave the Twin Cities, they promise the T-Wolves an unprotected future first-round pick if they do the Suns a favor and beat Dallas, but for better or worse, the Mavs stave off a late upset bid. (45-35, 1.5 games back)
Grizzlies at Suns: As GM Steve Kerr salivates over the prospect of landing Rudy Gay in an Amare Stoudemire deal during the offseason, the Suns do what they always do against Memphis by winning their 12th straight in the series. (46-35, 1 game back)
WEDNESDAY, APRIL 15
Rockets at Mavericks: Hoping for a ratings-boosting, Kobe-Shaq first-round matchup, Tim Donaghy is brought back to officiate this one. Dirk fouls out in 20 minutes, and Ron Artest hits a game-winning 3-pointer at the buzzer that clearly leaves his hand after the red light goes on. Cuban becomes the first owner to be ejected for complaining about the officiating through an in-game tweet. (46-35, 0.5 games back)
Warriors at Suns: The Suns channel their inner 2007 Warrior by playing the Warriors. Then they go out and blast Golden State, 174-152, in a game that features as much defense as you'd expect when these teams get together. The Suns break their record from last month's victory in Oakland with 62 fast-break points, and Shaq takes the mike to rap his latest feelings about his upcoming playoff adversary, Mr. Bryant. (47-35, tied for eighth -- Suns win tiebreaker by virtue of a better conference record)
More of Michael Schwartz's work can be seen at Valley of the Suns.
Historic Month For the Cavaliers

By Elias Sports Bureau
The Cavaliers defeated the Pistons on Tuesday, tying two significant NBA records in the process: Cleveland equaled the largest lead that an NBA team has ever held in its division or conference. The Celtics set that mark when they finished last season with a 25-game lead over the Raptors in the Atlantic Division.
Cleveland went 16-1 in March, tying the NBA record for wins in one month. Five previous teams won 16 games in a month, most recently the Spurs in March 1996 (16-0).
• LeBron James finished March with 479 points, 152 rebounds and 143 assists. The only other player in NBA history to reach each of those totals in one month is Oscar Robertson, who did it in eight separate months, most recently in January 1965.
• The Trail Blazers defeated the Jazz by 21 points on Tuesday, their third consecutive win by 20 or more points. That's Portland's longest such streak since winning three successive games by at least 20 points in March 1992.
• Nate Robinson scored 30 points off the bench on Tuesday, marking the eighth time this season that he had at least 30 points in a game he did not start. That's the highest total for any player since Ricky Pierce had 17 such games for the Bucks in the 1989-90 season.
• The Mavericks defeated the Timberwolves on Tuesday, giving Dallas 11 consecutive wins over Minnesota. That's the fourth-longest current team-versus-team winning streak: the Pistons have won 13 straight against the Clippers, the Spurs have 13 consecutive against the Nets and the Spurs have won 12 successive games against the Clippers.
By Maurice Brooks
ESPN.com

TUESDAY'S BEST
Charlotte Bobcats
: Fighting for the final playoff spot in the East, the Bobcats beat the Lakers for the second time this season and sixth time in their last seven games going back four seasons.
---

TUESDAY'S WORST
Sebastian Telfair and Brian Cardinal, Wolves
: Minnesota's top two reserves both shot 2-for-9 from the field, combining for 11 points in 52 minutes on the floor.
---
QUOTE OF THE NIGHT
"I can play 18 minutes with my eyes closed and a 100-pound truck on my back. I'm wondering what the rush was to get me back. It's a bad time for me mentally. I'm just trying to get through it without starting a whole bunch of nonsense. I'm looking at the big picture; if I vent my frustrations, then it's on. I'm just trying to laugh as much as I can and stop from crying."
-- Pistons guard Allen Iverson after playing just 18 minutes in Detroit's loss to Cleveland
T-Mobile Shot Of The Night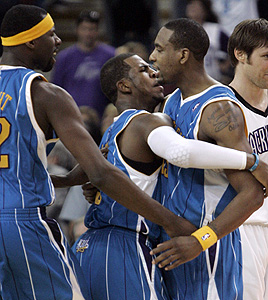 AP Photo/Rich Pedroncelli
David West overcame an ankle injury to tie his career high with 40 points and also had nine rebounds and six assists, but it was Rasual Butler's trey at the buzzer that gave the Hornets a 111-110 win over the Kings.

Lakers forward Luke Walton says that playing without Andrew Bynum has changed the team a lot because the big guy was starting to come into his own.
The Herd
Kings Pay Tribute To Divac
By Marc Stein
ESPN.com

SACRAMENTO -- Full house. Loud crowd. Chris Webber, Peja Stojakovic, Doug Christie and Scot Pollard mugging Vlade Divac at midcourt with a giddy group hug.
This is how it always used to be at Arco Arena.
This is how it was because Divac was back in town to take the locals on a time-machine trip to the Kings' glory days. Widely regarded as a king of Kings out here, from his days as the literal and figurative center of the team that finally put Sacramento on the NBA map, Divac was back to have his No. 21 hoisted to the upper reaches of an old building that, sad to say, is rarely full or noisy any more.
"You turned our franchise around," Kings co-owner Gavin Maloof proclaimed during the halftime ceremony in Divac's honor.
The NBA's Jersey Retirement Week continued to unfold Tuesday night with a moving ceremony somewhat shorter than Alonzo Mourning's 45-minute marathon Monday night in Miami, and a bit dryer, too. Divac was caught wiping his eyes a few times and was clearly (and tensely) holding his breath when it was countryman Peja's turn to say a few words in tribute, but he mostly managed to stem the teary floodgates that Zo couldn't switch off.
Somehow.
"I can't promise," Divac said beforehand.
He couldn't and wouldn't guarantee that because he had an idea of how emotional all this would be. A similar ceremony was held for Webber on Feb. 6, with Divac right there to partake in the tribute role.
To be the honoree?
To be flanked by wife Ana and kids Luka, Matija and Petra, knowing this was being beamed back live on Serbian TV at 5 in the morning in his homeland?
To hear and see the video clips on the big scoreboard overhead proclaim him to be "The Greatest Teammate" ever seen?
"The top [moment] of my career," Divac said.
Pollard teased Divac about his "Serbian age" and his "U.S. age," jokingly disputing the idea that he turned only 41 in February. Webber turned serious and praised Divac for the life lessons he shared as a teammate that C-Webb now hopes "to instill in my son." Maloof then touched him deeply by pledging to buy a house in the Kings' name in recognition of the efforts of Divac's foundation to fund homes for the thousands of Serbian refugees who remain displaced by the civil war in the former Yugoslavia in the 1990s.
Divac read his thank-you speech from a script , and then his ex-teammates -- including the Hornets' injured Stojakovic -- loosened things up, like they were known for at Arco, by mobbing him. It was an undeniably energizing production that almost made you forget how far the Kings have fallen.
Until the end, at least.
Until Rasual Butler's triple at the buzzer canceled out Beno Udrih's own bid for a game-winning jumper and allowed the Hornets -- handpicked by Divac as the opponent for his jersey night so he could ensure that Stojakovic would be there -- to escape with a crucial 111-110 victory.
Local tension about the Kings' uncertain future is such that Maloof was not formally introduced to the crowd of 17,317 during the Divac festivities, presumably because he was subjected to a smattering of boos upon introduction during Webber's ceremony.
Vlade, though, predictably scoffs at any suggestion that the Kings are (A) years away from a return to the league's elite or (B) can't land the new arena deal that will keep the Kings here for years to come.
"Of course it's hard to watch," Divac says of the Kings' struggles to rebuild. "I want them to be here forever."
He was similarly stubborn when someone suggested that the disappointment that lingers from Sacramento's failure to win its unforgettable seven-game series with the Lakers in the 2002 Western Conference Finals must be the standout memory from his time as a King.
"We all feel the same," Divac said of Webber and Co. "We had played as champions. I have no disappointments at all."
Marc Stein is the senior NBA writer for ESPN.com. To e-mail him, click here.