Nathaniel S. Butler/NBAE/Getty Images
With his team making shots, Stan Van Gundy seemed to have it all under control in Game 7.

Steve Babineau/NBAE via Getty Images
Kevin Garnett wasn't too vociferous here as the clock winds down on Boston's season.

Nathaniel S. Butler/NBAE via Getty Images
Hedo Turkoglu (25 points), left, of the Orlando Magic celebrates a Game 7 win with Rashard Lewis.

Elsa/Getty Images
Mickael Pietrus was another weapon Boston couldn't handle, sinking 6 of 7 shots, including three 3s.

Noah Graham/NBAE via Getty Images
The Rockets were not doing what they do best, clearly distressing Dikembe Mutombo, center.

Stephen Dunn/Getty Images
After a hard-fought series, rivals Kobe Bryant and Ron Artest have a final word on the Lakers' floor.
Vindication For Van Gundy And The Magic

BOSTON -- The "Master of Panic" himself -- OK, timeout, we'll try to stop calling him that after Sunday night, we promise -- was displaying a certain joyful feeling as he sat victoriously at the postgame interview podium.
Vindication, he insisted, was not the emotion du jour. And if it was elation, it was expressed with a Van Gundy-esque twist -- part self-deprecating humor, part wisenheimer.
"You get vindication in the coaching business until Wednesday, and if we lose Wednesday, then I'm back to being an idiot," Magic coach Stan Van Gundy said before departing the room, heading to the team bus and getting back to work.
The Orlando Magic are going home, but not for long. They'll be in Cleveland on Wednesday night to compete in the Eastern Conference finals, looking very much like a team that had completed a two-week growth spurt, culminating with a 48-minute display of efficiency in their 101-82 defeat of the Boston Celtics on Sunday night.
No longer can we call them the masters of panic, what with their propensity to blow leads and fail to close out games they should have won. They buried that moniker in this one with every bit as much zeal as they removed "defending champions" from the Celtics' formal title.
Did they have a weak link? No.
Did they seize up after they took control? No.
Did they look worthy of giving the Cavaliers a run for their money in the conference finals? Well, we're not ready to take things quite that far at this point.
But Orlando, a group that established itself as the better team early in this series -- but a team that also showed itself deficient in playing with the poise that all champions must possess -- exorcised quite a few demons Sunday in closing out Boston's season.
Led by Hedo Turkoglu (25 points, 12 assists, five rebounds), Rashard Lewis (19 points) and Dwight Howard (12 points, 16 rebounds, five blocks), the Magic finished off the job confidently without showing even the slightest sign of the slippage they had when playing from ahead in the recent past.
On the grease board in the locker room afterward, the only thing that was written was this: 32-1 -- an updated reference to the statistic Orlando kept hearing for five days after they had dropped Game 5, how Boston had gone 32-0 over the course of their illustrious history when taking a 3-2 lead in a series. (A stat that Van Gundy poked fun at a few days earlier by reminding the Boston fans that no baseball team had ever come back from a 3-0 deficit to win a series until the Red Sox did it to the New York Yankees in 2004.)
"We played 48 minutes tonight, played for each other, we had players make plays for others, we had players make big shots down the stretch, and when we got the big lead we continued to play instead of pulling it out to stall. So we stayed together and showed great poise and character tonight," Orlando's Courtney Lee said. "The first couple games we let them come back, and we were kicking ourselves in the head for that. But we came here and got the victory, and we locked up at the end, man. We locked up, baby."
Orlando's lead was only 66-61 after three quarters, not the kind of deficit to make Celtics Nation overly worried. Ray Allen had found his stroke, the Celtics' undermanned big men were somehow staying out of serious foul trouble for the seventh straight game, and Rajon Rondo had just hit a late jumper to close the third that seemed as though it would be a momentum-builder heading into the fourth.
Not so.
A 3-pointer by Mickael Pietrus (6-for-7 overall, 3-for-3 on 3s) and a three-point play by Lee quickly moved the lead to 11. Then Howard blocked Perkins, Pietrus hit a 15-footer, Stephon Marbury bricked a 3-pointer, and Turkoglu drove for a layup and was fouled, completing the three-point play. It was sudden and swift, and the Celtics quickly found themselves facing a 16-point deficit after just 2:01 of the fourth quarter had elapsed.
Howard's fourth and fifth fouls came in the next two minutes, but there was no slippage after he sat.
Allen knocked down a 3-pointer with 4:20 left to make it a 12-point game, but Turkoglu answered right back with a 3 of his own, then nailed a 21-footer that forced Boston to call timeout with 3:27 remaining and sent the fans streaming toward the exits.
Celtics coach Doc Rivers waved the white flag by subbing out his starters with 2½ minutes left, and Kevin Garnett -- who had stood throughout the entire fourth quarter -- was one of the first through the exit tunnel as it ended, stopping briefly for a pat on the back from former Celtics coach Tommy Heinsohn, sauntering off into his summer without Boston fans having anything remotely resembling a good grip on exactly how bad his knee injury might be.
How much different this series could have been if Garnett had been healthy. Then again, the Magic were also missing a key cog (point guard Jameer Nelson), but people seemed to make a much bigger deal about Garnett's absence.
Part of the reason for that was the play of Rafer Alston, who bounced back from his horrid play in Games 1 and 2, a suspension in Game 3, and a poor Game 4 to knock down several huge shots while also being the floor leader (when Turkoglu wasn't handling those chores) that Orlando desperately needed. Alston took a team-high 16 shots and made six, but this was the first time in the series that it could be argued that he outplayed Rajon Rondo.
Orlando had a 25-12 edge in bench points and a 17-5 edge in fast-break points and -- most importantly -- made 13-of-21 3-pointers while Boston was only 4-of-16.
For Turkoglu, it was the biggest win in one of the biggest games of his career -- he listed Game 7 of Lakers-Kings in 2002 and a Turkey-Yugoslavia FIBA match as the others -- and elevated his pedigree a notch in the echelon of go-to players who can be counted on to come through in the clutch in the postseason.
"We just learned, every game was a different ballgame, and after five or six games we learned how to close a game. We played 48 minutes, played hard, made the extra pass to the open guy," Turkoglu said. "We learned a lot from these seven games, and hopefully beginning Wednesday we won't make the mistakes that'll take it to seven games."
"We're ready. We believe in ourselves. We have a lot of confidence," Turkoglu added, a statement that wouldn't have been believable if he said it 24 hours earlier.
But on this night, Turkoglu proved himself worthy of saying such a thing.
As for the "Master of Panic" nickname that Shaquille O'Neal gave to Van Gundy? For now, anyway, it doesn't quite fit.
Chris Sheridan covers the NBA for ESPN Insider. To e-mail Sheridan, click here.
Playoff Dimes past: April 30 | May 1 | 2 | 3 | 4 | 5 | 6 | 7 | 8 | 9 | 10 | 11 | 12 | 13 | 14 | 15
The Lakers' Twin Towers: Gasol And Bynum

By Eric Neel | ESPN.com
Game 7 of the Western Conference semifinals belonged to Pau Gasol, whose 21-point, 18-rebound line only hints at how dominant he was Sunday afternoon. But the contributions of Gasol's young teammate, Andrew Bynum, who scored 14 points, pulled down six rebounds and blocked two shots in 22 minutes during the Lakers' 19-point victory over Houston, may be more significant as Los Angeles prepares for a showdown with the Denver Nuggets.
Bynum had disappeared during the Lakers' first-round series with Utah, and he looked timid and slow at times during the series with the Rockets. On Sunday, though, he was energetic from the jump, contesting interior shots (helping to force Houston into a sorry 0-for-12 start to the game), hustling for loose balls and staying active on shots contested around the cylinder.
"They didn't get many points in the paint," said Lakers swingman Trevor Ariza, describing Bynum's defense. "He altered shots. He kept [Aaron] Brooks from getting those floaters. He just played big for us."
Though he hit 6 of 7 shots from the floor, the Lakers don't need Bynum to be an offensive force (they get plenty of scoring from Gasol, Kobe Bryant and Lamar Odom). They need him to be aggressive when the other team has the ball, to think of himself as the back-line stopper who turns away penetrating perimeter players and cuts off the baseline on agile low-post scorers like Luis Scola (in this round) and Nene and Kenyon Martin (in the next). And he needs to be a rebounder who is ready to trigger the Lakers' transition game.
"The reality is, he's a cleanup guy," coach Phil Jackson said during the postgame news conference. "He has to clean up the boards, he has to take passes that are coming off drivers who are cut off. But the thing we want him to grasp is how active his defense has to become for him to become really the player we want him to be, and the player that can change how good defensively we are as a basketball club."
The difference between the Denver Nuggets' past and present is their commitment to defense and to the energy it requires game in and game out. The difference between a Lakers team that defeats Denver in the next round and one that comes up short will be its ability to match that commitment and intensity.
There are many barometers for Los Angeles (the team goes as Bryant and Gasol go, more often than not). But if you want to know if the Lakers are hitting on all cylinders, if they're playing like the team everyone picked to make it to the Finals, if they're playing free and easy, unburdened by the expectations and ready for the challenge, keep your eye on Bynum, and on whether he can build on what he did in this win over Houston.
"He opens it up for Pau," Odom explained. "They play pitty-pat, one missing, the other getting the rebound. It's fun to watch. [When Bynum plays like this] it takes a lot of pressure off of all the guys."
Eric Neel is a senior writer for ESPN.com.
The Redemption: Lakers Ground Rockets

By J.A. Adande | ESPN.com
LOS ANGELES -- When an entire team responds in a moment of crisis, as the Los Angeles Lakers did in this how-did-we-get-here Game 7 against the Houston Rockets, the credit goes to the coach.
The series certainly wasn't shaping up as Phil Jackson's finest hour. The starting lineup hadn't clicked at tipoff in the previous three games, with Games 4 and 6 beginning so badly you wondered if he spent the pregame showing a boring movie like "The Curious Case of Benjamin Button."
His squad couldn't put away the undersized Rockets. He violated coaching protocol by answering questions about the Denver Nuggets when there were still two games left to play in this series. He even had the audacity to complain about his injuries when Houston has Yao Ming, Tracy McGrady and Dikembe Mutombo in suits. He blew his vaunted cool once in this series, cursing in a news conference, and even said that he'd woken up an hour early on Sunday and was nervous before Game 7. Then he commented on that startling admission.
"I look it, don't I?" he said, his face just as uncaring as ever.
And just like that, Phil was back to being Phil. The captain of cool.
"Teams tend to take the personality of their coach," Lamar Odom said. "And I think we have."
To read the entire Adande column, click here.
By Maurice Brooks
ESPN.com

SUNDAY'S BEST
Pau Gasol, Lakers
: Kobe Bryant had a slow game -- scoring just 14 points -- but Gasol was there to pick up the slack. The big man dominated inside, finishing with 21 points and 18 rebounds, as Los Angeles eliminated Houston.
---

SUNDAY'S WORST
Houston Rockets
: Aaron Brooks had more turnovers than assists, Shane Battier made just one bucket and finished with three points, and Ron Artest was 3-for-10 from the field in defeat.
---
QUOTE OF THE NIGHT
"I am going to enjoy this one until I get on the plane tonight and start watching film."
-- Orlando coach Stan Van Gundy, after the Magic finished off the Celtics in Game 7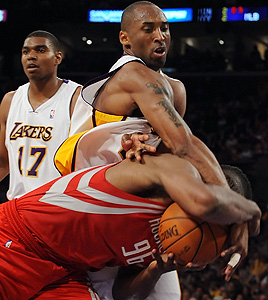 (Photo by Noah Graham)
Kobe Bryant and the Lakers came out on top in Game 7 to earn a split decision over Ron Artest and the Rockets in Los Angeles.
By Kurt Helin | TrueHoop Network

Andrew Bynum should have Lakers fans believing again.
For two of the past three games, he has looked right of mind and right enough of body. Bynum's defense in the paint and rebounding will be the difference between the Lakers that lost to the Celtics in last year's Finals and the Lakers that take the next step.
And in Game 7, he was the defensive game changer, blocking shots and changing others. Go ahead and say he was supposed to dominate someone that much smaller than him -- he did it. And compared to a week ago, that is a huge step forward.
Bynum is also the key to the Lakers against Denver. If Bynum is in the game, Nene has to guard him, and the Brazilian has struggled with Bynum's length. More importantly, it means Kenyon Martin has to cover Pau Gasol at the 4, and Martin has been no match for him in the past.
There are other matchups that favor the Lakers. When you look at the point guards who gave the Lakers problems this season, it was Tony Parker and Jameer Nelson and Aaron Brooks. All smallish, lighting-fast guards whose game is to come off the high screen and drive into the heart of a defense.
Chauncey Billups is a team leader and a true floor general, but he is not the kind of guy whose game is based on a wicked crossover or penetration off a screen.
Then there's Kobe Bryant. The Nuggets have also had a tough time matching up with Kobe. The Rockets could throw Battier and Artest at him. Kobe will see Dahntay Jones and think he just got a "Get Out Of Jail Free" card.
All of that with Bynum back in the fold. Lakers fans can safely believe again.
To read more from Helin, check out his TrueHoop Network blog, "Forum Blue & Gold."
Bright Future For The Rockets
By Kevin Arnovitz
TrueHoop

LOS ANGELES -- Two.
That's the number of second-half lead changes the Los Angeles Lakers and Houston Rockets exchanged over the seven games of their classic series. There weren't any overtimes, game-winning daggers or last-possession nail-biters. Never before has a series had so few YouTube-able heroics, yet achieved such a peak level of emotional intensity. The Lakers' talent ultimately prevailed, but the Rockets' resolve made the series memorable.
"I'm really proud of these guys," Rockets coach Rick Adelman said. "They bust their tails."
The Rockets waged one of the best guerrilla wars in recent playoff history. Already without Tracy McGrady, the Rockets lost Yao Ming after their Game 3 loss in Houston. Pronounced dead, the undermanned and undersized Rockets rallied behind a 6-foot-6 offensive cipher, Chuck Hayes, who stepped in for Yao to start at center. With a tiny starting lineup, Houston won two of the next three games to push the presumptive Western Conference champions to seven games.
"Every player in this locker room has heart," Rockets forward Carl Landry said. "That's what wins games. Not size."
Hayes, along with forwards Luis Scola and Landry, matched the Lakers' frontcourt blow for blow. Rather than cede the paint and take their chances with long jumpers, a trap many undersized teams fall into, the Rockets actually went at their opponent's strength and pounded the Lakers inside throughout the series.
Scola, stolen from the Spurs by the Rockets' front office in the summer of 2007, was a master at finding holes in the Lakers' defense. Meanwhile, Landry shot 60 percent in the series, scrapped furiously for rebounds and banged underneath with the Lakers' 7-footers. What the Rockets' big men gave up in size, they made up for in smarts and aggressiveness defensively. They pushed Pau Gasol off his favorite spots and smothered him when he got the ball. The Lakers' other two big guys, Lamar Odom and Andrew Bynum, were either frustrated or invisible through most of the series.
If the Rockets' big men embodied the team's unconventional on-court strategy, point guard Aaron Brooks spearheaded the clever mental approach. Over the course of the seven games, Brooks embraced the Rockets' underdog status. At a shootaround last week, he referred to the Lakers as "America's Team," insisting that the best the Rockets could do in the series was "give it a shot." The ultimate goal was to have fun. Brooks told a sideline reporter who asked him about the Rockets' daunting task after Game 6 that his team still didn't have a chance. Pretty sneaky, especially from a second-year player who was thrust into the starting lineup only after Rafer Alston was shipped out to Orlando. "We threw Aaron Brooks out there to the wolves," Adelman said. "He took on the responsibility when we needed him to."
When Brooks wasn't regaling reporters with irony, he was carving up the Lakers in the middle of the floor. He averaged 18 points per game in the series. Brooks, along with forward and team leader Shane Battier, brilliantly managed the Rockets' expectations, convincing teammates they could win by not fearing to lose.
"We're young. Hopefully next year, we can be the future L.A. Lakers," Landry said after the game.
Landry and the Rockets should aim higher.
To read the TrueHoop blog, click here.
Turkoglu Stars In The Clincher
By Elias Sports Bureau

Hedo Turkoglu scored 25 points and handed out 12 assists for Orlando on Sunday. The only other player with at least 25 points and 10 or more assists in a Game 7 against the Celtics was Jerry West, who had 42 points, 13 rebounds and 12 assists in the Lakers' two-point loss to Boston in the decisive game of the 1969 Finals (108-106 at Los Angeles).