Jesse D. Garrabrant/NBAE via Getty Images
After finding his path for a lob thwarted, LeBron James was able to launch a game-winning shot.

David Dow/NBAE via Getty Images
Rashard Lewis, left, tries to get over and help Hedo Turkoglu offer some defense on a 23-footer.

Gregory Shamus/Getty Images
With Cleveland feeling the weight of a collapse scenario, a single shot lifted the spirits of a city.

Jesse D. Garrabrant/NBAE via Getty Images
LeBron's winning shot brought a 96-95 win and everybody in white together for a Game 2 party.

Jesse D. Garrabrant/NBAE via Getty Images
If not for LeBron's heroics, Orlando's Hedo Turkoglu would have walked off as the hero of Game 2.
Game 2: Van Gundy Had Alternate Ending In Mind

CLEVELAND -- Stan Van Gundy fell on his sword afterward, saying it was his mistake, and nobody else's, that allowed LeBron James to get off that game-winning shot.
Exactly what that mistake was the Magic coach wouldn't say, because he didn't want to give away any secrets in case he finds himself confronted with a similar situation sometime later in this postseason.
But despite what he claimed, Van Gundy was not the only one at fault. (Mickael Pietrus joined Van Gundy in taking some of the blame, and rightfully so, although he couldn't quite understand why he didn't get the assignment on LBJ at the end.)
Still, if ever there was one single second that could be broken down, commented upon with every superlative imaginable and replayed dozens upon dozens of ways, this was it: An inbounds play on which Mo Williams took the ball from the ref, asked him to announce his five-second count as loudly as possible, bided his time and hit James with a crisp pass at the 3-point line.
James turned, shot and sank the game-winning 3-pointer -- "The biggest shot I've hit in my career," he said -- to give the Cleveland Cavaliers a 96-95 victory over Orlando on Friday night, evening the Eastern Conference finals at one game apiece.
"We should have defended it differently," Van Gundy said. "It's crushing enough to lose as a coach, but when you're the guy who could have made the difference, it hurts a lot more."
Van Gundy knew exactly what play to expect, a backdoor lob to James breaking toward the basket, the same play the Cavs had gone to earlier this season in a similar last-second situation at Indiana. In the huddle with one second left after Hedo Turkoglu had put the Magic ahead by two with a clutch 13-footer, Van Gundy turned to Turkoglu and told him, "You've got LeBron."
It was an interesting choice of defensive assignments given how well Pietrus had defended James, containing him in the fourth quarter (James scored only four points in the final stanza before hitting the game winner) like few defenders ever had in an NBA playoff game.
Van Gundy's reasoning:
"There's a couple of things there. LeBron's a very, very smart guy, and he knows everybody can get a little overeager there. OK? And Hedo's a guy who's still got size at 6-10, and he has a lot less chance of biting on a shot-fake there with a second to go. I thought he would play the possession solidly, and he did; he played it very, very well.
"Second-guess or not, the shot that we ended up giving, there was nobody going to get up and … you really think another guy was going to block that? I mean the shot was going to get off, so it wasn't a matter of the matchup, it was a matter of how we defended the play. So Hedo did as good a job as anybody can do, and I didn't do as good a job as any coach could do."
Again, Van Gundy wasn't specific on what he could have done, but we can take an educated guess, and part of that guess involves Pietrus, who blamed himself for chasing Sasha Pavlovic almost all the way to the midcourt line as Williams was still holding the ball.
Had Pietrus stopped chasing Pavlovic two steps earlier, Williams wouldn't have had a clear passing lane to get the ball to James. Pietrus would have been right in the way, not chasing a decoy who wasn't going to get off anything better than a 42-footer even if he had received the inbounds pass.
More likely, Van Gundy was second-guessing himself for not having two defenders assigned to James, since pretty much every single human on Earth and every alien within the nearest few galaxies knew who was going to get the ball.
"Option A was LeBron, Option B was LeBron, Option C was LeBron, and Option D was Big Game James -- and that's what I went with," Williams said.
"It took so long to get to the rim, I said like a 10-minute prayer while the ball was in the air. One thing about shots like that, we always talk about how our team has swag, we all operate with swag. But on a shot like that, you lose all your cool points," Williams said.
Said LeBron: "Honest answer, when I caught it and squared it looked great. In the air it looked like it was going in, but the breaks we'd been getting, there was a chance it wasn't going in. I just did not know, I didn't pray as much as Mo did, but it felt great. You know, I practice those types of things."
It did not go unnoticed on the Orlando end of the court how jubilant the Cavs were about the victory, which -- in a way -- was the slightest bit of a moral victory for the Magic.
They had come from way behind once again, this time erasing a 23-point deficit, and they had learned another lesson about sticking with and repeatedly going to what was working for them. On this night it often involved isolating Turkoglu or Lewis against whichever of them was being defended by Delonte West, exploiting their size advantage in that matchup. Also, their many variations of the pick-and-roll and the secondary pick-and-roll continued to confound the Cavs.
They didn't need to force-feed Dwight Howard, they didn't need to lean for offense on guards Rafer Alston or Courtney Lee, and they discovered that Pietrus -- after a season full of second-guessing whether the Frenchman was worthy of the offseason investment they made in him -- might just have a little more Bruce Bowen or Shane Battier in him than they previously realized.
"The way they were celebrating, it was good, man. They win and they celebrate, and it means we're in their heads. So it's all on us now, and how we play in front of our fans," Turkoglu said.
If we are all fortunate enough to get a repeat of this thriller, either in rainy central Florida over the long holiday weekend, or back here at The Q in Games 5 and/or 7, or at the Amway Arena in Game 6, maybe we'll see exactly what secret Van Gundy was holding back when he declared just before his exit: "I know damn well what I could have done on the play tonight."
Whatever that was, Van Gundy wasn't saying. But he has a plan for the next time (can we start calling him the Master of Planic?), and he certainly didn't sound like a coach who has any plans to be a front-row witness to another game winner by No. 23.
Chris Sheridan covers the NBA for ESPN Insider. To e-mail Sheridan, click here.
Playoff Dimes past: 4 | 5 | 6 | 7 | 8 | 9 | 10 | 11 | 12 | 13 | 14 | 15 | 17 | 20 | 21 | 22
Perfect Ending For James' Cavaliers

By John Krolik | TrueHoop Network
There was no rhyme or reason to the final play. On Wednesday, LeBron James had the best playoff game of his career. Not only was he driving to the hole; he brought out the post-up moves and couldn't miss a jumper. He was making every play down the stretch and sealed it with a beautiful and-1 drive that saw the league's MVP and DPOY meet each other at the rim and the MVP come up bigger. Then Anderson Varejao didn't keep his hands up in a no-3 situation, Marcin Gortat came over on a smart double, Delonte West missed an open short-corner 3, and the coronation was over.
On Friday, the funeral was a second away. The Cavs had blown the biggest lead of the playoffs and were about to lose two in a row on their supposedly infallible home floor. LeBron's lack of a reliable jumper had been exposed down the stretch when he was forced to drive into a waiting defense and got absolutely stuffed, and then, with the season on the line, he did, of all things, travel. (Even worse than the crab-dribble; LeBron took about seven steps. That was less a walk than a hike.)
If Hedo Turkoglu takes literally one second longer to make his move, King James' coronation takes at least another year. But he didn't. And Hedo bit down to cover the possible lob instead of preventing a run-out to the 3-point line at all costs. And LeBron hadn't made a 3 all night. For that matter, he'd only made two jumpers. And he'd only made one buzzer-beater in his career. And never in the playoffs. And never from 3. None of that mattered when the ball went through the net and landed.
Lights on. Wrist extended. Game over. Series tied. Season alive. Greatness, even superlative greatness, without perfection is the reality we've all been forced to confront since Michael Jordan left. Ever since the Bulls won six straight titles whenever No. 23 played a full season on their side, we've been searching for someone to take that mantle, to be infallible when it matters most. We're still looking. Nothing is black or white, not even in this series. LeBron is one 3 away from being the undisputed hero of the playoffs and another away from being the biggest goat. As Wednesday shows, no one game can be perfect, even if it's one of the best ones you've ever seen.
On Friday, Cavaliers fans finally understood the magic of the last-second shot, how it can have even more meaning than a 49-point game or 29 points down the stretch in a row or an and-1 with 30 seconds left that should seal the game. There are no perfect games. But there are perfect shots, perfect moments. On Wednesday, LeBron James had the best game, overall, of his postseason career. On Friday, he made the best play of his career. One was great; the other perfect. And it's perfect that can finally make questions go away, if only for 48 hours.
To read more from Krolik, check out his TrueHoop Network blog, "Cavs: The Blog."
By Maurice Brooks
ESPN.com

FRIDAY'S BEST
LeBron James, Cavaliers
: He has had a lot of memorable moments in his career, but none greater than his buzzer-beating trey that prevented the Cavs from falling behind the Magic 2-0.
---

FRIDAY'S WORST
Rafer Alston, Magic
: In 29 unproductive minutes, the point guard made only one of seven shots from the field and handed out just two assists in defeat.
---
QUOTE OF THE NIGHT
"We should have defended it differently. It's crushing enough to lose as a coach, but when you're the guy who could have made the difference, it hurts a lot more."
-- Magic coach Stan Van Gundy on how Orlando defended LeBron James on the final play of the game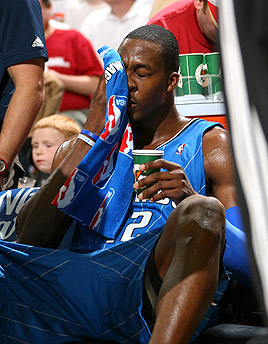 Jesse D. Garrabrant
Dwight Howard and the Magic were just one second away from knocking off the Cavaliers in back-to-back games on the road.
Nuggets Are Getting Stronger

Ric Bucher wouldn't be surprised if the Lakers got smoked in Game 3. Bucher thinks the Nuggets are getting better as the playoffs go on.
The Herd with Colin Cowherd
By John Hollinger
ESPN.com

The Bobcats are for sale, and that has to be good news for their fans. The odds that the team will relocate are minuscule, as Charlotte has a new arena and a solid market, not to mention the fairly harsh penalties for departing. But whoever takes over is almost certain to operate the team more competently than Robert Johnson did.
Johnson's tenure was so bad that on Friday a Charlotte columnist was longing for the George Shinn days. Presumably the new guy won't let Michael Jordan run the team from the 12th green or shut out the local TV audience, and he might even be encouraged to spend some money on players.
And here's a thought: Would they keep the name? Johnson called the team "Bobcats" after himself, but is there any point in naming the team after the owner when his tenure bordered on cat-astrophic? Isn't that why not too many things in this country are named after Warren G. Harding or Andrew Johnson?
To see the four other Insider Gems, click here.
By Henry Abbott
TrueHoop

A lot of calls that look like charges are correctly called blocks. When you rewind these plays on your TiVos, don't do what referees make fun of fans for doing: Trying to decide if the players' feet were set before the contact. That's not the standard. What you want to know is this: Is the defensive player's torso set in position before the offensive player begins his upward motion? The defense can not slide into position after the offensive player has reached this stage. Why did they set that standard at the moment of upward motion? Joe Borgia, the NBA's director of officiating programs and development, says "Because we had to set it somewhere." He adds that "the moment of alighting is too late." After years of watching film, however, Borgia has confidence they chose the correct moment.
To read the entire TrueHoop blog, click here.
By Elias Sports Bureau

Dwight Howard recorded 18 rebounds in Orlando's Game 2 defeat. Howard has registered double digits in rebounds in each of his first 14 games of the 2009 playoffs. Over the past 30 years, only three other players have posted 10 or more rebounds in each of their first 14 games of a playoff season: Shaquille O'Neal in 2001 (first 16 games), Charles Barkley in 1993 (first 14 games) and Larry Bird in 1981 (first 17 games).