Trail Blazers take ex-Ohio State star Oden with top choice
Updated:
June 29, 2007, 2:20 AM ET
ESPN.com news services
NEW YORK -- The Portland Trail Blazers got Greg Oden and felt like they won a championship.
The Seattle SuperSonics settled for Kevin Durant -- but their night wasn't quite the celebration.
The Trail Blazers ended months of debate Thursday night when they chose Oden over fellow college freshman Durant with the No. 1 pick in a highly anticipated NBA draft.
Portland opted for the 7-footer who can dominate a game with his defense over the sensational scoring of Durant, who would have been the No. 1 pick in many other years after one of the most outstanding freshman seasons in NCAA history.
But franchise centers are hard to find, and most believe the Blazers got one.
"I was on the phone with the radio station back in Portland," Oden said. "They said they stomped the floor like they won the NBA championship once they called my name."
Fans rushed the court at the Rose Garden, where a perennial playoff team has fallen on hard times after some worse behavior. But the Blazers got Rookie of the Year Brandon Roy last year and got an early start on having next season's winner when they grabbed Oden to play alongside LaMarcus Aldridge.
"They did have a bad [reputation], but I think Brandon and LaMarcus kind of turned that around," Oden said. "I hope that I can come and just push that along some more."
As expected, Durant was quickly taken second by the Sonics. The 6-9 forward, wearing an orange tie to match Texas' colors, averaged 25.8 points and 11.1 rebounds, ranking fourth nationally in both categories, and is considered the most talented player in the draft.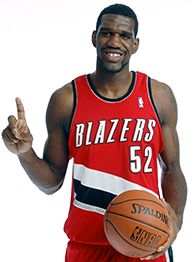 Jennifer Pottheiser/NBAE via Getty ImagesAfter months of discussion, the Portland Trail Blazers made Greg Oden the NBA draft's top choice.
Seattle also traded Ray Allen and the rights to the 35th overall pick (Glen "Big Baby" Davis) to Boston for Wally Szczerbiak, Delonte West and the No. 5 pick. Boston selected Georgetown forward Jeff Green for Seattle with the fifth pick. Seattle will also receive a future second-round pick from the Boston Celtics.
Moments after he was picked, Durant saw on TV that the SuperSonics had traded Allen. Fans booed the Allen trade at a draft party for the Sonics, who still face losing Rashard Lewis to free agency.
But the 6-9 Durant doesn't consider himself the Sonics' savior.
"Not at all, not at all," Durant said. "When you play since you were 8 or 9 years old, you know the game is not a one-man sport. I'm far from being a savior.
"We are thrilled to have Kevin," Sonics GM Sam Presti said. "But at the same time, to make the decision to move a player -- and a person -- like Ray Allen was tremendously difficult.
"Boston really pursued this. What started as a smaller conversation became fulfilled. Their pursuit was impeccable."
Durant said he knows Green from growing up in the Washington, D.C. area.
"I know Jeff pretty well, on a D.C. Blue Devils team and we gained a friendship from there," Durant said. "He's a great player and I can't wait to play with him."
While Seattle made an impact by drafting Durant and trading for Green, the Charlotte Bobcats also made their presence felt via a trade. The Bobcats traded the draft rights to Brandan Wright, the No. 8 overall pick, to the Golden State Warriors for Jason Richardson and second-round pick Jermareo Davidson (No. 36 overall).
Bobcats part-owner Michael Jordan has been saying for weeks that he didn't want a rookie, but wanted an established player who could help put the Bobcats in the playoffs.
Oden led Ohio State to the national championship game despite never playing at full strength after surgery on his right wrist. Still, he averaged 15.7 points and shot nearly 62 percent while drawing comparisons to Bill Russell for his rebounding and shot blocking abilities.
Looking nervous and battling a head cold since arriving in New York, Oden shared a long handshake with commissioner David Stern before heading off for interviews. He was expected to fly to Portland later Thursday night.
Oden could have been the top pick last year out of high school if not for the NBA's age requirement rule.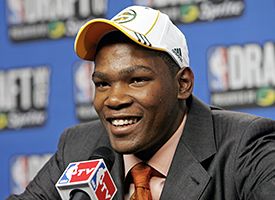 AP Photo/Jason DeCrowKevin Durant, the second pick of the draft, is the face of the Sonics' future after a draft-day trade sent Ray Allen to Boston.
"I'm a better player because of that year in college," Oden said. "Coach [Thad] Matta, he taught me so much, first about being a young man growing up in Columbus."
The Pacific Northwest rivals got an immediate jump-start to their rebuilding plans by moving up in last month's lottery to grab the top two picks. Though this is considered the deepest draft in years, Oden and Durant are regarded as the only can't-miss players.
The Atlanta Hawks used the No. 3 pick, their first of two in the lottery on Al Horford, who saluted the pro-Florida crowd with the Gator chomp. The two-time defending NCAA champions became the first school with three players selected in the top 10 of the same draft.
They made it when Corey Brewer went to Minnesota at No. 7 and Joakim Noah -- donning a brown bow tie and getting a huge reaction from his hometown crowd -- was taken by Chicago two picks later.
"This is an unbelievable experience," Horford said. "Winning two national championships. Moving up to the next level is unreal."
Two more Gators went in the second round: Chris Richard at No. 41 to Minnesota and Taurean Green by Portland at No. 52. The five players equaled the second-most for one school in a draft. UNLV had six in 1977 -- though that came in four rounds.
The Hawks passed on Mike Conley, even though they still need a point guard after passing on Chris Paul and Deron Williams two years ago. The Memphis Grizzlies quickly grabbed Conley, Oden's teammate since their junior high days and the third freshman in the top four picks.
The Milwaukee Bucks took a chance at No. 6 on the draft's mystery player, Chinese forward Yi Jianlian. Though Yi was getting plenty of attention -- half of the record 60 international media members were from China -- he came with plenty of question marks. He hasn't played against top competition in the Chinese leagues, and he is rumored to be older than the 19 he is listed.
Milwaukee also ignored concerns that Yi only wanted to play in a major market with a large Asian population. He didn't even work out for the Bucks.
"It's a surprise to me as well, because when I was in China, Milwaukee didn't come to watch me play or work out," Yi said. "Myself, I'm not really familiar with the city, but I'm happy with the team and I'm happy to play in the NBA."
Sacramento selected Washington center Spencer Hawes with the 10th pick.
Wright and Hawes were the fourth and fifth freshmen taken in the top 10.
Atlanta added Texas A&M guard Acie Law with the No. 11 pick, making him the first senior selected.
"Freshmen are very, very talented," Law said. "I think in the draft, it's all about position and what a team needs, and you see some great, great players in this draft. I'm happy with the team that I went to and just happy to get to Atlanta and help turn that franchise around."
Thaddeus Young (Philadelphia, No. 12) and Javaris Crittenton (Los Angeles Lakers, No. 19) gave Georgia Tech two first-rounders. Sean Williams (No. 17, New Jersey) and Jared Dudley (No. 22, Charlotte) did the same for Boston College -- though Williams was kicked off the team last season for rules violations.
New Orleans chose athletic Kansas forward Julian Wright with the 13th pick and the L.A. Clippers took former Florida State star Al Thornton with the 14th pick.
The Pistons added Eastern Washington guard Rodney Stuckey with the 15th pick while the Wizards chose USC's Nick Young with the 16th pick.
Golden State chose Italy's Marco Belinelli, a shooting specialist, with the 18th pick.
Colorado State forward Jason Smith was picked 20th by the Miami Heat while the Sixers added Ohio State shooting guard Daequan Cook with the 21st pick.
The Heat and Sixers later swapped picks, as Smith went to Philadelphia in exchange for Cook, a 2009 second-round pick and cash considerations.
The Knicks added small forward Wilson Chandler of DePaul with the 23rd pick.
ESPN's Ric Bucher reports the Suns agreed to trade the rights to their No. 24 pick (Rudy Fernandez) to Portland in exchange for cash.
The Utah Jazz selected Rice's Morris Almond with the 25th pick to address their need for a 3-point shooter.
Oregon guard Aaron Brooks was chosen by the Rockets with the 26th pick. Houston acquired Mike James in an off-season trade that sent Juwan Howard to Minnesota in an effort to shore up their point guard play.
UCLA's Arron Afflalo was the 27th pick by Detroit. Brazillian power forward Tiago Splitter joined the defending NBA champion San Antonio Spurs as the 28th pick.
Phoenix chose Alando Tucker, of Wisconsin, with the 29th pick and the Sixers closed out the first round of the draft by choosing Finland's Petteri Koponen with the 30th pick.
The Sixers then agreed to trade Koponen to Portland in exchange for the 42nd pick in the 2007 draft and cash considerations.
Among the notable players chosen in the second round:
• Gabe Pruitt, who led USC with 47 steals last season, was chosen 32nd by the Celtics.
• The SEC made its mark as Davis, Davidson, Richard, Vanderbilt's Derrick Byars (No. 42, Philadelphia) and Green were second-round draftees.
• Nick Fazekas, the three-time WAC Player of the Year, was chosen 34th by the Mavericks. His teammate, Ramon Sessions, went 56th overall to the Bucks.
• Duke forward Josh McRoberts was the 37th overall pick by Portland.
• The Bulls chose Marc Gasol, the brother of Grizzlies forward Pau Gasol, with the 48th pick. Chicago selected ex-Pittsburgh standout Aaron Gray with the 49th pick and Oklahoma State's JamesOn Curry with the 51st pick.
• Maryland's D.J. Strawberry, son of former MLB player Darryl Strawberry, was selected 59th by Phoenix.
Information from The Associated Press was used in this report.
NBA DRAFT


Check out our full coverage of the 2007 NBA Draft.
DRAFT NIGHT
• Ford: Pick-by-pick analysis


• Ford: Team-by-team draft grades
• Sheridan: Night belongs to Oden, Durant
• Blazers make Oden the No. 1 pick
• TrueHoop's draft coverage
• Katz: Upperclassmen the hip pick this year
• Dickie V's draft thoughts
• Updated list: Draft day trades
• Fantasy: Draft night advice
• SportsNation: Draft night poll
• Zoom Gallery: Draft night fashion

CHAD FORD
• Mock Draft, Version 6.2 -- Picks: 1-14 | 15-30


• Ford: Is Yi worth the risk? ... The tier system



MORE DRAFT COVERAGE
• Hollinger: Rating pro potential of college players
• Official list: Who's in/out
• Ford's Top 100 prospects
• Sports Guy's lottery picks
• Ford: 10 int'l players to watch


• Ford: Oden No. 1? … Or Durant?


• 2007 NBA Draft Index
EUROCAMP

•
Ford: Prospects to watch in '08
•
Ford: Five who could be drafted in '07
FORD'S BLOG

•
Durant workout impresses Blazers
•
Odom so-so in Portland session
•
Oden's wrist, and other red flags
•
Draft notes and rumors
•
Is Durant's stock slipping?
•
Combine results: Who's the best athlete?
PREDRAFT CAMP

•
Ford: Draft rumors
•
Ford: Day 1
|
Day 2
|
Wrap-up
DRAFT LOTTERY
•
Podcast: Kevin Pritchard, Dominique Wilkins

•
Poll: Who should Blazers pick?
•
TrueHoop: Secaucus heaven
Blazer bliss
•
Katz: Oden wowed
Unhappy C's scene
•
Broussard: Nice Trail mix

•
Ford's blog: Lottery aftermath

•
Conversation:
Blazers
|
Sonics
|
C's
|
NBA
WORKOUT WATCH

•
Greg Oden -- is he Mr. Upside?
•
Mike Conley, Daequan Cook, Carl Landry
•
Julian Wright, Thaddeus Young, Alando Tucker
•
China's Yi Jianlian
|
No. 3 pick?
|
Rock star
•
Florida's Corey Brewer and Joakim Noah
•
Nick Young, Jason Smith, Bobby Brown
PODCASTS


• Greg Oden and Mike Conley
• Tim Grover and Thaddeus Young
• Florida's Noah and Brewer
• USC's Nick Young
• Colorado State's Jason Smith