Commentary
Draft lottery reaction: Beasley could fill Chicago's post needs
Originally Published:
May 20, 2008
By
Chad Ford
| ESPN.com
SECAUCUS, N.J. -- The Chicago Bulls were the big winners in the 2008 draft lottery Tuesday night, taking home the top pick despite a measly 1.7 percent chance of winning the lottery.

Only one team, the 1993 Orlando Magic, has overcome greater odds to win the lottery. Now comes the Bulls' biggest task: deciding whom to take with the No. 1 pick.

In our latest mock draft, I have the Bulls selecting Kansas State forward Michael Beasley by a hair.

Yes, Derrick Rose is a hometown candidate and a clear upgrade over their current point guard, Kirk Hinrich. And he's my favorite player in the draft. But that isn't the only consideration.

Most general managers have Beasley ranked ahead of Rose in the talent department. Rose may have more upside and plays a critically important position, but if you ask GMs and scouts to rate guys purely on talent, Beasley comes out ahead. In fact, until Rose's excellent run in the NCAA tournament, most NBA scouts and GMs scoffed at the idea of taking anyone other than Beasley with the first pick in the draft.

[+] Enlarge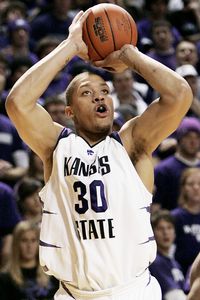 AP Photo/Charlie RiedelMichael Beasley could give Chicago some hope down low.

The Bulls have been looking for a low-post scorer for years. They tried everything from trading for veterans like Drew Gooden to drafting young athletes like Tyrus Thomas. To date, nothing has worked. Since trading away Elton Brand in 2001, the Bulls have struggled to score in the paint.
The consensus the past few years has been that the Bulls will never get over the top until they get that guy who can average 20 points and 10 rebounds for them. Considering the way Beasley dominated the Big 12 this year, is there any question he's the right fit?
Well … yes. There are questions about Beasley's attitude and work ethic. Stories still swirl about his offcourt antics in high school. The Derrick Coleman comparisons don't help, either.
But at the end of the day, I think Beasley has a slight edge. The NBA executives I interviewed in Secaucus after the draft lottery mostly agreed. Of the six NBA execs I spoke with, four thought the Bulls would select Beasley. Two picked Rose.
I would've asked Bulls GM John Paxson myself, except he wasn't here. Nor were any of the Bulls' front-office guys in charge of the draft. That's probably the most telling sign that the Bulls didn't think they had a chance in hell of winning the lottery.
We'll be watching this drama closely over the next few weeks. The Bulls can't go wrong with either player.
• Regardless of whom the Bulls take, expect there to be some big changes to their roster as a result of the big lottery win. If they select Beasley, expect Gooden and Thomas to be on the shopping block. If they select Rose, Hinrich could be on the move.
Of the two options, Beasley probably wins the argument here as well. A combo of Gooden (who will be in the last year of his contract) and Thomas should have much more trade value than Hinrich (who has four years, $37 million left on his contract).
• The Heat will be in limbo until the Bulls make their decision. A source familiar with Miami's thinking told me on Tuesday that the Heat would likely keep the pick if they get Rose. If the Bulls select Rose, right now the Heat would be more inclined to trade the pick.
However, Shawn Marion could change the equation. There have been growing rumors that Marion is considering opting out of his contract. If he did that (and decided to sign with another team), the Heat would suddenly need a player like Beasley to fill the void.
If Marion opts out, where would he go? The Sixers are the only team with significant cap room this summer.
• Mike D'Antoni kept smiling, but Tuesday wasn't his night. D'Antoni agonized for a week over whether to take the Bulls' or Knicks' head coaching job. He chose the Knicks, and then two weeks later … the Bulls win the lottery.
Ouch. Suddenly, a Bulls team that already looked like it had a bright future now looks incredible. The Knicks? It's going to be a long two years.
I think D'Antoni was itching to get his hands on Rose. He needs a dynamic point guard to run his system and drafting at No. 6, he probably isn't going to get it. Jerryd Bayless will likely be off the board before then. D.J. Augustin and Russell Westbrook are the next best point guards available, but six is probably too high for both.
Where does that leave New York? There will be growing speculation that the Knicks may turn their attention to Italian forward Danilo Gallinari. D'Antoni played with Gallinari's father in Italy for eight years. He's watched Danilo play over the years in Europe, and he knows how tough the Italian league is. D'Antoni loves versatile forwards like Gallinari. His basketball IQ and facilitation skills would be a great fit in a D'Antoni offense.
I spoke with D'Antoni minutes after the draft lottery. You can see his comments on the Knicks' bad night, Gallinari and what type of offense he wants to run in New York here.
• Look for a number of this year's lottery picks to be for sale the next few months. Numerous sources have said that the Heat, Timberwolves, Sonics, Knicks, Clippers, Bucks, Bobcats, Nets and Blazers are all open to trading their picks if the right deal came along.
Teams like the Wolves, Sonics, Bucks, Bobcats and Blazers are already loaded with young players. What they need are veterans who can add leadership and depth. Teams like the Heat, Knicks, Clippers and Nets seem to be focused on winning now.
While everyone agrees that the draft is deep and talented, only Rose and Beasley are considered superstar material. The rest of the players in the draft are considered good prospects, but not the type of players who can quickly turn the fortunes of a team.
• If I'm Cavs owner Dan Gilbert, I'm really sweating losing LeBron James in two years. Nets co-owner Jay-Z was at the draft lottery and Dwyane Wade, Kevin Durant and Rudy Gay were absolutely mesmerized by the guy. We know LeBron is a big fan as well and if the Nets can get under the cap and use Jay-Z as a pitch man -- he could very well become one of the most powerful owners in the league.
Chad Ford covers the NBA for ESPN Insider.
2008 NBA Draft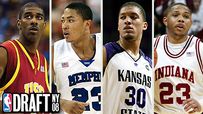 We've got the 2008 draft covered. Who are the top prospects? Check out our analysis, projections, scouting reports and more.
'08 NBA Draft Index
•
Roundup: A rundown of who went where
•
Keeping up with draft day trades
•
Mayo to Memphis, Love to Minnesota
•
Simmons, Ford: Great Draft Debate '08
•
Chad Ford's Mock Draft 7.0: Picks 1-30
|
31-60
•
Chad Ford's Mock Draft 6.1: Picks 1-30
|
31-60
•
Chad Ford's Mock Draft 6.0: Picks 1-30
|
31-60
•
Chad Ford's Mock Draft: Version 5.0
•
Chad Ford's Mock Draft: Version 4.0
•
Chad Ford's Mock Draft: Version 3.0
•
Chad Ford's Mock Draft: Version 2.0
•
Chad Ford's Mock Draft: Version 1.0
•
Draft Machine: Make your picks
•
Who's in, who's out of 2008 draft?
•
Ford's Top 100: Best draft prospects
Chad Ford
•
Draft Watch: How high or low will they go?
•
Draft Notes: Heat trading Beasley pick?
•
Draft Notes: Rose-Beasley rages in Chicago
•
NBA draft strategy: Ranking prospects by tiers
•
Draft Watch: Teams coveting UCLA's Westbrook
•
Draft Watch: Final in/out decisions made
•
Draft Watch: Rush's hot, Arthur's not
•
Draft Watch: International top 15
•
Draft Watch: Alexander's hot, Lawson's not
•
Draft Watch: Miami takes close look at Mayo
•
Draft Watch: Using the measurements
•
Draft Watch: Analyzing combine results
•
Draft Watch: Analyzing official measurements
•
Draft Notes: Who's looking to trade their pick?
•
Draft Notes: Stars come out in Orlando
•
Draft Notes: Beasley, Rose a marked contrast
•
Draft Stock Watch: Forbes taking wing on charts
•
Draft Notes: No. 1 question looms over Paxson
•
Draft Watch: Lawson bouncing back
•
Draft Notes: Rumors, promises and PGs
•
Draft Watch: Orlando hopefuls eye first round
•
Draft Watch: Could Mayo be the No. 2 pick?
•
Draft Watch: Who's No. 1 -- Rose or Beasley?
•
Draft Watch: Mayo's stock is rising again
•
Draft Watch: Judging early entry calls
•
Draft Watch: Nike Hoop Summit buzz
John Hollinger
•
Draft Rater: How will the Euros translate?
•
Draft Rater: Who are the best perimeter players?
•
Draft Rater: Who are the best big men?
•
Draft Rater: Beasley has most pro potential
•
Rating college prospects
More Analysis
•
Katz: Bayless, Gordon survived turmoil
•
Katz: Freshmen could produce record numbers
•
Katz: Draft trade rumors abound
•
Gottlieb: Mayo impresses while others falter
•
Katz: On top 12 picks
•
Katz: Rose's unique passion to win
•
Fraschilla: Who made right choice to return?

•
Katz: Heels win on withdrawal day
•
Katz: Anderson still on fence
Draft Lottery
•
Ford: Beasley-Rose debate rages in Chicago
•
Bulls win lottery; get first pick
•
Ford: Will Bulls take Beasley No. 1?
•
Vote: What should Bulls do?
•
Katz: Lottery projections

•
Fraschilla: Projecting picks 1-14

Podcasts
•
NBA Dish: Paxson on winning lottery
•
Mike & Mike: Paxson on No. 1 pick

•
NBA Dish: Joe Abunassar, NBA trainer
•
NBA Dish: Kevin Love, UCLA
SportsNation
•
NBA Draft polls
Fantasy
•
McKitish: Most freshmen have little impact
•
McKitish: Beasley and Rose as NBA rooks

MOST SENT STORIES ON ESPN.COM