Commentary
Draft Stock Watch: Lawson turns heads in Orlando
Originally Published:
May 29, 2008
By
Chad Ford
| ESPN.com
• For complete analysis of who's in and out of the 2008 NBA draft, click here.
ORLANDO, Fla. -- The first full day of the Orlando pre-draft camp gave us a few surprises in the games and more NBA rumors.
I spent the last 10 hours watching games and talking to NBA scouts and executives. Here is what they're saying about Wednesday's performances:
The best matchup of the night pitted UNC's Ty Lawson versus Tennessee-Martin's Lester Hudson. Lawson came in with the blue-chip pedigree but with a draft stock that's taken a beating this year. Hudson came in with a small school background and a checkered past, but he had wowed scouts and executives in the early drills.
Hudson's stock looked to be on the rise while Lawson's seemed to be free-falling.
Both players came off the bench at the 10-minute mark and guarded each other. The verdict was an overwhelming knockout for Lawson, who dominated Hudson on both ends of the ball. Lawson's tenacious defense forced Hudson into five early turnovers and a couple of bad shots. Meanwhile, Lawson kept pushing the ball and making things happen on the offensive end.
Hudson ended the game with four points on 2-for-6 shooting, with five assists and five turnovers. Lawson's numbers weren't spectacular -- he had 10 points, four assists and shot 4-for-10 from the field -- but several GMs walked away impressed with Lawson.
"He came out with great energy and played like he had something to prove," one GM said. "He kicked Hudson's [butt]. I think he helped himself."
Even with Hudson's poor performance, NBA executives still feel Hudson is going to be in the league. The Spurs met with him earlier in the day and several other teams are scheduled to interview him.
"Up until that first game, he showed great poise, athleticism and the ability to score from wherever," one GM said. "I really think he has a shot at being a quality NBA player. He reminds me a little of Lindsey Hunter when he came into the league."
[+] Enlarge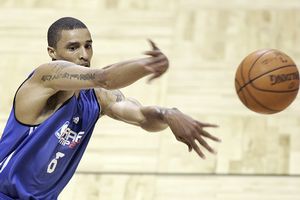 AP Photo/Reinhold MatayGeorge Hill left a good impression on Wednesday.
• The other sleeper in the draft is IUPUI's
George Hill
. Hill is trying to show NBA teams that he has what it takes to play the point. His combination of athleticism, shooting ability and poise has stood out. He had 14 points on 5-for-8 shooting in his first game. While teams still aren't sure about his point guard abilities, he clearly can play with the top players here.
• Memphis big man Joey Dorsey was active and continued to draw praise from scouts who see him as a potential Ben Wallace-type player in the pros. Dorsey looks like he's in great shape and could be a potential late-first rounder.
• UMass forward Gary Forbes was one of the stars at the Portsmouth Invitational and he started the Orlando camp where he left off in Portsmouth. Forbes used his strength and athleticism to score in a variety of ways. He ended that game with 17 points on 6-for-10 shooting. He continues to show scouts he can make the transition from college power forward to NBA swingman. A number of scouts said that he looks like a lock for the second round.
• UAB's Robert Vaden is drawing rave reviews. He looks like he's in the best shape of his career and he's been shooting the ball well. Vaden had 13 points on 6-for-11 shooting in his first game.
• Alabama's Richard Hendrix was also solid, scoring 12 points and grabbing five rebounds in 20 minutes. Kentucky's Joe Crawford (19 points), Iowa State's Mike Taylor (17 points), Maryland's James Gist (16 points), Clemson's James Mays (13 points, 5 boards and 3 steals) and Georgetown's Patrick Ewing Jr. (14 points) also played well.
• The camp is usually a graveyard for big men. The guards rarely pass them the ball, forcing them to run the floor and pray that they might get a pass. BYU's Trent Plaisted was a major victim of that syndrome Wednesday. He often was the first guy down the floor on offense. He could have had five or six wide-open dunks, but instead, guards Stanley Burrell and DeMarcus Nelson would just jack up shots instead of passing to the wide-open man.
Still, a couple of big men stood out as rebounders. South Florida's Kentrell Gransberry and Kansas' Sasha Kaun grabbed 10 and 9 rebounds respectively and showed great strength in the post.
• A few top prospects didn't fare as well on Wednesday.
UNC's Wayne Ellington may have had the worst performance of the day. He was just 3-for-10 from the field and had a Wednesday-high six turnovers. His teammate, Danny Green didn't fare much better -- also going 3-for-10 from the field. Vanderbilt's Shan Foster struggled with his shot and showed NBA scouts that his handle is very shaky. Gonzaga's Jeremy Pargo shot the ball poorly and played out of control at times.
Chad Ford covers the NBA for ESPN Insider.
SPONSORED HEADLINES
MORE NBA HEADLINES
MOST SENT STORIES ON ESPN.COM
2008 NBA Draft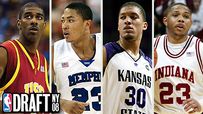 We've got the 2008 draft covered. Who are the top prospects? Check out our analysis, projections, scouting reports and more.
'08 NBA Draft Index
•
Roundup: A rundown of who went where
•
Keeping up with draft day trades
•
Mayo to Memphis, Love to Minnesota
•
Simmons, Ford: Great Draft Debate '08
•
Chad Ford's Mock Draft 7.0: Picks 1-30
|
31-60
•
Chad Ford's Mock Draft 6.1: Picks 1-30
|
31-60
•
Chad Ford's Mock Draft 6.0: Picks 1-30
|
31-60
•
Chad Ford's Mock Draft: Version 5.0
•
Chad Ford's Mock Draft: Version 4.0
•
Chad Ford's Mock Draft: Version 3.0
•
Chad Ford's Mock Draft: Version 2.0
•
Chad Ford's Mock Draft: Version 1.0
•
Draft Machine: Make your picks
•
Who's in, who's out of 2008 draft?
•
Ford's Top 100: Best draft prospects
Chad Ford
•
Draft Watch: How high or low will they go?
•
Draft Notes: Heat trading Beasley pick?
•
Draft Notes: Rose-Beasley rages in Chicago
•
NBA draft strategy: Ranking prospects by tiers
•
Draft Watch: Teams coveting UCLA's Westbrook
•
Draft Watch: Final in/out decisions made
•
Draft Watch: Rush's hot, Arthur's not
•
Draft Watch: International top 15
•
Draft Watch: Alexander's hot, Lawson's not
•
Draft Watch: Miami takes close look at Mayo
•
Draft Watch: Using the measurements
•
Draft Watch: Analyzing combine results
•
Draft Watch: Analyzing official measurements
•
Draft Notes: Who's looking to trade their pick?
•
Draft Notes: Stars come out in Orlando
•
Draft Notes: Beasley, Rose a marked contrast
•
Draft Stock Watch: Forbes taking wing on charts
•
Draft Notes: No. 1 question looms over Paxson
•
Draft Watch: Lawson bouncing back
•
Draft Notes: Rumors, promises and PGs
•
Draft Watch: Orlando hopefuls eye first round
•
Draft Watch: Could Mayo be the No. 2 pick?
•
Draft Watch: Who's No. 1 -- Rose or Beasley?
•
Draft Watch: Mayo's stock is rising again
•
Draft Watch: Judging early entry calls
•
Draft Watch: Nike Hoop Summit buzz
John Hollinger
•
Draft Rater: How will the Euros translate?
•
Draft Rater: Who are the best perimeter players?
•
Draft Rater: Who are the best big men?
•
Draft Rater: Beasley has most pro potential
•
Rating college prospects
More Analysis
•
Katz: Bayless, Gordon survived turmoil
•
Katz: Freshmen could produce record numbers
•
Katz: Draft trade rumors abound
•
Gottlieb: Mayo impresses while others falter
•
Katz: On top 12 picks
•
Katz: Rose's unique passion to win
•
Fraschilla: Who made right choice to return?

•
Katz: Heels win on withdrawal day
•
Katz: Anderson still on fence
Draft Lottery
•
Ford: Beasley-Rose debate rages in Chicago
•
Bulls win lottery; get first pick
•
Ford: Will Bulls take Beasley No. 1?
•
Vote: What should Bulls do?
•
Katz: Lottery projections

•
Fraschilla: Projecting picks 1-14

Podcasts
•
NBA Dish: Paxson on winning lottery
•
Mike & Mike: Paxson on No. 1 pick

•
NBA Dish: Joe Abunassar, NBA trainer
•
NBA Dish: Kevin Love, UCLA
SportsNation
•
NBA Draft polls
Fantasy
•
McKitish: Most freshmen have little impact
•
McKitish: Beasley and Rose as NBA rooks