Commentary
Draft Stock Watch: Forbes takes wing, rises on draft charts
Originally Published:
May 30, 2008
By
Chad Ford
| ESPN.com
ORLANDO, Fla. -- The second full day of the pre-draft camp saw many GMs ignoring what was actually happening on the court and instead spending time in the halls discussing deals.

I spent Thursday watching games and talking to NBA scouts and executives. Here is what they're saying about Thursday's performances:

UMass forward Gary Forbes continues to be the talk of the camp. Forbes had a stellar 30 points in just 25 minutes of play. He was 7-for-16 from the field and 15-for-16 from the free-throw line.

Forbes is a bit of an oddity in this year's draft. He got virtually no buzz from NBA scouts despite averaging nearly 20 points and eight rebounds a game in the Atlantic 10. Forbes was seen as a tweener, a power forward who's just too short to play the position in the pros. However, he had already started to make the transition to the wing his senior season and continues to give scouts hope he can be a wing in the pros.

He was excellent in Portsmouth, averaging 15.6 points. But he's been even better in Orlando, using his strength and athleticism to attack the basket.
[+] Enlarge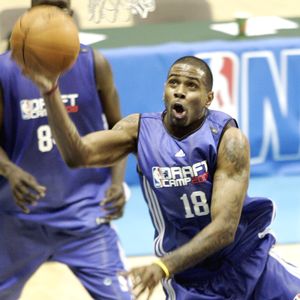 AP Photo/Reinhold MatayGary Forbes has gone from Minuteman to man of the hour in Orlando.
Forbes has solidified his place as a legit second-round pick with the camp.
• Xavier's Josh Duncan is coming off an excellent NCAA tournament where he averaged 18.5 points in four games in the tournament. Duncan showed excellent athleticism and shooting for a big man. He even nailed seven 3-pointers in the tournament.
Duncan had 20 points on 5-for-8 shooting on Wednesday. He also grabbed six rebounds in 20 minutes. "I think everybody looks for a big guy who can shoot the basketball," one NBA scout said. "He's interesting. I'm not sure why he wasn't more productive in college, but he's putting it together now."
• UNC's Wayne Ellington responded to a terrible first game with a solid 17 points on 7-for-13 shooting. One GM said Ellington looks more like a NBA player than anyone in the camp.
"Whether you are or aren't making your shots here, we are looking for basketball IQ, athleticism and making the right plays," he said. "If you take the right shots here, we know. Making them is great, but it isn't mandatory. Ellington knows how to play. He tried too hard on the first day. He showed he has a chance today."
• Oregon's Malik Hairston has quietly established himself as one of the more solid players here. His 12-point, eight-rebound performance (with six offensive rebounds) was one of the best of the day.
"Hairston doesn't do anything that jumps out," one scout said, "but he knows how to play. I'm not sure he'll be a superstar, but he's got a chance to be a valuable role player in the league."
[+] Enlarge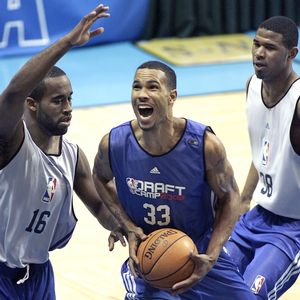 AP Photo/Reinhold MatayKeith Brumbaugh from Hillsborough CC tries to squeeze in between Joe Crawford (16) from Kentucky and Shan Foster of Vanderbilt.
• Cal's
DeVon Hardin
is tough to evaluate. He looks great in drills and warm-ups. He's the most athletic big here and has an excellent NBA body. He looks like a player. He moves like a player. He should be a player.
On the court it's something else. He's played hard in both games, but doesn't seem to have any real feel how to play. With his size and athleticism, he should be dominating. Instead he's just been OK. I wouldn't be shocked if Hardin went in the first round. He doesn't deserve it, but you want to love him.
• One day after Ty Lawson's strong performance he sat out Game 2 because of a hip pointer. NBA GMs were a little skeptical after watching him warm up. More than one player, over the past few years, has decided to sit out the rest of the camp after having a good game.
Jamal Crawford did it a few years ago. Ditto for Jason Maxiell. Was Lawson up to the same shenanigans? No one was talking for sure, but a couple of NBA sources said that his performance on Wednesday was enough to push him into the draft for good.
• Hillsborough CC forward Keith Brumbaugh has talent. Lots of it. He's athletic, can shoot the ball and put on some nifty moves to get his shot on both days. But his terrible 0-for-7 performance on Thursday combined with some very negative body language isn't helping.
At times Brumbaugh overreacts to a strong play. Other times he sulks on the court. He even threw a few menacing glares at the refs.
That's not what NBA scouts want to see. They were hoping to find a talented player who had learned from his mistakes. Instead they found a talented player who often acts, on the court, like the most immature player in the gym.
Chad Ford covers the NBA for ESPN Insider.
2008 NBA Draft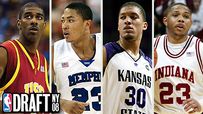 We've got the 2008 draft covered. Who are the top prospects? Check out our analysis, projections, scouting reports and more.
'08 NBA Draft Index
•
Roundup: A rundown of who went where
•
Keeping up with draft day trades
•
Mayo to Memphis, Love to Minnesota
•
Simmons, Ford: Great Draft Debate '08
•
Chad Ford's Mock Draft 7.0: Picks 1-30
|
31-60
•
Chad Ford's Mock Draft 6.1: Picks 1-30
|
31-60
•
Chad Ford's Mock Draft 6.0: Picks 1-30
|
31-60
•
Chad Ford's Mock Draft: Version 5.0
•
Chad Ford's Mock Draft: Version 4.0
•
Chad Ford's Mock Draft: Version 3.0
•
Chad Ford's Mock Draft: Version 2.0
•
Chad Ford's Mock Draft: Version 1.0
•
Draft Machine: Make your picks
•
Who's in, who's out of 2008 draft?
•
Ford's Top 100: Best draft prospects
Chad Ford
•
Draft Watch: How high or low will they go?
•
Draft Notes: Heat trading Beasley pick?
•
Draft Notes: Rose-Beasley rages in Chicago
•
NBA draft strategy: Ranking prospects by tiers
•
Draft Watch: Teams coveting UCLA's Westbrook
•
Draft Watch: Final in/out decisions made
•
Draft Watch: Rush's hot, Arthur's not
•
Draft Watch: International top 15
•
Draft Watch: Alexander's hot, Lawson's not
•
Draft Watch: Miami takes close look at Mayo
•
Draft Watch: Using the measurements
•
Draft Watch: Analyzing combine results
•
Draft Watch: Analyzing official measurements
•
Draft Notes: Who's looking to trade their pick?
•
Draft Notes: Stars come out in Orlando
•
Draft Notes: Beasley, Rose a marked contrast
•
Draft Stock Watch: Forbes taking wing on charts
•
Draft Notes: No. 1 question looms over Paxson
•
Draft Watch: Lawson bouncing back
•
Draft Notes: Rumors, promises and PGs
•
Draft Watch: Orlando hopefuls eye first round
•
Draft Watch: Could Mayo be the No. 2 pick?
•
Draft Watch: Who's No. 1 -- Rose or Beasley?
•
Draft Watch: Mayo's stock is rising again
•
Draft Watch: Judging early entry calls
•
Draft Watch: Nike Hoop Summit buzz
John Hollinger
•
Draft Rater: How will the Euros translate?
•
Draft Rater: Who are the best perimeter players?
•
Draft Rater: Who are the best big men?
•
Draft Rater: Beasley has most pro potential
•
Rating college prospects
More Analysis
•
Katz: Bayless, Gordon survived turmoil
•
Katz: Freshmen could produce record numbers
•
Katz: Draft trade rumors abound
•
Gottlieb: Mayo impresses while others falter
•
Katz: On top 12 picks
•
Katz: Rose's unique passion to win
•
Fraschilla: Who made right choice to return?

•
Katz: Heels win on withdrawal day
•
Katz: Anderson still on fence
Draft Lottery
•
Ford: Beasley-Rose debate rages in Chicago
•
Bulls win lottery; get first pick
•
Ford: Will Bulls take Beasley No. 1?
•
Vote: What should Bulls do?
•
Katz: Lottery projections

•
Fraschilla: Projecting picks 1-14

Podcasts
•
NBA Dish: Paxson on winning lottery
•
Mike & Mike: Paxson on No. 1 pick

•
NBA Dish: Joe Abunassar, NBA trainer
•
NBA Dish: Kevin Love, UCLA
SportsNation
•
NBA Draft polls
Fantasy
•
McKitish: Most freshmen have little impact
•
McKitish: Beasley and Rose as NBA rooks

MOST SENT STORIES ON ESPN.COM