Daye leaving Gonzaga for NBA
Updated:
June 15, 2009, 8:11 PM ET
By
Andy Katz
| ESPN.com
Austin Daye was looking for a first-round guarantee. He still doesn't have one, but the Gonzaga sophomore forward is willing to take the risk by staying in the draft.
Ford: NBA Draft buzz

Stay up to date with all the latest trade buzz and rumors on who's going where in the 2009 NBA Draft. Story

Gonzaga coach Mark Few said Monday that he spoke with Daye, just 40 minutes before the 5 p.m. ET deadline to withdraw, and Daye told him he wasn't returning to school.
"We're excited for Austin. It's what he wants to do," Few said in a news release. "He was great to coach and was a great teammate. He will be missed."
Daye worked out Monday morning with the New York Knicks, who are unlikely to select him since the Knicks select at No. 8. Daye has also worked out for New Jersey (11), Charlotte (12), Phoenix (14) and Detroit (15).
The 6-foot-10 Daye is considered one of the most skilled players in the draft, but questions about his toughness and ability to take the pounding of the NBA have dogged him throughout the draft process. His father, Darren, played in the NBA for the Boston Celtics.
Daye becomes the third Bulldogs player to enter the NBA draft early, joining Paul Rogers in 1997 and Adam Morrison in 2006. Both left their junior seasons.
Daye averaged 12.7 points and 5.8 rebounds per game as a sophomore. He averaged 10.5 points and 4.7 rebounds as a freshman.
Losing Daye is a hit for Gonzaga, which already was losing seniors Jeremy Pargo, Josh Heytvelt and Micah Downs. But Gonzaga does bring back guards Matt Bouldin, Steven Gray and Demetri Goodson, who all contributed plenty during the Zags' run to the Sweet 16 this past season. Few said he expects a collection of players, including small forward Kelly Olynyk out of Canada to spell some of Daye's minutes and frontcourt scoring.
Andy Katz is a senior writer at ESPN.com. Information from The Associated Press was used in this report.
2009 NBA Draft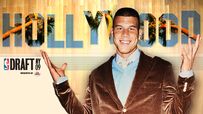 The 2009 NBA Draft is in the books.
Home
TODAY'S BEST
INSIDER: D.R.A.F.T. INITIATIVE

MOST SENT STORIES ON ESPN.COM