Commentary
Draft measurements
All of the measurements from the NBA combine
Updated:
June 16, 2011, 9:28 PM ET
By
Chad Ford
| ESPN Insider
One of the most interesting aspects of the pre-draft camp every year is the list detailing the official height, weight, wingspan and even hand length of each player.
Here's a look at how every player in the draft measured up. For some more detailed observations, check out my combine analysis over at the NBA Draft Blog.
Measuring up
Anthropometic measurements of NBA prospects, in alphabetical order, taken from the NBA draft combine in Chicago.
| Name | Height without shoes | Height with shoes | Weight | Wingspan | Standing reach | Body fact (pct) | Hand length | Hand width |
| --- | --- | --- | --- | --- | --- | --- | --- | --- |
| Benson, Keith | 6'10'' | 6'11'' | 217.0 | 7'3.75'' | 9'1.5'' | 6.1 | 9.5 | 11.0 |
| Brooks, Marshon | 6'4.25'' | 6'5.25'' | 194.6 | 7'1'' | 8'5'' | 5.2 | 9.0 | 10.5 |
| Burks, Alec | 6'5'' | 6'6'' | 192.6 | 6'10'' | 8'7.5'' | 5.1 | 9.0 | 8.3 |
| Butler, Jimmy | 6'6'' | 6'7.75'' | 222.2 | 6'7.5'' | 8'5.5'' | 5.4 | 9.0 | 9.0 |
| Cole, Norris | 6'0.25'' | 6'1.75'' | 174.4 | 6'2.25'' | 7'11.5'' | 4.7 | 8.5 | 9.5 |
| Diebler, Jon | 6'5.25'' | 6'6.5'' | 196.6 | 6'6'' | 8'3'' | 8.5 | 8.3 | 8.3 |
| Dunigan, Michael | 6'8.5'' | 6'10'' | 237.6 | 7'3.25'' | 8'11.5'' | 8.0 | 9.0 | 10.8 |
| Dunn, LaceDarius | 6'3'' | 6'4'' | 187.8 | 6'6.25'' | 8'5'' | 5.5 | 9.0 | 10.3 |
| Faried, Kenneth | 6'6'' | 6'7.5'' | 224.6 | 7'0'' | 9'0'' | 6.3 | 8.5 | 10.3 |
| Fredette, James | 6'0.75'' | 6'2.5'' | 196.0 | 6'4.5'' | 8'0.5'' | 7.7 | 8.0 | 8.5 |
| Goudelock, Andrew | 6'1.25'' | 6'2.75'' | 197.6 | 6'4.25'' | 8'0.5'' | 9.9 | 8.3 | 9.3 |
| Hamilton, Jordan | 6'6.75'' | 6'8.5'' | 228.4 | 6'9.5'' | 8'8'' | 9.8 | 9.0 | 9.3 |
| Harper, Justin | 6'8'' | 6'8.75'' | 228.0 | 6'11.75'' | 8'10'' | 4.0 | 9.0 | 9.3 |
| Harris, Tobias | 6'6.5'' | 6'7.75'' | 222.8 | 6'11'' | 8'7.5'' | 8.4 | 8.8 | 9.0 |
| Honeycutt, Tyler | 6'6.75'' | 6'8.25'' | 186.8 | 6'9'' | 8'9'' | 5.3 | 8.5 | 9.5 |
| Hopson, Scotty | 6'5.75'' | 6'6.5'' | 204.6 | 6'10.5'' | 8'7.5'' | 4.8 | 8.5 | 10.0 |
| Irving, Kyrie | 6'1.75'' | 6'3.5'' | 191.0 | 6'4'' | 8'3'' | 10.2 | 8.3 | 9.3 |
| Jackson, Rick | 6'8.25'' | 6'9.25'' | 241.8 | 7'2'' | 8'10.5'' | 8.3 | 8.8 | 9.5 |
| Jenkins, Charles | 6'1.5'' | 6'3.25'' | 216.4 | 6'7.5'' | 8'0.5'' | 4.3 | 8.5 | 9.0 |
| Johnson, JaJuan | 6'9'' | 6'10'' | 219.8 | 7'2'' | 8'11.5'' | 7.5 | 9.0 | 10.0 |
| Joseph, Cory | 6'2'' | 6'3.25'' | 186.2 | 6'5.5'' | 8'3'' | 9.7 | 8.5 | 10.5 |
| Kanter, Enes | 6'9.75'' | 6'11.25'' | 259.2 | 7'1.5'' | 9'1.5'' | 5.9 | 9.5 | 10.8 |
| Knight, Brandon | 6'1.5'' | 6'3.25'' | 176.8 | 6'6.75'' | 8'2.5'' | 4.2 | 8.3 | 9.5 |
| Lee, Malcolm | 6'4'' | 6'5.5'' | 198.2 | 6'9.75'' | 8'5.5'' | 5.9 | 8.5 | 9.5 |
| Leonard, Kawhi | 6'6'' | 6'7'' | 227.4 | 7'3'' | 8'10'' | 5.4 | 9.8 | 11.3 |
| Leslie, Travis | 6'3'' | 6'4.25'' | 205.0 | 6'10.5'' | 8'7'' | 8.1 | 8.8 | 9.3 |
| Leuer, Jon | 6'10'' | 6'11.5'' | 223.2 | 7'0'' | 8'9.5'' | 5.4 | 8.8 | 9.8 |
| Liggins, DeAndre | 6'5'' | 6'6.25'' | 202.2 | 6'11'' | 8'7.5'' | 5.0 | 8.8 | 10.0 |
| Lighty, David | 6'4.75'' | 6'6.5'' | 216.2 | 6'8'' | 8'5'' | 6.5 | 9.0 | 10.0 |
| Mack, Shelvin | 6'1'' | 6'2.5'' | 209.0 | 6'7.5'' | 8'0.5'' | 7.1 | 8.3 | 9.3 |
| McCamey, Demetri | 6'1.75'' | 6'3.25'' | 204.0 | 6'6.25'' | 8'3.5'' | 6.1 | 8.5 | 9.0 |
| Moore, E'Twaun | 6'2.5'' | 6'4'' | 191.4 | 6'9.5'' | 8'3.5'' | 7.6 | 9.0 | 10.0 |
| Morris, Darius | 6'3.25'' | 6'5.25'' | 190.0 | 6'7.5'' | 8'6'' | 5.3 | 8.8 | 10.0 |
| Morris, Marcus | 6'7'' | 6'8.75'' | 229.6 | 6'10'' | 8'9.5'' | 8.0 | 8.3 | 8.5 |
| Morris, Markieff | 6'7.75'' | 6'9.25'' | 240.8 | 6'10.75'' | 8'10.5'' | 10.2 | 8.5 | 8.3 |
| Parsons, Chandler | 6'8.75'' | 6'9.75'' | 221.2 | 6'9.5'' | 8'8.5'' | 7.0 | 8.3 | 10.0 |
| Richmond, Jereme | 6'6'' | 6'7.25'' | 207.2 | 6'10.25'' | 8'10.5'' | 5.5 | 8.8 | 9.5 |
| Selby, Josh | 6'1.75'' | 6'3'' | 194.6 | 6'5.25'' | 8'2'' | 7.9 | 8.5 | 9.0 |
| Shumpert, Iman | 6'4.25'' | 6'5.5'' | 221.8 | 6'9.5'' | 8'3.5'' | 6.5 | 9.0 | 9.0 |
| Singler, Kyle | 6'7.5'' | 6'8.5'' | 228.0 | 6'10.1'' | 8'10'' | 10.0 | 8.3 | 8.8 |
| Singleton, Chris | 6'7.75'' | 6'9'' | 230.2 | 7'1'' | 8'7.5'' | 7.4 | 9.3 | 10.0 |
| Skeen, Jamie | 6'6.5'' | 6'8'' | 241.6 | 7'1.25'' | 8'10.5'' | 9.8 | 8.5 | 8.5 |
| Smith, Gregory | 6'8'' | 6'9.25'' | 252.8 | 7'2.5'' | 8'10.5'' | 7.4 | 9.8 | 12.0 |
| Smith, Nolan | 6'1.5'' | 6'3.5'' | 187.6 | 6'5.5'' | 8'3'' | 5.6 | 8.5 | 9.3 |
| Thomas, Isaiah | 5'8.75'' | 5'10.25'' | 186.0 | 6'1.75'' | 7'7.5'' | 6.7 | 8.3 | 9.0 |
| Thomas, Malcolm | 6'7.5'' | 6'8.75'' | 223.0 | 7'0.5'' | 8'11.5'' | 5.9 | 9.5 | 10.5 |
| Thompkins, Trey | 6'8.5'' | 6'9.75'' | 239.0 | 7'1'' | 8'11.5'' | 15.5 | 9.3 | 9.8 |
| Thompson, Klay | 6'5.75'' | 6'7.25'' | 205.6 | 6'9'' | 8'7.5'' | 8.0 | 8.8 | 9.3 |
| Thompson, Tristan | 6'7.5'' | 6'8.75'' | 227.4 | 7'1.25'' | 9'0.5'' | 6.2 | 8.8 | 9.3 |
| Tyler, Jeremy | 6'9'' | 6'10.5'' | 262.4 | 7'5'' | 9'2.5'' | 13.4 | 9.3 | 9.0 |
| Vucevic, Nikola | 6'10.25'' | 6'11.75'' | 259.8 | 7'4.5'' | 9'4.5'' | 6.1 | 9.3 | 10.3 |
| Walker, Kemba | 5'11.5'' | 6'1'' | 184.0 | 6'3.5'' | 7'7.5'' | 5.9 | 8.0 | 9.0 |
| Williams, Derrick | 6'7.25'' | 6'8.75'' | 248.4 | 7'1.5'' | 9'0'' | 10.8 | 9.0 | 9.8 |
| Williams, Jordan | 6'7.75'' | 6'9'' | 247.2 | 7'0.25'' | 8'10.5'' | 12.1 | 9.3 | 10.0 |
2011 NBA DRAFT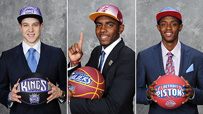 Follow the NBA on ESPN: Twitter / Facebook
LATEST CONTENT
BaxterHolmes

Baxter Holmes


Grew up w/ him calling Payton-Kemp alley-oops. Heaven. MT @haralabob: Wow how I missed @realkcalabro, one of the all time great p-b-p guys.
3 minutes ago

ArashMarkazi

Arash Markazi


"My team good, we don't really need a mascot." @ Staples Center https://t.co/laJTu3ueTT
3 minutes ago

jadande

J.A. Adande


Lol at JJ Redick running his man off the screen 5 seconds after the whistle blew
6 minutes ago

jadande

J.A. Adande


Exact opposite of ¯\_(ツ)_/¯ RT @MrMichaelLee: Gregg Popovich had the most Popovich-ish reaction: https://t.co/v1HabFVzY4 #spurs
7 minutes ago

ArashMarkazi

Arash Markazi


Clippers 30, Warriors 18 after the 1st quarter. DeAndre Jordan with 12 points, 3 rebounds and 2 assists.
10 minutes ago

EthanJSkolnick

Ethan J. Skolnick


Tim Duncan says that the Spurs usually turn the corner around their rodeo trip. "It took a little longer this time." But it's happened.
12 minutes ago

jadande

J.A. Adande


Nothing wrong with Warriors' ball movement. They've just missed several easy shots.
12 minutes ago

jadande

J.A. Adande


Chris Paul has reached the point that he knows exactly where Griffin is when CP3 needs to make a bailout pass
14 minutes ago

jadande

J.A. Adande


Muppets 1 week, Minions this week. Can we get back to just basketball? http://t.co/toYJexlND7
15 minutes ago

ArashMarkazi

Arash Markazi


New Story: Jamal Crawford nears return from calf injury. http://t.co/0Kb7OqQEP0
16 minutes ago

ESPNNBA

NBA on ESPN


Warriors are seeking their second 10-game winning streak of season. Rest of NBA has just 2 combined. http://t.co/9U99ZoubWY
17 minutes ago

ESPNSteinLine

Marc Stein


RT @haralabob: Wow how I missed Kevin Calabro, one of the all time great play by play guys (YOU'D PAY TO HEAR HIM READ THE PHONE BOOK)
17 minutes ago

jadande

J.A. Adande


Sign it's been a fast-paced, intense game: CP3 calls time out, drops ball and says "Whooh. S---" as he huffs and puffs.
24 minutes ago

ArashMarkazi

Arash Markazi


If all goes as planned Jamal Crawford will make his return next week, April 7 against the Lakers. That'll give him 4 games before playoffs.
24 minutes ago

ArashMarkazi

Arash Markazi


Filed to ESPN: Jamal Crawford went through a full workout today and will travel with the team this week. He's eyeing a return next week.
26 minutes ago

ESPNNBA

NBA on ESPN


Drake is sitting courtside for the Clippers game... on a Tuesday. https://t.co/mGQQkbg6od (via @LAClippers)
27 minutes ago

ESPNSteinLine

Marc Stein


Hello @buccigross & @espnstevelevy: Please tell @Jack_Eichel11 Sabres fans will ADORE him if he winds up in Buffalo http://t.co/wshoadVNIL
27 minutes ago

jadande

J.A. Adande


Common foul it is. It is a playoff-y atmosphere tonight.
30 minutes ago

jadande

J.A. Adande


I'd call that a flagrant in the regular season, common foul in the playoffs
31 minutes ago

ArashMarkazi

Arash Markazi


And speaking of very physical...
32 minutes ago


MOST SENT STORIES ON ESPN.COM