Commentary
Draft measurements, Part 2
More measurements from the NBA combine
Updated:
June 16, 2011, 9:28 PM ET
By
Chad Ford
| ESPN Insider
One of the most interesting aspects of the pre-draft camp every year is the list detailing physical attributes. Here's more revealing numbers gauging athletic performance.
Measuring up
Athletic task measurements of NBA prospects, in alphabetical order, taken from the NBA draft combine in Chicago.
| Name | Standing Vert | Max Vert | Bench Press (185 lb. reps) | Lane Agility | Modified Lane Agility | 3/4 Court Sprint |
| --- | --- | --- | --- | --- | --- | --- |
| Benson, Keith | 31.5 | 36 | 12 | 11.88 | 5.77 | 3.35 |
| Brooks, Marshon | 34 | 38.5 | 5 | 10.74 | 5.37 | 3.09 |
| Burks, Alec | 29 | 36 | 5 | 10.96 | 5.45 | 3.17 |
| Butler, Jimmy | 32 | 39 | 14 | 11.12 | 5.42 | 3.15 |
| Cole, Norris | 29.5 | 38.5 | 11 | 10.07 | 5.05 | 3.22 |
| Diebler, Jon | 28 | 35 | 2 | 10.94 | 5.7 | 3.37 |
| Dunigan, Michael | 29.5 | 34.5 | 10 | 11.85 | 5.85 | 3.27 |
| Dunn, LaceDarius | 26.5 | 31 | 3 | 11.45 | 6.03 | 3.27 |
| Faried, Kenneth | 30.5 | 35 | 16 | 11.35 | 5.64 | 3.26 |
| Fredette, Jimmer | 28 | 33 | 14 | 10.42 | 5.11 | 3.21 |
| Goudelock, Andrew | 32.5 | 37 | 4 | 10.33 | 5.13 | 3.1 |
| Hamilton, Jordan | 25 | 32 | 7 | 11.47 | 5.65 | 3.3 |
| Harper, Justin | 28.5 | 33 | 19 | 11.92 | 6 | 3.3 |
| Harris, Tobias | 31.5 | 37.5 | 12 | 10.96 | 5.47 | 3.17 |
| Honeycutt, Tyler | 30 | 37 | N/A | 11.68 | 5.49 | 3.07 |
| Hopson, Scotty | 32.5 | 36 | 10 | 10.47 | 5.34 | 3.18 |
| Irving, Kyrie | N/A | N/A | N/A | N/A | N/A | N/A |
| Jackson, Rick | 28.5 | 33 | 9 | 11.51 | 5.68 | 3.26 |
| Jenkins, Charles | 29.5 | 34 | 16 | 11.68 | 5.84 | 3.18 |
| Johnson, JaJuan | 33.5 | 38 | 15 | 11.21 | 5.69 | 3.14 |
| Joseph, Cory | 27.5 | 35 | 5 | 10.75 | 5.27 | 3.27 |
| Kanter, Enes | 26 | 32.5 | 14 | 11.3 | 5.66 | 3.26 |
| Knight, Brandon | 29 | 37.5 | 10 | 10.74 | 5.27 | 3.07 |
| Lee, Malcolm | 30 | 35.5 | 17 | 11.2 | 5.73 | 3.09 |
| Leonard, Kawhi | 25.5 | 32 | 3 | 11.45 | 5.71 | 3.15 |
| Leslie, Travis | 33 | 40.5 | 10 | 11 | 5.53 | 3.13 |
| Leuer, Jon | 29.5 | 36.5 | 14 | 10.82 | 5.34 | 3.36 |
| Liggins, DeAndre | 27 | 31 | 6 | N/A | N/A | 3.33 |
| Lighty, David | 28.5 | 33 | 15 | 10.81 | 5.35 | 3.25 |
| Mack, Shelvin | 32 | 39 | 17 | 11.23 | 5.45 | 3.18 |
| McCamey, Demetri | 27 | 33 | N/A | 11.55 | 5.88 | 3.19 |
| Moore, E'Twaun | 32 | 34.5 | N/A | 11.12 | 5.63 | 3.31 |
| Morris, Darius | 24.5 | 32 | 12 | 11 | 5.52 | 3.2 |
| Morris, Marcus | 29 | 33 | 11 | N/A | N/A | 3.15 |
| Morris, Markieff | 27 | 31.5 | 11 | N/A | N/A | 3.4 |
| Parsons, Chandler | 25.5 | 31.5 | 4 | 11.05 | 5.55 | 3.29 |
| Richmond, Jereme | 27 | 33.5 | 0 | 11.74 | 5.99 | 3.02 |
| Selby, Josh | 29.5 | 42 | 5 | 11.13 | 5.66 | 3.2 |
| Shumpert, Iman | 36.5 | 42 | 18 | 11.1 | 5.53 | 3.18 |
| Singler, Kyle | 23 | 30 | 10 | 11.22 | 5.65 | 3.21 |
| Singleton, Chris | 30.5 | 37.5 | 15 | 11.33 | 5.59 | 3.09 |
| Skeen, Jamie | 26 | 30.5 | 10 | 12.43 | 6.1 | 3.46 |
| Smith, Greg | 29.5 | 36 | 17 | 12.43 | 6.35 | 3.36 |
| Smith, Nolan | 28.5 | 34 | 9 | 11.05 | 5.43 | 3.17 |
| Thomas, Isaiah | 31.5 | 40 | 13 | 10.49 | 5.42 | 3.14 |
| Thomas, Malcolm | 32 | 36.5 | 3 | 11.31 | 5.68 | 3.29 |
| Thompkins, Trey | 27.5 | 30.5 | 15 | 11.72 | 5.89 | 3.41 |
| Thompson, Klay | 26.5 | 31.5 | 5 | 10.99 | 5.55 | 3.24 |
| Thompson, Tristan | 30 | 35 | 9 | 10.92 | 5.4 | 3.26 |
| Tyler, Jeremy | 28 | 33.5 | 10 | 11.26 | 5.59 | 3.29 |
| Vucevic, Nikola | 23.5 | 25 | 8 | 12.02 | 6.11 | 3.27 |
| Walker, Kemba | 32 | 39.5 | 7 | 10.87 | 5.46 | 3.16 |
| Williams, Derrick | 29 | 34.5 | 19 | 11.03 | 5.49 | 3.23 |
| Williams, Jordan | 25 | 30.5 | 10 | 12.74 | 6.51 | 3.45 |
2011 NBA DRAFT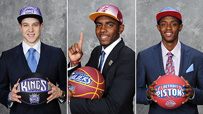 Follow the NBA on ESPN: Twitter / Facebook
LATEST CONTENT

MOST SENT STORIES ON ESPN.COM