Deron Williams latest to go big city
Updated:
February 24, 2011, 1:44 PM ET
ESPN.com news services
Sorry, Cleveland. Tough break, Toronto. You lose, Utah.
With Deron Williams traded from the Jazz to the Nets Wednesday, small-market teams again are left to wonder what the future holds for them. Is there something the NBA should do to protect teams from losing their star players?
"I think this is a relatively recent phenomenon, but one that I believe is being watched very closely," Jazz CEO Greg Miller said after trading away his All-Star point guard in exchange for rookie Derrick Favors, point guard Devin Harris, two first-round draft picks and cash.
"I can only speak from the Jazz ownership perspective in saying that I'm not interested in seeing a congregation of star players on a handful of teams throughout the league. I don't think it does the teams any good. It doesn't do the fans any good. It doesn't do the sponsors any good.
"I would like to see as much parity as there can be in the league. Beyond that, it's all just speculation."
Nets Take Chance

The Nets rolled the dice in getting Deron Williams, considering he could walk after next season, John Hollinger writes. Story

---

The Nets are happy now, but what if D-Will bolts across the river to the Knicks in 2012 as a free agent, Stephen A. Smith writes. Story
• Fantasy: Trade helps Williams, Harris
• Hollinger: Trade grades
• ESPNNewYork.com: Nets blog
The trend started in the summer of 2007 when the Boston Celtics made a blockbuster 7-for-1 trade with Minnesota that gave them 10-time All-Star Kevin Garnett. The Celtics with the "Big Three" of Garnett, Ray Allen and Paul Pierce went on to win the NBA title in 2008.
In free agency last offseason, the Jazz lost power forward Carlos Boozer to the Chicago Bulls, Phoenix star Amare Stoudemire signed with the New York Knicks, and league MVP LeBron James ditched Cleveland for Miami's beaches and a star-studded Heat lineup that featured Dwyane Wade and former Raptor Chris Bosh.
On Tuesday, the Knicks finalized a deal with the Denver Nuggets that sent All-Star Carmelo Anthony and Chauncey Billups to the Eastern Conference.
Could Chris Paul be joining them in New York, leaving the New Orleans Hornets without a star when he can become a free agent in 2012? Same for Dwight Howard -- will he follow in the footsteps of Shaquille O'Neal and flee Orlando in the prime of his career? Like O'Neal, rumors are swirling that he'd like to take his talents to Southern California.
The Jazz chose to combat possibly losing their star the only way they could -- by being proactive with the Williams trade and getting as much as they could now even if it created more turmoil just 13 days after Hall of Fame coach Jerry Sloan abruptly retired after reportedly clashing numerous times with Williams.
Utah's front office said it had no definite indication from Williams that he wouldn't re-sign after 2012, but it also had no indication he would.
"We had an opportunity to replace ambiguity with a high degree of certainty," Miller said.
In weighing the decision, Miller tried to put himself in Williams' shoes, as a player trying to earn as much money as he could in a short window of opportunity.
Scott Van Pelt
Jazz GM Kevin O'Connor weighs in on the decision to trade Deron Williams and the package that Utah received from New Jersey. O'Connor says Williams was made aware of the deal by the organization's ownership.
"Deron probably felt like he could attain those objectives in bigger markets," Miller said. "If that's the way he felt, I wouldn't want to hold him here against his will or have him be unhappy. If our franchise couldn't offer Deron things he needed, then it was best he go somewhere he can get those things."
Nuggets owner Josh Kroenke knows how Miller feels, saying Wednesday that Anthony drove his trade to a bigger market.
"Our perceived desire to go young or cut salary [is unfair]," Kroenke said, according to the Denver Post. "The salary thing really hits hard with me because we've been in the luxury tax four of the last five seasons. We have a top-five payroll in the league this season. Our market doesn't even come close to supporting that.
"The notion that this organization somehow is only concerned with cutting costs is absurd. We've explained that to Carmelo. This is all a result of his request to play in a different market."
Complicating matters is the prospect of an NBA lockout next season, which could have left Williams as a free agent outright heading into the 2012-2013 season and pushed Anthony to wrap up his extension now.
While Williams' trade caught many by surprise, including Williams, who heard it as he watched TV before a shootaround Wednesday morning in Dallas, the Nets have been trying to wheel-and-deal since last year.
They couldn't get James as a free agent, and then saw Anthony go to the Knicks.
The Nets and Jazz had talked weeks earlier, Utah general manager Kevin O'Connor acknowledged. But the timing was right to pull the trigger on the best deal the Jazz could secure.
"Nobody likes to lose their star player, a marquee player," Miller said. "This deal allows the Utah Jazz to preserve our assets and control our destiny."
That's more than the Cavaliers could say when James went to Miami. By holding out hope he would stay, they were left with nothing but anger.
"The self-declared former 'King' will be taking the 'curse' with him down south," Cleveland owner Dan Gilbert wrote to fans last June. "And until he does 'right' by Cleveland and Ohio, James [and the town where he plays] will unfortunately own this dreaded spell and bad karma."
Garnett's departure from Minnesota wasn't pretty either, with Wolves owner Glen Taylor saying that Garnett tanked it in 2008. Gilbert said the same thing about James. And like Gilbert, Taylor promised the fans that the Wolves would win without their star. That hasn't been the case, and the facts don't bode well for the Jazz or Nuggets either.
The Wolves haven't won more than 24 games in a season since Garnett left, and this season -- their fourth in the rebuilding process -- Minnesota is 13-45.
The Cavaliers' drop is even more precipitous. After winning 61 games and going to the Eastern Conference semifinals last season with James, the Cavs have the worst record in basketball at 10-47.
The Nuggets better hope they don't go back to pre-Melo days. Denver was 17-65 in 2002-03, the year before Anthony arrived, but won 43 games his first year and made the playoffs every season he was there. The Nuggets are 33-25 this season.
Likewise Utah was 26-56 in 2004-05, the season before Williams arrived. They improved to 41-41 in his first year and won 51 games and made the Western finals in his sophomore campaign.
Information from The Associated Press was used in this report.
SPONSORED HEADLINES
MORE NBA HEADLINES
MOST SENT STORIES ON ESPN.COM
2011 NBA Trade Deadline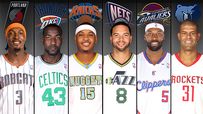 Follow the NBA on ESPN: Twitter / Facebook
LATEST CONTENT
CELTS SWAP PERK FOR GREEN
NETS NAB D-WILL
MELO TO KNICKS
OTHER DEADLINE DEALS
tomhaberstroh

Tom Haberstroh


Hibbert tweeted last night because he read someone call Battier's play 'inadvertent.' Hibbert: "That's bulls---."
8 minutes ago

HoopIdea

HoopIdea


If that foul is "common," we have a problem ... RT @TrueHoop: Battier's anti-Pacers tactics .. from a few months ago: http://t.co/Clz1aiGJg3
10 minutes ago

TrueHoop

Henry Abbott


When discussing Shane Battier's intentional anti-Pacers tactics, don't forget this from a few months ago: http://t.co/PkMRquQRFs
20 minutes ago

TrueHoop

Henry Abbott


RT @tpcourier: @kirkgoldsberry I figured you'd have yelled at @TrueHoop like this: https://t.co/cdhdf8IEj4
28 minutes ago

ESPNNBA

The NBA on ESPN


We have a new top two: RT @coachthorpe: Postseason MVP rankings (Insider) http://t.co/RWDtzFZel4
29 minutes ago

TrueHoop

Henry Abbott


RT @kirkgoldsberry: @TrueHoop When I saw your awesome piece this morning, I said "ABBOTT!" kinda like this: http://t.co/2tAb6yTyS4
32 minutes ago

kpelton

Kevin Pelton


RT @tomhaberstroh: LeBron James continues to prove people wrong. This time, it was Michael Jordan. My Per Diem: http://t.co/4xs8ku1dyu [$]
34 minutes ago

TrueHoop

Henry Abbott


Looks like @kirkgoldsberry and I should have collaborated. Singing from the same hymnal. http://t.co/alXIfoZ5DN http://t.co/AJ0aPod8kg
36 minutes ago

coachthorpe

david b. thorpe


Thorpe: Postseason MVP rankings http://t.co/Odd41Lr6Z9
39 minutes ago

WindhorstESPN

Brian Windhorst


Mario Chalmers (bruised shoulder) went thru Heat shootaround and is expected to play tonight vs. Pacers.
53 minutes ago

chadfordinsider

Chad Ford


Muscala, by the way, had the highest shooting percentage of anyone at NBA Draft Combine.
53 minutes ago

chadfordinsider

Chad Ford


Muscala had one of the best workouts I've EVER seen for a big man. Literally missed just 2 shots entire workout. Crazy skills for big.
about an hour ago

chadfordinsider

Chad Ford


Good. Foot looks like its totally healed. Cutting and jumping well. But jumper stood out RT @Future23: how does McCollum's athleticism look?
about an hour ago

TrueHoop

Henry Abbott


Talking MVP of the playoffs with @CoachThorpe on @TrueHoopTV http://t.co/hWZAbHQ4gw Is there a Thorpe curse, and does Marc Gasol have it?
about an hour ago

chadfordinsider

Chad Ford


Patriot League alert! In NY workout with C.J. McCollum & Mike Muscala. Both guys shooting the ball incredibly well.
about an hour ago

tomhaberstroh

Tom Haberstroh


MJ said he'd force LeBron left. LeBron's rank in efficiency going left? #1. No one's better. http://t.co/4xs8ku1dyu [$]
about 2 hours ago

WallaceNBA_ESPN

Michael Wallace


Wallace: Bosh threat, maybe more than LeBron's reality, dictating terms of Heat-Pacers series http://t.co/IsW4tW9tzv
about 2 hours ago

NBARumorCentral

ESPN


Why Howard to Dubs won't happen. Biedrins to decline ETO. Petrie and Smart to learn their fates soon http://t.co/ZgvqNkdV31
about 2 hours ago

tomhaberstroh

Tom Haberstroh


LeBron James continues to prove people wrong. This time, it was Michael Jordan. My Per Diem: http://t.co/4xs8ku1dyu [$]
about 2 hours ago

TrueHoop

Henry Abbott


Of 210 shots against the Pacers over the last year, only 4 times has LeBron scored at rim vs. in-position Hibbert. http://t.co/AJ0aPod8kg
about 2 hours ago
MORE FROM ESPN NEW YORK

Check out the new ESPN New York, your destination for sports coverage in the Big Apple.
ESPN.COM PARTNER: NBA.COM