A conflict of investment
Originally Published:
September 30, 2003
By
Tom Farrey
| ESPN.com
Mark Cuban doesn't know Lenny Cooke. But in the tangled world of NBA finance, where competition for clients is fierce and conflicts of interest can go unchecked, even Cuban emerges as a bit player in the cautionary tale of the former New York City basketball star.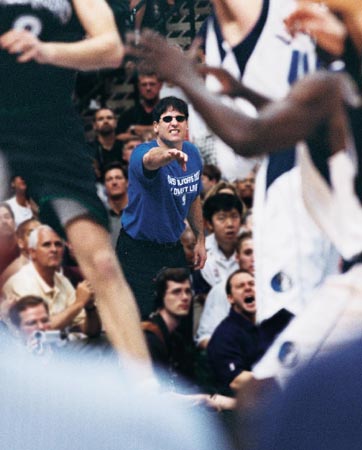 Mark Cuban's financial reach may have extended into a conflict of interest.
The
Dallas Mavericks
owner was a minority investor in the parent company, Immortal Entertainment, of the agent firm that signed Cooke while he was still in high school last year. Cooke, who was not ready for the NBA in the estimation of scouts, would go undrafted and accrue debt related to a basketball-related loan.
Cuban told ESPN.com that he had no involvement in the decisions of Immortal Sports, an upstart firm from Santa Monica, Calif., that represents several NBA and NFL players.
"I invested in Immortal Entertainment as an entertainment company," Cuban wrote in an e-mail response to questions by ESPN.com. "It was a very small minority investment, and it was one of several I made in Hollywood. They got into sports after my investment. I have since exited as an investor."
Immortal Entertainment has specialized in music and film projects for a decade. In 2001, around the time Cuban joined as an investor, the company branched out into the sports business through agent Mike Harrison and his runner, former University of Michigan assistant coach Terence Green. That year, their first big client, Zach Randolph, was selected with the 19th pick in the NBA draft by the Portland Trail Blazers.
The following spring they signed Cooke and another high schooler who went undrafted, DeAngelo Collins of Los Angeles. Immortal also helped Cooke acquire a pre-draft line of credit -- based on his presumed NBA earning potential -- by referring him to CSI Capital Management, a financial services firm that works with agents to recruit players.
At the time, Cooke was still enrolled in high school and living at the home of a former high school teammate, whose mother, Debbie Bortner, had spent two years trying to help him get his academics in order to gain his college eligibility. She contends the early access to money affected the judgment of Cooke, who grew up poor in Brooklyn.
"Immortal Sports should be renamed Immoral Sports," she said.
Harrison and Greene declined comment. A lawyer for Immortal, Martin Singer, conceded that the agent and his runner hid their dealings with Cooke from Bortner -- to the point where Greene, not Cooke, originally took delivery of the bank card associated with the line of credit so it would not have to be sent to Bortner's home in New Jersey.
But Singer said Cooke needed no enticement to turn pro. Harrison and Green were only trying to help him realize his dream, he said.
"Mr. Cooke has nobody to blame but himself for not being drafted," Singer wrote in a letter to ESPN, contending that Cooke hurt his chances by failing to show up for several scheduled workouts with NBA teams. Cooke insists that he wanted to attend the workouts, but that Immortal's representatives told him to abstain due to a toe injury he was recovering from at the time.
Upon reflection, Cooke now says he should have signed with a more experienced agent, rather than the first firm that approached him.
"I don't have (any) regrets about signing with an agent, but if I could have signed with another agent, that's what I would have done," he said.
CSI chairman Leland Faust declined to discuss Cooke's line of credit other than to acknowledge that he was briefly a client. Cooke said he has not been asked to pay back any of the money he used. However, Cooke does owe money to Immortal, which loaned him $13,760 shortly after the draft, according to a promissory note signed by Cooke and reviewed by ESPN.com. That debt, due last November, remains unpaid because Cooke has no steady income, said Kenneth Glassman, Cooke's new agent.
Cuban said he was unaware that Cooke was an Immortal client and that he played no role in the development of the company's sports division. But Immortal executives were proud of the association, said Jeff Farley, the Brooklyn entertainment industry consultant who introduced Cooke to Greene.
"(Cuban's) name came up a few times," said Farley, who had previously done business with Immortal. "I'm a big Dallas fan from back in the days of Derek Harper so the guys at Immortal said, 'Yeah, Cuban's involved.' "
Other basketball players that have been or currently are represented by Harrison include Mateen Cleaves, Donnell Harvey, Mario Bennett and Charlie Bell, according to the NBA players association.
Spokesmen for the NBA and its players union each said their organizations were unaware of Cuban's former stake in Immortal -- a relationship that could have been perceived as a conflict of interest given his ownership of the Mavericks.
In fact, another team owner in Dallas dealt with a similar issue in 2001, just as Immortal's sports division was ramping up. Concerns surrounded Tom Hicks, owner of the Texas Rangers and Dallas Stars, after one of his companies, Clear Channel Communications, purchased the SFX sports agency, which represents many of the best baseball (as well as football and basketball) players. To satisfy the players associations, Clear Channel gave up the right to remove SFX directors or officers.
NBA spokesman Tim Frank said the league plans to take no action on the Cuban-Immortal connection since it is now "in the past." Any future arrangements of that type, he said, would bear scrutiny.
"In a case like this, there could be a significant conflict of interest," he said. "It is something we would scrutinize." Cuban declined to say when exactly he bought into Immortal and when he sold his interest in the company. Dallas newspapers reported last year that he and fellow Broadcast.com co-founder Todd Wagner became involved in the parent company around the end of 2001 or start of 2002. Immortal Entertainment had between 31 and 40 employees and sales of $750,000 to $1 million, according to a Dun & Bradstreet report.
Tom Farrey is a senior writer at ESPN.com. He can be reached at tom.farrey@espn3.com
Writer, Reporter
Honors include 2014 Alfred I. DuPont-Columbia University Award, 2013 Edward R. Murrow Award and two Outstanding Sports Journalism Emmys
Director: Aspen Institute Sports & Society Program
SPONSORED HEADLINES
MORE NBA HEADLINES
MOST SENT STORIES ON ESPN.COM
EDITORS' PICKS
Kobe Bryant body hasn't been able to respond this season.
Michael Wilbon »

Chris Paul and the Clippers rolled past the Warriors with ease.
The Ten »

In LeBron's return to Miami, D-Wade embraced his pal.
Dave McMenamin »