NBA's new era for Showtime
By the time Magic Johnson could call himself a 10-year NBA veteran, he was on his way to establishing the roots of what is now a $700 million business empire that today includes restaurant and coffee franchises, movie theatres, fitness centers, bank partnerships and real estate holdings.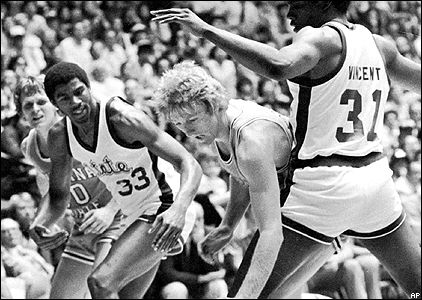 Since Magic Johnson and Larry Bird first battled in the NCAA championship game, the two have set the standard for player rivalries.
And while the five-time world champion, do-everything, Hall of Fame guard says he's enthralled by what many pundits called the best rookie matchup since the very mention of Johnson inevitably included Larry Bird in 1979, the businessman in him is intrigued with the investing potential of the league's new up-and-comers,
LeBron James
and
Carmelo Anthony
.
"They have to not only be ball players, but they have to run companies," Johnson said in an interview with ESPN that also included Bird, James and Anthony. "Nobody has ever made as much as LeBron coming out, and Carmelo is right behind him. Larry and I can sit here and say that they probably made more money in their first couple of years combined than we probably made our first five years combined."
The comparison is staggering. Not only have league revenues soared, contributing to the rise in salaries, but the success of Michael Jordan as a marketing vehicle helped to boost the off-the-court earnings of James and Anthony, both of whom have lucrative Nike contracts.
In Johnson and Bird's first 10 seasons in the league, they never had a salary higher than what the Cleveland Cavaliers and the Denver Nuggets paid James and Anthony this year -- $4 million and $3.2 million, respectively.
James also pulled in a cool $30 million in endorsement deals and signing bonuses from Nike, Coca-Cola, Upper Deck and Bubblicious in his rookie season. Anthony, the runner-up to James as NBA Rookie of the Year, cashed in on about $5 million in endorsement deals with Nike, Radio Shack and PLB Sports, which makes his signature candy bar.
Neither Johnson nor Bird made $30 million in endorsements over the course of their first decade in the league, and Bird's most famous commercial didn't debut until after he retired -- McDonald's "The Nothin' But Net" spot with Jordan, which first aired during Super Bowl XXVII in January 1993.
Both the 19-year-old James and the 20-year-old Anthony are hoping to follow in Johnson's footsteps.
Johnson, who has a 5 percent ownership stake in the Lakers, currently controls two T.G.I. Friday's restaurants and on Monday announced that he was acquiring 30 Burger King franchises in four states. Through a special arrangement with Seattle SuperSonics owner and Starbucks chairman Howard Schultz, Johnson is the coffee company's only franchisee and currently operates 68 stores under his business umbrella. He has five 12-screen Loews movie theatres, with another on the way, and his name is on five 24-Hour Fitness facilities and 15 home loan centers at Washington Mutual banks throughout the country. Johnson's company, through a partnership with Los Angeles-based investment firm Canyon Capital Realty Advisors, also has purchased millions of square feet in eight urban areas across the country.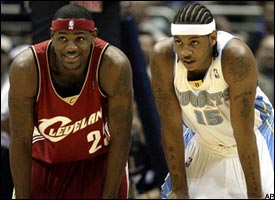 Carmelo is headed back in the same direction as LeBron -- superstardom.
Real estate will likely be the first major investment for both James and Anthony. James is expected to make land purchases in downtown Cleveland and is interested in building houses in Akron, where he grew up and currently lives, according to his agent, Aaron Goodwin. "We've sifted through opportunities and we are soon going to start up businesses similar to the way Magic has done it," Goodwin said.
Anthony is deep in the process of identifying partners for real estate opportunities in Denver and in areas near his hometown in Baltimore. The Nuggets forward is interested in building subsidized housing, where the lower rent is balanced by the tax breaks and the contribution to the community is tangible, said Bill Duffy, Anthony's agent.
Food franchises could be next for the two.
Goodwin is in the process of negotiating with quick-service food companies who are vying to name James as an endorser. According to a source familiar with negotiations, a final agreement could include the franchise rights to a number of restaurants over the life of the contract. Goodwin would not comment on the potential of such a deal.
James and Anthony know that Johnson didn't make it to the top of the business world without help, and both plan to surround themselves with experts when exploring each of their opportunities.
"Even though we say we our own boss, there are still people out there that we can get advice from, that we need to listen to," Anthony said. "To help us to maintain how successful we are for our own career."
Said Johnson: "We had to develop to become companies. I run my companies now, but I had to develop that over some time where they could come out as rookies, and have their own companies. Larry and I had to get our car dealerships and hotels."
Said Bird: "I always said that Magic wanted to be the billionaire. I just want a couple hundred million."
Bird has not spent as much time delving in the business world as his adversary. Since retiring as a player in 1992, he worked in the Celtics' front office for five years before taking the job as head coach of the Indiana Pacers. Bird retired after a three-year run that ended with the Pacers in the NBA Finals, but he returned in 2003 to become the team's president of basketball operations.
Bird is part of a group that is bidding to build a riverboat casino in his home town of French Lick, Ind. The proposed project would include a 50,000-square-foot casino and a museum commemorating his career. A winner in the three-bid race, which includes Donald Trump, is expected to be announced in July.
Early in his career, Bird was involved in the only sports video game endorsement deal in sports history that was worth more than $1 million to an athlete. Unfortunately for Bird, he wasn't on the receiving end.
In 1983, an upstart video game company, Electronic Arts, produced the game "Dr. J vs. Larry Bird." As part of the deal, both Julius Erving and Bird received $20,000 for the use of their name and image and 2½ percent of the profits from the sales of the game, which sold more than 500,000 copies.
But after Erving flew to the offices, did a photo shoot and helped with the design of the game, Electronic Arts founder Trip Hawkins thought he owed a little bit more to Dr. J, who was the league's reigning MVP. The offer was the opportunity to buy 20,000 shares of the company at $1 per share.
Erving took Hawkins up on his offer and the rest is history. The company's stock soared, splitting several times, and Erving's $20,000 investment soon became $1 million.
"I still have the majority of the shares, so it turned out to be a pretty good deal," Erving said.
Twenty years later, even LeBron and Carmelo, who admit to playing hours of video games per day, will be hard-pressed to ink a video game endorsement deal that is that lucrative.
Darren Rovell, who covers sports business for ESPN.com, can be reached at Darren.rovell@espn3.com.
ESPN.com Sports Business reporter
ESPN.com's sports business reporter since 2012; previously at ESPN from 2000-06
Appears on SportsCenter, ESPN Radio, ESPN.com and with ABC News
Formerly worked as analyst at CNBC
EDITORS' PICKS
Fitting in is Jeremy Lin's biggest challenge now.
Torre »

Another surgery will keep KD out the rest of the season.
J.A. Adande »

The Warriors routed the Griz in a meeting of West's top 2.
Wallace »

MOST SENT STORIES ON ESPN.COM