The numbers game
Updated:
February 25, 2005, 10:30 AM ET
By
Darren Rovell
| ESPN.com
A few hours after being traded from Sacramento to beef up Philadelphia's low-post game, Chris Webber scored on his first move as a 76ers player: Talking new teammate Andre Iguodala into giving up his jersey.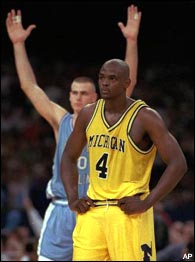 Chris Webber has had memories both good and bad while wearing No. 4 throughout his basketball career.
For many players, including Webber, being traded means packing the bags, getting out of town and making sure that everything is numerically sound in the new home.
Webber did exactly that by striking a deal with Iguodala, who will turn his No. 4 over to Webber and take No. 9. Iguodala was the ninth pick in last year's NBA draft.
The cost? Apparently nothing.
"Andre told me he was a huge fan of the 'Fab Five' coming up," said Iguodala's agent Rob Pelinka, who played at the University of Michigan with Webber. "Any time a young, rising star can do something to show respect for someone he looked up to, he's going to do it."
Webber's deal with Iguodala could be one of many more to come. Thirty-five players changed jerseys as NBA teams scurried in the final 24 hours before the league's trade deadline.
Among those who were shipped to teams with players already wearing their numbers:
Keith Van Horn, who wore No. 44 in college at Utah and most recently with the Milwaukee Bucks, but will have to talk Shawn Bradley out of the jersey he has worn throughout his nine seasons with the Dallas Mavericks.
Baron Davis, who's headed from the New Orleans Hornets to the Golden State Warriors, where Troy Murphy wears No. 1, the same number Davis has worn his entire NBA career.
Antoine Walker, who was traded from Atlanta back to Boston but may not get to wear his old Celtics jersey because Al Jefferson has No. 8.
Antoine Walker may not be wearing his familiar No. 8 jersey when he returns to the Celtics.

"We've discussed a lot of things recently, but we haven't talked about the jersey number yet, " Walker's agent Mark Bartelstein said. "We'll wait until the dust settles."

A person in Baron Davis' camp said Davis likely will wear No. 5, the number he wore during his days at UCLA.

The others might only hope they will fare as well as linebacker Jeremiah Trotter did in his jersey negotiations upon returning back to the Philadelphia Eagles.

After two years of playing with the Washington Redskins, Trotter returned to Philadelphia, where he played from 1998-2001. Trotter was happy to be back in his old stomping grounds, except his No. 54 belonged to Nate Wayne. Before the 2004 season, Trotter, who owns a car wash, secured his old number by washing Wayne's car.

Many athletes are often a superstitious lot and don't want to part with the number that may have helped them get to the top of their game. But now that athletes know there is money in the numbers game, they sometimes charge top dollar.

When Drew Gooden was traded from the Orlando Magic to the Cleveland Cavaliers after the 2003-04 season, Gooden wanted to wear the No. 0 he wore with the Magic and at the University of Kansas. But Jeff McInnis, who previously wore No. 5 with the Los Angeles Clippers and at the University of North Carolina, wanted $25,000 for the number. Gooden called off his quest and took No. 90 instead.

A high priced number swap soon could take place in the NFL once Randy Moss' trade to the Oakland Raiders becomes official. Moss has worn No. 84 throughout his NFL career with the Minnesota Vikings, but that number has always been the number of Raiders wide receiver Jerry Porter, who signed a long-term deal with the team on Tuesday.

If there's a cautionary tale in this number business, it involves Washington Redskins teammates Ifeanyi Ohalete and Clinton Portis. On June 4, 2004, Ohalete agreed to sell his No. 26, which Portis had worn before he was traded from the Denver Broncos. In exchange, Portis was to pay Ohalete $40,000, in three installments.

"I feel like Superman now," Portis said at the time. "I got my cape back. Superman is not Superman when he doesn't have his cape."

But Ohalete only received the first payment of $20,000 and recently sued Portis for the remainder. As evidence, Ohalete had Portis sign an agreement for the purchase in front a team employee, which is included as an exhibit to the lawsuit.

"Players are paying the prices they are because of the mental part of having the same number as well as the commercial value of being associated with that number," said John Steren, Ohalete's lawyer, who will represent Ohalete when the June trial commences in U.S. district court in Maryland. "I'm not surprised it goes on. For the players, it's just a matter of business."

Said former major leaguer John Kruk: "If you play better because of a certain number on your back, you've got serious problems. I wouldn't pay $40,000 for something unless it was going to get me to and from the stadium."

In 1992, Kruk traded his number to Philadelphia Phillies reliever Mitch Williams for two cases of Budweiser.

Darren Rovell, who covers sports business for ESPN.com, can be reached at Darren.rovell@espn3.com
ESPN.com Sports Business reporter
ESPN.com's sports business reporter since 2012; previously at ESPN from 2000-06
Appears on SportsCenter, ESPN Radio, ESPN.com and with ABC News
Formerly worked as analyst at CNBC
EDITORS' PICKS
Now more sidekick than superhero, Dwight just wants to fit in with Houston.
Watkins »

Why Durant is smart to go for surgery over heroism.
Adande »

Fitting in is Jeremy Lin's biggest challenge now.
Torre »

MOST SENT STORIES ON ESPN.COM