LeBron apparently sensed change was near
Updated:
March 22, 2005, 2:43 AM ET
Associated Press
CLEVELAND -- Paul Silas was hired to mentor the NBA's next superstar. While he succeeded with LeBron James, his failure with the rest of the team cost him his job.
March 21
Flip Saunders tops the Cleveland Cavaliers' list of potential successors to Paul Silas, league sources tell ESPN.com.

What remains to be seen is whether Cleveland is Saunders' top choice for his next job.

Since his firing in Minnesota after 51 games, Saunders has said he plans to sit out the rest of this season. The Cleveland native will undoubtedly be tempted by the opportunity to coach his hometown team and a star player straight out of high school -- just like he had in Minnesota with Kevin Garnett -- but chances are the lure of LeBron James won't be Saunders' only attractive offer.

It's believed that Saunders will also be a top candidate on Detroit's list if Larry Brown leaves the Pistons at season's end as many expect. With one championship already and a roster full of quality players in their primes, Detroit might be that rare East team with a greater upside than coaching a team that faces serious retooling around James.

Attempts to reach Saunders on Monday were unsuccessful, but league sources indicate that he'll almost certainly stick to his plan to wait until the offseason before deciding where to coach next. It's expected that Saunders will attract interest from any team that has a vacancy and there are already several teams employing interim coaches besides Saunders' old team in Minnesota.

Minnesota and Cleveland are joined by Portland, New York, Orlando and the Los Angeles Lakers in the search for a new long-term coach. Saunders, it should be noted, has been pursued hard by the Blazers before.

It's also inevitable that Phil Jackson's name will surface as a Cavaliers candidate, given the ongoing comparisons between James and Michael Jordan -- and thus the opportunity for Jackson to coach the latest Next Jordan. Yet it's believed that Jackson would have a greater interest in returning to the Lakers or coaching the Knicks after playing for them and working so closely with mentor Red Holzman.

Marc Stein is the senior NBA writer for ESPN.com. To e-mail him, click here. Also, click here to send a question for possible use on ESPNEWS.
Silas was fired as coach of the Cleveland Cavaliers on Monday, his team fighting for a playoff spot after leading its division earlier this year. Longtime NBA assistant Brendan Malone was appointed interim coach.
The dismissal came with 18 games left and the team clinging to the fifth playoff spot in the Eastern Conference. James seems to have been the only player who saw the move coming.
"You could kind of tell the way the air was, how things were going around here, there was going to have to be a change," said James, who scored a franchise-record 56 points Sunday. "I didn't know it was going to be this soon."
Silas told The Associated Press he was informed at a morning meeting with general manager Jim Paxson and new owner Dan Gilbert. Silas' son, assistant Stephen Silas, also was fired.
"They didn't think the team was performing as well as it should be and they wanted to make a change," Paul Silas said.
Malone will coach Tuesday night's home game against Detroit. He acknowledged he's in a tough situation, taking over a team late in the season that is expected to reach the playoffs.
"I'm still in a state of shock about what happened," Malone said after a morning practice.
Despite James and fellow All-Star Zydrunas Ilgauskas, the Cavaliers have slumped since the All-Star break. They have lost nine of 12 and nine straight road games, including Sunday's 105-98 loss to Toronto when the 20-year-old James became the youngest NBA player to score 50 or more points.
"We felt that if we didn't make this decision that we were jeopardizing our ability to be a playoff team this year," Paxson said.
Paxson criticized Silas' ability as a coach and motivator.
"We're 64 games into the season and we still don't have a consistent rotation, substitution pattern, those type of things," Paxson said. "We didn't see that changing."
Gilbert took over the team just three weeks ago and said the organization would be evaluated from top to bottom. He indicated Silas was not creating the best environment for the players.
"We felt the change today was necessary. It's going to put us in a better position to win," Gilbert said.
The Cavaliers entered the All-Star break at 30-21, then went into a slide, the decline marked by personnel issues. The trouble may have culminated Sunday when Silas benched starting guard Jeff McInnis for Eric Snow, who didn't score. McInnis did not play.
Earlier this season, Silas threw Snow off the bench after the two exchanged words in Detroit, a move that stunned the team because Snow is a leader.
Last week, Silas was fined $10,000 by the team for a derogatory comment about Utah forward Carlos Boozer, who left the team as a free agent last summer. Gilbert said that had no bearing on the firing.
The Cavaliers are the ninth team -- nearly one-third of the league -- to make a coaching change since the start of the season.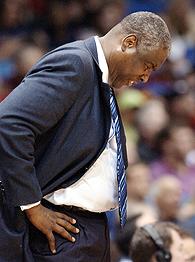 AP Photo/Tony DejakWhile Silas has helped James' career soar, the rest of the team has struggled.
Malone, in his first season with the Cavaliers, was the first coach of the expansion Toronto Raptors, spending one season with the team. He's been an assistant with New York, Indiana, Seattle and Detroit in 19 years of NBA coaching.
Malone said he would use the same starting lineup Silas did against Toronto. He did not say if McInnis would play.
James helped lead the Cavaliers to a 35-47 record last season -- an 18-game turnaround. Silas seemed to have the respect of his players. The club, however, lost Boozer as a free agent, the first sign of real trouble.
The Cavaliers started this season by staying in first place for most of the first two months. Then injuries and inconsistency led to losses.
"There was a change in our swagger, the way we performed," reserve Scott Williams said. "People would tell me they didn't know what to do -- thinking too much, playing too tight."
The 61-year-old Silas spent 16 years in the NBA as a player, winning two titles with Boston and one with Seattle. His coaching record was 355-400 with the Los Angeles Clippers, Hornets and Cavaliers. He joined Cleveland in 2003 after being fired by the New Orleans Hornets, having led them to the playoffs four straight times.
Silas was hired to be James' first professional coach. The youngster entered the league at 18 and has soared from rookie of the year last season to All-Star this year, but the rest of the team has struggled.
That became apparent Sunday with the team's third straight loss. While James had a career day, the Cavaliers were weak on defense and the reserves were outscored 34-1.
"There was a lot of standing around watching LeBron," Paxson said. "LeBron is a passer first, and he became more of a shooter and that hurt our team."

Copyright 2005 by The Associated Press
EDITORS' PICKS
James Harden led the Rockets past the Wizards, and to win No. 50.
HOU 99, WSH 91 »

Why Durant is smart to go for surgery over heroism.
Adande »

Fitting in is Jeremy Lin's biggest challenge now.
Torre »

MOST SENT STORIES ON ESPN.COM