The Last Season: Epilogue
Updated:
November 7, 2005, 3:15 PM ET
By
Phil Jackson
| Special to ESPN.com
From "The Last Season," by Phil Jackson, published in paperback by Penguin Books. Reprinted by arrangement with Penguin Books, a member of Penguin Group (USA), Inc. Copyright (c) Phil Jackson, 2005.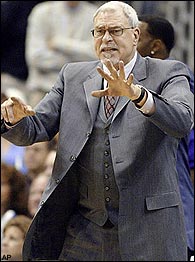 Phil Jackson sends out his aura.
September 10, 2004 -- Vail, Colorado
I am once again on my traditional post-summer journey from Montana to Los Angeles, taking notice of every thought, every impulse, even, especially, the ones I wish would go away.
Typically, refreshed after my annual escape into the mountains and streams near Flathead Lake, I experience a surge of excitement, anticipation, using this drive over miles and miles of empty road to ruminate about the game that has been my life, about how to motivate the young men who will soon assemble at training camp for the long adventure ahead.
I think about the days and nights that we will share in our quest to become true warriors, to form a bond, to win a championship. There will be numerous sacrifices, but, if we play the game with passion and commitment, if we stay together no matter the forces against us, there will also be numerous rewards.
I'm experiencing different emotions on this trip. For the second time since the mid-1980s, I am not going back to a coaching job in the National Basketball Association. I am headed, instead, to a future of uncertainty.
There is a sense of freedom, to be sure, freedom from planes and practices, from egos and tantrums, from the endless scrutiny that never seems to dissipate. Yet, there is also a strong, undeniable sense of apprehension.
My diary chronicling the Lakers' turbulent season, which ended with our loss to the Pistons in the Finals, will be released next month. I wrote the book to convey the demands and challenges that emerge, both on and off the court, in an average basketball season.
Of course, I was pretty certain that last season, with the additions of free agents Karl Malone and Gary Payton, with my lame-duck status, and, with the distractions posed by Kobe Bryant's case in Colorado, would be anything but average. In my entries, I tried to place as much emphasis as possible on the game itself, its purity, harmony. There is nothing quite like it when everything moves in its proper flow and rhythm.
Of course, I'm not na´ve. I've been around long enough to know that the focus, at least in the papers and on the airwaves, will be on the tremendous adversity we went through, from the KobeShaq feud in late October to the breakdown in my contract talks in February to our failure in June. We became the most riveting soap opera in sports. There always seemed to be a new plot twist to top the previous one.
In recent weeks, I've endured my share of sleepless nights, wondering about how my perceptions will be received by the players, the organization, and, perhaps most importantly, the fans. Soon, at least, I will not have to wonder any longer.
The trip has already been more eventful that I could have imagined. When I was in Steamboat Springs, Colorado, to attend a high school reunion with six buddies, I learned that my house by the beach in Los Angeles had been robbed. The thieves got away with a television set, a computer, eight leather jackets, and some jewelry.
Fortunately, concerned that the place might be a little exposed over the summer, I had put all my championship rings in a safe deposit box. The only irreplaceable item taken was an engraved watch given to me by Michael Jordan.
As I get closer to LA, any anxieties begin, thankfully, to lessen. I realize that whatever happens in the weeks and months ahead, I have been true to my convictions. I can't ask for anything else.
October 15 -- Los Angeles
I was driving to San Diego a few days ago with Jeanie when she received an urgent call from John Black, the Lakers PR director. With excerpts of the book beginning to generate big news on television and in the papers, the Lakers decided they could stay silent no longer. They were about to issue a press release, claiming that the book contains "several inaccuracies." Hmmm, was there a typo I missed, a name I misspelled, a date I got wrong? I simply could not imagine what they were talking about.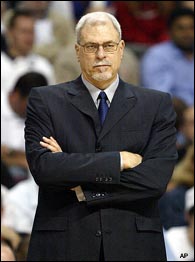 Don't mess with the Zen Master.
Neither could Jeanie, who tried to talk Black out it, arguing that I had not vilified the organization, and that pointing out "inaccuracies" without being specific would be meaningless. The Lakers, it seemed, were trying to damage the book's credibility, my credibility, without being held accountable. Jeanie argued to no avail. I suppose I can't blame the Lakers. They needed to protect themselves.
I am grateful, at least, that all the uproar over the book doesn't seem to have caused a rift in my relationship with Dr. Buss, which I have greatly valued. A few weeks ago, I called to let him know that I was not interested in accepting his offer to be a consultant, which he first extended back in June. I knew it would be a complete no-win situation for me.
I did tell him, however, that he would soon be receiving a copy of the book before the press was given one. I felt he should be prepared for the inevitable barrage of questions from the reporters in training camp. I owed him that. He said he appreciated my gesture, and invited me to join him in his box for a game. Sure, I said, sometime in the spring.
November 17 -- Flathead Lake
After a solid, exhausting month of promoting the book, I'm back in Montana, ready to resume work on the new home. For the most part, the tour, which took me to Chicago and New York in addition to Los Angeles, went extremely well.
I made an appearance on Leno, did a live interview with CNN's Wolf Blitzer, and was on dozens of TV and radio shows. The only difficult moments emerged when the interviewers kept pounding away at Kobe's troubles in Colorado. I found myself, despite the criticism I had given him, becoming very protective, even defensive. I was no longer his coach or mentor.
In fact, I was quite sure he was angry at me for the things I wrote about him in the book. Yet I still felt a great deal of compassion for this young man, for the difficulties he endured while awaiting trial, and for the challenges he will face in repairing his tarnished image.
Even though the trial was called off, in the minds of many of his detractors, a verdict has still been rendered: guilty. Sadly, there seems to be nothing, at least for the time being, that Kobe can do about it.
He is not the only one who has received criticism. Several people close to the game have harped on about how I violated some unwritten code by exposing conversations and events that took place behind closed doors. Nonsense. There was no such thing as closed doors for the Lakers.
Reporters used to tell me all the time that they couldn't wait for the locker room to open because players would routinely reveal what had just transpired in team meetings or in supposedly private conversations.
Meanwhile, there's recently been tension between myself and the Buss family. Last month, after a hectic day shuttling from one interview to the next, I attended Bombay Dreams, a Broadway musical with Jerry, Jeanie, and her brother, Jimmy. The play was excruciating enough, but that was only part of the problem. I was incredibly uncomfortable trying to squeeze into my seat.
We went to dinner afterward at an Italian restaurant in Soho. Sitting there, I felt like a total outsider. It's no mystery why. While I've been on television and the bestseller list, the Laker organization, which is, after all, the family business, has had to deal with multiple questions, most obviously the wisdom of trading Shaquille.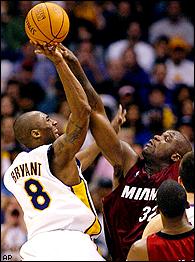 Everyone stepped away from the presents on Christmas to see if the Corvette hit the wall.
December 30 -- Los Angeles
This town was buzzing for days in anticipation of the Christmas Day match between Kobe and Shaq, staged at the Staples Center. Because if there's anything this town adores, it's conflict. The juicier, the nastier, the better. Yet in the hours leading up to the game, I didn't feel any excitement.
For five years, from training camp through the playoffs, I hung around Shaq and Kobe almost every day. But now, spending Christmas in San Francisco with my ex-wife, June, and our kids, I was away from the action, and I liked it. I skipped the entire first half to play a board game, and watched only portions of the second. I had things to do, such as peeling white onions for dinner.
I've made it a point, actually, to isolate myself as much as possible from the Lakers since the season started in early November. Of course, dating the owner's daughter makes that kind of, well, impossible. No wonder, then, as the year winds down, I'm looking forward to my eight-week sojourn to Australia and New Zealand.
The Lakers and NBA basketball will be the furthest things from my mind.
January 27, 2005 -- Melbourne, Australia
For the past week, I've been near the court. The tennis court, that is, catching the action at the Australian Open. I love the game, the way it tests character and courage one shot after another.
I've observed all the stars: Federer, Roddick, Agassi, Safin, Serena, etc. One former player, Pam Shriver, who is now a television analyst, asked if she could interview me in the stands on my first day. No harm there, I figured. I haven't been on the front page in months.
Suddenly, however, out of nowhere, she asked me if I would be interested in coaching the Knicks. The Knicks? I thought they had a coach, a guy named Lenny Wilkens, a Hall of Famer in fact. Well, not anymore. Wilkens was gone, a fact that, not surprisingly, wasn't considered a high priority in the Australian papers. Even Down Under, apparently, there is no escape.
February 5 -- Perth, Australia
Definitely no escape. The other day, after fishing for herring and swimming in the Indian Ocean with Luc Longley, one of my former players with the Bulls, I turned on the computer to find an urgent e-mail message from Jeanie. Rudy Tomjanovich, my replacement, was rumored to be on the verge of quitting.
I wasn't shocked. When I first heard in July that Rudy T. would take the job, I wondered if he could handle the demands, physically, because of his bladder cancer, and mentally, because of the intensity of coaching in Los Angeles. This was a long way from Houston.
Soon, news of his resignation became official, and immediately the e-mails started to flood in, including one from John Black. The messages were all the same: Would you be interested in coaching the Lakers again?
Perhaps, but certainly not this season. The moment I learned that the opportunity might be available, I experienced two powerful, yet contradictory, emotions. One was attraction, the chance to again mold a group of individuals with different, often conflicting, needs into a single, cohesive unit capable of winning a championship.
That's always been the lure of this job. I wondered, after our loss to the Pistons, whether perhaps it was me who had let them down instead of the other way around. Maybe I didn't discover the right way to motivate them. Maybe we should have tried another session of meditation. Who knows? In any case, returning to the bench would afford me a second chance.
Can Phil flat out coach? The jury is still out.
My other immediate reaction was aversion. The old, familiar tensions, many linked to my arguments with Kobe, which had washed away in recent months, suddenly resurfaced. In many ways, leaving the Lakers probably saved my soul.
I've always believed that you can lose your soul in some form or fashion when you chase the almighty dollar.
If that is the case, then why would I want to put my soul in jeopardy again? Why would I want to deal with today's self-indulgent athletes, so different from the ones I knew in the '60s and '70s, even the '80s? And why would I want to spend so much time again with the members of the fourth estate? Do they really need to have access to me three or four times a day? No wonder I run out of things to say. Worse yet, no wonder, every so often, I say the wrong thing.
Besides, I'm enjoying the journey I'm on right now. I'm savoring this rare opportunity to travel on my own without the built-in restrictions of the NBA schedule. Luc is the perfect guy to hang out with, so sensitive and sociable.
When I coached him in Chicago, I engaged in conversations with him that I never could have had with anyone else. He asked me about Jeanie. Before I left Los Angeles in January, I told her that I felt both of us should be free during this time apart to explore any social relationship that might arise without worrying that we would be betraying our trust in each other. "Who knows where I'll go when I get back?" I told her.
Already, I'm convinced, it's made our relationship stronger.
One thing is certain: I will not allow this Laker soap opera to intrude on my travels. I'm pretty fortunate, actually, to be in the South Pacific, which is about as far away from Los Angeles as one can be, sheltering me from the hordes. I told Todd, my agent, as well as Jeanie, that there will be plenty of time in the months ahead to think about next year, about whether I want to coach the Lakers again. Whether I want to coach period.
Right now, there is only one destination on my mind: New Zealand.
February 19 -- Auckland, New Zealand
Usually, around this time of year, I start to gear up for the playoffs, every game more intense, every move subject to scrutiny. Even the practices take on greater significance. Needless to say, my schedule has been a bit less rigid this February.
I've seen so much of this beautiful country. I rode a motorcycle through the town of Greymouth, seeing miles and miles of coastline as breathtaking as anything in California. Hills, curves, mountains, one-lane bridges, you name it, this place has it. Of course, no matter how remote the location, how pristine the environment, once again it has been impossible to fully avoid the life I left behind.
Last week, I received a call from Linda Rambis, Kurt's wife, who pressed me to make a decision one way or the other about the Lakers job so that Jeanie could tell her dad. With all due respect, I've been too busy swimming or snorkeling to think about the state of the Lakers.
I called Jeanie after talking to Linda, and told her I would give more thought to the matter when I got back to LA in a few weeks. She understands. She told me about a recent conversation she had with Karl Malone, who has formally announced his retirement. "Don't make Phil come back and coach the Lakers," he told her. I'm sure there are others who share the same sentiment.
April 18 -- Los Angeles
During a recent game against the Rockets, I finally took Dr. Buss up on the long-standing offer to join him in his box. I was planning to be at Staples anyway, hanging out with members of 826 LA, an organization that helps students develop their writing skills. It sure felt strange to be in the arena, but not on the floor barking instructions, contemplating lineup adjustments.
I've spent little time in my life as a "fan." It felt even stranger, though, to sit in the owner's box for two hours and exchange maybe a total of two sentences with Dr. Buss. There was a young girl between us, which is often the case, and, besides, I don't think he really wanted to be seen conferring with his ex-coach. I'm not surprised.
Jerry likes to separate business from pleasure, even though there is always a message to everything he does. In this case, I'm pretty sure he wants me to know he's very interested in me coming back.
On the drive home, it dawns on me that the season is about to end, which means the long-delayed decision-making process is about to begin. Teams will be on the phone to Todd, trying to gauge my level of interest, and I'll have to engage in serious soul-searching. While I'm leaning toward two scenarios -- taking the Lakers' job or staying retired for at least another year -- I would be foolish not to take any meetings.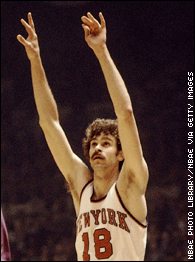 Jackson's relationship with the Knicks goes back more than three decades.
May 2 -- Los Angeles
I met recently here with Isiah Thomas, the head of basketball operations for the Knicks. There has been a lot of speculation in the press recently that Isiah and I would never be able to get along, that our egos would clash. As is the case with much speculation that's driven by the media, this is unfounded.
I like Isiah a lot, and believe he is an astute observer of the game with his own vision of how to make the Knicks a contender again. Sure he and I were rivals in the late 1980s and early 1990s, but as you get older, you develop a deeper appreciation for the struggles you endured together.
Instead of hating your rival, you learn to honor him. It is a vital component of the warrior mentality to respect your enemy, to realize that you cannot be great unless he is great.
Isiah was very gracious in our meeting, and though he did not make a formal offer, I got the feeling that the job is mine if I want it. Fact is, I don't.
I know there are those who believe this move makes so much sense during this late, and perhaps final, stage of my basketball career. I started as a Knick, so, therefore, I should finish as a Knick.
Yet, while I possess wonderful memories of playing in New York, of riding my bike to the Garden, of learning everything about the game and life from Red Holzman, I feel no urgent need to go to back to New York to fulfill some kind of destiny determined by others.
So far, at least, I'm also not interested in the other possibilities that have come up. There have been no serious talks, and I don't expect any.
I'm waiting, instead, for a meeting that I'm sure will have a much greater bearing on my future -- the one with Kobe. When I called after the season ended, he told me he was heading out of town for a few weeks, and would check in when he returns. I didn't get the sense that he was avoiding me, but he's clearly in no hurry, either.
May 18 -- Los Angeles
In a press conference two weeks ago, Dr. Buss downplayed the possibility of me coming back to the Lakers. Yes, I was on the list of potential hires, but he made it clear that there were others on the list, as well.
This admission is threatening to Jeanie, who believes bringing me back is essential for stabilizing the franchise. She has stepped out of her normal role as Executive Vice President of Business Affairs to champion me as the logical successor. In the past, she had never taken an official stance in basketball matters.
I've made my own statements to the press lately, and some of them did not go over too well.
Speaking at an event sponsored by the Positive Coaching Alliance, for which I am a spokesman, I left myself open to questions from the press, and believe me, they weren't interested in theories about positive reinforcement. I made the comment that the Lakers current roster was "not appealing at all," and there were players who, frankly, had not earned their lunch money this season.
One writer jumped all over that one, interpreting it as a sign that I had serious reservations about taking the job. In fact, the exact opposite was the case. I was becoming engaged again in the state of the franchise, thinking like the coach I was before and might become again.
There are compelling arguments on both sides. On the one hand, there is something I refer to as the greater good for the greater number of people. Wherever I go, I'm approached by fans, some practically begging for my return. They don't even ask for a championship, only a team that plays with passion.
With all the success the Lakers have enjoyed in recent years, watching a team struggling to play .500 has been a miserable experience for their loyal supporters. People think I would never take on a team that has no legitimate chance to win a championship.
This is one of the major misconceptions about me. Success can be measured in many different ways. For one team, it might mean fifty wins, or forty. Either way, I would find the challenge just as invigorating.
On the other hand, I'm concerned about how going back to coaching, especially this team, might harm my health, physical and mental. My therapist consistently warns me that I'm still in denial, that I have failed to treat the end of my tenure last June as a truly traumatic event, and that it might take a year to eighteen months to fully recover. I see his point, but don't necessarily agree. I haven't felt pain or anger or rejection since then.
Only relief.
May 31 -- Flathead Lake
Here, removed from the constant distractions in Los Angeles, I'm able to ponder on a more spiritual level the possibilities for the future. Already, I've reached one very important conclusion: I do not need to meet with Kobe to make up my mind.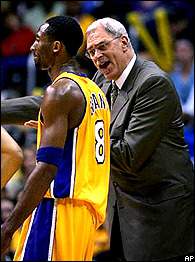 Will Phil and Kobe get along? History says maybe.
For months, I assumed, if there were any chance of me going back to the Lakers, he and I needed to see if we could bury the past and build a future. If we couldn't work things out off the court, how could we possibly get along on the court?
Yet, I realize now, by making our chat such an integral part of the decision-making process, all it did was push him away. He's been blamed for enough already in this town without having to play the role of villain once again if, after our meeting, I were to decide not to accept the position.
His reluctance to get together is, actually, a sign of a new maturity. He has decided to relinquish any desire to control the situation, letting the organization control it. I am proud of him, and more optimistic than ever that he will reach his true potential both as a basketball player and a man.
Since the book came out, people have focused too much on the fact I called Kobe uncoachable. They skipped over another point I made, that Kobe was the floor general of a team that went to the Finals last year, and will surely be the floor general for years to come.
I've also dispensed with another longtime assumption, that my health would be endangered by a return to the NBA. "Dad, you're so much more relaxed," my son Ben and daughter Brooke told me the other day. Maybe so, but I now realize that returning to the vigorous work schedule required in the NBA would activate me in a way that I can't activate myself no matter how extensive a workout program I go through.
Can coaching be an agonizing experience? Yes. Do I have to deal with children on occasion? Of course. Will there be more sleepless nights because of outrageous calls from officials? No doubt. But do I love this game? Absolutely.
Nonetheless, I have yet to make a final decision. I suppose I'm waiting for some kind of divine intervention, a magical moment where everything becomes clear. I'm heading back to LA in the morning. Maybe it will come there. It better come soon. I told Mitch I would give him an answer by the end of the week.
June 15 -- Los Angeles
I went back to work today. I met with Mitch about the draft, held one-on-ones with several players, and did some interviews from my office. I was once again coaching the Los Angeles Lakers. Why did this happen? Why, nearly one year after I was replaced by Rudy Tomjanovich, after what I truly believed was my last season, am I ready to try this again?
The answer, I've come to realize in recent days, has to do with how I define who I am. I have always believed in a world of endless possibilities for renewal, of opportunities for rebirth and reconciliation. I simply do not want to contemplate a world in which such possibilities don't exist. Believe me, I tried the other way.
I tried to tell myself, Jeanie, Todd, and others close to me that I wouldn't take this job. I even said it out loud. I suppose I wanted to see how I really felt once I allowed that idea to sink in. I did not feel good. For the first time in my life, it seemed I was running away from my destiny.
I have no illusions. The honeymoon period is wonderful now, but I know there are going to be moments when I'll question my sanity for jumping back into this most intense environment.
Maybe it will be after getting blown out in Cleveland. Or maybe after somebody forgets a defensive assignment on the last possession. Or maybe after another one of those endless flights, or nights when sleep doesn't come.
I know it will happen, but when it does, I will remind myself how I felt at the press conference yesterday at Staples, when for the first time in a long time, everything was right again.
Soon, after the draft, I will be head back to Montana for a few weeks of rest. I will check on the progress of the house, and prepare myself, physically and spiritually, for the adventure ahead. I'm turning sixty in September. I can't assume that I will be able to do my job with the exact same energy that I possessed with the Bulls, or even during my first years in Los Angeles.
Every year, the demands and challenges of coaching in the NBA grow, and I want to make sure that I am ready for them. Next season will not be easy. There will be no Shaquille, and we have a lot of holes to plug to put ourselves on the same level with the elite teams in the Western Conference. Nonetheless, I can't wait for training camp to begin.
I can't wait to teach the fundamentals of the triangle offense, to explore the concepts and movements that make basketball the greatest game ever.
I can't wait to hear the sound from the crowd after a victory, the sound of a community that believes once again.
Most of all, I can't wait to bring twelve individuals into a circle before practice begins, to look in their eyes, and know we are a team of One.
I can't wait for next season.
From "The Last Season," by Phil Jackson, published in paperback by Penguin Books. Reprinted by arrangement with Penguin Books, a member of Penguin Group (USA), Inc. Copyright (c) Phil Jackson, 2005.
SPONSORED HEADLINES
MORE NBA HEADLINES
MOST SENT STORIES ON ESPN.COM
EDITORS' PICKS
The Spurs lost in triple overtime again Friday night.
The Ten »

Rajon Rondo hopes for a Dallas parade.
Tim MacMahon »

MJ's contribution to the black community is greater than perceived.
Scoop Jackson »

ESPN.COM PARTNER: NBA.COM