Doctor will recommend more detailed heart test
Updated:
February 17, 2006, 2:17 PM ET
By
Darren Rovell
| ESPN.com
NBA team doctors will meet Saturday with one thing on their minds: hearts.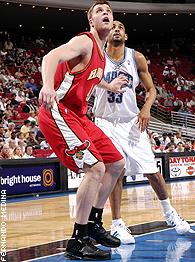 Fernando Medina/NBAE via Getty ImagesJason Collier (left) died in October, right before beginning his sixth NBA season.
Spurred by a number of incidents, including the death of Atlanta Hawks center Jason Collier, doctors and league officials plan to address whether more preventative measures can be taken when they gather in Houston.
Cardiologist Dr. Barry Maron of the Minneapolis Heart Institute Foundation told ESPN.com that he will recommend to team doctors that every team replace the standard electrocardiograms (EKGs), which can detect an irregular heartbeat, with echocardiograms, an ultrasound that allows a doctor to study the size of the heart and the strength of the heart muscle.
Echocardiograms, which are not invasive and are not in any way perceived as harmful, cost at least three times as much as EKGs.
It has been a trying year for the NBA. Collier died from enlarged heart in October. Minnesota Timberwolves guard Fred Hoiberg, New Jersey Nets forward Robert "Tractor" Traylor and Los Angeles Lakers draft pick Ronny Turiaf all had offseason surgery on their aorta, the main artery that carries blood away from the heart.
While players undergo physicals before training camp, the level of depth on heart monitoring varies since the league has no standard currently.
Maron wants to change that. In his research of sudden athlete cardiac death over the last 20 years, he has found that 70 percent of those cases involved football and basketball players. But Maron thinks this is likely because the participation rates in those sports, across all levels, surpass the rates of other sports.
Maron doesn't believe there's a good reason why the incident rate is higher this year. "These apparent clusters of activity are almost always just an issue of variability in population," Maron said. "It does seem like a lot of guys are having heart issues, but it's almost impossible to prove that these issues appear in greater frequency among top athletes."
It's been a high-profile year for heart problems, however. In August, San Francisco 49ers lineman Thomas Herrion had a heart attack and died following a preseason game. In September, the heart of golfer David Toms was intentionally stopped and restarted again after he experienced an extremely rapid heartbeat at the 84 Lumber Classic. Detroit Red Wings defenseman Juri Fischer has been out indefinitely since he was successfully resuscitated after his heart stopped during a game in November. And, in January, Pittsburgh Penguins great Mario Lemieux retired, six weeks after being diagnosed with an irregular heartbeat.
In the NBA, heart issues have been at the forefront, in part because of the highly publicized case of Eddy Curry.
Last March, the 6-foot-11 Curry experienced an irregular heartbeat before a game against the Charlotte Bobcats. Over the next month, a battery of tests was performed. Curry maintains that the tests were unable to reveal the source of what made his heart flutter. The Bulls, bound by patient confidentiality laws, were not allowed to disclose any of their findings.
Curry, a restricted free agent, was eventually traded to the New York Knicks, which took on a six-year, $56 million deal, after a bevy of doctors, including a league-appointed doctor, cleared the 23-year-old to play.
"It wasn't anything fatal and it hasn't returned," Curry insisted last week.
Just as the NBA is reviewing its policies, so too is the National Football League. Its subcommittee on cardiovascular health has met several times since it was created last year, though no new medical standards have been devised.
The league's medical liason, Dr. Elliott Pellman, insists that cost doesn't play any part in the current level of testing. He said that while EKGs are given routinely during player physicals each season, echocardiograms are frequently performed when the first test shows abnormalities.
"We still feel we need to be able to look at the player population more to see if it makes sense to perform echocardiograms on everyone," Pellman said. "People get emotional and think that we are in a dark closet conspiring how not to do the right things for the players. While we have a responsibility as physicians to do as much as we can to prevent, we also have to be careful not to come to premature conclusions since someone's livelihood is at risk."
If any new testing standards are arrived at, the teams can't unilaterally perform them. Physical examination is subject to the collective bargaining agreement and therefore the union would have to agree to the level of testing.
While Curry said that he "would want to know if something was going on with me," at least one of his current Knicks teammates is aware of the realities of agreeing to more testing.
"I think it should be freedom of choice to have it done," said center Channing Frye. "Because if you want it done, that means you are going to want it known, that means you are liable for it. But more guys will say, 'I just don't want to know' and I understand why they say that. More guys have heart problems than what lead on. If they find out, how are you going to put food on your table, not only for you, but for your family, your uncles, your aunts, your grandma."
Convinced by information that Curry's family might have had a history of heart issues, the Bulls urged him to take part in a DNA test to determine if he was genetically predisposed to hypertrophic cardiomyopathy, the enlargement of the heart's walls that restricts blood flow into the pumping chamber. This disease led to the death of Herrion, as well as that of Boston Celtics forward Reggie Lewis and Loyola Marymount forward Hank Gathers.
Curry, who denies he has any family history of heart trouble, refused to take the test, even after Bulls general manager John Paxson said he offered Curry $400,000 a year for 50 years of his life if he were to fail.
"That's fine if the player doesn't want to know [what condition he might have]," Paxson told ESPN.com. "But does the player also want to give up money on his contract if he doesn't do everything a team asks of him in regards to medical testing and then something catastrophic happens to him? The players can't have it both ways. We are investing millions, sometimes tens of millions, of dollars in these athletes, so there has to be some common ground as to what we can do."
In the United States, there aren't laws that govern medical testing like there are in other countries. In Italy, for example, all people who want to play competitive sports are required to have an annual fitness test that includes an EKG and, when warranted, an echocardiogram. If a potential athlete is found to have hypertrophic cardiomyopathy, they can no longer play competitive sports. This happened to swimmer Domenico Fioravanti, won two gold medals in the breaststroke at the 2000 Olympic Games.
"In the perfect world, we'd be able to make an eligibility disqualification where the screening takes place," said Maron, who is director of the Minneapolis Heart Institutte Foundation's Hypertrophic Cardiomyopathy Center. "Mr. [NBA commissioner David] Stern could try to create this for the limited athlete population he is dealing with in the league. But there's a tremendous amount of money involved and conflicting viewpoints from the agents and the union. So it's hard to imagine that the system that exists in Italy could ever be mimicked by the league."
Multiple sources told ESPN.com that Curry's irregular heartbeat could have been brought about by an increased level of caffeine in the body. Curry acknowledged that he was drinking more caffeine than he usually does around the time of his episode, but he still says that nothing has been pinpointed as to the exact cause.
The whole episode certainly reduced Curry's marketability. Big men at his age, who can average 14 points and five rebounds per game, usually would draw a lot of interest. But only a handful of teams seemed interested this time around.
The player's concern for his career -- should something turn up -- is warranted. Hoiberg, who found out of his condition through an echocardiogram taken when he went to get a life insurance policy, said he will decide by the end of this weekend whether he wants to attempt to become the first player to play in the league with a pacemaker. Turiaf has seen only nine minutes of action since the Lakers officially signed him one month ago. Traylor hasn't made a return.
Then there's Clippers backup center Zeljko Rebraca who hasn't been on the court since Jan. 25, when he complained of chest pains during pregame warmups. Rebraca had surgery to correct his irregular heartbeat in November.
Even if an athlete is found to have a certain heart condition, it hasn't always precluded him from playing. Reggie Lewis -- who died in 1993 while playing a pickup basketball game -- visited a slew of cardiologists who all recommended that he shouldn't play. The doctor who said he could play, Dr. Gilbert Mudge, was involved in a legal battle for six years before the final appeal of three lawsuits filed by Lewis' wife failed.
In looking back on Collier's death, Georgia's chief medical examiner, Dr. Kris Sperry, said that electrocardiograms administered to Collier in 2003 and 2005, respectively, showed "some indication of electrical abnormalities." Collier's wife Katie said that her husband was never informed that there was anything wrong with him.
"What we have available to us now in terms of technology is unprecedented," Paxson said. "With that said, I'm not sure there is a foolproof way of safeguarding against something that could possibly go undetected in an athlete and that is the greatest concern."
Darren Rovell, who covers sports business for ESPN.com, can be reached at Darren.rovell@espn3.com
ESPN.com Sports Business reporter
ESPN.com's sports business reporter since 2012; previously at ESPN from 2000-06
Appears on SportsCenter, ESPN Radio, ESPN.com and with ABC News
Formerly worked as analyst at CNBC
EDITORS' PICKS
LeBron's Cavs look to top West-best Warriors.
NBA Now

The Lakers' approach to analytics is stuck in the past.
Baxter Holmes »

Which rookies are making the most of their minutes down the stretch?
Thorpe

MOST SENT STORIES ON ESPN.COM