Pacers raise Reggie Miller's No. 31 to rafters
Updated:
March 31, 2006, 1:36 AM ET
Associated Press
INDIANAPOLIS -- The chant of "Reg-gie! Reg-gie!" filled Conseco Fieldhouse one more time.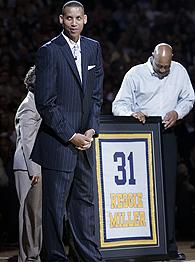 AP Photo/Ann HeisenfeltThe Pacers made Reggie Miller the fifth team member to have his number retired.
The cheer rang out from the full house Thursday night as Reggie Miller, surrounded by his four siblings, pulled a rope that raised a No. 31 banner into the rafters as the Indiana Pacers retired his jersey number.
The halftime ceremony started with video highlights of Miller's career, and the chant that was heard after many of his clutch long-range shots began even before he had a chance to speak.
"I never imagined that I would earn my way to anyone's rafters," he said.
Pacers CEO Donnie Walsh, who was greeted with boos when he drafted the skinny UCLA guard in 1987, credited Miller with leading the team to respectability after years as an NBA also-ran.
"You catapulted us into the elite of the NBA," Walsh told Miller during the ceremony. "You have been the heart and soul of this franchise for 18 years, and No. 31 deserves to go up with the best of the best."
Miller spent his entire career with the Pacers and credited Walsh, team president Larry Bird, team owners Melvin and Herbert Simon and the fans for making his stay special.
"It's been an unbelievable 18-year career here," he said before the game. "From Donnie to Larry to the Simon family, they have been tremendous, not only to myself, but to my family. I've been surrounded by a lot of love."
Miller, now a TNT basketball analyst, said he was honored to have his number sent to the rafters less than a year after his retirement.
"Those things usually take time, but the Pacers always do things first class," he said.
He was first Pacer from the team's NBA days to have his number retired, joining ABA stars Roger Brown, Mel Daniels and George McGinnis and former coach Bobby "Slick" Leonard as the only such honorees in franchise history.
Miller ended his career last season as the NBA's all-time leader in 3-point goals. He was a five-time All-Star, led the NBA in free throw percentage five times and is No. 12 on the league's career scoring list.
Matt Reiswerg, 25, wore a replica of Miller's white UCLA jersey to Thursday's game, attending with his father, Joe, a Pacers season-ticket holder since 1976. Matt Reiswerg tied Miller's career to fond childhood memories of watching games with his father and grandfather.
"He was the guy who always wanted to take the shot," Reiswerg said. "He always wanted the ball in his hands."
The Pacers never won a championship during Miller's career, but he was their key player as the franchise gained its first taste of success in years after joining the NBA in 1976. The Pacers reached the Eastern Conference finals six times and the NBA Finals once during his career.
"He's the most significant player in the last 20 years, maybe 30," Walsh said. "Since our ABA days. Reggie is the one who made our transformation to the NBA real."
Joe Reiswerg said Miller's absence tells as much about him as his presence did. The Pacers entered Thursday's game with a 35-35 record.
"It's obvious the team misses him," he said. "He was the heart and soul of the team. He held that team together. Now, they're a ship without a rudder."
It was the first such ceremony for the Pacers in more than a decade. Leonard's was the most recent, in 1996. Brown, McGinnis and Daniels were honored in a joint ceremony in 1985. All were with the team during the late-1960s to mid-1970s, when the Pacers won three ABA championships.
Miller said he was honored to be in such company.
"I'm not comfortable with it, but I'll take it."

Copyright 2006 by The Associated Press
SPONSORED HEADLINES
MORE NBA HEADLINES
MOST SENT STORIES ON ESPN.COM
EDITORS' PICKS
The season of pretending can finally end, and Kobe and the Lakers will be better for it.
Shelburne »

They have the continuity, experience and, of course, the Grit 'n' Grind. Memphis is primed for something special.
Kevin Arnovitz »

How high have the streaking Cavs vaulted up our list?
Power Rankings »