Warriors' Arizin, pioneer of jump shot, dead at 78
Updated:
December 13, 2006, 6:47 PM ET
ESPN.com news services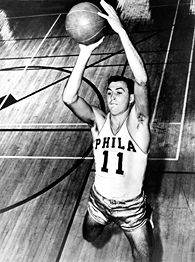 NBA Photo Library/Getty ImagesIn 1950, Paul Arizin shows off the shot that made him famous.
The elite group of the NBA's top 50 greatest players lost one of its own on Tuesday night.
Hall of Famer Paul Arizin, who was one of the first in the league to make the jump shot a regular part of his arsenal, died in his sleep in his home in suburban Philadelphia. He was 78.
The Philadelphia Warriors and Villanova University both claimed Arizin as one of their own.
"Paul Arizin was the most dignified, classy and humble legend I've ever met," Villanova head coach Jay Wright said in a statement. "He is adored and respected by anyone who has touched Villanova basketball. I'll always remember his undying support or our staff and players. He was a remarkable man who has left behind an unparalleled legacy and a beautiful family."
Arizin was elected to the Hall of Fame in 1978. He played with the Warriors from 1951-62, making the All-Star Game 10 times and winning the league's MVP in 1952. He led the league in scoring twice. The 6-foot-4 forward finished his NBA career with per game averages of 22.8 points and 8.6 rebounds.
Ramsay: Remembering Arizin
Paul Arizin was a fierce, fierce competitor. And he had great spring. He was 6-foot-4, but he could jump over people. He could play inside and outside. I remember him getting the ball on the wing, driving, pulling up and shooting jump shots. Although he was much shorter, Arizin had the same basketball skill set as Kevin Garnett. He could really play and he could really score.

He didn't make his high school team but developed into a good player on his own. Villanova coach Al Severance went to see him play one day and was impressed. After watching Arizin play, Severance approached him and asked him if he'd like to go to Villanova. Arizin said, "I already go to Villanova." Severance put Arizin on the team and he became the linchpin for some very good teams there. He always led the Philadelphia area in scoring.

Off the court, Paul Arizin was a very, very nice guy. One of the best.

-- Dr. Jack Ramsay
In 1956, Arizin led the Warriors to the league championship. In the 1957-58 season, Arizin reached the 10,000-point mark faster than any player in history to that point. In 713 career games, he finished with 16,266 points, despite losing two years in his prime to the Korean War.
At 34, Arizin retired in 1962 when the Warriors moved to San Francisco. He played three seasons with the Camden Bullets of the Eastern Basketball League. But his name endured in NBA lore, along with the likes of Joe Fulks, as pioneers of the jumper.
"It was strange how I developed that shot," he said in a 1998 interview, according to the Philadelphia Inquirer. "Because they held dances in those gyms, the floors would be very slippery. I couldn't get feet set under me to try a hook shot, so I started shooting with my feet off the floor."
Arizin was named one of the NBA's top 50 players of all time in 1996. He is the fifth member of that group to die, following George Mikan in 2005, Dave DeBusschere in 2003, Wilt Chamberlain in 1999 and Pete Maravich in 1988.
His success in the NBA was a far cry from how his basketball career started. Born in South Philadelphia, Arizin was cut from the LaSalle High School team and played in church and independent leagues before enrolling at Villanova to study chemistry. Coach Al Severance saw him play and offered him a scholarship. He would not regret the decision as Arizin went on to average 20 points per game in his career.
Arizin poured in 25.3 per contest in his senior year and was named The Sporting News player of the year after leading the Wildcats to the NCAA Tournament. That same season he scored 85 points in a game against the Naval Air Material Center. It's still the second-most points scored in a Division I game, behind Frank Selvy's 100 in 1954.
Arizin is survived by his wife, Maureen, four sons, a daughter and 14 grandchildren.
Information from The Associated Press was used in this report.
SPONSORED HEADLINES
MORE NBA HEADLINES
MOST SENT STORIES ON ESPN.COM
EDITORS' PICKS
We count down the best moments of the season so far.
The Ten »

The Cavs have sprung back to expected form.
McMenamin »

Wiggins vs. Parker. Which rookie has the edge?
David Thorpe