In first interview since trade, Iverson tells his story
Updated:
December 22, 2006, 1:05 AM ET
ESPN.com
Allen Iverson says he never demanded a trade, but he's sure happy he landed in Denver.
In his first interview since the Nuggets acquired him from the 76ers, Iverson told ESPN's Stephen A. Smith on Wednesday, "It's a great feeling. I'm just glad the whole process is over. I think I'm just put in a situation where I can succeed."
More from ESPN360
Stephen A. Smith's complete interview with Allen Iverson is available on ESPN360
• Iverson: New Beginnings
Iverson took exception to the perception that he went into Sixers general manager Billy King's office and demanded a trade almost two weeks ago.
"I went into a meeting with Billy and I had expressed my frustrations," Iverson said. "We had lost 12 of 14 games and something wasn't right. I told Billy King we couldn't win with this style. I didn't directly say, 'Trade me -- I'm ready to go.'"
The four-time scoring champion, seven-time All-Star and 2001 league MVP said he told his teammates about the meeting and told them he "loved them."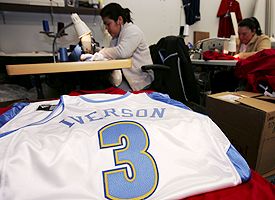 Garrett W. Ellwood/NBAE via Getty ImagesWorkers at Denver Athletic prepare the new official game jersey of Allen Iverson.
But he said the Sixers had to know that, "If they didn't change what was going on so that we had a chance to win, I thought they should get rid of me."
The time surrounding his discussion with King and the weeks after were especially difficult.
"From the last month I didn't feel appreciated at all," Iverson said. "And I still feel that way to an extent. I just knew that any team I went to they were going to appreciate what I can do on a basketball court."
Iverson repeatedly thanked his fans for all of their support, but he appeared relieved to be leaving the Philadelphia sports pressure cooker.
"I love my fans in Philadelphia, but this is the hardest place in the world to play in," Iverson said. "And I think it's the hardest place to play in to be a superstar. Just to be the No. 1 guy. All eyes on you -- because everybody wants you to be perfect, but not themselves."
From his conflicts with coaches to his brushes with the law, Iverson wasn't ready to trade his time in Philly.
"It was a great experience for me -- the ups and downs -- because I became a man in Philadelphia," he said.
Iverson is scheduled to make his Nuggets debut on Friday in Denver against the Kings. The Nuggets were holding out hope that he could play in Wednesday's game, but a snowstorm not only kept Iverson in Philly, but it also forced the postponement of the Nuggets' game against Phoenix.
IVERSON DEALT TO DENVER
How do you replace the NBA's top scorer? By trading for the league's No. 2 scorer. Denver has landed seven-time All-Star Allen Iverson -- sending Andre Miller, Joe Smith and two first-round picks to Philadelphia on Tuesday. The 76ers now have three first-round picks in a deep and talented 2007 draft.
Stories
• A.I. tells Stephen A. he didn't demand trade
• Heat's Riley thinks A.I. will fit in Denver
• Sixers deal Iverson to Nuggets
• Melo mulls suspension appeal
• Fans, Carmelo welcome Iverson
• A.I. scoring East All-Star votes
Analysis
• Stein: Gotta love Nuggets' move
• Sheridan: 76ers could lose pick

• Broussard: A.I. brings fun

• Hollinger: Nuggets can win ring

• Karabell: Fantasy impact
Video
• Iverson: New Beginnings

• A.I. tells his side of story

• Sixers discuss deal

• Karl looks forward to A.I.

• Barkley, Wilbon weigh in

• Karabell: Fantasy impact

• ESPN's Kiki, Sheridan react

• Stephen A.: Good trade
Podcast
• Stephen A. Smith: Win-win trade

• Marc Stein shares details

• Dish: Denver VP Chapman

• Broussard: Good trade for both

• Legler: Philly native's take

• Kiki: Tried to get A.I.

• Sheridan: Melo effect
Interactive
• Vote: Good deal?
Timeline
• A look at Iverson's career

From the archive
• Simmons: Don't question The Answer


MOST SENT STORIES ON ESPN.COM