Iverson makes debut; Smith and Miller out for Sixers
Updated:
December 23, 2006, 12:58 AM ET
Associated Press
DENVER -- Allen Iverson likes playing alongside his new teammates, can't believe how much snow there is in Denver after a recent blizzard and thinks he looks pretty good in a Nuggets uniform.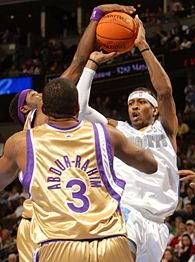 David Zalubowski/AP PhotoIverson generated plenty of excitement from Nuggets fans when he checked in for the first time.
More than anything he's glad his first game with the Nuggets is over, even if it ended in a 101-96 loss to Sacramento on Friday night.
"I just want to come, try to help and try to contribute," said Iverson, who finished with 22 points and 10 assists in more than 39 minutes of play. "I'm a basketball player. I just get on the court and play basketball."
Iverson, acquired from Philadelphia on Tuesday, sat next to assistant coach Mike Dunlap, waiting for Denver coach George Karl to put him in, which he finally did with 3:25 left in the first quarter.
After that, Iverson never came out.
"He said he's going to play me 20 to 25 minutes," said Iverson, who shared a seat at the podium with his 9-year-old son, Deuce, after the game. "Coach knows what type of competitor I am. He just let me play."
He was asked if it felt weird being in a different uniform and he grinned.
"I liked the uniform even when I was playing with the Sixers," he said. "I always said these were the best uniforms in the league. I feel like a kid in the candy store when I got to put it on. I may sound crazy, but I'm used to it already."
Even though he had jet lag and car sickness -- it took him 1 hour, 45 minutes to drive roughly 20 miles from the airport due to traffic -- Iverson said he was energized by the crowd.
"That's all I wanted -- to be welcomed," Iverson said. "And just try to fit in the best way I can and just give the Denver Nuggets all I can give them, giving them everything I've been giving the Sixers for 10 years."
His first basket with the Nuggets was a 13-foot fadeaway with 1:24 left in the first quarter. His first glitzy pass came in the second when he threw a lob to DerMarr Johnson for a slam.
Before the contest, Rocky, the team's mascot, rode out to center court on a motorcycle, took off his Santa coat and revealed Iverson's familiar No. 3 on a Nuggets jersey.
Iverson was able to wear No. 3 thanks to Johnson, who gladly surrendered the jersey once he learned Iverson was coming to town.
"I think No. 3 looks a lot better on him," Johnson said. "He's got a legacy wearing that number. I ain't done much with it."
While the national anthem was sung, there were 15 television and still cameras all in Iverson's face.
Iverson cleared his physical shortly after arriving at the Pepsi Center about an hour before the game against the Kings. He went up to the Nuggets' practice facility to shoot some jumpers and then came out on the floor.
For his first game after a two-week layoff, Karl was impressed.
"He played with passion and courage," Karl said.
Iverson's physical was all that was keeping the blockbuster trade between the Nuggets and 76ers from becoming official. New 76er Andre Miller passed his physical, although Miller wasn't in Boston for Philly's game Friday night.
Sixers coach Maurice Cheeks said the team waived the requirement that Joe Smith take a physical; he was acquired mostly for salary cap purposes. Smith was forced to sit out against the Celtics because of Iverson's delay in getting to Denver.
The Nuggets certainly needed Iverson, with Carmelo Anthony and J.R. Smith out after being suspended for their roles in a brawl with the New York Knicks last weekend and Marcus Camby sidelined with a fractured ring finger on his shooting hand.
Anthony, who's serving a 15-game suspension, said it will be difficult to watch Iverson on television (Anthony can't be in the arena while suspended).
"I said, 'It's going hard for me watching you in a Denver Nuggets uniform when I ain't even out there,"' Anthony said. "He said he'd try to hold it down until me and J.R. and Camby get back."
Iverson can't wait to be paired with Anthony after the suspension.
"Everybody talked about can we coexist?" Iverson said. "I get tired of answering it. My thing is just wait and see. A lot of critics will be wrong. I'm going to play just like I play. I'm going to play hard every game, I'm going to try to play the right way every night. We'll see what happens. Melo's going to be Melo, Allen Iverson is going to be Allen Iverson, the rest of our teammates are going to be themselves. We've got to blend all that into a championship team."

Copyright 2006 by The Associated Press
EDITORS' PICKS
D12's back for the Rockets, backing the Beard.
Watkins »

Why Durant is smart to go for surgery over heroism.
Adande »

Fitting in is Jeremy Lin's biggest challenge now.
Torre »

MOST SENT STORIES ON ESPN.COM