Amaechi deals with whirlwind after announcement
Updated:
February 12, 2007, 6:55 PM ET
Associated Press
NEW YORK -- Five days after becoming the first NBA player to acknowledge his homosexuality, former center John Amaechi said the spotlight has been chaotic.
Amaechi, whose "Man in the Middle" memoir will be released Wednesday, said he has been deluged with phone calls and e-mails from friends and supporters. But Boston Celtics coach Doc Rivers, who coached Amaechi in Orlando, has been the only one from the league to reach out to him.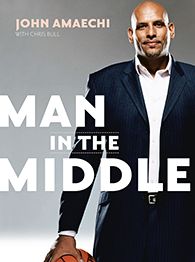 ESPN Books puts out John Amaechi's story on Feb. 20.
"I've just been caught up in the whirlwind at the moment," Amaechi said in an interview with The Associated Press.
He said he hoped his coming out would be a catalyst for intelligent discourse and took a measured approach to NBA players' reactions.
"I think they illustrate the diversity of opinion," Amaechi said. "Some of them illustrate a great deal of naivete, and an oversimplification of the issue. And some of them don't speak with much thought at all.
"But there are some really well-spoken, provocative things that people have said that are positive. And they should be added to the conversation."
Amaechi has also listened to some criticize him for coming out now, rather than when he was a player.
"I know that perhaps that would have been more impactful," he said, but added he was afraid to have his dream of playing in the NBA taken away.
"I worked really hard to get where I was. I started playing basketball when I was 17 in a country that doesn't play basketball. I was a fat kid that sat in the corner of the library, and six years later I was starting for the Cleveland Cavaliers. I left my family, my mother, when she was very sick with cancer, to do this thing.
"I thought I deserved to have my full shot at being a part of the NBA."
Amaechi, 36, who was raised in England, competed for Penn State, then played in 301 NBA games over five seasons. The 6-foot-10 center averaged 6.2 points and 2.6 rebounds. He began his career in Cleveland, spent a few years playing in Europe and rejoined the NBA in 1999. A starter for the Orlando Magic from 1999-01, he then played two seasons for the Utah Jazz. The team then traded him to Houston, which traded him to the New York Knicks. When the Knicks waived him in January 2004, he retired.
Now, Amaechi said he hoped to inspire high-level personalities to come out as straight allies.
"I don't think it's realistic to expect that," he said. "But I think if we work with them they will."
He's been so busy he didn't realize at least one already had.
"When you do something that the whole world thinks is difficult and you stand up and just be who you are and take on that difficulty factor, you're an American hero no matter what," Dallas Mavericks owner Mark Cuban told the Fort Worth Star-Telegram. "That's what the American spirit's all about, going against the grain and standing up for who you are, even if it's not a popular position."
Amaechi allowed a smile to wash over his face.
"He just became my friend," Amaechi said.

Copyright 2007 by The Associated Press
SPONSORED HEADLINES
MORE NBA HEADLINES
MOST SENT STORIES ON ESPN.COM
AMAECHI COMES OUT
John Amaechi, who played center for five seasons in the NBA with Orlando, Utah and Cleveland, comes out in his book titled "Man in the Middle," released by ESPN Books.
Story
ESPN THE MAGAZINE
• Amaechi book excerpt
• Le Batard: Amaechi set free

REACTION
• 'I underestimated America'
• Amaechi in whirlwind
• Mavs owner: Amaechi a hero
• Weekend Dime: Hot topic
• Billy Bean: Thank you
• NBA Local: Player reaction
• NBA Local 2: More reaction
• Hardaway lashes out

VOICES
• Broussard: Different POV
• Mark Jackson's take

• Granderson: Not impressed
• Pearlman: Want the truth?
MOTION
• Amaechi interview


• Charles Barkley on PTI


• Player reaction


• Gay athletes in pro sports


• Hardaway's harsh words