Parker, Longoria exchange vows; celebrity wedding still to come
Updated:
July 6, 2007, 9:10 PM ET
Associated Press
PARIS -- NBA Finals MVP Tony Parker married "Desperate Housewives" star Eva Longoria in a civil ceremony Friday, kicking off a weekend wedding extravaganza expected to include church vows and a star-studded chateau bash.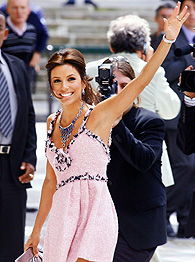 AP Photo/Michel SpinglerEva Longoria arrives at Paris City Hall, where she wedded the Spurs' Tony Parker in a civil ceremony Friday. She reportedly changed into a white dress for the wedding, officiated by the mayor of Paris.
About 40 guests, including French soccer player Thierry Henry and some of Parker's San Antonio Spurs teammates attended the 45 minute ceremony, held in the town hall of Paris' fourth district.
Paris Mayor Bertrand Delanoe officiated and gave a speech praising the couple's choice to wed in the City of Light, and called Parker a model in the fight against racism, said Dominique Bertinotti, the district mayor.
The couple arrived separately -- she with a gaggle of girlfriends in a white stretch limo and he with a group of towering ball players in a pearl gray Mercedes minivan.
Longoria, wearing a pink Chanel mini dress and towering silver heels, arrived first and turned to wave and smile at the crowd of hundreds of waiting photographers, reporters and fans -- kept well back behind two rows of police barriers. Her guests, wearing white, cream, pink and purple dresses, carried small shopping bags from the French luxury label.
Longoria then changed into a short white dress for the ceremony, said Bertinotti -- whose office acted as the dressing room.
Parker, a 25-year-old guard who was born in Belgium and grew up playing basketball in France, arrived about 10 minutes later. He and his entourage, which included fellow French players Boris Diaw of the Phoenix Suns and the Los Angeles Lakers' Ronny Turiaf, went right in without waving.
A friend of Parker's helped translate the ceremony, which was held in a salon with blue-and-white trimmed walls, a French flag and a portrait of French President Nicolas Sarkozy. It was followed by a small reception that lasted about 45 minutes, Bertinotti said.

Copyright 2007 by The Associated Press
EDITORS' PICKS
Who's the NBA MVP? Our experts dissect a wide-open race.
5-on-5 »

PG a bad fit?

Does Michael Carter-Williams belong with the NBA's best sophomores?
David Thorpe

MOST SENT STORIES ON ESPN.COM