Reports: Durant beats out Horford for rookie of the year
Updated:
May 1, 2008, 1:56 AM ET
ESPN.com news services
Seattle SuperSonics guard Kevin Durant will be named NBA Rookie of the Year, the Seattle Times and The Associated Press reported.
Super Sonic

Nineteen-year-old Kevin Durant will become the first Sonics player to win rookie of the year honors. His points per game were third best among rookies in the past 10 years.
Durant's 2007-08 Season
Averages
Rookie rank
Points
20.3
1st
FG Pct.
43.0
3rd
Rebounds
4.4
8th
Assists
2.4
1st
* Ranks reflect minimum 70 games.
Durant, who led all first-year players in scoring, assists and free-throw percentage, reportedly beat out Atlanta Hawks forward Al Horford to become the first rookie of the year in Seattle franchise history. The NBA is expected to officially announce the award on Thursday.
Durant averaged 20.3 points per game in 2007-08 -- the highest scoring average for a rookie since Carmelo Anthony averaged 21 points per game and LeBron James averaged 20.9 ppg in 2003-04. Only three of the past 10 rookies of the year -- Durant, James and Elton Brand -- have averaged at least 20 points in their first season.
Among qualifiers, Durant also was the first rookie to lead his team in scoring since the 2004-05 season, when both Charlotte's Emeka Okafor and Atlanta's Josh Childress led their teams in scoring.
Durant became the favorite to win the award when No. 1 draft pick Greg Oden was forced to miss the entire season following microfracture knee surgery.
Horford averaged 10.1 points and 9.7 rebounds, helping the Hawks back to the NBA playoffs for the first time in nine years.
Durant experienced the typical rookie struggles early on. He took rushed and challenged shots at times, dropping his shooting percentage.
But as the season progressed, Durant's confidence grew even as the team stumbled through the worst season in franchise history. Durant averaged 21.8 points and shot nearly 53 percent in March. He capped his rookie season by averaging 24.3 points in his final eight games. Durant scored the winning points in what could have been the Sonics' final home game in Seattle, a 99-95 win over Dallas, then followed up with a career-best 42 points in the Sonics' season finale against Golden State.
All those numbers came in a season where the Sonics won just 20 games, often overshadowed by the off-court battles over where the team will play in the future.
The Associated Press contributed to this report.
NBA Rookie 50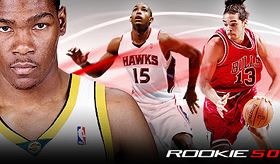 Editor's note: During the regular season, Scouts Inc.'s David Thorpe ranked the rookies and provided observations on the celebrated class.
Check out Thorpe's final Rookie 50 rankings.
Thorpe's Weekly Reports
•
4/16: The top 10 rookies in 2007-08
•
4/08: Stuckey cracks the top 10
•
3/26: Durant, Horford both enjoying March
•
3/19: Hornets' Wright creating some buzz
•
3/12: Scola takes over No. 1 spot
•
3/05: Houston's Landry lands in top 10
•
2/27: Thornton climbs into Top 5
•
2/20: Breaking down Durant and Horford
•
2/13: Who's hot heading into the break?
•
2/06: Who needs to stop chucking?
•
1/30: Noah's rising, Durant's struggling
•
1/23: Navarro, Noah making noise
•
1/16: Conley makes appearance in Top 10
•
1/09: Which players are hitting the wall?
•
1/02: Young, Green, Stuckey showing signs