Bulls, Collins have no announcement of deal; Harper wants to join Bulls
Updated:
May 30, 2008, 8:32 PM ET
Associated Press
CHICAGO -- Doug Collins' second tenure as Chicago Bulls coach may be coming, but there was no announcement as of Friday evening.
The Bulls and Collins, who coached a young Michael Jordan and Scottie Pippen before the 1990s dynasty took off, acknowledged Thursday discussing a return engagement. The sides also said there would be more talks once Collins' obligations with TNT ended, which happened when the Los Angeles Lakers eliminated the San Antonio Spurs in the Western Conference finals that night.
And Collins was adamant during a pregame interview with TNT: "I have not been offered. I have not accepted."
On Friday, general manager John Paxson did not return a call to his cell phone, and Collins' representative John Langel declined comment. A message seeking comment was left Friday night on Collins' cell phone.
The Bulls have had a vacancy since interim coach Jim Boylan was fired at the end of a disappointing 33-49 season. Boylan replaced Scott Skiles in December after Chicago got off to a slow start following three straight playoff appearances.
Collins has a 332-287 record and was 137-109 with the Bulls from 1986-89, when Jordan and Pippen couldn't get by the Detroit Pistons. He was fired after leading Chicago to the Eastern Conference finals, Phil Jackson replaced him, and the Bulls went on to win six championships in the 1990s. Collins later coached Detroit and Washington, where he was reunited with Jordan.
If Collins does return to Chicago, he won't have the game's greatest player. But he will have the No. 1 draft pick if the Bulls don't trade it.
While both sides kept quiet, one former Chicago player made it clear he would like to serve as Collins' assistant: Ron Harper.
"There are all these jobs out there," said Harper, who won three championships with the Bulls. "There are none like being at home again. They have a good young team there. They have a good head basketball coach."
Harper, who never played for Collins, kept referring to him as the Bulls' head coach even though there was no announcement.

Copyright 2008 by The Associated Press
THE RETURN OF DOUG COLLINS?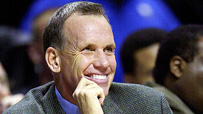 The lure of a talented young team that owns the No. 1 pick in the NBA draft reportedly was enough to bring Doug Collins back to Chicago. However, after a week of discussions, he and Bulls owner Jerry Reinsdorf decided Collins would not be back on the Bulls' sidelines.
June 6
|
May 29
•
Hollinger: Collins doesn't look like good fit
•
Wojciechowski: Bull's-eye squarely on Paxson
•
TrueHoop: This pick makes me nervous
SportsNation
•
Your take on Collins
Watch
•
Bucher: Hire generates buzz
•
A good hire?
Podcasts
•
Will Perdue, Horace Grant on challenges ahead
•
Waddle & Silvy: Paxson misses better choices
•
Waddle & Silvy: Short-term solution
•
Waddle & Silvy: Listener weary of recycling
•
Waddle & Silvy: Listener approves of choice
•
Waddle & Silvy: Here to groom successor?
•
Waddle & Silvy: Right assistant key

MOST SENT STORIES ON ESPN.COM