Red Sox laud NBA champion Celtics with pregame ceremony
Updated:
June 20, 2008, 11:39 PM ET
Associated Press
BOSTON -- A fast-moving thunderstorm didn't dampen the Fenway Park fans' spirit for the NBA champion Boston Celtics on Friday night.
[+] Enlarge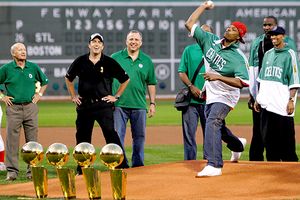 AP Photo/Charles KrupaCeltics forward Paul Pierce throws out a ceremonial first pitch Friday before the Red Sox host the Cardinals.
Honored during a brief pregame ceremony as heavy rain was falling, the NBA champs -- atop three duck boats -- entered from center-field and circled Fenway to a standing ovation, a shortened scene from their parade through downtown on Thursday.
With the Red Sox players wearing green jerseys usually reserved for St. Patrick's Day during spring training in Florida, the Celtics brought the NBA championship trophies from four seasons to Fenway. The players wore their warmups, with Paul Pierce and Kevin Garnett leading their teammates with pumping fists and waves to a crowd as the rain was pouring and the grounds crew was putting the tarp on the field.
The Red Sox also had their grounds crew cut out a shamrock in the center-field grass before the game.
After about an hour delay due to the rain, the champions were reintroduced and came running in from center field, with Finals MVP Pierce sliding into the second.
Pierce then took the mound to chants of "MVP" before firing a high and hard first pitch that tipped off the glove of leaping catcher Jason Varitek.
Coach Doc Rivers then said "Play ball!" before the Red Sox took the field for their 5-4 loss to St. Louis, which began after a one-hour, 14-minute delay.
On the center-field scoreboard, a brief video tribute was played before they rode out with Queen's "We are the Champions" playing in the background. The team brought their trophies from this season, 1981, '84 and '86, four of the NBA-leading 17 the franchise has captured.
Former Celtics Jo Jo White and Cedrick Maxwell also were in attendance.
A few minutes after it was over, a large rainbow was shining in the distance.

Copyright 2008 by The Associated Press
SPONSORED HEADLINES
MORE NBA HEADLINES
MOST SENT STORIES ON ESPN.COM
2008 NBA FINALS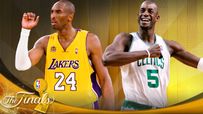 And then there were two -- the Lakers and Celtics. Who will win the NBA Finals? Let the games begin.
Finals schedule | Playoff bracket | Playoff home
Daily Dime
•
Celtics win 17th championship title
•
Did C's lose Regret Game?
•
A little help from Kobe's friends
•
Time for L.A. to go small
•
The Finals Can't Shake Donaghy Mess
•
Unlikely Game 4 comeback gives C's 3-1 lead
•
Rondo's ankle could change L.A.'s game plan
•
Kobe leads Lakers to Game 3 win
•
Lakers need to attack the paint
•
Lakers learn Powe's name in Game 2
•
Time for Gasol to step up
•
Lakers need better defense in Game 2
•
Pierce sparks Celtics in Game 1 victory
•
Expert predictions, clutch stats
•
Pierce loves playing Lakers
•
Celtics to meet L.A. in the Finals
Lakers vs. Celtics
•
Stein: Q&A after six-game "sweep"
•
MacMullan: Pierce's long road to greatness
•
Hollinger: From camp to champs
•
Stein: Boston's big three shine
•
Adande: Questions loom over Lakers' future
•
Hollinger: Celtics commit to defense
•
Scouts Inc.: Game 6 breakdown
•
Hollinger: Farmer steps up in Game 5
•
Sheridan: Late-game letdown for Celtics
•
Stein: Lakers ready to make history?
•
Adande: Greatness eluding Phil and Kobe
•
MacMullan: Doc adheres to dad's lessons
•
Jackson: Time for L.A.'s concession speech?
•
Stein: Game 4 not Kobe's finest hour
•
Adande: KG dominates Gasol again
•
Hollinger: Rivers makes all the right moves
•
Hill: Kobe's Laker legacy on the line
•
Hollinger: Vujacic lends helping hand in Game 3
•
Jackson: Jump shot Jesus has returned
•
Stein: Lakers need to earn sympathy
•
Adande: Lakers feel foul over whistle disparity
•
Jackson: Leading role suits Pierce
•
Adande: Kobe turns away from the pass late
•
Stein: Pierce's knee key to rest of series
•
Finals factor 1: Kobe Bryant
•
Finals factor 2: Celtics Defense
•
Finals factor 3: Paul Pierce
•
Finals factor 4: Home-court advantage
•
Finals factor 5: Battle of the benches
•
Hollinger: Lakers offense vs. Celtics defense
•
Broussard: Turning back the clock

•
Adande: How did Kobe get here?
•
Scouts Inc. breakdown: Lakers vs. Celtics
•
Coaching comparison: Red vs. Phil
•
Smith: Kobe's moving forward
•
Scoop: Fiendin' for a ring
•
Top 10 moments of Lakers-Celtics rivalry
•
ESPN Classic schedule: Relive the rivalry
TrueHoop
•
TrueHoop: Finals reflections
•
TrueHoop: Doc Rivers' redemption
•
TrueHoop: Lakers got Rondo'd
•
Tough night for Allen
•
Game 5 live blogging
•
Laker nation vs. NBA refs
•
Pierce and the evaporating knee story
•
Game 2 live blogging
•
Coaxing Kobe Bryant into hero mode
•
Game 1 live blogging
•
Today's game isn't so different
Simmons
•
Notes from the C's winning night
•
Boston's X factors
•
Game 4 running diary
•
Time for NBA Finals answers
•
The C's and city both look good
•
The Truth comes out in Game 1
•
NBA Finals forecast
•
Chat: NBA Finals preview
•
Simmons: You want a piece of Kobe, Boston?
ESPN The Magazine
•
Sporting Equivalency: NBA Finals meets hip hop
•
Broussard: Reporting from the NBA Finals
Fantasy
•
Join the fun of NBA Finals: Playcaller
Audio
•
Dish: NBA Finals recap
•
Wyc Grossbeck on C's championship
•
Ray Allen on how the Celtics evolved
•
Bob Ryan compares '86 C's to current one
•
Jon Barry credits Tom Thibodeau's team defense
•
Game 4 reactions
•
Rajon Rondo on Pierce, Game 2 plans
•
Bill Walton on Celtics-Lakers history
•
Dr. J on Finals, '80s hoops