Davis considers options after passing up $17.8M Warriors option
Updated:
July 7, 2008, 12:28 AM ET
By
Marc Stein
| ESPN.com
In his first public statement on his unexpected foray into free agency, Baron Davis acknowledged Tuesday that he is considering a free-agent move to his hometown Los Angeles Clippers but insisted that his preference remains staying with the Golden State Warriors.
Communicating with ESPN.com's J.A. Adande via e-mail, Davis wrote: "Clipps r possible. G State is where I wanna b."
Davis surprised the Warriors on Monday by forfeiting next season's $17.8 million salary for the right to become an unrestricted free agent, after numerous indications from the Davis camp that he was not likely to opt out.
Elton Brand likewise opted out of next season's $16.4 million salary with the Clippers on Monday to join Davis as an unrestricted free agent, creating a scenario in which L.A. could have in excess of $25 million for the 2008-09 campaign to split between the two of them, so long as the Clippers are willing to renounce their rights to unrestricted free agent Corey Maggette and able to convince Brand to take a slight pay cut.

Davis
Maggette also opted out of his contract Monday after averaging 22.1 points per game this past season.
But Davis' statement Tuesday suggests that he is hoping his decision to opt out will convince the Warriors to return to the negotiating table after making little progress with Golden State in pursuit of a contract extension before NBA free agency commenced at 12:01 a.m. Tuesday.
NBA teams are permitted to commence negotiations and strike verbal agreements with free agents, with actual signings and trades on hold until a leaguewide moratorium is lifted July 9.
Brand and agent David Falk insisted that their decision to forfeit next season's $16.4 million salary and allow Brand to become an unrestricted free agent for the first time in his career was designed to give the Clippers more payroll flexibility to strengthen the team around the face of its franchise.
Falk told ESPN.com that a visit to Boston for Game 2 of the NBA Finals to see the Celtics' triumvirate of Paul Pierce, Kevin Garnett and Ray Allen was Brand's spark.
"He watched what happened when a few stars get together and agree to have a communal effort," Falk said. "He said, 'That's what I'd like to accomplish in my career.'"
Signing Davis away from the Warriors would certainly supply the Clippers with elite anchors in the backcourt as well as the front line, provided that Davis continues to stay healthy after playing all 82 games this past season and if Brand continues to recover from an Achilles tear that limited him to just eight games in 2007-08.
Production Baron

Baron Davis' game has been on the upswing since his first full season with Golden State in 2005-06 -- from 17.9 points per game to 20.1 to 21.8 last season, when he played in all 82 games.
18 and 8 averages, since 2005-06

| | | |
| --- | --- | --- |
| | Points | Assists |
| Baron Davis, Warriors | 20.2 | 8.1 |
| Chris Paul, Hornets | 18.2 | 9.5 |
| Steve Nash, Suns | 18.1 | 11.0 |
Davis, 29, was the key figure on a Golden State team that halted a 12-season playoff drought in 2006-07 and produced a historic first-round upset of the 67-win Dallas Mavericks in the 2007 playoffs. He then averaged 21.8 points, 7.6 assists and 4.7 rebounds playing every game this past season, but the Warriors just missed out on a second consecutive playoff berth despite a win total (48) exceeded by only three teams in the Eastern Conference.
Davis has repeatedly professed his desire to establish long-term roots in Oakland and responded angrily last Wednesday to suggestions that he wanted to be traded, telling ESPN.com: "I know what's in my heart and the people in the Bay Area know what's in my heart."
But it's believed that Davis is not only frustrated by his inability to reach a long-term agreement with the Warriors but also somewhat unsettled by the fact that Golden State still must re-sign young cornerstones Monta Ellis and Andris Biedrins and has coach Don Nelson under contract for only one more season.
"[Opting out] was a difficult decision, to say the least," Ramasar said. "The past couple years, he's had a lot of success with the Warriors, and I think they've had a lot of success with him.
"But he had gotten to the point that we were at a crossroads and it was something we had to address. ... With no extension or deal in place ... [opting out] was a bit unexpected but something that I advised Baron to do."
The Clippers appear to be the only realistic free-agent destination for Davis if his opt-out gamble doesn't lead to a new round of contract negotiations with the Warriors or if he can't convince Golden State to participate in a sign-and-trade. Memphis and Philadelphia are the only other teams with cap space to offer, and neither is expected to pursue Davis.
The Warriors, meanwhile, weren't commenting Monday night, so it was not immediately known whether they plan to return to the negotiating table or if they're willing to let Davis go -- despite Golden State's success since pairing Davis with the freewheeling Nelson -- and press ahead with their growing youth movement and the cap space that would be created by Davis' departure.
Golden State let a $9.9 million trade exception -- created by the 2007 draft-day deal that sent Jason Richardson to Charlotte -- expire Monday in part to ensure that it would retain the flexibility beneath the luxury-tax line to match any offers to restricted free agents Ellis and Biedrins. The Warriors also have stockpiled a promising group of youngsters behind those two 22-year-olds: Brandan Wright, Marco Belinelli and last week's first-round pick, Anthony Randolph of LSU.
Marc Stein is the senior NBA writer for ESPN.com. To e-mail him, click here.
Senior Writer, ESPN.com
• Senior NBA writer for ESPN.com
• Began covering the NBA in 1993-94
• Also covered soccer, tennis and the Olympics
FREE AGENCY 2008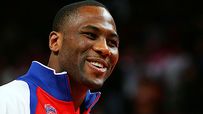 The NBA offseason has been busier than expected, thanks in part to Elton Brand's joining the 76ers. Keep up with the latest moves.
Transactions
News
•
George's deal with Mavs made official
•
Brown returns to New Orleans to back up Paul
•
Veteran Finley re-signs with Spurs
•
Nuggets re-sign Smith to multiyear deal
•
Miles signs with champion Celtics
•
George, Mavs agree to two-year deal
•
Clips re-sign free-agent center Paul Davis
•
Iguodala signs six-year deal with Sixers
•
Sources: 76ers, Iguodala agree to multiyear deal
•
Hawks match Grizzlies' $58M offer, retain Smith
•
Heat's Williams reaches terms with Clippers
•
Bobcats' Boykins signs European contract
•
Restricted free agent Williams re-signs with 76ers
•
Cavs shore up backcourt, sign ex-Grizzly Kinsey
•
Arroyo signs with Maccabi Tel-Aviv
•
Ex-Clipper draftee Skinner signs deal with team
•
Bulls sign Deng to six-year extension
•
Sources: Deng, Bulls on verge of deal
•
Hawks sign ex-Magic G Evans to contract
•
Sources: Okafor, Cats agree on new deal
•
Nets lose Krstic to Moscow team
•
Clippers sign swingman Davis from Heat
•
Vujacic officially signs multiyear deal with Lakers
•
Agent: Brown, Pistons agree to deal
•
Warriors re-sign Biedrins to 6-year, $62M deal
•
Sources: Biedrins, Warriors agree to 6-year deal
•
Wolves agree to deal with Gomes
•
Lakers, Vujacic agree to 3-year, $15 million deal
•
Ellis inks $67 million deal to stay with Warriors
•
Summer star Roberson signs with Knicks
•
Andersen bolts Hornets to return to Denver
•
Telfair re-signs with Timberwolves
•
Childress leaves NBA for Greece
•
Spurs re-sign Kurt Thomas
•
Suns sign ex-Warrior Barnes to one-year deal
•
Turiaf to play for Warriors
•
Jazz, Williams agree to 4-year extension
•
Sources: Clippers, Azubuike agree to offer sheet
•
Bucks add veterans Allen, Lue
•
Posey agrees to 4-year deal with Hornets
•
Arenas signs six-year deal with Wiz
•
Mason's hard work pays off in contract with Spurs
•
Wright re-signs with Mavericks
•
Clippers officially sign Davis to multiyear contract
•
Family ties: Brent is 3rd Barry to play for Rockets
•
Warriors ink forward Maggette to deal
•
Magic sign, introduce ex-Warrior Pietrus
•
Nets agree to terms with forwards Najera, Hayes
•
Sixers give frontline big boost, sign Brand to deal
•
Agent: Bucks to sign Bogut to $60M extension
•
Diop rejoins Mavs on 5-year, $31M contract
•
Gasol in Memphis: Marc, not Pau, signs contract
•
Kings re-sign point guard Udrih to five-year deal
•
Heat sign 3-point specialist Jones to 5-year deal
•
Sources say Brand will sign with 76ers
•
Sources: NBA cap at $58.68 million
•
Sources: 76ers confident of getting Brand
•
Sixers making run at Brand
•
Hawks free agent Smith visits 76ers
•
Brand opts out, and Clippers await decision
•
Calderon reaches agreement on new Raps deal
•
Wizards hang on to Jamison
•
Reports: Arenas agrees to six-year contract
•
For 2nd year in row, Cats, Okafor to discuss deal
•
Artest not opting out of final year of deal
•
Paul agrees on four-year, $68M deal
•
Davis leaving Warriors for Clippers
•
Free Agents:
2008
|
2009 and 2010
Analysis
•
Hollinger: Hornets pay heavily for Posey's ring
•
Martin: Najera's 3-point skills help seal Nets deal
•
Stein: Which teams in hot pursuit of free agents?
•
Adande: Why Brand left the Clippers
•
Broussard: Crushing blow for Clippers
•
Arnovitz: Clipper Nation in world of hurt
•
Adande: Brand's departure is business as usual
•
Hollinger: Brand new Sixers are East challengers
•
Hollinger: Five big questions on free agents
•
Stein: Davis verbally agrees to go to Clippers
•
Broussard: The Clippers' other free agent
•
TrueHoop: What is Corey Maggette Worth?
Podcast
•
Stein on Elton Brand and Baron Davis
•
Hollinger on players who may switch teams
•
Broussard on the money given to Arenas
•
Sheridan on Brand, Davis, Artest and Smith
Video
•
Bucher on how the Brand deal got done
•
Bucher on the latest NBA news
•
Arenas agrees to six-year extension


MOST SENT STORIES ON ESPN.COM