Artest says it was a 'mistake' not to opt out of deal with Kings
Updated:
July 7, 2008, 12:26 AM ET
By
Marc Stein
| ESPN.com
After seeing Elton Brand and Baron Davis unexpectedly put themselves on the free-agent market, Sacramento Kings forward Ron Artest is second-guessing himself for not doing the same.
Artest told ESPN.com on Tuesday that he wishes now he had opted for unrestricted free agency, like Brand and Davis, instead of electing to play out the final year of his contract with the Kings next season at $7.4 million.

lastName
Artest also conceded that his long-term future is likely not in Sacramento, saying via e-mail: "I don't see myself with [the] Kings beyond 2008-09."
"I think I made the biggest mistake by staying in my contract and I have to live with it," Artest said. "I had some misleading information [in making the] decision on not opting out. [But] I still thank God for all his blessings and being able to play basketball and help people."
Artest let his opportunity to become a free agent pass Monday as he had been vowing to do for weeks. But he apparently did so believing that the Kings would considering signing him to an extension this summer, even though there have been no clear indications from Kings management that it was prepared to make that offer.
The 28-year-old was also apparently convinced that he'd likely only generate contract offers this summer starting at the mid-level exception, which was $5.4 million last season. So putting off free agency until next summer, Artest reasoned, would increase his chances of securing a long-term deal from either the Kings or someone else if he could produce a big 2008-09 season.
Before announcing his decision, Artest said last week: "Even if I was to opt out, which probably won't happen, I will never accept a mid-level exception. So people trying to figure out possibilities should get that out of their heads."
But by declining to walk away from the final year of his current contract -- and thus surrendering the right to choose a new team -- Artest might actually have increased the likelihood that he winds up playing elsewhere between now and next February's trading deadline.
At what amounts to an expiring contract valued at less than $8 million, Artest has a very tradeable salary in spite of any concerns about his controversial past.
The Kings seriously explored the market for Artest at the February trading deadline, most notably in talks with the Denver Nuggets.
The Los Angeles Lakers have been widely expected to revisit past trade interest in Artest, given Artest's friendship with Lakers star Kobe Bryant and after L.A.'s toughness and defense were subjected to heavily criticism during the NBA Finals. It's also presumed that Lakers coach Phil Jackson would be an ideal boss for the mercurial swingman, but trades between teams from the same division -- especially teams that have the contentious history that the Lakers and Kings share -- are always complicated.
The Kings far exceeded most preseason forecasts by posting a 38-44 record under rookie coach Reggie Theus. Artest had one his best statistical seasons -- averaging 20.5 points, 5.8 rebounds and 3.5 assists in 57 games -- and has claimed often that the Kings would have been right there with the eight 50-win teams in the West if not for the injuries suffered by leading scorer Kevin Martin and ex-Kings guard Mike Bibby as well as the 25 games Artest lost to injury and suspension. Artest missed the first seven games of the season serving a seven-game league ban after a no-contest plea to infliction of injury on his wife.
That was the latest transgression in a career full of missteps -- a list that most notably includes Artest's suspension for the remainder of the season for his role in the infamous Detroit Pistons-Indiana Pacers brawl in November 2004 -- but Artest has been actively working to address doubts about his reliability. He is heavily involved with the NBA Players Association's humanitarian efforts in Africa and elsewhere abroad, signed on this season as a spokesman for PETA (People for the Ethical Treatment of Animals) and has volunteered in recent weeks to do television work for the WNBA's Sacramento Monarchs, who are likewise operated by Kings owners Joe and Gavin Maloof.
Artest also unsuccessfully reached out to USA Basketball officials earlier this month in a bid to convince them to consider him as an 11th-hour candidate for this summer's China-bound Olympic team.
"My basketball skill and my character and community work speaks for itself," Artest said. "I believe in them and believe it can work for an organization."
Marc Stein is the senior NBA writer for ESPN.com. To e-mail him, click here.
Senior Writer, ESPN.com
• Senior NBA writer for ESPN.com
• Began covering the NBA in 1993-94
• Also covered soccer, tennis and the Olympics
SPONSORED HEADLINES
MORE NBA HEADLINES
MOST SENT STORIES ON ESPN.COM
FREE AGENCY 2008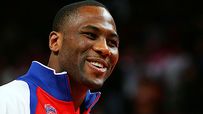 The NBA offseason has been busier than expected, thanks in part to Elton Brand's joining the 76ers. Keep up with the latest moves.
Transactions
News
•
George's deal with Mavs made official
•
Brown returns to New Orleans to back up Paul
•
Veteran Finley re-signs with Spurs
•
Nuggets re-sign Smith to multiyear deal
•
Miles signs with champion Celtics
•
George, Mavs agree to two-year deal
•
Clips re-sign free-agent center Paul Davis
•
Iguodala signs six-year deal with Sixers
•
Sources: 76ers, Iguodala agree to multiyear deal
•
Hawks match Grizzlies' $58M offer, retain Smith
•
Heat's Williams reaches terms with Clippers
•
Bobcats' Boykins signs European contract
•
Restricted free agent Williams re-signs with 76ers
•
Cavs shore up backcourt, sign ex-Grizzly Kinsey
•
Arroyo signs with Maccabi Tel-Aviv
•
Ex-Clipper draftee Skinner signs deal with team
•
Bulls sign Deng to six-year extension
•
Sources: Deng, Bulls on verge of deal
•
Hawks sign ex-Magic G Evans to contract
•
Sources: Okafor, Cats agree on new deal
•
Nets lose Krstic to Moscow team
•
Clippers sign swingman Davis from Heat
•
Vujacic officially signs multiyear deal with Lakers
•
Agent: Brown, Pistons agree to deal
•
Warriors re-sign Biedrins to 6-year, $62M deal
•
Sources: Biedrins, Warriors agree to 6-year deal
•
Wolves agree to deal with Gomes
•
Lakers, Vujacic agree to 3-year, $15 million deal
•
Ellis inks $67 million deal to stay with Warriors
•
Summer star Roberson signs with Knicks
•
Andersen bolts Hornets to return to Denver
•
Telfair re-signs with Timberwolves
•
Childress leaves NBA for Greece
•
Spurs re-sign Kurt Thomas
•
Suns sign ex-Warrior Barnes to one-year deal
•
Turiaf to play for Warriors
•
Jazz, Williams agree to 4-year extension
•
Sources: Clippers, Azubuike agree to offer sheet
•
Bucks add veterans Allen, Lue
•
Posey agrees to 4-year deal with Hornets
•
Arenas signs six-year deal with Wiz
•
Mason's hard work pays off in contract with Spurs
•
Wright re-signs with Mavericks
•
Clippers officially sign Davis to multiyear contract
•
Family ties: Brent is 3rd Barry to play for Rockets
•
Warriors ink forward Maggette to deal
•
Magic sign, introduce ex-Warrior Pietrus
•
Nets agree to terms with forwards Najera, Hayes
•
Sixers give frontline big boost, sign Brand to deal
•
Agent: Bucks to sign Bogut to $60M extension
•
Diop rejoins Mavs on 5-year, $31M contract
•
Gasol in Memphis: Marc, not Pau, signs contract
•
Kings re-sign point guard Udrih to five-year deal
•
Heat sign 3-point specialist Jones to 5-year deal
•
Sources say Brand will sign with 76ers
•
Sources: NBA cap at $58.68 million
•
Sources: 76ers confident of getting Brand
•
Sixers making run at Brand
•
Hawks free agent Smith visits 76ers
•
Brand opts out, and Clippers await decision
•
Calderon reaches agreement on new Raps deal
•
Wizards hang on to Jamison
•
Reports: Arenas agrees to six-year contract
•
For 2nd year in row, Cats, Okafor to discuss deal
•
Artest not opting out of final year of deal
•
Paul agrees on four-year, $68M deal
•
Davis leaving Warriors for Clippers
•
Free Agents:
2008
|
2009 and 2010
Analysis
•
Hollinger: Hornets pay heavily for Posey's ring
•
Martin: Najera's 3-point skills help seal Nets deal
•
Stein: Which teams in hot pursuit of free agents?
•
Adande: Why Brand left the Clippers
•
Broussard: Crushing blow for Clippers
•
Arnovitz: Clipper Nation in world of hurt
•
Adande: Brand's departure is business as usual
•
Hollinger: Brand new Sixers are East challengers
•
Hollinger: Five big questions on free agents
•
Stein: Davis verbally agrees to go to Clippers
•
Broussard: The Clippers' other free agent
•
TrueHoop: What is Corey Maggette Worth?
Podcast
•
Stein on Elton Brand and Baron Davis
•
Hollinger on players who may switch teams
•
Broussard on the money given to Arenas
•
Sheridan on Brand, Davis, Artest and Smith
Video
•
Bucher on how the Brand deal got done
•
Bucher on the latest NBA news
•
Arenas agrees to six-year extension