Davis verbally agrees to go to Clippers, leave Warriors
Updated:
July 7, 2008, 12:53 AM ET
By
Marc Stein
| ESPN.com
The Los Angeles Clippers, for perhaps the first time in their tumultuous history, will soon have a player whose popularity around town is in the same zip code as Kobe Bryant's.
The Clippers commemorated the first full day of the 2008 free-agent season Tuesday by reaching a verbal agreement with homegrown point guard Baron Davis on a five-year contract worth an estimated $65 million, according to NBA front-office sources.
L.A.'s long-suffering other team is expected to reach a similar verbal agreement to re-sign face of the franchise Elton Brand as soon as Wednesday, setting up the Clippers for two major announcements on July 9, which is the first day NBA teams can officially complete free-agent signings and trades after a leaguewide moratorium on roster moves is lifted.
The Associated Press reported Tuesday night that Davis was already speaking about the Warriors in the past tense before attending the private Bay Area premiere of the documentary, "Made in America," which Davis' production company made about gang life in his native L.A.
Fast Facts

• Baron Davis averaged 21.8 points per game last season for the Warriors. The only Clippers guard to average that for a full season since the team moved to L.A. was Derek Smith, who put up 22.1 PPG in 1984-85, the Clippers first season in L.A.
• Think the Clippers need a little stability in the backcourt? They had eight different players start at the two guard positions last season. Davis played in all 82 games for the Warriors.
• Davis joins Glenn Rice (2003), Kevin Duckworth (1996) and Jamaal Wilkes (1985) as the only former All-Stars to join the Clippers. None went on to be an All-Star with Los Angeles, however.
-- ESPN Research
"It's tough, but you have to do what's best," Davis said. "You have to do what's fair. I'm happy with where I'm going. A big reason is because of the impact and the things that I can do going forward. I knew I could have done them here and created all kinds of good things and positive things in the community, and ultimately, me going home helps me make an impact on young kids."
After Davis' unexpected decision to opt out of the final year of his contract Monday led to no new contract negotiations with the Golden State Warriors -- following weeks of fruitless talks in the former UCLA standout's attempt to secure an extension -- Davis' agent, Todd Ramasar, explained his client's decision by saying: "I'm sure a lot of people were surprised yesterday when Baron opted out, but it was done with the idea that the Warriors would come back with something else. We still expected a discussion for Baron to remain a Warrior.
"He had a great run with the Warriors. That had become home for him. ... [But] this is about having the best team in place, especially at this point in his career. Baron just wants to win. He has a chance to do something special with the Clippers and come back home."
He should be something special for the Clippers, as well, after their brief surge to prominence in the 2005-06 season -- falling one win short of the Western Conference finals -- and subsequent nosedive back to purgatory. Brand was limited to just eight games in 2007-08 because of an Achilles tear and hasn't been shy about how bad last season was, when the Clippers finished 23-59 and were subjected to considerable one-hit-wonder talk.
"It's been torture," Brand said in April.
Yet that's why Brand, after serious negotiations with the Clippers toward an extension of his own before free agency commenced Tuesday at 12:01 a.m., told his bosses that he would opt out of next season's $16.4 million salary and take a slight pay cut in a new deal if Clippers management would get him more established help.
With high-scoring forward Corey Maggette opting out, as well, and with Brand offering to re-sign at a discount, L.A. suddenly had more than $25 million next season to split on Brand and Davis. Signing Davis away from the Warriors should supply the Clippers with elite anchors in the backcourt and the front line, provided that Davis continues to stay healthy after playing all 82 games this past season and if Brand continues to heal.
Adande: Status Climbing
Baron Davis probably won't bring a title to Clipperland, but he does make the long-struggling franchise relevant, writes J.A. Adande. Story
The Clippers cannot re-sign Maggette after committing to Brand and Davis but can still flank its new star duo with center Chris Kaman, newly drafted Eric Gordon and Al Thornton, one of last season's top rookies. One Western Conference scout told ESPN.com in April that Brand and Kaman, when healthy, are the "best power forward/center combo in the NBA."
Maggette is drawing serious interest from San Antonio, Orlando and Boston already and could emerge as a top target of Philadelphia if the 76ers -- armed with more salary-cap space (an estimated $12.4 million) than any other team in the league besides Memphis -- are unable to sign restricted free-agent forward Josh Smith away from the Atlanta Hawks.
Yet Maggette could also wind up as a target for the Warriors, who without Davis' salary suddenly have the financial flexibility to re-sign prized youngsters Monta Ellis and Andris Biedrins and make a splashy signing or two from the outside.
The Warriors have actually been operating as if they fully expected to lose Davis without compensation from the minute he decided to walk away from next season's $17.8 million to become an unrestricted free agent.
Golden State's immediate response was to make a lucrative offer to former Warriors guard Gilbert Arenas believed to be worth around $100 million over five seasons. But Arenas' return to the Washington Wizards is considered a virtual certainty around the league, as suggested by Antawn Jamison's comments Tuesday afternoon on ESPNEWS to discuss his own new contract with the Wizards for an estimated $50 million over the next four seasons.
"With Gilbert coming back and Gilbert being 100 percent healthy," Jamison said, "we are one of the most dangerous teams in the NBA."
One source said the Warriors then made a lucrative but unsuccessful free-agent pitch to Brand on Tuesday as opposed to resuming talks with Davis.
The Warriors have simply been reluctant all season to make a long-term financial commitment to Davis, who turned 29 in April and has a history of injury problems. Davis, meanwhile, has grown increasingly irritated with that stance, since he didn't miss a game this past season and averaged 21.8 points, 7.6 assists and 4.7 season for a team that narrowly missed the playoffs (but Golden State, with a record of 48-34, exceeded the win total of all but three teams in the Eastern Conference).
Davis was also the driving force on the 2006-07 Golden State team that halted a 12-season playoff drought and produced a historic first-round upset of the 67-win and top-seeded Dallas Mavericks in the '07 playoffs. So his departure likely will come as a blow to freewheeling coach Don Nelson, who has relied on him so much. It could mirror Steve Nash's departure to Phoenix when Nelson was coaching the Mavericks, unless the Warriors can use their newfound cap flexibility to acquire a proven point guard. Golden State went into the offseason hoping to find a reliable backup for Davis and now have only Ellis as a reliable ballhandler.
Given the considerable depth in the West that only increases now with Davis moving into the Staples Center to push Bryant and the crosstown Lakers, it remains to be seen whether Golden State pursues veterans to replace its bearded leader or presses ahead with a growing youth movement. Davis leaves behind Golden State's other emotional leader -- forward Stephen Jackson -- but also a pack of an up-and-comers headlined by Ellis, Biedrins, Brandan Wright and last week's first-round pick, Anthony Randolph of LSU.
"I wanted to be here for a long time," Davis said of the Bay Area. "I still consider this home. The fans have done nothing but encourage, congratulate and support everything that I've ever done.
"I just took what was best for me."
Marc Stein is the senior NBA writer for ESPN.com. To e-mail him, click here. Information from The Associated Press was used in this report.
Senior Writer, ESPN.com
• Senior NBA writer for ESPN.com
• Began covering the NBA in 1993-94
• Also covered soccer, tennis and the Olympics
FREE AGENCY 2008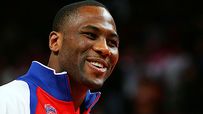 The NBA offseason has been busier than expected, thanks in part to Elton Brand's joining the 76ers. Keep up with the latest moves.
Transactions
News
•
George's deal with Mavs made official
•
Brown returns to New Orleans to back up Paul
•
Veteran Finley re-signs with Spurs
•
Nuggets re-sign Smith to multiyear deal
•
Miles signs with champion Celtics
•
George, Mavs agree to two-year deal
•
Clips re-sign free-agent center Paul Davis
•
Iguodala signs six-year deal with Sixers
•
Sources: 76ers, Iguodala agree to multiyear deal
•
Hawks match Grizzlies' $58M offer, retain Smith
•
Heat's Williams reaches terms with Clippers
•
Bobcats' Boykins signs European contract
•
Restricted free agent Williams re-signs with 76ers
•
Cavs shore up backcourt, sign ex-Grizzly Kinsey
•
Arroyo signs with Maccabi Tel-Aviv
•
Ex-Clipper draftee Skinner signs deal with team
•
Bulls sign Deng to six-year extension
•
Sources: Deng, Bulls on verge of deal
•
Hawks sign ex-Magic G Evans to contract
•
Sources: Okafor, Cats agree on new deal
•
Nets lose Krstic to Moscow team
•
Clippers sign swingman Davis from Heat
•
Vujacic officially signs multiyear deal with Lakers
•
Agent: Brown, Pistons agree to deal
•
Warriors re-sign Biedrins to 6-year, $62M deal
•
Sources: Biedrins, Warriors agree to 6-year deal
•
Wolves agree to deal with Gomes
•
Lakers, Vujacic agree to 3-year, $15 million deal
•
Ellis inks $67 million deal to stay with Warriors
•
Summer star Roberson signs with Knicks
•
Andersen bolts Hornets to return to Denver
•
Telfair re-signs with Timberwolves
•
Childress leaves NBA for Greece
•
Spurs re-sign Kurt Thomas
•
Suns sign ex-Warrior Barnes to one-year deal
•
Turiaf to play for Warriors
•
Jazz, Williams agree to 4-year extension
•
Sources: Clippers, Azubuike agree to offer sheet
•
Bucks add veterans Allen, Lue
•
Posey agrees to 4-year deal with Hornets
•
Arenas signs six-year deal with Wiz
•
Mason's hard work pays off in contract with Spurs
•
Wright re-signs with Mavericks
•
Clippers officially sign Davis to multiyear contract
•
Family ties: Brent is 3rd Barry to play for Rockets
•
Warriors ink forward Maggette to deal
•
Magic sign, introduce ex-Warrior Pietrus
•
Nets agree to terms with forwards Najera, Hayes
•
Sixers give frontline big boost, sign Brand to deal
•
Agent: Bucks to sign Bogut to $60M extension
•
Diop rejoins Mavs on 5-year, $31M contract
•
Gasol in Memphis: Marc, not Pau, signs contract
•
Kings re-sign point guard Udrih to five-year deal
•
Heat sign 3-point specialist Jones to 5-year deal
•
Sources say Brand will sign with 76ers
•
Sources: NBA cap at $58.68 million
•
Sources: 76ers confident of getting Brand
•
Sixers making run at Brand
•
Hawks free agent Smith visits 76ers
•
Brand opts out, and Clippers await decision
•
Calderon reaches agreement on new Raps deal
•
Wizards hang on to Jamison
•
Reports: Arenas agrees to six-year contract
•
For 2nd year in row, Cats, Okafor to discuss deal
•
Artest not opting out of final year of deal
•
Paul agrees on four-year, $68M deal
•
Davis leaving Warriors for Clippers
•
Free Agents:
2008
|
2009 and 2010
Analysis
•
Hollinger: Hornets pay heavily for Posey's ring
•
Martin: Najera's 3-point skills help seal Nets deal
•
Stein: Which teams in hot pursuit of free agents?
•
Adande: Why Brand left the Clippers
•
Broussard: Crushing blow for Clippers
•
Arnovitz: Clipper Nation in world of hurt
•
Adande: Brand's departure is business as usual
•
Hollinger: Brand new Sixers are East challengers
•
Hollinger: Five big questions on free agents
•
Stein: Davis verbally agrees to go to Clippers
•
Broussard: The Clippers' other free agent
•
TrueHoop: What is Corey Maggette Worth?
Podcast
•
Stein on Elton Brand and Baron Davis
•
Hollinger on players who may switch teams
•
Broussard on the money given to Arenas
•
Sheridan on Brand, Davis, Artest and Smith
Video
•
Bucher on how the Brand deal got done
•
Bucher on the latest NBA news
•
Arenas agrees to six-year extension