Sixers strengthen low post play, sign Brand to five-year deal
Updated:
July 10, 2008, 1:57 PM ET
Associated Press
PHILADELPHIA -- Elton Brand believed his career would end as an L.A. Story.
Forced by an ultimatum Brand would not accept, the would-be movie mogul and two-time NBA All-Star instead opted to take his production east and see his name roll on the credits of Philadelphia's roster.
Brand and the 76ers made it official Wednesday on a five-year deal worth $79.795 million, a shrewd move that promptly turned the emerging franchise into Eastern Conference contenders.
"I'm prepared to do some big things this year," Brand said.
For that kind of commitment, Brand should be ready.
Last week, Brand opted out of his contract with the Clippers, but Los Angeles was expected to make a strong push to re-sign him. Instead, he spurned the Clippers once agent David Falk said he was offered a "take it or leave it" contract on June 30. The deal was nearly $20 million less than what Brand signed for in Philadelphia.
"My intention was to try and work something out with the Clippers," Brand said.
Falk said the greater insult came when he was told that Clippers owner Donald Sterling said he would be happy with the 29-year-old Brand's decision either way.
Messages seeking comment left with the Clippers were not immediately returned.
Falk also said the Golden State Warriors offered more total money -- about $90 million -- but Brand felt the 76ers were a better fit.
Sixers president Ed Stefanski was on the phone with Falk shortly after midnight on July 1 -- the first day teams could begin negotiating with free agents.
Philadelphia wanted to land a big man this summer and had Hawks restricted free agent forward Josh Smith in town last week for a visit, but he left without being presented with an offer sheet. Smith will look elsewhere, or possibly stay in Atlanta.
The 76ers entered the summer $11 million under the salary cap, but even that wasn't enough to land a franchise-shifting free agent like Brand. Philadelphia was able to swing a deal with Minnesota that sent forward Rodney Carney and a future No. 1 pick to the Timberwolves as part of a trade that cleared an additional $2 million in salary cap space.
The trade allowed the Sixers to offer a starting salary in the $14-million range. Brand had $16.4 million left on deal he signed in 2003.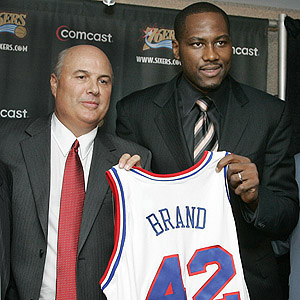 AP PhotoThe Sixers are hoping the addition of Elton Brand, right, will give the team the low post presence it lacked during last season.
"All we kept saying was we needed an opportunity, and that opportunity came," Stefanski said.
Brand's arrival signals the Sixers are ready to become a threat to contend in the East. He should immediately bolster the frontcourt, and his career numbers of 20.3 points and 10.2 rebounds over nine seasons make him one of only four active players to average a double-double.
However, Brand played in only eight games last season because of an Achilles' tendon injury. Brand said Wednesday night he was 100 percent and ready to go.
"I won't let anybody down," he said.
Brand was the No. 1 overall pick in the 1999 draft out of Duke and spent two seasons with the Bulls before he was traded to the Clippers. Brand had tried to leave Los Angeles once before as a restricted free agent. He signed an offer sheet with Miami, but returned to the Clippers once the deal was matched.
Brand also founded Gibraltar Films and served as co-producer on a movie that starred Christian Bale.
The Sixers had been pointing toward this summer since they traded 2001 NBA MVP Allen Iverson in 2006 and decided to rebuild. They started clearing contracts -- notably last season's trade of Kyle Korver to Utah -- to have enough cash under the cap to pursue a marquee free agent. Once Brand surprisingly rejected the Clippers, the 76ers had their man.
Brand joins a Sixers team that is no longer the lottery-bound loser it was a year ago. Andre Miller, Andre Iguodala, Samuel Dalembert and the blossoming Thaddeus Young turned the 76ers into a surprise playoff team, even stretching Detroit to six games in a first-round series. Philadelphia coach Maurice Cheeks had his team playing hard every game and he earned an extension from Stefanski.
The Sixers got only 5.2 points out of last season's power forward, Reggie Evans.
"I feel even stronger and tougher once I've got Elton Brand behind me," Stefanski said. "I'd have to say, yes, we have closed the gap."
Their starting lineup now looks like this: Miller and Iguodala in the backcourt; Young, Brand and Dalembert in the frontcourt. Willie Green, Louis Williams and Evans become the top reserves.
The Sixers played an up-tempo style in the second half of last season that helped turn their season around. Stefanski said Brand -- even coming off an injury -- fits in fine with their running game.
"This guy can run," Stefanski said. "This is the prototype power forward."
Now, Philadelphia has made a move that shows it not only expects to make the playoffs -- it can be a contender. The Sixers still need a legitimate outside shooter to fill the role vacated by Korver.
"That's something we're definitely going to address," Stefanski said.
Stefanski has worked wonders since he left New Jersey and took over for the fired Billy King in early December. King entered this past season convinced he had management's backing on a three-year rebuilding plan that he believed would turn the Sixers into a contender in the Eastern Conference.
"So much for the three-year plan," quipped Peter Luukko, COO of Comcast-Spectacor, which owns the 76ers.
Brand's defection is another embarrassing blow for the Clippers. Baron Davis opted out of the final season of his contract with Golden State to become a free agent and is on the verge of signing a long-term deal with Los Angeles. The Clippers planned on Brand and Davis to lead them back to the playoffs.
Instead, Davis looks to be stuck on another rebuilding Clippers roster. Brand appears to have moved on to a contender.
Brand also denied making any sort of verbal or handshake deal with Davis that he would return to the Clippers.

Copyright 2008 by The Associated Press
FREE AGENCY 2008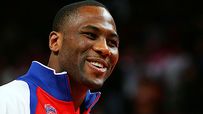 The NBA offseason has been busier than expected, thanks in part to Elton Brand's joining the 76ers. Keep up with the latest moves.
Transactions
News
•
George's deal with Mavs made official
•
Brown returns to New Orleans to back up Paul
•
Veteran Finley re-signs with Spurs
•
Nuggets re-sign Smith to multiyear deal
•
Miles signs with champion Celtics
•
George, Mavs agree to two-year deal
•
Clips re-sign free-agent center Paul Davis
•
Iguodala signs six-year deal with Sixers
•
Sources: 76ers, Iguodala agree to multiyear deal
•
Hawks match Grizzlies' $58M offer, retain Smith
•
Heat's Williams reaches terms with Clippers
•
Bobcats' Boykins signs European contract
•
Restricted free agent Williams re-signs with 76ers
•
Cavs shore up backcourt, sign ex-Grizzly Kinsey
•
Arroyo signs with Maccabi Tel-Aviv
•
Ex-Clipper draftee Skinner signs deal with team
•
Bulls sign Deng to six-year extension
•
Sources: Deng, Bulls on verge of deal
•
Hawks sign ex-Magic G Evans to contract
•
Sources: Okafor, Cats agree on new deal
•
Nets lose Krstic to Moscow team
•
Clippers sign swingman Davis from Heat
•
Vujacic officially signs multiyear deal with Lakers
•
Agent: Brown, Pistons agree to deal
•
Warriors re-sign Biedrins to 6-year, $62M deal
•
Sources: Biedrins, Warriors agree to 6-year deal
•
Wolves agree to deal with Gomes
•
Lakers, Vujacic agree to 3-year, $15 million deal
•
Ellis inks $67 million deal to stay with Warriors
•
Summer star Roberson signs with Knicks
•
Andersen bolts Hornets to return to Denver
•
Telfair re-signs with Timberwolves
•
Childress leaves NBA for Greece
•
Spurs re-sign Kurt Thomas
•
Suns sign ex-Warrior Barnes to one-year deal
•
Turiaf to play for Warriors
•
Jazz, Williams agree to 4-year extension
•
Sources: Clippers, Azubuike agree to offer sheet
•
Bucks add veterans Allen, Lue
•
Posey agrees to 4-year deal with Hornets
•
Arenas signs six-year deal with Wiz
•
Mason's hard work pays off in contract with Spurs
•
Wright re-signs with Mavericks
•
Clippers officially sign Davis to multiyear contract
•
Family ties: Brent is 3rd Barry to play for Rockets
•
Warriors ink forward Maggette to deal
•
Magic sign, introduce ex-Warrior Pietrus
•
Nets agree to terms with forwards Najera, Hayes
•
Sixers give frontline big boost, sign Brand to deal
•
Agent: Bucks to sign Bogut to $60M extension
•
Diop rejoins Mavs on 5-year, $31M contract
•
Gasol in Memphis: Marc, not Pau, signs contract
•
Kings re-sign point guard Udrih to five-year deal
•
Heat sign 3-point specialist Jones to 5-year deal
•
Sources say Brand will sign with 76ers
•
Sources: NBA cap at $58.68 million
•
Sources: 76ers confident of getting Brand
•
Sixers making run at Brand
•
Hawks free agent Smith visits 76ers
•
Brand opts out, and Clippers await decision
•
Calderon reaches agreement on new Raps deal
•
Wizards hang on to Jamison
•
Reports: Arenas agrees to six-year contract
•
For 2nd year in row, Cats, Okafor to discuss deal
•
Artest not opting out of final year of deal
•
Paul agrees on four-year, $68M deal
•
Davis leaving Warriors for Clippers
•
Free Agents:
2008
|
2009 and 2010
Analysis
•
Hollinger: Hornets pay heavily for Posey's ring
•
Martin: Najera's 3-point skills help seal Nets deal
•
Stein: Which teams in hot pursuit of free agents?
•
Adande: Why Brand left the Clippers
•
Broussard: Crushing blow for Clippers
•
Arnovitz: Clipper Nation in world of hurt
•
Adande: Brand's departure is business as usual
•
Hollinger: Brand new Sixers are East challengers
•
Hollinger: Five big questions on free agents
•
Stein: Davis verbally agrees to go to Clippers
•
Broussard: The Clippers' other free agent
•
TrueHoop: What is Corey Maggette Worth?
Podcast
•
Stein on Elton Brand and Baron Davis
•
Hollinger on players who may switch teams
•
Broussard on the money given to Arenas
•
Sheridan on Brand, Davis, Artest and Smith
Video
•
Bucher on how the Brand deal got done
•
Bucher on the latest NBA news
•
Arenas agrees to six-year extension

MOST SENT STORIES ON ESPN.COM