Arenas makes it official, signs six-year deal with Wizards
Updated:
July 13, 2008, 11:36 PM ET
Associated Press
WASHINGTON -- Gilbert Arenas signed his six-year, $111 million contract with the Washington Wizards on Sunday, securing the return of a franchise player who is accepting less money than he was offered.
Arenas and the Wizards agreed to the deal July 3, but both sides waited until Arenas returned from an overseas trip to settle the details.

Arenas
"Today is a great day for the Wizards organization," team president Ernie Grunfeld said. "Gilbert is a phenomenal player and his value to the franchise goes beyond what he brings to the court. We're proud and excited that we were able to take care of our own free agents and open the 2008-09 season with a healthy core intact."
The Wizards offered Arenas a max contract -- $127 million over six years -- leaving it up to the unpredictable Agent Zero to decide whether he would live up to his previous statement that he would take a lesser amount if it would help the team sign other players and improve the prospects of contending for an NBA title. Arenas negotiated the deal without an agent while traveling in China on a promotional tour for a shoe company.
The Wizards also bolstered their chances of keeping Arenas by signing free agent teammate Antawn Jamison to a four-year, $50 million contract. Arenas had said he would not return to the team if his good friend Jamison had been allowed to leave.
Because Arenas did not accept the max contract, the Wizards have room to make another significant addition this offseason without going over the NBA's luxury tax limit.
"I think with the players we have on this roster, we can compete with anyone in the NBA," Arenas said in a statement released by the team. "And I look forward to returning to the court next season on a mission to deliver a championship banner."
A three-time All-Star point guard, Arenas has proven to be one of the most exciting players in the NBA when healthy, averaging 22.8 points, 5.5 assists and 4.2 rebounds in his seven-season NBA career.
But a major knee injury and an overzealous rehabilitation sidelined him for most of last season. After his first surgery on the knee in April 2007, he tried to come back too soon and had a second operation in November. He missed 66 games before returning late in the season, then he had to shut himself down again during the first-round playoff series against Cleveland.
During an appearance in Europe after his trip to China, Arenas said his knee was "about 95 percent" and that he didn't want "to touch a basketball until August" because he wanted to make sure he was healthy before returning to the court.

Copyright 2008 by The Associated Press
FREE AGENCY 2008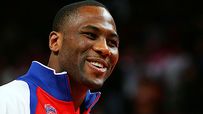 The NBA offseason has been busier than expected, thanks in part to Elton Brand's joining the 76ers. Keep up with the latest moves.
Transactions
News
•
George's deal with Mavs made official
•
Brown returns to New Orleans to back up Paul
•
Veteran Finley re-signs with Spurs
•
Nuggets re-sign Smith to multiyear deal
•
Miles signs with champion Celtics
•
George, Mavs agree to two-year deal
•
Clips re-sign free-agent center Paul Davis
•
Iguodala signs six-year deal with Sixers
•
Sources: 76ers, Iguodala agree to multiyear deal
•
Hawks match Grizzlies' $58M offer, retain Smith
•
Heat's Williams reaches terms with Clippers
•
Bobcats' Boykins signs European contract
•
Restricted free agent Williams re-signs with 76ers
•
Cavs shore up backcourt, sign ex-Grizzly Kinsey
•
Arroyo signs with Maccabi Tel-Aviv
•
Ex-Clipper draftee Skinner signs deal with team
•
Bulls sign Deng to six-year extension
•
Sources: Deng, Bulls on verge of deal
•
Hawks sign ex-Magic G Evans to contract
•
Sources: Okafor, Cats agree on new deal
•
Nets lose Krstic to Moscow team
•
Clippers sign swingman Davis from Heat
•
Vujacic officially signs multiyear deal with Lakers
•
Agent: Brown, Pistons agree to deal
•
Warriors re-sign Biedrins to 6-year, $62M deal
•
Sources: Biedrins, Warriors agree to 6-year deal
•
Wolves agree to deal with Gomes
•
Lakers, Vujacic agree to 3-year, $15 million deal
•
Ellis inks $67 million deal to stay with Warriors
•
Summer star Roberson signs with Knicks
•
Andersen bolts Hornets to return to Denver
•
Telfair re-signs with Timberwolves
•
Childress leaves NBA for Greece
•
Spurs re-sign Kurt Thomas
•
Suns sign ex-Warrior Barnes to one-year deal
•
Turiaf to play for Warriors
•
Jazz, Williams agree to 4-year extension
•
Sources: Clippers, Azubuike agree to offer sheet
•
Bucks add veterans Allen, Lue
•
Posey agrees to 4-year deal with Hornets
•
Arenas signs six-year deal with Wiz
•
Mason's hard work pays off in contract with Spurs
•
Wright re-signs with Mavericks
•
Clippers officially sign Davis to multiyear contract
•
Family ties: Brent is 3rd Barry to play for Rockets
•
Warriors ink forward Maggette to deal
•
Magic sign, introduce ex-Warrior Pietrus
•
Nets agree to terms with forwards Najera, Hayes
•
Sixers give frontline big boost, sign Brand to deal
•
Agent: Bucks to sign Bogut to $60M extension
•
Diop rejoins Mavs on 5-year, $31M contract
•
Gasol in Memphis: Marc, not Pau, signs contract
•
Kings re-sign point guard Udrih to five-year deal
•
Heat sign 3-point specialist Jones to 5-year deal
•
Sources say Brand will sign with 76ers
•
Sources: NBA cap at $58.68 million
•
Sources: 76ers confident of getting Brand
•
Sixers making run at Brand
•
Hawks free agent Smith visits 76ers
•
Brand opts out, and Clippers await decision
•
Calderon reaches agreement on new Raps deal
•
Wizards hang on to Jamison
•
Reports: Arenas agrees to six-year contract
•
For 2nd year in row, Cats, Okafor to discuss deal
•
Artest not opting out of final year of deal
•
Paul agrees on four-year, $68M deal
•
Davis leaving Warriors for Clippers
•
Free Agents:
2008
|
2009 and 2010
Analysis
•
Hollinger: Hornets pay heavily for Posey's ring
•
Martin: Najera's 3-point skills help seal Nets deal
•
Stein: Which teams in hot pursuit of free agents?
•
Adande: Why Brand left the Clippers
•
Broussard: Crushing blow for Clippers
•
Arnovitz: Clipper Nation in world of hurt
•
Adande: Brand's departure is business as usual
•
Hollinger: Brand new Sixers are East challengers
•
Hollinger: Five big questions on free agents
•
Stein: Davis verbally agrees to go to Clippers
•
Broussard: The Clippers' other free agent
•
TrueHoop: What is Corey Maggette Worth?
Podcast
•
Stein on Elton Brand and Baron Davis
•
Hollinger on players who may switch teams
•
Broussard on the money given to Arenas
•
Sheridan on Brand, Davis, Artest and Smith
Video
•
Bucher on how the Brand deal got done
•
Bucher on the latest NBA news
•
Arenas agrees to six-year extension

MOST SENT STORIES ON ESPN.COM