Hornets officially sign Posey, look to him for veteran experience
Updated:
July 23, 2008, 5:24 PM ET
Associated Press
NEW ORLEANS -- James Posey knows what NBA championship teams look like, and he thinks the New Orleans Hornets are beginning to bear some resemblance.

Posey
A key reserve on Boston's championship team last season and Miami's two seasons before that, Posey officially became a Hornet on Wednesday after signing a four-year, $25 million contract.
The versatile 6-foot-8 forward said he saw enough of the Hornets during a franchise-best 56-win march to the Southwest Division title, a first-round playoff victory over Dallas, and a seven-game series with San Antonio to believe he can win a third ring in New Orleans.
"I look for them to do big things this upcoming season, after the great things they did last season," he said. "I want to contribute as best I can.
"You can see, it's just sitting right there with the young core they have. Chris Paul is a great leader and with David West, Peja [Stojakovic] and Tyson Chandler, they have a group that competes every single day. I hope I'm the missing piece that furthers them on this journey."
Posey averaged 7.4 points and 4.4 rebounds and made 38 percent of his 3-pointers in 74 regular-season games for Boston. In 26 playoff games, he averaged 7.6 points and 4.7 rebounds, making 40 percent of long-range shots.
In nine seasons with five teams, Posey's averaged 9.2 points and 4.9 rebounds.
"Many times a player's statistics paint an inaccurate picture," Hornets general manager Jeff Bower said. "James' stats only tell half the story. He's all about his team and playing whatever role is necessary for him to contribute.
"He likes doing the hard things, the rebounding, the loose balls, the competitive nature, the things that turn into points and rebounds for himself and for his teammates."
New Orleans is counting on Posey to be able to guard shooting guards and small forwards, add an outside scoring threat and provide leadership off a bench that was shaky last year.
"We thought of James Posey as the best free agent available and he fits exactly what we're doing," coach Byron Scott said. "He has passion on the defensive end and he has the versatility to play two or three positions. He'll guard anybody. He doesn't care."
Posey had expressed a desire to stay with the Celtics, but they wouldn't offer him more than a three-year deal.
"At the end of the day there is a business side, but the most important thing is that basketball-wise, this is a great opportunity," Posey said. "This is why you play the game, for the opportunity to compete for championships and a chance to win one."

Copyright 2008 by The Associated Press
FREE AGENCY 2008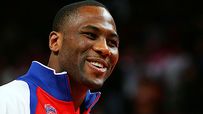 The NBA offseason has been busier than expected, thanks in part to Elton Brand's joining the 76ers. Keep up with the latest moves.
Transactions
News
•
George's deal with Mavs made official
•
Brown returns to New Orleans to back up Paul
•
Veteran Finley re-signs with Spurs
•
Nuggets re-sign Smith to multiyear deal
•
Miles signs with champion Celtics
•
George, Mavs agree to two-year deal
•
Clips re-sign free-agent center Paul Davis
•
Iguodala signs six-year deal with Sixers
•
Sources: 76ers, Iguodala agree to multiyear deal
•
Hawks match Grizzlies' $58M offer, retain Smith
•
Heat's Williams reaches terms with Clippers
•
Bobcats' Boykins signs European contract
•
Restricted free agent Williams re-signs with 76ers
•
Cavs shore up backcourt, sign ex-Grizzly Kinsey
•
Arroyo signs with Maccabi Tel-Aviv
•
Ex-Clipper draftee Skinner signs deal with team
•
Bulls sign Deng to six-year extension
•
Sources: Deng, Bulls on verge of deal
•
Hawks sign ex-Magic G Evans to contract
•
Sources: Okafor, Cats agree on new deal
•
Nets lose Krstic to Moscow team
•
Clippers sign swingman Davis from Heat
•
Vujacic officially signs multiyear deal with Lakers
•
Agent: Brown, Pistons agree to deal
•
Warriors re-sign Biedrins to 6-year, $62M deal
•
Sources: Biedrins, Warriors agree to 6-year deal
•
Wolves agree to deal with Gomes
•
Lakers, Vujacic agree to 3-year, $15 million deal
•
Ellis inks $67 million deal to stay with Warriors
•
Summer star Roberson signs with Knicks
•
Andersen bolts Hornets to return to Denver
•
Telfair re-signs with Timberwolves
•
Childress leaves NBA for Greece
•
Spurs re-sign Kurt Thomas
•
Suns sign ex-Warrior Barnes to one-year deal
•
Turiaf to play for Warriors
•
Jazz, Williams agree to 4-year extension
•
Sources: Clippers, Azubuike agree to offer sheet
•
Bucks add veterans Allen, Lue
•
Posey agrees to 4-year deal with Hornets
•
Arenas signs six-year deal with Wiz
•
Mason's hard work pays off in contract with Spurs
•
Wright re-signs with Mavericks
•
Clippers officially sign Davis to multiyear contract
•
Family ties: Brent is 3rd Barry to play for Rockets
•
Warriors ink forward Maggette to deal
•
Magic sign, introduce ex-Warrior Pietrus
•
Nets agree to terms with forwards Najera, Hayes
•
Sixers give frontline big boost, sign Brand to deal
•
Agent: Bucks to sign Bogut to $60M extension
•
Diop rejoins Mavs on 5-year, $31M contract
•
Gasol in Memphis: Marc, not Pau, signs contract
•
Kings re-sign point guard Udrih to five-year deal
•
Heat sign 3-point specialist Jones to 5-year deal
•
Sources say Brand will sign with 76ers
•
Sources: NBA cap at $58.68 million
•
Sources: 76ers confident of getting Brand
•
Sixers making run at Brand
•
Hawks free agent Smith visits 76ers
•
Brand opts out, and Clippers await decision
•
Calderon reaches agreement on new Raps deal
•
Wizards hang on to Jamison
•
Reports: Arenas agrees to six-year contract
•
For 2nd year in row, Cats, Okafor to discuss deal
•
Artest not opting out of final year of deal
•
Paul agrees on four-year, $68M deal
•
Davis leaving Warriors for Clippers
•
Free Agents:
2008
|
2009 and 2010
Analysis
•
Hollinger: Hornets pay heavily for Posey's ring
•
Martin: Najera's 3-point skills help seal Nets deal
•
Stein: Which teams in hot pursuit of free agents?
•
Adande: Why Brand left the Clippers
•
Broussard: Crushing blow for Clippers
•
Arnovitz: Clipper Nation in world of hurt
•
Adande: Brand's departure is business as usual
•
Hollinger: Brand new Sixers are East challengers
•
Hollinger: Five big questions on free agents
•
Stein: Davis verbally agrees to go to Clippers
•
Broussard: The Clippers' other free agent
•
TrueHoop: What is Corey Maggette Worth?
Podcast
•
Stein on Elton Brand and Baron Davis
•
Hollinger on players who may switch teams
•
Broussard on the money given to Arenas
•
Sheridan on Brand, Davis, Artest and Smith
Video
•
Bucher on how the Brand deal got done
•
Bucher on the latest NBA news
•
Arenas agrees to six-year extension
Adidas Men's New Orleans Pelicans Navy Logo T-shirt Shop »

MOST SENT STORIES ON ESPN.COM