Sources say Biedrins, Warriors agree to 6-year contract
Updated:
July 29, 2008, 12:21 AM ET
By
Marc Stein
| ESPN.com
The Golden State Warriors have moved quickly to prevent Latvian center Andris Biedrins from seriously entertaining interest from deep-pocketed teams in Europe by reaching terms on a lucrative new contract with the restricted free agent.

Biedrins
NBA front-office sources told ESPN.com that Biedrins was en route to Oakland on Sunday night after agreeing to a new six-year contract with the Warriors believed to be worth nearly $63 million. The contract, sources said, will likely be signed Monday and include a player option for Biedrins to return to the free-agent market in the summer of 2013 after the fifth season.
Biedrins' agent, Bill Duffy, confirmed the player's verbal agreement with the Warriors on Sunday night, saying: "I am so ecstatic for this young man, who came to a new country as an 18-year-old and has worked diligently to improve his game and assimilate to the NBA. He is committed to the Warriors and will continue to improve and help stabilize this team for the next six years."
Biedrins is among a growing crop of NBA veterans -- not all foreign-born, as evidenced by Josh Childress' decision to leave the Atlanta Hawks for a rich contract with Greek giants Olympiacos -- to attract big-money offers from clubs overseas. Duffy said Biedrins had feelers "from multiple teams that were primarily Russian" and that returning to Eastern Europe was "something that Andris was open to."
The Warriors, though, made it clear from the start of what has been one of the most frenetic offseasons in the club's history that re-signing their young restricted free agents -- Biedrins and guard Monta Ellis -- was management's top priority. Retaining Ellis and Biedrins, sources say, was Golden State's first consideration in every move it has and hasn't made since late June, starting when the Warriors elected not to use a $9.9 million trade exception created by the deal that sent Jason Richardson to the Charlotte Bobcats on draft day in 2007.
Ellis was signed to a six-year deal worth $66 million on Thursday as part of Golden State's flurry of moves since July, when point guard Baron Davis committed to signing with his hometown Los Angeles Clippers.
The Warriors' busy run of transactions also includes signing forward Corey Maggette away from the Clippers on a five-year deal worth $50 million, matching the Clippers' three-year offer sheet worth in excess of $9 million to swingman Kelenna Azubuike, signing restricted free agent Ronny Turiaf away from the Los Angeles Lakers to a four-year deal worth $17 million and acquiring New Jersey Nets point guard Marcus Williams via trade.
Biedrins has made steady progress since the Warriors selected him as a teenager with the 11th overall pick in the 2004 draft. He averaged 10.5 points and 9.8 rebounds last season in just over 27 minutes per game, leading the league in field goal percentage (.626) and improving his biggest weakness -- free-throw shooting -- from 52.1 percent in 2006-07 to 62 percent last season. Biedrins also grabbed an NBA single-game best 26 rebounds in a Jan. 27 victory over the New York Knicks.
Marc Stein is the senior NBA writer for ESPN.com. To e-mail him, click here. The Associated Press contributed to this report.
Senior Writer, ESPN.com
• Senior NBA writer for ESPN.com
• Began covering the NBA in 1993-94
• Also covered soccer, tennis and the Olympics
SPONSORED HEADLINES
MORE NBA HEADLINES
MOST SENT STORIES ON ESPN.COM
FREE AGENCY 2008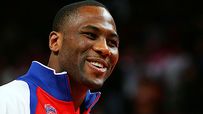 The NBA offseason has been busier than expected, thanks in part to Elton Brand's joining the 76ers. Keep up with the latest moves.
Transactions
News
•
George's deal with Mavs made official
•
Brown returns to New Orleans to back up Paul
•
Veteran Finley re-signs with Spurs
•
Nuggets re-sign Smith to multiyear deal
•
Miles signs with champion Celtics
•
George, Mavs agree to two-year deal
•
Clips re-sign free-agent center Paul Davis
•
Iguodala signs six-year deal with Sixers
•
Sources: 76ers, Iguodala agree to multiyear deal
•
Hawks match Grizzlies' $58M offer, retain Smith
•
Heat's Williams reaches terms with Clippers
•
Bobcats' Boykins signs European contract
•
Restricted free agent Williams re-signs with 76ers
•
Cavs shore up backcourt, sign ex-Grizzly Kinsey
•
Arroyo signs with Maccabi Tel-Aviv
•
Ex-Clipper draftee Skinner signs deal with team
•
Bulls sign Deng to six-year extension
•
Sources: Deng, Bulls on verge of deal
•
Hawks sign ex-Magic G Evans to contract
•
Sources: Okafor, Cats agree on new deal
•
Nets lose Krstic to Moscow team
•
Clippers sign swingman Davis from Heat
•
Vujacic officially signs multiyear deal with Lakers
•
Agent: Brown, Pistons agree to deal
•
Warriors re-sign Biedrins to 6-year, $62M deal
•
Sources: Biedrins, Warriors agree to 6-year deal
•
Wolves agree to deal with Gomes
•
Lakers, Vujacic agree to 3-year, $15 million deal
•
Ellis inks $67 million deal to stay with Warriors
•
Summer star Roberson signs with Knicks
•
Andersen bolts Hornets to return to Denver
•
Telfair re-signs with Timberwolves
•
Childress leaves NBA for Greece
•
Spurs re-sign Kurt Thomas
•
Suns sign ex-Warrior Barnes to one-year deal
•
Turiaf to play for Warriors
•
Jazz, Williams agree to 4-year extension
•
Sources: Clippers, Azubuike agree to offer sheet
•
Bucks add veterans Allen, Lue
•
Posey agrees to 4-year deal with Hornets
•
Arenas signs six-year deal with Wiz
•
Mason's hard work pays off in contract with Spurs
•
Wright re-signs with Mavericks
•
Clippers officially sign Davis to multiyear contract
•
Family ties: Brent is 3rd Barry to play for Rockets
•
Warriors ink forward Maggette to deal
•
Magic sign, introduce ex-Warrior Pietrus
•
Nets agree to terms with forwards Najera, Hayes
•
Sixers give frontline big boost, sign Brand to deal
•
Agent: Bucks to sign Bogut to $60M extension
•
Diop rejoins Mavs on 5-year, $31M contract
•
Gasol in Memphis: Marc, not Pau, signs contract
•
Kings re-sign point guard Udrih to five-year deal
•
Heat sign 3-point specialist Jones to 5-year deal
•
Sources say Brand will sign with 76ers
•
Sources: NBA cap at $58.68 million
•
Sources: 76ers confident of getting Brand
•
Sixers making run at Brand
•
Hawks free agent Smith visits 76ers
•
Brand opts out, and Clippers await decision
•
Calderon reaches agreement on new Raps deal
•
Wizards hang on to Jamison
•
Reports: Arenas agrees to six-year contract
•
For 2nd year in row, Cats, Okafor to discuss deal
•
Artest not opting out of final year of deal
•
Paul agrees on four-year, $68M deal
•
Davis leaving Warriors for Clippers
•
Free Agents:
2008
|
2009 and 2010
Analysis
•
Hollinger: Hornets pay heavily for Posey's ring
•
Martin: Najera's 3-point skills help seal Nets deal
•
Stein: Which teams in hot pursuit of free agents?
•
Adande: Why Brand left the Clippers
•
Broussard: Crushing blow for Clippers
•
Arnovitz: Clipper Nation in world of hurt
•
Adande: Brand's departure is business as usual
•
Hollinger: Brand new Sixers are East challengers
•
Hollinger: Five big questions on free agents
•
Stein: Davis verbally agrees to go to Clippers
•
Broussard: The Clippers' other free agent
•
TrueHoop: What is Corey Maggette Worth?
Podcast
•
Stein on Elton Brand and Baron Davis
•
Hollinger on players who may switch teams
•
Broussard on the money given to Arenas
•
Sheridan on Brand, Davis, Artest and Smith
Video
•
Bucher on how the Brand deal got done
•
Bucher on the latest NBA news
•
Arenas agrees to six-year extension